website  watertownhistory.org
    ebook  History of Watertown, Wisconsin
Circus Parade
August 19, 1915
<![if !vml]>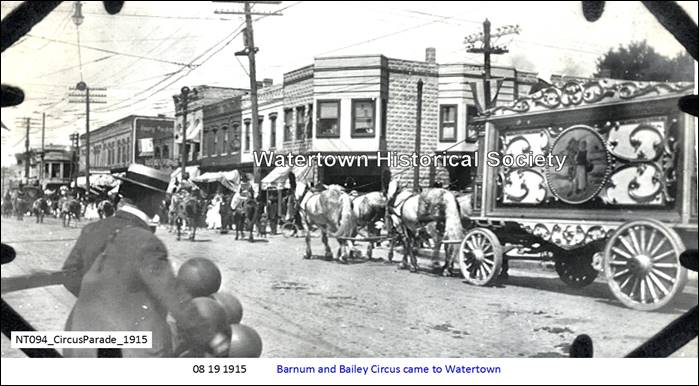 <![endif]>  NT094
<![if !vml]>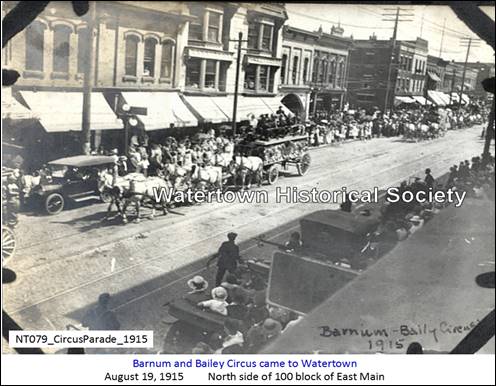 <![endif]>  NT079
World's Best Circus Coming
Barnum and Bailey Show Announced for an Early Engagement Here
Watertown Gazette, 04 29 1915
Circus for Watertown
Mayor Kading has been in communication with Ringling Bros. and they promise to put Watertown on the 1915 route for the Barnum & Bailey circus of 82 cars.  The following letter has been received by Mayor Kading:
Hon. C. A. Kading, Mayor,
Watertown, Wis.
Dear Sir:  We were very glad to have your favor of March 23, which has been referred to me for reply.
The delay in the reply being occasioned by the fact that we were not able until just now to say as to whether or not we would be able to include Watertown, and now find that we can do so, but in as much as our shows have grown so large it would be rather an experiment, but if your commercial club cares to offer us a little inducement in the way of free license, water and grounds we would be glad to consider it for a date with our Barnum Bailey show of 82 cars.
The Ringling show will not be in Wisconsin this season.
If interested will be very glad indeed to hear from you further with a view of including Watertown with our Barnum & Bailey show.
Yours truly,
Chas. C. Wilson.
Watertown Gazette, 07 29 1915
Click to enlarge [Gazette ad / WHS_005_989]
<![if !vml]>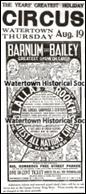 <![endif]>The Barnum and Bailey Greatest Show on earth is announced for two performances in Watertown on Thursday, August 19.  The day is awaited with great interest.  A new and brilliant street parade, a new menagerie and a large company of European artists are promised.
This circus has stood at the head of the amusement business for more than fifty years.  The policy of P. T. Barnum and James A. Bailey is still active in its management.  These are the two greatest names in the history of the world's circus affairs.  Their show is the source of perfect satisfaction.  It is recognized in every country on earth as the leading spirit of amusement enterprises.  It has traveled in every land where the sun shines.  It has entertained millions upon millions of the earth's peoples.  Its world-wide tours have given it many advantages over the other tented shows.  They have kept it in constant touch with remote corners of the globe whence came all wonders.
Nearly all great arenic novelties originate in Europe and Asia.  No sooner have they been exploited in foreign audience rooms than they are secured by Barnum and Bailey's agents.  Invariably novelties are introduced to America by this circus.  When they cease to be novelties, they are passed down to other shows and another imported budget of wonders takes their places.  This year's program is particularly abundant.  It is a circus of all nations.  Over 100 startling acts are presented by 480 of the leading artists of the world.  The show employs 1,280 people.  It has 700 horses.  In its menagerie are 110 cages, pens, tanks and dens, in which are displayed 1,200 wild and semi-domestic animals.  Among them are forty elephants and thirty camels.
The main performance is given in three rings, on four stages, on an immense hippodrome track and in a dome 400 feet long.
The circus has newly built equipment.  It was devised and executed in the foreign workshops of the show in England.  Five long railroad trains are needed to haul it from city to city.  It cost the management $3,500,000.  With all these added improvements and expenses, the Barnum and Bailey show now stands in the zenith of glory.  Never before in the history of splendid achievements has it been so attractive as now.  It opened its spring engagement in Madison Square Garden, New York City, before the most distinguished audience that ever assembled in a circus arena.
Portfolio set of images 
    Click upon to enlarge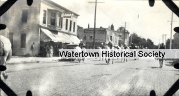 NT084 <![if !vml]>

<![endif]> NT085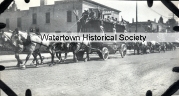 NT086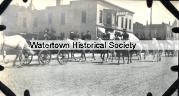 NT087
<![if !vml]>

<![endif]>         <![if !vml]>

<![endif]>        Both assumed to be 08 19 1915, Barnum & Bailey Circus
Circus a City in Itself
Has Its Own Stores, Hospital, Shops, Hotel,
Laundry and Lighting Plant
Watertown Gazette, 08 05 1915
The show ground of the Barnum and Bailey circus is a city in itself, lacking only a town council and a state charter.  It has its own lawyers, postmaster, dentist, doctors, carpenters, electricians, wagon makers, laundrymen, barbers, shoemakers, tailors, sailmakers, harness makers, store keepers and photographers.  It supports an electric lighting plant, a hospital and a hotel, where 4,000 meals are cooked and eaten every day in the week.  This circus has a population of 1,280 people, 700 horses, 40 elephants and 1,200 other wild and semi-domestic animals. 
At night the home of this army is a train over one mile in length.  In a single season this train travels about 40,000 miles, making stops in about 200 cities and giving 400 performances. 
In its fifty-five years of life the show has exhibited in every city of any size in the world.  Royalty has applauded it.  The peasantry has hailed its appearance with delight.  Its prestige is established in every country. 
It is, of course, an American institution, though it is quite as well known in Europe and Asia as in the United States.
The wonderful policy of P. T. Barnum and the remarkable system put into operation by James A. Bailey are still the active principles of the management.  Not a year has passed without improvement and growth. 
On Thursday, August 19, the show will come to Watertown with an entire new equipment from the great imported vehicles of the forenoon parade to the last stitch in the fourteen acres of canvas. 
The program offered is the best ever presented by this show.  Almost without exception it is made up of foreign talent.  There are 480 artists on the list.  The program opens with a new and elaborate spectacular pageant, entitled "Lalla Rookh," and in which 1,200 characters take part.
Circus Has New Parade
Barnum and Bailey Show Presents
Something Different in Street Pageantry
Watertown Gazette, 08 12 1915
On Thursday, Aug. 19, the Barnum and Bailey Greatest Show on Earth will present upon the streets of Watertown something entirely different from what people are in the habit of seeing on circus day.  They have devised something new in the way of pageantry.  It was built last winter in the workshops of the show in England.  It is three times as long as any seen in the past.  It represents an expenditure of ten times as much money.
For the last two years the foreign agents of the show have been gathering novelties for this parade.  They overlooked nothing that money could buy, unless it was too big to ship by boat. They invaded savage islands.  Their expeditions extended into jungles where white men had never trod before them.  They stripped art galleries and ancient palaces.  They stopped at nothing.  They spared no expense.  The fruit of their labors cannot be expressed in words.  It is a sight for the eye.
Naturally enough this parade bears not the slightest resemblance to those of the past.  It excels anything before attempted in beauty.  It is world-wide in its variety.  In novelty it is right up to the last tick of the clock.  Every strange type of the human race is found in it.  Every animal recently discovered by science is displayed, in an open cage.  It is a world's fair on wheels with a thousand wonders in every mile of it.  Constantly passing before the eye are the crude vehicles of savagery, the howdahs, rickshaws, palanquins and chariots of Oriental despots, carriages of state from rich empires, fanciful floats of bronze and burnished gold, engines of war, grotesque images of the pagan, Italian statuary, mythological spectacles, horse fairs, fairyland carnivals, brass bands, barbarian orchestras, tom-tom players, weird pipers, silver chimes, cathedral organs, siren pipes, chanters, dervishes, Castanet ballets, kirmiss scenes, fete-day tableaux, and mardi gras pageantry.
The hundreds of vehicles are built of the finest materials.  They are carved by hand labor and emblazoned with pure gold leaf.  The tapestry and throne rugs were woven in Persia and Turkey.  The costumes were made in France.  The laces are from Ireland.  The scarfs, flags and banners are from Japan.  In this parade are employed 1,280 people, 700 horses, forty elephants, thirty camels and many teams of zebras, deer, dromedaries and llamas.
When under canvas the Barnum and Bailey show covers fourteen acres of ground.  It operates its own dining room, where 4,000 meals are cooked and eaten every day in the week.  It has its own post office, library, practice rooms, dynamo plant, doctors, dentists, detective force and lawyers.  Every kind of shop found in a small city is there.
<![if !vml]>

<![endif]>  Image Portfolio  
Cross Reference:

History of Watertown, Wisconsin