website  watertownhistory.org
    ebook  History of Watertown, Wisconsin
Fuermann Home
August Sr
214 N First
<![if !vml]>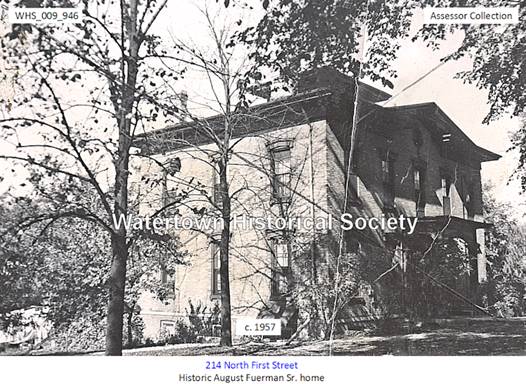 <![endif]>
click to enlarge
1964
02 14       FUERMANN HOME DEMOLISHED
The one-time mansion at the foot of North First Street, [former August Fuerman Sr. home] now known as "the annex," will be dismantled and a parking lot created on the site to accommodate approximately 48 to 50 cars, if members of the common council approve a recommendation to be made by the special parking lot committee which was recently designated by the council to look into the future use of the area.  The area site, formerly known as the Gallert-Mitchell-Silagy properties, was purchased by the city last year as part of a general development plan in the area of the new municipal building in Memorial Park.
03 08       DEMOLITION OF PROPERTIES
The City of Watertown Saturday disposed of two recently acquired properties.  Both were sold at auctions conducted for the city by Alderman Marvin O. Niehoff, a licensed auctioneer.  Peter J. Euper, Jr., and Merlin Krug purchased the former Mitchell and Silage building, known as "The Annex," in North First Street.  Their bid of $160 was accepted.  They will remove the building, which was among Watertown's finest mansions in its day.  The other property, the Ted Grabow [father of Harris] home in [123] North Fourth Street, at Madison, was sold for $12 to William Coughlin, route 5.  He will remove it.  The site is part of the city's planned project by which Madison Street will be extended from North Fourth to North Fifth Streets.
07 30       FUERMANN HOME NOW PARKING LOT
Parking facilities for 48 cars are being provided by the city in the North First Street, the Rock River bank area, north of Madison street and running almost to the foot of Jones Street.  The area formerly was the location of The Annex, an old mansion, and the old Gallart residence.  The municipality acquired the two properties, along with a lot owned by Watertown Lodge No. 666, Loyal Order of Moose, at the time plans for the new Watertown Municipal Building were being advanced.  The buildings were cleared away months ago and the land area was filled in and graded.  The area was ready for graveling today.
View south, from Cady St bridge, Fuermann home on right
View south, from Cady St bridge, WHS_005_213 Fuermann home on right
<![if !vml]>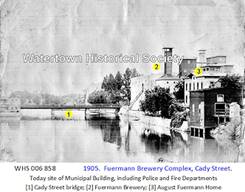 <![endif]>
Click to enlarge               1905.  Fuermann Brewery Complex, Cady Street.
Today site of Municipal Building, including Police and Fire Departments
[1] Cady Street bridge; [2] Fuermann Brewery; [3] August Fuermann Home
Cross References:

History of Watertown, Wisconsin