website  watertownhistory.org
    ebook  History of Watertown, Wisconsin
Webster School
Public School No. 4
511 Western Avenue
School No. 4 (began Webster in 1909)
1883      FIRST WATERTOWN HIGH SCHOOL   
The 1883 construction of the building, later known as the Webster School, the rooms on (the) upper floor of which were assigned to the high school, and those on the lower floor to grammar grades.
06 27       CONTRACT LET. Last week the board of education entered into a contract with C. Schmutzler for the erection of the First Ward School building at the sum of $14,500, this being $100 lower than the bid of J. Trumbull of Whitewater.  The bid of W. Quentmeyer, although lower in price, was not satisfactory to the Board in certain requirements such as binding the board to advance money for material on the ground, etc.  Mr. Schmutzler binds himself to have the building under roof and windows in it by December 1, and fully completed by July 1, next.   WR
07 04       GROUND BROKEN
The ground is expected to be broken this week by Mr. Schmutzler for the erection of the new First Ward School and the work proceeded with as rapidly as possible.   WR
c.1890
WATERTOWN HIGH SCHOOL / Became Webster School
<![if !vml]>

<![endif]>   S. Fifth St and Western Ave.
Constructed in 1883 as Watertown High School.  Became Webster grade school in early 1910's.  Demolished in 1957.  Today site of Trinity-St. Luke's Lutheran School.
1910
06 24       GRADUATION
Eighth Grade Graduating Exercises
c.1911
INTERURBAN TRACKS TURNING OFF OF WESTERN AVE ONTO S. FIFTH
<![if !vml]>

<![endif]>   Trolley headed up S. Fifth to Main Street, then west on Main.
02 02       NEW HEATING PLANT
At a meeting of the Board of Education Wednesday evening, the committee on buildings and grounds was instructed to have Downey & Kruse of Milwaukee draw plans and specifications for installing a new heating and ventilating plant in the Webster school building.   WG
04 20       SCHOOL HEATING PLANS READY
All interested in the new heating and ventilating to be placed in the Webster School have now an opportunity to examine plans at the city clerk's office and any suggestion in relation thereto may be submitted to the Board of Education within one week from date.
Dated April 19, 1911   /   Dr. C. R. Feld, Clerk Board of Education.   WG
1913
02 06       MOTHERS MEETING AT WEBSTER SCHOOL
What was considered the most profitable of all the mothers' meetings yet held at Webster School was that of Friday night, when in spite of the coldest night of the season, sixty-five mothers met the teachers to discuss home study.  The excellent preparation presented many phases of the subject, and the large number taking part in the informal discussion were a delight to all and proved how beneficial and practical in results these meetings can become.  Each and all carried home food for thought.  The eighth grade girls added to the program by furnishing vocal and instrumental music and serving the refreshments.    WG
1915
IDA KOOP, PRINCIPAL, WEBSTER SCHOOL
<![if !vml]>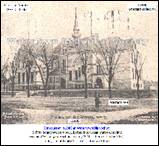 <![endif]>   Home of, 709 N Second 
1917-18
FOURTH GRADE CLASS
<![if !vml]>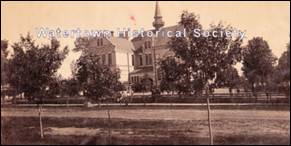 <![endif]>      Bernice Krueger teacher
1922
SIXTH GRADE CLASS
<![if !vml]>

<![endif]>  
1952
               NEW WEBSTER SCHOOL
<![if !vml]>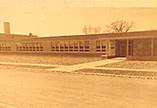 <![endif]>  
06 14       All material and physical properties in the old Webster School building are ready to be moved out, it has been announced by Roger B. Holtz, superintendent of schools.  He informed the Board of Education at its meeting this week that all such materials have been collected and packed, ready for moving.  He said that St. Henry's School, which will occupy the building starting July 1, has already made arrangements for moving in some of its equipment which it will use while its new school building program is underway.  Demolishing its old school building will be started by the parish next week.
1956
Since the school was replaced by a new Webster School building, the old structure has been occupied by two of the city's parochial schools while their own new schools were under construction.  Both St. Henry's Catholic and St. John's Lutheran parishes used it.
No immediate future use for such purposes is now seen, since St. Mark's Lutheran congregation now in the process of constructing a new school unit is using its present school building.  And when the new Douglas School is built by the city there will be no need to use the old Webster School building.  So, for temporary school purposes, the old building is "out."
1957
08 24       BIDS FOR DEMOLISHION WEBSTER SCHOOL
A call for contractors to bid on the demolition of the old Webster School building in Western Avenue is expected to be issued in an official city advertisement shortly, in compliance with a resolution to that effect which the City Council adopted at its meeting last week. 
City officials hope to get the work underway before winter if possible.  The city is retaining ownership of the site and will probably use it for playground or park purposes, with the eventual use to be left to the Board of Education should the time ever come when the site can be utilized for some minor school use.
1957
09 27       DEMOLISHION WEBSTER SCHOOL APPROVED
The "go-ahead" signal from the City Council on the demolition of the old Webster School building in Western Avenue, and a report from City Manager C. C. Congdon relative to a survey on bus line operations in state communities are included in the agenda which the City Council will take up at its meeting next Tuesday evening. The agenda was being prepared today at the office of the manager.   WDT
10 23       DEMOLISHION OF OLD WEBSTER SCHOOL BLDG
The Kreitzer Construction Co. of Watertown is in charge of demolishing the old Webster School building in Western Avenue which is due to begin shortly.  The school was abandoned in 1952 when a new Webster School was opened in South Twelfth Street.  Constructed in 1883 at a cost of $12,500, the old Webster School served for many years as a high school and later became an elementary school after the present Recreation Building was built in Main Street and served as the city's high school.  Since 1952 the old Webster School was used on a temporary basis by both St. Henry's and St. John's Schools while individual new schools were being constructed by the respective congregations.  It has also been used in the summer as a vacation Bible school by the First Baptist Church.   WDT
1958
01 16       NEW CITY HALL PROPOSED for old Webster School site  
The site of the old Armory Building, now the Recreation Building, in Main Street between North Seventh and North Eighth Street, has been proposed as the most logical location for a new City Hall for Watertown.  The recommendation has been proposed by the architects, Durrant and Bergquist of Boscobel, Wis., and Dubuque, Ia., who some months ago were delegated by the City Council to study the matter of a solution to the present overcrowded and largely outmoded City Hall   WDT
1959
09 02       MORE ON PROPOSED NEW CITY HALL 
Two sites are under consideration and available for the construction of Watertown's long-discussed and proposed new city hall—when and if the city council at last goes ahead and decides to build.  That was announced last night following the regular meeting of the council when City Manager C. C. Congdon presented to the councilmen the first "layout" for the building.  As yet the council has not authorized a new city hall and it is still in the planning stage.  The information presented by the manager merely reflects the various department spaces and facilities that have thus far been proposed for the new building.  The two sites which have been made available are the old armory location in Main Street, now utilized as the city recreational building, and the old Webster School site in Western Avenue.  Plans for a new city hall, which have been discussed for years, reached a point more than a year ago when two miniature models of such a structure were prepared and studied by the council.   WDT
1960
12 22       MORE ON PROPOSED NEW CITY HALL 
Miss Alice Krueger, Webster School teacher, is the author and director of a skit on the first kindergarten in America established in Watertown in 1856, which is scheduled to be presented on WISN-TV, channel 12, Dec. 31, New Year's Eve, at 6 p.m.  Mrs. Robert Liners will portray the role of Mrs. Carl Schurz in the sketch.  Six Watertown children will also appear in the cast.  They are:  Ann Bruce, Storey Hibbard, Kate Bloor, Susan Hines, Melanie Shepard and Jimmy Schwoch. All are pupils at Webster School.    WDT
1961
06 21          NEW FIRE STATION PROPOSED for old Webster School site 
The common council last night set the wheels in motion for a new fire station, possibly on the old Webster School property in Western Avenue.  At the suggestion of Alderman Herman Gerth the mayor named a committee to study the issue and report back.  The alderman said he was bringing up the matter to get the issue started in the present council, that it was an old issue which had been thoroughly explored by the previous administration but that it never reached a definite conclusion.  He said he thought it was time for the present council to turn its attention to the problem and that the logical first step would be for a special committee to "start the ball rolling."
08 05       OPPOSITION TO FIRE STATION
A petition signed by 26 residents of the area opposing plans for the location of the city's new fire station on the site of the old Webster School in Western Avenue was filed with the common council at its meeting last night.   WDT
2004
11 05       STUDENTS AT CAMP MATZ
A group of students at Webster Elementary School learned more than academics during a recent overnight camping trip at Watertown's Camp Matz.  The camp, located on the grounds of Bethesda Lutheran Homes, was an opportunity for teacher Pam Vonderohe's fifth-grade students to learn about cooperation and teamwork.  Vonderohe and her 12 pupils took part in outdoor projects, many including aspects of their American Indian social studies curriculum.  "Part of it is to do something out of the ordinary with them," said Vonderohe, who has taken three classes on the outdoor adventure.  "We get away from the daily grind and enjoy each other's company away from school."   WDT
2005
05 08       BRAD CLARK, RIVERSI ASSISTANT PRINCIPAL
Watertown Unified School District Superintendent Dr. Douglas Keiser is recommending Brad Clark, Riverside Middle School assistant principal, as the Webster Elementary School principal. He will succeed Diane Benner who is retiring. Clark was chosen out of 45 applicants from throughout the state and country for the position, according to Keiser. Keiser said only candidates with administrative experience were looked at because Webster is the district's largest elementary school. He said Clark's personality and experience working in the district for over 10 years attributed to his recommendation.  WDT
Cross References:
Webster School, old (Western Ave) Constructed by Christian Schmutzler
Webster School, old (Western Ave) Webster School, Old
Webster School, old (Western Ave) Webster School, Old
Webster School, old (Western Ave) Webster School, Old

History of Watertown, Wisconsin