website  watertownhistory.org
    ebook  History of Watertown, Wisconsin
The Schmutzler's
Leopold Schmutzler
   1894
Ferdinand Schmutzler is a product of the town in which he now resides, and as he has resided here all his life, it is, perhaps, not to be wondered at that he is a public-spirited citizen, and is interested in all that tends to improve and benefit the section.
He was born March 14, 1858, a son of Christian and Caroline (Seitz) Schmutzler, and grandson of Leopold Schmutzler, who was born in Saxony, Germany, and followed the occupation of farming. After a voyage of eight weeks he landed in the city of New York, in 1851, and came almost immediately to Watertown, where he resided until his death, a few years later. He brought with him to this country his wife, five sons and three daughters, the names of the latter being:  Leopold (deceased); Christian; Frederick, who served in a Wisconsin regiment and died after the war was over; Ferdinand (deceased); August also served in the war and now resides in Wisconsin; Christina (Ferge) died in Watertown; Mary (Vinz) resides in Green Lake County, Wis.; and Hannah (Ferge).
Christian Schmutzler
    Edward Schmutzler
Christian Schmutzler was born in Saxony, February 24, 1830, came to this country with his parents, and having learned the carpenters' trade, followed it until 1888. He then assisted in founding the Watertown Shoe Company, in which he is a stockholder, and was made its secretary and treasurer, which positions he still holds. He has always been a Democrat in politics, and was one of the organizers and now a member of the Evangelical Church. Socially he is a member of the I. O. O. F. He was married before leaving Saxony, and the children born to himself and wife are as follows: Charles, who died at the age of sixteen; Edward lives in Watertown; Ferdinand; Minnie; Ulrich; Emma died at the age of twenty-nine; and Lydia, who died at the age of twenty-five. Both parents are still living, and are highly honored citizens of Watertown.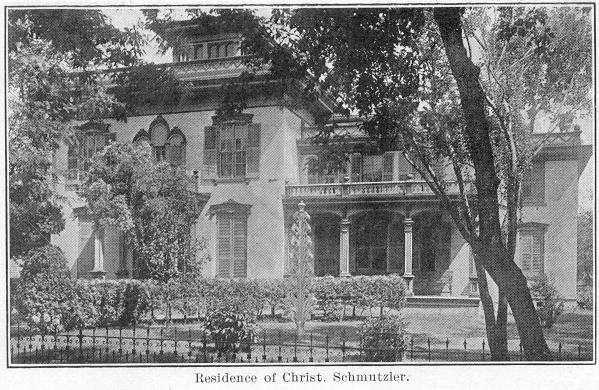 Christian Schmutzler Home  1902, Picturesque Watertown booklet
Ferdinand Schmutzler, 1914 image
<![if !vml]>

<![endif]>  < click to enlarge
Ferdinand Schmutzler
Ferdinand Schmutzler was reared in the town of his birth and was given a good practical education in the public schools. He started out in life for himself as a clerk in a dry goods store at a salary of $100 per year, and this occupation he followed for twelve years, the last year receiving $45 per month for his services.  He then went to Winneconne, where he opened and conducted a meat market for two years, but in the spring of 1885 returned to Watertown, and entered the employ of Weber & Son as a bookkeeper. In January of the following year he became a partner in this business, and since that time has had charge of the books. This firm is doing a profitable business, and the proprietors have shown themselves to be able and experienced business men and strictly honorable in their treatment of their many patrons.
Mr. Schmutzler was the founder and the first stockholder in the Watertown Shoe Company, in which he still has an interest, and he is also one of the organizers and directors of the Merchant's Bank, in fact he is one of the most useful and enterprising citizens of the place, and is deserving of all respect for he has made his own way in the world without help from any one. In 1887 he was elected by his Democratic friends as supervisor of the Third Ward, and for the past two years has been one of the city aldermen. Socially Mr. Schmutzler is a member of the A. F. & A. M., and at the present time is holding the position of worshipful master. He was married September 4, 1880, to Miss Augusta Weber, a daughter of Jacob and Minnie (Gloger) Weber, and five children have been born of this union, three of whom are living: Walter C., John J., and Lydia.
1909
07 02       A Fine Doll House.  Ferd. Schmutzler has built a fine doll house for his little daughter Marie; it is a facsimile of Paul Thom's residence, [at 209 South] Washington Street, in all its details, inside and outside, paint, architecture, etc.  It is furnished throughout and Miss Marie's dollies have a very beautiful home.  During the day time it occupies a conspicuous place on the porch at Mr. Schmutzler's home and is admired by everybody who sees it.  Ferd. Is certainly a genius and must have had a great deal of patience while putting together this miniature doll house.   WG
Ferdinand Schmutzler, Mrs, nee Augusta Weber
    Watertown Gazette, 08 15 1929
At one o'clock on Saturday, August 10, 1929, Mrs. Ferdinand Schmutzler, wife of Justice of the Peace Ferdinand Schmutzler, died at her home, 115 Washington Street. For several months she had been in poor health, but her death came rather suddenly, her condition on Friday becoming serious and grew suddenly worse till death set in February 17, 1858.  She was born in this city, her maiden name being Augusta Weber, daughter or the late Ex-Mayor Jacob Weber and prominent business man. 
On September 4, 1880, she was married to Mr. Schmutzler,, who survives her, also one son, John Schmutzler, of Mitchell, South Dakota, and two daughters, Mrs. Ary G. Keel and Mrs. Sidney C. Northrop, both of Watertown.  She is also survived by four grandchildren, one brother, Frank B. Weber, and two sisters, Mrs. Edward C. Schmutzler and Mrs. Paul Thorn, all of Watertown. 
Tuesday afternoon her funeral was held from her late home, Rev. Ware Foster of Wauwatosa, former pastor of the First Congregational Church of this city, conducting the services.  The interment was in Oak Hill Cemetery.
Mrs. Schmutzler was a woman of a peculiarly sweet and beautiful character, so that she bore with uncomplaining cheerfulness the illness which afflicted her for several months before her death.  These characteristics made her many life-long friends who feel the most sincere grief at her death.  A kind and loving wife and mother, a good Christian woman now sleeps in peace. 
The sympathy of all who knew her is extended to her surviving family, by whom she will be so badly missed, but it is a great consolation to feel that the final summons to this good lady was, "well done, good and faithful servant, enter thou unto the joys of thy Lord."
<![if !vml]>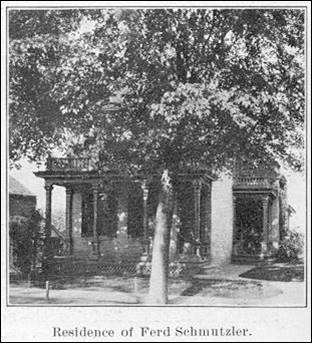 <![endif]>
Ferdinand Schmutzler Home, 1902, Picturesque Watertown
c.1952
<![if !vml]>

<![endif]>    City assessor pic
Edward Schmutzler
   Oscar Schmutzler, Sr
       Donald Schmutzler
       Oscar Schmutzler, Jr (Hap)
       Robert Schmutzler
1954
(09 22) Two grandsons of the late Edward Schmutzler who founded the Schmutzler Furniture Co. and the Schmutzler Funeral Home here now are members of the Schmutzler Furniture Co. which is continuing the family business interests.  The two, along with their father, have formed a three-way partnership.  They are Oscar E. Schmutzler, Jr., and his brother, Donald L. Schmutzler.  They have joined their father, Oscar E. Schmutzler, Sr., in business. Another grandson of the company's founder, Lt. Robert Schmutzler, is serving in the U.S. Air Force.
1976
A wealth of detailing went into the facade of the early Christian Schmutzler home, built as a replica of the family home in Bavaria in the early 1850's.  Although the house is still located at 614 Cleveland Street, there have been some structural changes since its erection 125 years ago.
Christian Schmutzler was one of Watertown's early builders.  He made extensive land purchases and began his building operations.  His first building was a two-room bungalow on the site of the present home of Oscar Schmutzler, Sr. (721 N Fourth), Christian Schmutzler's grandson.  He then completed the family home on Cleveland Street.  This stone house has pillars inset at the corners and extensive window ornamentation, both on the lintels and below the windows.
The present large brick home of Oscar Schmutzler is over 100 years old, completed in 1873 and remodeled extensively at later dates. 
Watertown's first City Hall on North First Street was completed by Christian Schmutzler in 1884. Others of his buildings include the first Webster School on Western Avenue, the large John Cole home, now occupied by Mr. and Mrs. Jerome Schultz at 802 North Fourth Street, and the Pugh home owned by Leo Bargielski at 501 South Fourth Street.
<![if !vml]>

<![endif]>     Pugh home
All brick for the Schmutzler buildings was Watertown brick.
The Schmutzlers are one of Watertown's few five generation families who have been active in the Watertown community.
<![if !vml]>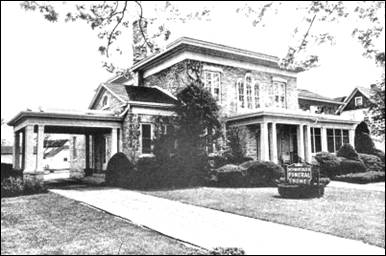 <![endif]>
In 2004 the former Schmutzler-Vick Funeral Home was converted
into the offices of the Pitman, Kyle & Sicula law firm
Schmutzer-Vick
1987
01 24       Raymond G. Vick Jr. will begin as an associate of Schmutzler Funeral Home as of Feb. 7, according to owners Bob and Don Schmutzler.  A native of Genesee Depot, Vick resides in Waukesha with his wife, Janet, and 4-month-old son, Justin.  The family will move into an apartment above the funeral home at the beginning of February.  Vick is a 1976 graduate of Milwaukee Area Technical College-Milwaukee funeral service program and has 12 years of experience in funeral service.   WDT
500 Welsh Road
1998
Watertown Daily Times, 07/20/98
Schmutzer-Vick will break ground for a new building at 500 Welsh Road on the city's west side in August.
The announcement comes as the firm celebrates its 125th anniversary as a family owned and operated business in Watertown.
The firm was founded in 1873 by Carl Nowack and Edward Schmutzler as a furniture and undertaking establishment, a common business combination at that time.  In 1935, Edward's son, Oscar Sr., converted the family home on Fourth Street into a funeral home.  Oscar's three sons, Oscar Jr "Hap", Donald and Robert as well as Hap's wife, Kate, operated the firm for more than 40 years.
The new one-story brick funeral home will be located on land purchased by Schmutzler-Vick in 1997.  The funeral home is the first parcel on the land to be developed.  Other sites will be available for future development.  The recent construction of nearby homes, a retirement home, two churches and future housing developments signal significant growth in the area.  The building plans call for more than 7,000 square feet for two chapels, a family lounge/arrangement room, a children's room, casket and cremation display areas, a crematory, work rooms and offices.
When the new facility opens, it will be the third location for the funeral home since it was opened 125 years ago.  The first building was located at 401 E. Main St., the present site of Red Apple Antiques.  The current facility is at 721 N. Fourth St.  That building will be sold in the future.
Raymond G. Vick
1952- 2017
Raymond G. Vick, 64, of Watertown, passed away unexpectedly on Friday, Jan. 6, 2017, while at the Watertown Regional Medical Center in Watertown. 
Ray was born on Nov. 6, 1952, in Waukesha, the son of Raymond and Ruth (Klussendorf) Vick.  Ray married his wife, Janet F. Kruschke on Aug. 17, 1974, at Immanuel Lutheran Church in Milwaukee.
Ray became a licensed funeral director in 1977. He enjoyed being a funeral director as he felt it was a great honor to serve families through those difficult times.  Ray's greatest joy was spending time with his family, going on vacation, having his weekly breakfast with his granddaughter and was extremely excited for the arrival of his next grandchild.  Ray was fond of shooting trap and even got an award for the high team average (which meant the team had really bad scores,) loved steam engines and was very involved in Watertown community groups.
Ray bought the Schmutzler Funeral Home on Fourth Street in 1986 and then the Hart Funeral Home in Marshall in 1991.  Ray then built the new funeral home on Welsh Road in Watertown in 1999 by the Watertown Farm & Fleet.  Ray was one of the first funeral directors to become a certified eye enucleator in Wisconsin.
He was an active member in church and church committees, Watertown Junior Jaycee's, Elks, BNI, Funeral Service Alliance board member, Oak Hill Cemetery board member, Watertown Humane Society board member, Conservation Club member and a Chamber of Commerce member, receiving the Business of the Year award in 1999.  In addition, he was a member of the Watertown Historical Society and the Watertown Arts Council. Ray was also highly involved in Watertown Lions, serving as two-time past president, Melvin Jones award recipient in 2010, Eye Bank services award in 1997, distinguished service award in 2000 and a Birch Sturm award recipient.
Ray is survived by his wife, Janet of Watertown; three children, Justin (Rebecca) Vick of Watertown, Jennifer (Chad) Petersen of Sullivan and Jordan Vick of Watertown; one granddaughter, Brenna Vick of Watertown; two siblings, Alysen Tieman of Big Bend and John (Karen) Vick of North Prairie; one brother-in-law, Paul (Kaye) Kruschke of West Allis; and several other nieces, nephews and other relatives.
Ray was preceded in death by his parents; one sister, Sandra Vick in 2016; one nephew, Troy Wilkening; and one niece, Tracey Skibbe.
Memorials can be directed to the family in Ray's memory, and all memorials will be directed to groups in the Watertown community.
Funeral services will be held at the River Valley Alliance Church, 610 Welsh Road, on Saturday at 11 a.m. A visitation will be held at the Schmutzler-Vick Funeral Home, 500 Welsh Road, on Friday from 4-8 p.m. and also at the church on Saturday from 9-11 a.m.  Private family burial will take place later at the Oak Hill Cemetery in Watertown.   
Reference:
Portions of above derived from Memorial and Genealogical Record of Dodge and Jefferson Counties, Wisconsin, Chicago; Goodspeed Brothers, 1894.
Cross-References:
Schmutzler family members buried in Oak Hill Cemetery
<![if !vml]>
<![endif]>
History of Watertown, Wisconsin