website  watertownhistory.org
    ebook  History of Watertown, Wisconsin
Richards' Hill
THIS FILE IS UNDER CONSTRUCTION
The Richards Hill District is unique because it is mainly comprised of Tudor Revival style homes built in the 1920s and 1930s but dominated by two very significant houses built in the 1850s – the Octagon House and the Gothic Revival style Jones-Kreitzman house, located at 1325 Western Ave.  Much of the land in this neighborhood was owned by John Richards until the 1890s, when it was divided into residential lots and sold.
John Richards arrived in Watertown, on foot, in the spring of 1837. .... The Octagon House, the beautiful home built on Richards Hill in 1854, was owned and lived in by Mr. and Mrs. John Richards and their descendants until 1938 when the family presented this generous gift to the Watertown Historical Society.
In addition to the popular Tudor Revival style, other architectural styles to be found in the Richards Hill neighborhood include Craftsman Bungalow, Federal style, and a number of houses built from kits most likely supplied by Montgomery Ward and the Sears-Roebuck Company.
Although not included in the architectural inventory, a prominent feature of the Richards Hill neighborhood is Washington Park, which was originally known as Richards Picnic Grounds.  The park was a prime gathering spot as early as the 1860s.  William Thomas, Richards' grandson, developed his ancestor's land into a city park, and by the early 1900s it became a center for sporting events, such as baseball and football games.
1854 or later
RICHARDS GROVE SCHOOL, built by John Richards in the late 1840s
<![if !vml]>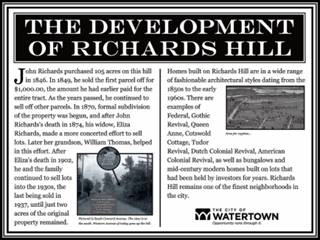 <![endif]>     <![if !vml]>

<![endif]>    Chapter on school  
1894
10 12       RICHARD'S HILL ADDITION IS PLATTED
Lots on the Richards Hill are offered for sale at from $100 to $500. There is no finer residence property in the city than this.   WR
11 14       LOTS FOR SALE
Richard's Hill addition is a new section of the city that has just been platted in the southeastern portion of the 1st ward.  It consists of about 75 building lots that are offered for sale at very reasonable figures.  WR
1895
10 30       WATER TOWER
A lot in the Richards Hill addition, on the north side of Western Avenue, opposite the old Livsey homestead, has been purchased by the waterworks company as a site for the water tower.   WR
c.1900
Addition, S. Concord Ave signage, WHS_006_981
1918
02 06       SKI CLUB TOURNAMENT ON THE HILL
Watertown plans to have a big ski tournament here.  It will be held on the slide of the Watertown Ski club located on Richards Hill.  
1920s
SKI SLIDE/JUMP, distant view
<![if !vml]>

<![endif]>      <![if !vml]>

<![endif]>
Sledding and skiing were popular and the best place for these sports in Watertown was located on Richards Hill, near the Octagon House, then still a private home.  William Thomas, grandson of John Richards and himself a quirky sort of fellow, erected a large ski slide on the south side of the house, along what is today Charles Street.  From this slide, one could, if the wind was at your back, slide down the chute and sail clear across the frozen Rock River and end up on the east side of the river. 
This was a popular spot on winter afternoons until one day in 1924 when two brothers. Hubert and Leonard Born, decided to slide down the hill at nightfall.  Normally, there was a look-out placed at the base of the hill along Concord Avenue to watch for passing cars and wagons, but since this was at night, there was no one to watch for the traffic.  As the boys came down the hill, they were struck by a horse-drawn cutter and after lingering for a day, they both died.  Since then, it has been illegal to slide down Richards Hill.  [Derived from Watertown: A History, by Bill Jannke]
pre 1924
SKI SLIDE/JUMP, Octagon porches were removed in 1924
<![if !vml]>

<![endif]>   <![if !vml]>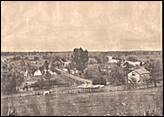 <![endif]>   <![if !vml]>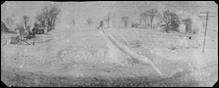 <![endif]>
<![if !vml]>

<![endif]>  Image Portfolio  
Cross Reference:
Watertown's First Cemetery:
<![if !vml]>

<![endif]>  The old cemetery on Richards' hill, fronting on Western Avenue and the first one ever established in Watertown, was the subject of considerable controversy . . .

History of Watertown, Wisconsin