website  watertownhistory.org
    ebook  History of Watertown, Wisconsin
Bittner and Tetzlaff
Drug Store
1914      SCHEMPF DRUG CO. SELLS OUT
04 23       The Schempf Drug Co. has disposed of its business interests to Max Tetzlaff, son of Ex-Alderman Herman Tetzlaff, and Erwin T. Bittner, son of William Bittner.  Both young men have been engaged in the drug business in Racine a number of years and are well qualified to conduct a drug business.  Hosts of friends here wish them success.  John W. Schempf, the former proprietor of the business, may decide to locate in the west.   WG
1915
Ad, Rexall Drug Store, Ansco Films, 202 E Main
Postcard published by Bittner & Tetzlaff [1915 is approx date]
1934      BITTNER & TETZLAFF DISPLAYS QUINTUPLETS' PHOTOGRAPH
08 02       Bittner & Tetzlaff's Drug Store has placed in its show window a picture of the quintuplets born here to Mr. and Mrs. E. M. Kanouse on February 12, 1875.  The picture was taken by C. W. Rundlett, who had a studio above the present John E. Heisman grocery store.  It was secured from Mrs. A. Cox of Green Bay, a granddaughter of the photographer, who has presented it to the Watertown Historical society.   WG
1943
THIRD WAR LOAN DRIVE / Erwin Bittner
<![if !vml]>
<![endif]>  
1944      ERWIN T. BITTNER, b. 1887, d. 1944
Erwin T. Bitttner, Druggist, is Dead / Heart Attack Fatal; Funeral Services to Be Held Saturday
Erwin T. Bittner, a widely known Watertown businessman, died last night at his home, 305 Milwaukee Street.  His death was due to a heart ailment from which he had been suffering for a long time.  Since December, 1943, he had not been active in his business and had been at home, under the care of a physician.  He had improved sufficiently to be permitted to come to the business section in recent weeks and he paid his last visit to his store about three or four weeks ago.  Since then his condition had again taken a turn for the worse and he died last night.
His death breaks a 30 year partnership with Max Tetzlaff in the Bittner and Tetzlaff drug store.  The two men took over the old John Schempf drug store in Main Street in 1914, just 30 years ago.  They operated on the same site until 1928 when they purchased the present building at North Second and Main streets and since then, with the exception of ten years during which he worked as a druggist in Milwaukee and Racine, Mr. Bittner had lived in Watertown.  He was married on Nov 25, 1915 to Miss Esther Nicolaus of Fort Atkinson.  His wife survives, as does one son, Erwin Bittner of Chicago.  There are three sisters, Mrs. A. D. Miller, Chicago; Miss Theodora Bittner, Rock Island, Ill., and Mrs. Eugenia Gotsch, Fort Wayne, Ind.
Cross reference:  Family Tree  
1946      FIRE
December 18, 1946
<![if !vml]>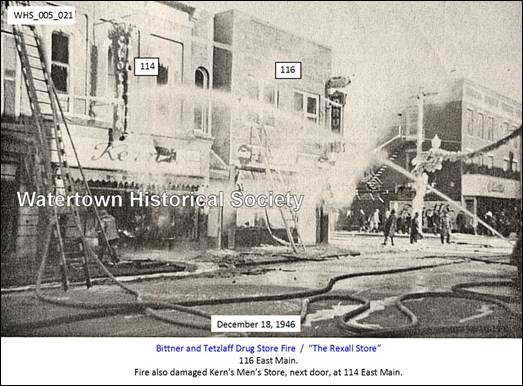 <![endif]>
The Bittner and Tetzlaff Drug Store was located at 116 East Main, on the corner of Second and Main.  Known as "The Rexall Store," it was the location of one of the biggest fires in Watertown.  The fire also damaged Kern's Men's Store, next door at 114 East Main.
<![if !vml]>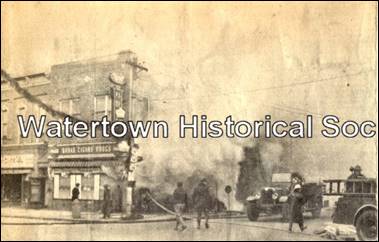 <![endif]>
1965      LEWIS AND CLARK APOTHECARY SOLD
08 02       The Lewis and Clark Apothecary at 116 Main Street, which for many years was the Tetzlaff Pharmacy, will be taken over by one of the two partners who are presently operating the business.  Louis M. Tetzlaff, 324 Elizabeth Street, has sold his share in the business to Clark Rhinesmith, 120 Kansas Street, who will take over the business on Jan. 1.  Mr. Tetzlaff told the Times this morning that he plans to continue living in Watertown and will continue to work at the pharmacy.  WDT
Cross Reference:
Erwin T. Bittner buried in Oak Hill Cemetery
Cross References:
                              Dr. Edward Johnson, Watertown's first druggist

History of Watertown, Wisconsin