website  watertownhistory.org
    ebook  History of Watertown, Wisconsin
Theodore Prentiss
1818 - 1906
First Mayor of Watertown
<![if !vml]>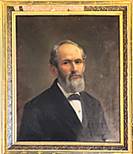 <![endif]>
Theodore Prentiss
Click to enlarge
THEODORE PRENTISS [*] was born September 10, 1818, at Montpelier, Vermont.  He is the eighth son of Samuel Prentiss, formerly chief justice of the Supreme Court of Vermont, subsequently United States senator for two terms, and afterwards judge of the United States district court.  His father was a native of Stonington, Connecticut; his mother, Lucretia Houghton before her marriage, was a native of Northfield, Massachusetts.  His paternal and maternal grandfathers served in the revolutionary war, and his paternal great-grandfather was a colonel in the war, from Stonington. 
Mr. Prentiss pursued a course of study in the academy of his native town, preparatory for college, and entered the University of Vermont in 1838, but left the same year by reason of ill health and went south.  He returned in 1842, and studied law in his father's office at Montpelier, and was admitted to the bar in 1844.  He removed to Wisconsin in October, 1844, and settled in Watertown, Wisconsin, in February, 1845.  He was elected a member of the first and also of the second convention for forming a state constitution; was a member of the state legislature in 1861, and the same year was elected a member of the Board of Regents of the State University, and three several times he has been mayor of the city of Watertown.  He married Martha J. Perry, of Montpelier, Vermont, December 4, 1855, and has three sons.  He has been successful in business so as to have acquired a fair competence. 
The services of Mr. Prentiss in the Constitutional Conventions of 1846 and 1847-8, were quite varied and important.  In the first, he was chairman of the committee on the acts of congress for the admission of the state, and reported the article upon that subject, which, after a single amendment suggested by himself, was unanimously adopted. In the second convention, he served as chairman of the committee on schedule and other miscellaneous provisions, in a manner equally acceptable to his associate members.  While he took but small part in general debate, his brief speeches upon several pending propositions are strikingly terse, logical, and to the point, proving a high order of mental culture, and clear and discriminating judgment.  His services in both bodies bear the impress of marked ability; and the same is equally true of his subsequent legislative labors.
He has ever held the position of a prominent, sagacious, and in all senses upright and worthy citizen of a state whose organic law he so ably assisted to perfect.
[*]  SOURCE:  Memorial Records of the Fathers of Wisconsin Containing Sketches of the Lives and Career of the Members of the Constitutional Conventions of 1846 and 1847-8 with a History of Early Settlement in Wisconsin.   Prepared by H. A. Tenney and David Atwood  
________________________________________________________________________________________________
Watertown was incorporated as a village in 1849, but the first city charter was passed by the legislature in 1853 and Watertown elected its first mayor.
Watertown's first mayor was a native of Montpelier, Vermont. He was Theodore Prentiss and held office as the city's first mayor from 1853 to 1855.  He was also elected in 1871 and served until 1872.
Mr. Prentiss was born in Montpelier on Sept. 10, 1818 and was one of 12 children, a family of 11 brothers and one sister. The sister died in infancy as did one of the brothers. Nine of the remaining ten sons followed their father in the practice of law. Theodore, who was to become Watertown's first charter mayor, graduated from the University of Vermont and studied in his father's law office. He was admitted to the bar in Vermont in 1844. All of his brothers remained in Vermont and other New England cities for their practice of law, while he decided to come to Wisconsin in 1845.
<![if !vml]>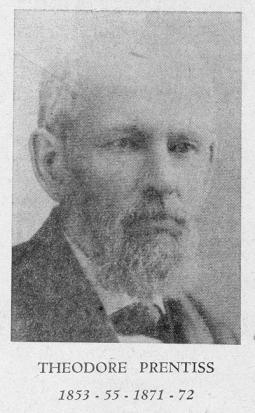 <![endif]>
The Prentiss family, through genealogical sources, has been found to date back to English and Puritan stock as early as the year 1318.
Stopped in Milwaukee
When Theodore Prentiss came to Wisconsin in 1845 he stopped in Milwaukee where he lived for a short time with a cousin, William Prentiss, who was at the time associated with Solomon Juneau.
Milwaukee records mention William Prentiss as early as 1836, the same year that Watertown's first white settler - Timothy Johnson - arrived here. William Prentiss was Milwaukee's mayor in 1858.
In February, 1845, Theodore Prentiss decided to come to Watertown. He had been here for several short visits and felt the community offered great possibilities. He decided to become an attorney here and practiced law. He had purchased considerable land in Watertown and in time became associated with railroad, banking and other interests. These interests became so extensive that he was forced to give up his law practice in order to devote his full time to his own business interests and investments.
Married in Vermont
In 1855 he had gone back to Vermont for a visit. While there he was married on Dec. 5, that year, to Martha Perry, daughter of Dr. Nathaniel Perry who became a Civil War surgeon and who was at the time living in Burlington, Vt. Mr. Prentiss and his bride came to Watertown in 1856 and took up residence at the Van Alstine Hotel in Main Street until their home on [802] Clyman Street was completed.
Three sons were born to them, Theodore Collins Prentiss, James Fred Prentiss and George Nathaniel Prentiss. Their old home, which was then listed as being on Clyman and Pritchard Streets, is now 99 years old and is still occupied by members of the Prentiss family, which consists of the widow of James Fred Prentiss and two grandchildren, James Prentiss and his wife, the former Olive Kreuziger, and Miss Helen Prentiss.
Served State Convention
Mr. Prentiss had become an active leader in the Watertown community almost from the day be arrived. He had been a member of the first Constitutional Convention held in Wisconsin in 1846 and also served the second such convention held the following year. He also served several terms as alderman and was a member of the State Assembly in 1860 and 1861.
One of the city's early day editors, D. W. Ballou of the Watertown Democrat, a weekly paper here, wrote of Mr. Prentiss as being "most modest in demeanor, an able lawyer, clear minded and universally respected."
While in the Assembly he introduced a memorial for an equitable tariff for freight and passengers on the La Crosse and Chicago railroad. He also sponsored a petition governing the duties of assessors and a bill to repeal personal liberty laws.
Watertown's railroad history, which later became a war in the state, began during the administration of Mr. Prentiss. At that time $80,000 was voted for railroad bonds to cover the cost of constructing the Milwaukee - Watertown Railroad. The bonds were to be secured by a bond from the railroad company and a mortgage on their property. The bond was executed but the mortgage was never issued. Soon thereafter the people thought that if one railroad was good, three or four, which would center in Watertown would be better. Succeeding administrations then voted to help finance the Watertown and Madison line and the Chicago, St. Paul and Fond du Lac branch. However, in 1869, Theodore Prentiss was the trusted adviser of Daniel Hall, another highly respected gentleman of English-Puritan lineage who fought the case through the courts.
In the charter election of 1871 Theodore Prentiss was again chosen mayor. However, on March 3, 1871 Daniel Hall was successful in getting the State Legislature to pass a bill whereby all city officials resigned and the government of Watertown was turned over to certain street (state?) officials who had limited powers. This continued for about 20 years until the case was finally successfully won by Daniel Hall in the Supreme Court.
The law office of Theodore Prentiss was above the Bank of Watertown.  His son, James Fred Prentiss, was associated with him after attending Beloit College and graduating from the Wisconsin University Law School.  The Beloit College Year Book reveals that William H. Woodard also attended Beloit College and after graduating in law from the University Law School began his practice in the office of Theodore Prentiss.
Theodore Prentiss died Aug. 3, 1906 and is buried in the Prentiss family lot in Oak Hill cemetery. He must be credited with being one of the men who charted the early course of Watertown and helped build it into the city of today.
________________________________________________________________________________________________
Early      Occupied building at 315 E Main   
This building was constructed around 1865 for Theodore Prentiss, a pioneer attorney in Watertown.  Prentiss was a Yankee who came to Watertown in 1845.  He was Watertown's first mayor after the city was incorporated in 1853. He also attended the first two state constitutional conventions in 1846 and 1847, and was an assemblyman between 1860-61.  Prentiss had his office here during much of his illustrious career.  This building also housed some retail firms. It was the Brennecke and Steinfort drug store between 1880 and 1885, the Robert Brennecke drug store between 1889 and 1911, and the William Gehrke drug store between 1915 and 1930.
___ 1861 __________________
04 11       THE MEMBER FROM WATERTOWN
Horace Rublee of the Madison Journal is writing a series of personal sketches of the prominent members of the Assembly.  Among the rest, he gives the following estimate of the character and services of the representative from this city.
"Hon. Theodore Prentiss, of Jefferson County [and Watertown], is held in high estimation by the members of our Assembly.  He has said but very little during the present session, being in the minority, as he is of the Democratic school in politics, and also of a rather modest turn of mind, he has chose to remain rather quiet in his seat, giving strict attention to the interests of his constituents.
"Mr. Prentiss is a lawyer by profession and is considered in his own city an able, clear minded advocate.  As a man he is universally respected.  His talents are of a high order, but his modest demeanor and fine sensibility prevent his becoming what some would term a leader in the present line of Wisconsin Democracy.  He is a sound, practicable and most reliable gentleman, and if he should ever feel disposed to join our Republican party, we would welcome him with all our heart.  As a citizen we now regard him every way worthy of public confidence."   WD
___ 1864 __________________
07 28       NEW PRENTISS BUILDING
New Block – On the corner of Main and Fourth streets Theodore Prentiss is laying the foundation of new brick block, the dimensions of which are 22 feet front and 51 deep, and one story high.  When completed it will be a substantial building and an improvement to the corner on which it stands. [This building is now second from the southwest corner, at 315 E Main.  Current corner building was built after 1864.]  WD
11 10       Messrs. T. & J. Prentiss have just completed a new and elegant office on the corner of 4th and Main streets.  This edifice is not only a credit to Prentiss Brothers, but an ornament to our city.  It is built in the latest style of architecture, with all the modern improvements, out buildings, fences and yards to correspond, and all in the best of taste.  We congratulate these gentlemen upon their accession to more comfortable and convenient quarters, while we hope the fate of their former place of business may not be in store for their present luxurious apartments. [?]   WD
___ 1865 __________________
05 04       JAMES PRENTISS ELECTED MAYOR
A special election was held in this city last Tuesday for the purpose of electing a mayor.  James Prentiss was elected by a vote nearly unanimous.  He possesses the qualifications necessary to make an efficient and popular mayor and we have no doubt that his official duties will be discharged with promptness and ability.   WD
09 21       PRENTISS ADDRESSES COMMON COUNCIL
COMMON COUNCIL PROCEEDINGS.
The Common Council held a regular meeting on Monday evening, Sept. 1lth, 1865.
Present — The Mayor, Ald. Baum, Baxter, Beckman, Brandt, Dennis, Kellerman, Moak, O'Byrne, Prentiss, and Quentmeyer, Riedinger and Stein,
The Mayor read the following address:
GENTLEMEN OF THE COMMON COUNCIL:
Upon returning after an absence from the city since the 1st of May, and although meeting you officially the first time, on account of the lapse of several months since the commencement of the official year, I deem it neither important, nor do I know of anything that necessarily requires me to make a lengthy communication or extended remarks.
The situation of the city financially, and the condition of its schools, were laid before you at the proper time.  The condition of the streets is not only good, but creditable to the city.  With a site for a town naturally unsurpassed any where — a large water power — a city generally substantially built — with railroad facilities all that could be desired and not exceeded by any town in the state — surrounded with a rich and fertile farming country – business thriving and enough for all to do – it would seem that with a proper, judicious and economical administration there could be no impediment to our prosperity and success
The only cloud, in fact, that hangs over us and that has or can in any way impede our constant advance, is the city indebtedness incurred for railroad purposes.
A portion, I understand, has been extinguished by one of the companies, and if the whole could wiped out satisfactorily to the city, it would be a lasting and permanent blessing.  The importance of relieving ourselves of this seeming if not real burden is, to my mind, very great, and in which every individual citizen is deeply interested.
Whatever, if anything can be done to bring about this desired result, ought and I have no doubt, will, receive your due and ready action.
In all matters, Gentlemen, coming before your body, it will be my endeavor, at least, to act faithfully and impartially, and if, in the discharge of my duties as presiding officer, which are altogether new to me, I make mistakes, they will be of the head and not of the heart; and in advance, I must ask your patience and, in indulgence.
J. Prentiss      WD
___ 1893 __________________
07 26       PRIVATE FORTUNE PLEDGED in case of bank bankruptcy  
___ 1915 __________________
10 28       LOCATED IN NEW BANK OF WATERTOWN
Building operations in Watertown have shown marked activity during the last year.  Many new residences have been erected, as well as a number of business buildings.  The chief pride of Watertown is the new building of the Bank of Watertown, which institution is the oldest of its kind in Jefferson county.  Its new home, which will be ready for occupancy about Nov. 1st, stands at the northwest corner of First and Main streets.  The ground floor is equipped with the most modern of bank fixtures, while the upper floors will house several commodious office suites which will be occupied by such firms as the individuals as the Old Line Life Insurance Company, Attorney Wm. H. Woodard, F. J. Prentiss [T. & J. Prentiss] and W. C. Stone; while the president of the bank, Mr. F. E. Woodard, will also have private offices above the bank.   WG
___ 1920 __________________
Membership in Wisconsin Historical Society   
________________________________________________________________________________________________
Prentiss Home       802 Clyman Street
Home of Theodore and Martha Prentiss at 802 Clyman Street, built in 1855.  First Mayor of Watertown.
Prentiss family lived in this house for over 100 years
Received Century Family Certificate in 1954
<![if !vml]>

<![endif]>   Red drapes - 4 pairs, 4 pieces each, heavily fringed and embroidered, 1870, Theodore Prentiss home, Clyman St.
In 1855 Prentiss built his Greek Revival style home at 802 Clyman Street.  The home, with a fine interior, was known as the Prentiss home.   In 1934 the home was acquired by Mr. and Mrs. Roland Casper.
Elaborate Fireplaces
The home contains seven fireplaces, though many are closed and only one is used regularly.  Fireplaces in the mid 1800's were built without dampers, allowing both cold drafts and squirrels to, enter at will.
Fireplaces began as simple fixtures for cooking, for heating, and later in the century became more, elaborate with emphasis on special decorations for the hearth. All the rooms are large, with high ceilings, and for all these years the home has been maintained in good condition.
___ 1968 __________________
07 13       BRICK TILE SIDEWALK PRESERVED
The brick tile sidewalk at 808-810 Clyman Street, once the property of Watertown's first mayor, Theodore Prentiss, is to be preserved as an historical site and a suitable marker will be placed there, according to terms of an agreement between the common council's public works committee and Miss Gladys Mollart, curator of the Octagon House, Watertown's historical museum which is owned and operated by the Watertown Historical Society.  Such a report will go before the council tonight and concurrence is assured.  The historical society recently requested that the Prentiss sidewalk area be exempted from the current sidewalk repair and replacement program because of its historical nature and as a tribute to Mr. Prentiss who came to Watertown from Vermont to become a civic leader here.
___ 1969 __________________
02 23       JEFFERSON GETS PRENTISS PORTRAIT
JEFFERSON — The past week the Jefferson Historical Society was the recipient of two oil paintings of men who helped to make history for Jefferson and its surrounding communities.  Previously they were in the Wisconsin State Historical Museum.  One painting is of Theodore Prentiss done by A. Brooks.  As an energetic young lawyer, Mr. Prentiss came to the Watertown area in 1845.  Wisconsin was not yet a state.  He was a member of the first and second Constitutional Conventions in 1846 and 1847, held for the purpose of writing the constitution for the state of Wisconsin.  Prentiss holds the distinction of being the first mayor of the city of Watertown.  He held the office for two more terms as well as being elected an alderman several times.

History of Watertown, Wisconsin