website  watertownhistory.org
    ebook  History of Watertown, Wisconsin
Fred Bertram
Henry Bertram
Bertram and Company
Fred Bertram
Fred Bertram, dealer in boots and shoes; born in Hanover March 23, 1845; came to Watertown with his parents in 1847; he commenced working in the boot and shoe business when only 14 years of age; he is now senior partner in the firm of F. Bertram & Co. (his father-in-law, M. Mullen, being associated with him); they are doing a very extensive business, having stores at Milwaukee, Sparta and Watertown.
Mr. Bertram married Miss Angeline Mullen; she was born in Watertown Township; they have four children - Freddie, Frankie, Willie and Lulu.  "The History of Jefferson County, Wisconsin", Chicago: Western Historical Company. 1879.
Buried in Oak Hill Cemetery
1899
03 01       BERTRAM INTERVIEW
               We are permitted to make the following translation from a Spanish publication in New Orleans, which has this to say of one of our citizens: 
               "The reporter of this paper had an interview today with Mr. F. H. Bertram, of Watertown, Wisconsin, who is the representative of one of the greatest cheese and butter-producing sections of the world.  He represents the great house of Jacob Jossi, located in his home city, whose sales of cheese are not confined to small quantities, but are more frequently in ton lots.  In the section in which Mr. Bertram lives, American, brick, Limburger and Schweitzerkase are manufactured in immense quantities, and if Mr. Bertram's orders elsewhere are in keeping with those taken here we think it must require the product of an entire state to furnish the supply.  Mr. Bertram is a quiet, conservative gentleman, thoroughly businesslike in manner, and has made many friends while in this city.   WR
1902
01 17       SET OF BUFFALO HORNS
               Fred. Bertram presented to Emil Meyer a fine set of Buffalo horns, on which are mounted two smaller horns.  They were a gift to him from the Indians of the Turtle mountains in North Dakota.  They are the prettiest Buffalo horns that we have ever seen.   WG
Cross Reference:  John Smith showed us quite a curiosity on Monday, being a pair of white cotton gloves he wore as a groomsman at a wedding in Ireland 56 years ago. They are well preserved, and look as though they might be in a good state of preservation 56 years hence. He also exhibited to us a fine pair of buff-colored gloves tanned by the Indians on the Turtle mountains in North Dakota.   WG 01 10 1902
____________________________________________
Henry Bertram of Watertown
Henry Bertram, manufacturer of and dealer in boots and shoes; born in Hanover Feb. 29, 1816; came to Watertown in 1847; engaged in present business ever since he came here, having been one of the most prominent and public-spirited men in the community.  [In 1847, the couple reached Watertown and this Bertram began selling boots and shoes on Main Street, in the western section of the building where Brown's Shoe Store stands today.]  The citizens of Watertown have manifested their confidence in his ability and integrity by electing him to fill various important positions; he was one of the first Aldermen and has served in that position for several terms; he was Mayor two years; City Treasurer two years; from 1865 to 1876 he was County Superintendent of the Poor; he was prominently identified with the institution of the I.O.O.F. Lodge here.
In August, 1842, he married Helena Reinecke, a native of Hanover; they have had five children; the living are Fred, Henry, Emily (Amalie) (now Mrs. Henry Daub), Mary (now Mrs. William Brandt) - one daughter, Sophia, died Dec. 20, 1878, aged 35 years; at the time of her death she was the wife of W. H. Rohr. "The History of Jefferson County, Wisconsin", Chicago: Western Historical Company. 1879.
1857-59    MAYOR OF WATERTOWN
1859
02 10                     Candidate for office of City Treasurer    WD
1861
05 23                Late city treasurer Henry Bertram paid a note given by the city improvement commissioners.   WD
1865
11 16       NEW STEAM MILL
Col. Henty Bertram is building a new steam mill near the Northwestern depot, on the west side of the river.  He intends to manufacture pine lumber on an extensive scale.  He can very easily get his logs from the north by railroads.    WD
1871
SOLD LAND FOR SACRED HEART COLLEGE
It was in the fall of 1871 that the authorities of the Congregation of Holy Cross at Notre Dame purchased the 65-acre Sacred Heart College site from Col. Henry Bertram who had purchased it from Patrick Rogen.  In addition to the land, the property consisted of a large two-story residence of white brick and other smaller buildings. That was the original school, and it later became a guest house.
c.1885
                   HELENA (HELENE) BERTRAM'S BOARDING AND LODGING HOUSE
    <![if !vml]>

<![endif]>      113 South Second St
Wife of General Henry Bertram, a former mayor and Civil War veteran
<![if !vml]>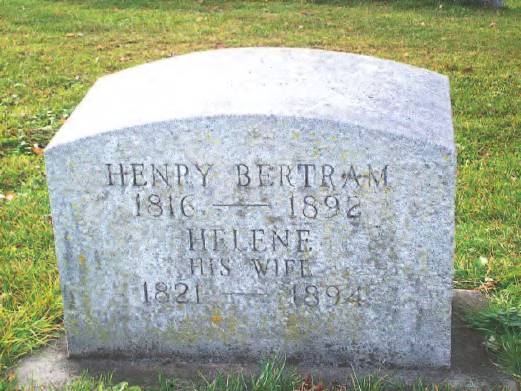 <![endif]>
Tombstone in Watertown's Oak Hill Cemetery
Cross-References:
1861, Henry Bertram, 1LT, Watertown Rifles, Civil War
Bertram & Co, Boots and Shoes, Civil War token, 1893, [head]  [tail]

History of Watertown, Wisconsin