website† watertownhistory.org
††† ebook† History of Watertown, Wisconsin
Fischer & Rohr
Merchant Tailorís
<![if !vml]>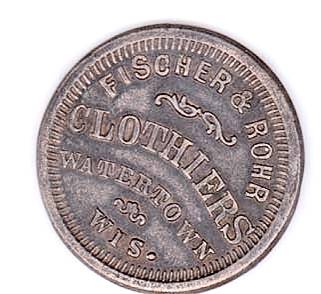 <![endif]>
1860
09 28†††††† One door east of Bertram & Coís shoe store.
Keep constantly on hand a full assortment of cloths and cassimeres.†
Gents furnishing goods, vestings, trimmings, etc., etc., etc.
We have a large stock of ready-made clothing of every description of our own manufacturer.† Custom work done to order at the lowest prices in the latest fashion.†† WR
1861
04 04†††††† A NEW INVENTION
Mooreís Family Sewing Machine.† The best and cheapest in use.† This machine is constructed upon a simple and durable plan.† Since we have used it this winter in our shop we can recommend it as superior to any other machine we know.† It makes the strongest and most elastic and durable stitch of any machine yet made.† It has the best and most reliable feed ever constructed and does not break needles.† It sews from two common spools, without re-winding.† It can be understood and operated perfectly with very little instruction.† In beauty of design and perfect mechanism it cannot be excelled.†
Please call and examine the machine and its work at the store of Fischer & Rohr, Agents, Watertown.†† WD
1861
08 08††††††††† UNIFORMS MADE IN WATERTOWN
††††††† Home Manufacture
The uniforms of the Wisconsin Regiments, with the exception of the First, are exclusively of home manufacture.† Fordís factory of this city, and Stewartís of Beaver Dam, are now manufacturing cloth and blankets for the Seventh and Eighth, which have been ordered into camp by the 16th.† Contracts for making the uniforms for these regiments have been awarded to Fischer & Rohr of this city and other parties in the state.† While large expenditures of money are necessary to equip the gallant sons of Wisconsin who go forth to do battle for the constitution and laws, it will be given but more freely when the citizens of our own state are to reap the benefits thereof.† The encouragement of our home institutions enhances our own prosperity.† Articles of home manufacture are the best placards that a state can post throughout the country.†† WD
11 07†††††† CLOTHING ESTABLISHMENT
One of the largest clothing stores in the interior of the state is that of Messrs. Fischer & Rohr in this city.† They have a splendid stock of every thing belonging to a gentlemanís wearing apparel and they do all their work in the most perfect order.† They cut and fit garments with a taste and skill that commands the admiration of their customers.†† WD
01 23†††††† [Advertisement] Gentlemenís Furnishing Store.† Heavy stock of ready-made fall and winter clothing.† Custom work done promptly and elegantly after the latest and most fashionable styles.† The subscribers take pleasure in announcing to the public that they now have ample facilities for supplying their customers with any variety of fall and winter clothing they desire.† Their stock is one of the largest and most carefully selected ever brought to this city and they will spare no pains to give the fullest satisfaction to all, both to the superior quality of their goods and the fine and elegant manner in which they are manufactured.† Those who prefer custom work can rely on the punctuality and exactness with which every order will be filled.† Besides a splendid assortment of ready-made clothing of all kinds, their broadcloths, cassimeres and vestings will be found [to be] the finest and best in the market, the styles new and beautiful.
Store in Bertramís Block, Main Street.† Fischer & Rohr.†† WD
12 25†††††† BOUGHT LOT
Real Estate:† L. R. Cady sold to Fischer & Rohr a 30 foot lot on the north side of Main Street for $75 per foot, amounting to $2,250.†† WD
1863
01 01†††††† NEW BRICK BLOCK
Messrs. Fischer & Rohr last week commenced digging the foundation of a new brick block on the north side of Main Street.† The new building will be 30 feet front, 75 feet deep, and two stories high, with an elegant front, finished something after the style of the blocks next to it.†† WD
1863 Civil War token, [head], clothiers
1864
12 22†††† Fischer & Rohr, Gentlemenís Furnishing Store, have now on hand and are daily increasing their heavy stock of ready-made spring and summer clothing, hats and caps.
Also a large assortment of cloths, cassimeres, and vestings, satinets, jeans, masarseilles, tweeds, linens, cottonades, etc.†
Custom work done promptly and elegantly after the latest and most fashionable styles.†
Stock of tailorís trimmings which are well selected and will be sold at wholesale prices.
Store in their new block on Main Street.††† WD
1865
1866-67
<![if !vml]>

<![endif]>
†††††††† Watertown City Directory
1919
Death of William H. Rohr
One of Watertown's Most Esteemed Residents
Rohr, William H., b. 1842, d. 1919,
†††† Sec 10, Oak Hill Cemetery
Watertown Gazette, 05 08 1919 [Article includes picture]
Ex Mayor William H. Rohr died on Saturday afternoon at the home of his daughter, Mrs. Gustav Meisner at Oconomowoc, with whom he had been residing several months on account of being in very poor health.† In the death of Mr. Rohr Watertown has lost one of its very best citizens and the news of his death was received in Watertown with much sorrow by all classes of citizens, for he was universally esteemed here.
Mr. Rohr was born on October 1, 1842, in Germany, and in 1853 came to Watertown with his parents, his father engaging in the merchant tailoring business here.† He was educated in the public schools of this city and at Beloit College.† After graduating from Beloit College, he taught school as an assistant to Theodore Bernhard, who kept a private school in the Second ward in the frame building still standing in Jones Street opposite the residence of H. Wertheimer; later he became a teacher in the public schools of Watertown.† He was principal of the Sixth ward school and taught school in the old frame school house where Douglas School now stands.
Shortly after the death of his father he formed a partnership under the firm name or Fischer & Rohr and for thirty years the firm was engaged in the clothing and merchant tailoring business, a business which Mr. Rohr continued several years after the death of his partner and closed out the business when he was appointed postmaster during President Cleveland's second administration, serving as postmaster of this city from 1893 till 1897.† He was mayor of this city two terms in 1882 and 1883.
He was elected clerk of the courts of Jefferson County seven consecutive terms, serving 14 years in that office.† He served as alderman of the First ward several terms and also on the school board, and held the position of Superintendent of Schools, was chairman of the Board of Supervisors of Jefferson County and was a member of the old fire department thirteen years.† He also served as poor commissioner of this district and was clerk of the Board of Education many years.
Mr. Rohr was married to Miss Sophie Bertram of this city, a daughter of the late Henry Bertram, an early day mayor of Watertown.† Mrs. Rohr died in 1878.† The surviving children are Mrs. Gustav Meisner of Oconomowoc, Mrs. Henry C. Martens of Milwaukee, and Max Rohr, cashier of the Merchants National Bank of this city.
Mr. Rohr was identified with the Masonic fraternity for half a century, joining Watertown Lodge No. 49, F. and A. M., in 1869, Watertown Chapter No. 11, R. A. M. in 1870, and Olivet Commandery No. 18, K. T. in 1882.† He served as master of the local lodge twice, and was past commander of the Knight Templars, filling the position for seven years. He was also a member of Watertown Lodge No. 666, B. P. O. Elks.
Monday afternoon Mr., Rohr's remains were brought to the home of his son, Max Rohr, 1011 Seventh Street, from where the funeral was held Tuesday afternoon under the auspices of the Masonic Lodge of this city.† Rev. E. E. Williams, pastor of St. Paulís Episcopal Church, conducted the religious services.† The interment was in Oak Hill cemetery.
In the various offices of trust to which Mr. Rohr was elected, he served with honor and in a most creditable manner.† Probably no man was ever better fitted by temperament or disposition to occupy a position of a public servant than Mr. Rohr.† By nature a thorough gentleman, he refused to yield to the petty annoyances and inconsiderates he had to face many times, and he met them courteously and with a friendly spirit of accommodation, which all learned to appreciate and respect.† His going is a loss to our city, for he was a shining example of an honest, upright citizen and of everything that is best in a human being.† The Gazette editor mourns his death as that of a man whom he has for over 50 years held in very high regard, and always esteemed and respected him as one of his very best friends.

History of Watertown, Wisconsin