website† watertownhistory.org
††† ebook† History of Watertown, Wisconsin
Henry Daub
1869:† Arrival in Watertown
Mr. Daub was born July 28, 1848, in Hamm, a city in the Province of Westphalia; he attended the University until 1862, and then engaged in the business of telegraph operator for the railway company; worked at that business until May 1, 1869 (seven years); at that time, being called on to serve in the army, he decided to emigrate to America, which he did, arriving at Watertown June 3, 1869.
Nephew of August Fuermann
For six months he was employed as bookkeeper in the Empire Brewery, owned by his uncle, August Fuermann; afterward he was engaged as a bookkeeper and clerk in the boot and shoe establishment of Henry Bertram; remained in that position for four years.
After leaving the retail boot and shoe business, he entered the employ of the wholesale boot and shoe house of Shay & Pearson, of Chicago, and continued with this firm as traveling salesman through Wisconsin, Minnesota and Iowa, for nearly two years; afterward, for one year and a half, he was with the Janesville Shoe Manufacturing Company in the capacity of traveling agent.
After the failure of the last-named company in 1877, Mr. Daub discontinued traveling and engaged in present business for himself.† He is a member of Washington Lodge, I.O.O.F., Guttenberg Lodge, 13, O.D.H.S., and of the Concordia Musical Society.†
Son-in-law of Henry Bertram
On Oct. 27, 1872, he married Amalie (Emily) Bertram, daughter of Henry Bertram; she was born in Watertown Oct. 26, 1852; they have two children Ė Louise, aged 4 years, and Mary, three years of age.
Above derived in part from The History of Jefferson County, Wisconsin, published: Chicago:† Western Historical Company.† 1879.
1880 city dir

1881
8 EAST MAIN
03 05†††††† Snow storm†† Daubís signage but building not Daubís, believed to be 8 E Main, north side of street
†††††††††††††††

05 12†††††† Henry Daub, at his restaurant, is putting on Metropolitan airs.† He has just introduced a one hundred and fifty dollar Refrigerator, and it is both ornamental and useful.†† WD
1891
05 15†††††† BOOMER DAM PROPERTY SOLD
<![if !vml]>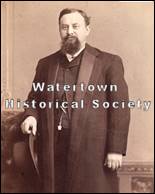 <![endif]>††
H. [Henry] Daub has purchased the old Boomer dam property from the heirs of the [Dwight?] Nute estate, which includes the old mill, the east half of the water power and three acres of land.†† WG
1892:† EXCELSIOR BEER HALL AND RESTAURANT
10 EAST MAIN
Henry Daub, proprietor of the Excelsior Beer Hall and Restaurant, and sole agent for the sale of Fred Millerís Milwaukee lager beer.†
In 1856 Frederick Miller bought the "Plank Road Brewery."† Miller had brought $10,000 in gold with him from Wurtemburg.† As Miller's, the brewery is still going strong.
<![if !vml]>

<![endif]>
click to enlarge
Daubís Saloon and Restaurant, c1892.†† ďMilwaukeeĒ sign in windows.† Henry Daub second from left.
106 N FIRST ST.† Building was next to (north of) Bank of Watertown and south of City Hall
1895
10 30†††††† MAN WALKING ON STILTS IS HOTEL GUEST
S. J. Loftus, of the Green Bay Athletic Club, who is walking on stilts from Green Bay to New Orleans, reached here Sunday afternoon and was a guest at the Hotel Daub until the following morning, when he continued his journey south.† He started a few weeks ago and is to receive $500 from The Police Gazette if he accomplishes his feat in a certain time.† At the pace he has set thus far we would judge it will take him all winter to reach his destination.† The stilts used are a yard in length.
12 25†††††† BOUGHT SIXTY-FOUR STUFFED GEESE
Last Wednesday Fred Albrecht, of Navan, sold to H. Daub sixty-four stuffed geese, the consideration being $240.82.† This is reported to be the largest sum ever paid here for one lot of geese.† Mr. Daub ships extensively to the Eastern markets.† H. Werthweimer, H. C. Meyer and A. Buchheit are also large suppliers.†† WR
c.1895
††† <![if !vml]>

<![endif]>
Henry Daubís Saloon and Hotel Garni. Henry Daub can be seen in the doorway.
This building stood on the north side of Main Street, just west of the Bank of Watertown building.
Today this is part of Fischerís Dept. Store.† Image dates to circa 1895.
ImageKR_140 of the Krietzmann Collection.
Daubís 10 E Main; Bank of Watertown 14 E Main
Cross reference note, regarding signage in window:
Ernst Tosetti beer (Tosetti Brewing Co)was brewed from the finest Bohemian hops and choicest western melts.† The hops are imported from the famous town of Saaz, known the world over as the biggest hop center, where the climatic conditions together with the soil, produce the very finest vines, therefore, the dealers selling this beer either in bottles or on draught (draft) gave the greatest value for the money.† It costs the dealer more than any American beer on account of the material used, its absolute purity and great age.†
1887-88 city dir

The Poor Manís Club
The old-time saloon was the Poor Manís Club.† Men gathered in the barbershop or sat around the country-store stove to discuss politics, but for good-fellowship, friendliness, and Gemutlichkeit they went to the saloon.† To it came men from all walks of life.† Within its portals a democratic spirit reigned, and all present became equals.
Standing at the bar with one foot on the rail or sitting around tables, little coteries talked companionably of their families and home and of their work.† They drank a little beer, ate of the free lunch, and then went home or back to their work.† Social life today offers few meeting places like the old German saloon.† Compared with it, the modern tavern is an arrogant pretender.
Holmes, Fred L., Sideroads:† Excursions into Wisconsinís Past, Madison:† The State Historical Society of Wisconsin, pg 63.
1898
1900
12 31†††††† HOTEL DAUB CLOSED
Hotel Daub has been closed to guests.† After catering to the public for the past sixteen years this well-known hostelry, which has been conducted during that time by the late Henry Daub, was closed last week and most of the effects sold at public auction.† The sale of the building necessitated this action and at present it is not known what disposition will be made of the place.† Saturday afternoon W. D. Sproesser purchased the Main Street property, which is part of the hotel.† The North First Street property, also a part of the hotel building, is owned by William Trachte.
1902
In 1902 the local Elks Lodge occupied quarters on the third floor of the Daub Building, 10 E. Main St., and moved in 1907 to the third floor of the Masonic Temple.† †WDT of 09 10 2007

History of Watertown, Wisconsin