website  watertownhistory.org
    ebook  History of Watertown, Wisconsin
1905-1923
<![if !vml]>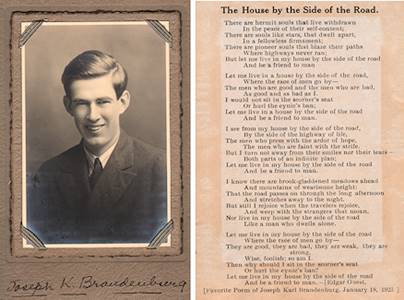 <![endif]>
click to enlarge
Watertown Gazette, 01 25 1923
Death of Joseph Brandenburg
Only Child of Mrs. Lilian Brandenburg
Popular High School Senior
During the noon hour on Thursday, January 18, 1923, Joseph Brandenburg was taken suddenly ill at the Watertown High School, and in less than an hour he passed away at St. Mary's hospital.  He was a member of the high school senior class and all remained in school to finish some work till 12:20, and just before class was dismissed Joseph became ill and his classmates helped him outdoors thinking lightly of his illness and thought when in the open air he would be all right.  When a few feet from the school building he swooned and fell to the sidewalk.  Principal van der Bie [?] and "Billy" Brandt, Ernie Kusel, Stephen and Joseph Bergen, high school seniors, rushed him in the Bergen auto to the nearest doctor, Dr. Nowack, just two blocks away, who instructed that he be taken forthwith to St. Mary's hospital and he followed quickly, as did Rev. Father Mahoney who had been phoned for.  In a few moments after the arrival of the priest and doctor Joseph passed peacefully away, just a few minutes previous to his mother's arrival, who had been notified of his serious illness.
The news of his death spread rapidly throughout the city and the sincere expressions of sorrow by our citizens told truly how dearly this promising young High School boy was beloved by our people.  He was the only child of Mrs. Lilian Brandenburg, one of Watertown's most prominent ladies, former proprietor of the New Commercial Hotel of this city, and a lady who ever since she has resided in Watertown has been the "good samaritan" to many a person in trouble, hence when this great affliction befell her, our people responded unanimously in extending sympathy and aid to her in her heartrending sorrow.
Joseph was one of the best liked and best young men in Watertown.  He was born at the New Commercial Hotel in this city on June 5, 1905, a son of Mrs. Lilian Brandenburg and of the late Joseph Brandenburg of this city, hence passed his entire life in Watertown.  Full of life, good cheer and fun, he always met you with a smile and was ever ready at all times to give aid and comfort to all who he chanced to come in contact with.  Not only as a high school boy, but as a boy citizen he took part in all outdoor sports, such as skating, tobogganing, skiing, tennis, etc., and never spared himself to push these laudable sports to a successful end. 
His funeral took place Monday morning at nine o'clock from his mother's home in Second to St. Henry's church, Supt. Berto of the Watertown public schools, the High School faculty and pupils attending in a body, six of the seniors, his classmates being pallbearers.  A large number of our citizens were also present .at the funeral, and St. Henry's church was crowded with friends of the departed.  Solemn High Mass was celebrated by Rev. Father Schwinn, assisted by Rev. Fathers Mahoney and GIassauer and Rev. Father Schweitzer of Lodi, former pastor at St. Henry's church occupied a place in the sanctuary.  His remains were placed in the McCarthy vault in St. Bernard's cemetery until arrangements are completed I to take them to Racine to be interred beside those of his father in the Catholic cemetery in that city.
May the Great Father of all bring peace and consolation to the suffering heart of his bereaved mother is the prayer of The Gazette, a prayer that is echoed and re-echoed by Joseph's and his dear mother's hosts of friends in Watertown and elsewhere.
Cross References: 
1915, Among school children who entertained for St. Henry's graduation exercise
Watertown High School Orbit for class of 1923 contains tribute and photo

History of Watertown, Wisconsin