website  watertownhistory.org
    ebook  History of Watertown, Wisconsin
August Wiggenhorn
Jeweler, fine jewelry, solid silver & plated ware, clocks
Wiggenhorn Jewelry
13 E Main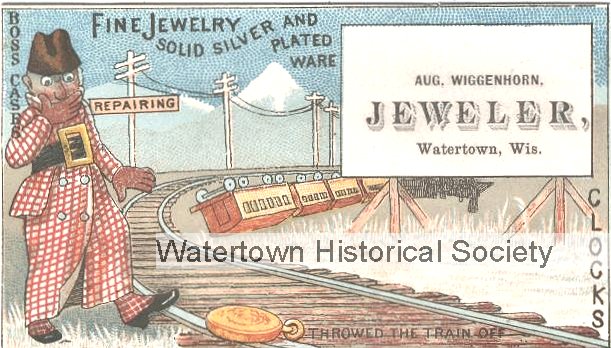 WHS_005_919
1866       113 S Second Street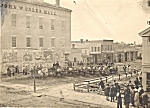 A Wiggenhorn, 1866, 113 S Second Street.  Second and Main, looking south on Second. 
Farmers in town, possibly for a "horse fair" or a "country fair"
1876
William Wiggenhorn obit, son,  Son of Wilhelm Wiggenhorn, early resident
08 16       TWO SHOT GUNS STOLEN
Mr. August Wiggenhorn, jeweler, is one of the victims of the Roscoe Theatrical combination, having had two shot guns stolen by the property man of the concern, who passed under the name of Louis Filber.  Mr. Wiggenhorn lent the guns for the play Saturday night, and neglected until Monday noon to go to the hall after them.  By that time they were safe in Filber's property box on the way to Chicago, Filber having left on the 10 o'clock train Monday morning.  To turn these guns, well loaded, on the property man wouldn't be a bad idea if it could be done. The recollections connected with the appearance of the Roscoe Theatrical combination of this city, are not likely to be effaced from the memories of this community for sometime. [Turner Hall also a victim]  WR
08 23       Mr. A. Wiggenhorn, Jeweler, has just had painted on the East side of his store building, a very attractive sign.  It is the work of that prince of artists, Mr. J. B. Murphy of the firm of Straw & Murphy.   WR
<![if !vml]>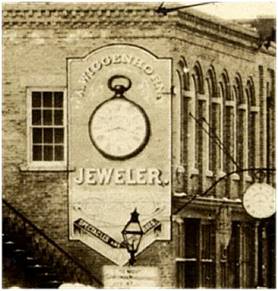 <![endif]>    <![if !vml]>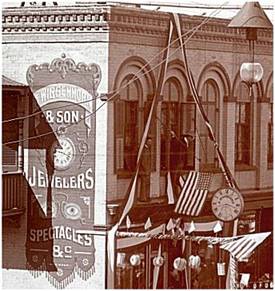 <![endif]>
Portions of 1881 image WHS_PC_432 and 1899 image WHS_005_604 showing Wiggenhorn store, 13 E Main, SW corner of Main and First
Assumption is that signage is of that created in 1876                       [Image digitally enhanced so to show signage]
1890
06 04       CLOCK AT POST OFFICE MAINTAINED
The large clock of the Sidney advertising clock company, hung in the post office, is attracting general attention and at all times of day many people may be seen standing around watching the time to roll by when the bell rings and the cylinders revolve showing three advertisements each revolution.  The cylinders change every five minutes.  The clock is under the supervision and care of A. Wiggenhorn.     WR
1899
06 27       ONE OF FOUR STANDARD CLOCKS
The Western Union Telegraph company (107 S. First St in 1899) has placed in this city four standard clocks and correct time will be gotten once a day at the telegraph office, where the master clock will be placed.  The others are in Wiggenhorn's jewelry store, Goeldner's department store and the New Commercial hotel.  The timepieces are of the most modern kind, self-winding, and will be regulated from the master clock each hour.  They work by electricity.
1910
OFFICIAL WATCH INSPECTORS FOR THE CHICAGO, MILWAUKEE & ST. PAUL RAILWAY
<![if !vml]>
<![endif]>  
1923
Mrs. August Wiggenhorn, 1923, St Bernard's, 50th anniv of cornerstone
1987
<![if !vml]>

<![endif]>       13 E. Main
2014
Transom glass recovered from storage from upper level of Pioneer Barn
<![if !vml]>

<![endif]>        <![if !vml]>

<![endif]>
The Watertown Historical Society has an amazing leaded glass transom window that measures 25 feet over several sections that reads "Wiggenhorn Jewelers" in colored glass.  Item is too large for our public display spaces, but we are proud to care for it nonetheless.
<![if !vml]>

<![endif]>   unk date
History of Watertown, Wisconsin