website  watertownhistory.org
    ebook  History of Watertown, Wisconsin
William C. Raue & Sons
Straw & Murphy
118 West Main, same as (earlier) 14 West Avenue
William C. Raue
1852 – 1929
William C Raue home, 302 S Fourth, 1900c , WHS_005_198
Schmutzler Paint Store
1876
08 23       Mr. A. Wiggenhorn, Jeweler, has just had painted on the east side of his store building, a very attractive sign.  It is the work of that prince of artists, Mr. J. B. Murphy of the firm of Straw & Murphy.   Watertown Republican
c.1885
<![if !vml]>

<![endif]>   118 West Main, same as (earlier) 14 West Avenue
<![if !vml]>

<![endif]>  
LOUIS ECKNER AND ED GOELDNER, employees
<![if !vml]>

<![endif]>   portion of previous image
1886
VIEW OF, ALONG MAIN ST
<![if !vml]>

<![endif]>  
<![if !vml]>

<![endif]> 
<![if !vml]>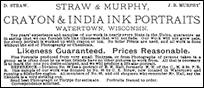 <![endif]>  
1887
<![if !vml]>

<![endif]>   1887 City Directory
1889
06 28       ALTAR PAINTED AND DECORATED
The main altar at St. Bernard's church has been beautifully painted and decorated by Straw & Murphy.  The side altars are also being retouched, the money for the former being donated by the will of a deceased member of the church, and the expense of the latter will be paid by a member of the congregation.    WG
c.1880s
<![if !vml]>

<![endif]>     advertising business card
1890
01 01       FIRST STREET SIGNS, THEN HOUSE NUMBERS
The street signs ordered by the Board of Street Commissioners are in the hands of the painters, Straw & Murphy, and are nearly completed and ready to be put in their respective places.  There are about 650 of them.  The next thing after this is the numbering of the houses to be done at the expense of the owners and then we hope will come the free delivery system in the city.    WR
1891
03 04       "Always On Deck And To The Front"
William C. Raue, to use his own phrase, "always on deck and to the front," is on hand again with an announcement in this week's Republican, reminding people of the approach of spring and how they can have their home cleaned and fixed up with taste.  Mr. Raue's facilities are complete to accomplish these ends.  Look his stock over.     WR
01 09       RAUE PURCHASED VOLCKMANN STORE
William C. Raue has purchased from William Volckmann the three-story building at 202 Main Street, formerly occupied by Weber's hardware store.  The building has a frontage of 24 feet and is 116 feet deep.  The consideration was $4,400. Mr. Raue will remodel the building and fit it up suitable for his paint and wall paper business. It will afford him much needed room.    WR
09 07       RAUE OPENED NEW STORE
Herman [William] Raue has opened a new paint, oil and wallpaper house at [202] Main Street, and has it stocked with everything first-class in his line.  He has had 17 years' experience in that line of business and guarantees satisfaction to all who patronize him.  Mr. Raue is an honorable, enterprising and energetic young man and fully deserves his share of the patronage of our people.  His ad will be found in another column.
1901       WILLIAM C. RAUE & SONS
03 08       William C. Raue has taken his two sons into partnership with him and the name of the firm will be Wm. C. Raue & Sons.  They will conduct a general painting, wall paper and carriage painting business, and have at the present time a large and up-to-date line of goods that is finding great favor with the public.
05 17       W. C. Raue, of the firm of W. C. Raue & Sons, has returned from a very successful business trip of the western portion of Dane county.  While on his trip he secured a large number of orders for painting, frescoing, glazing and papering, and he says his firm this season will have a larger force of men at work than he has ever before employed, and says they will have work until the snow flies next winter.
1903
06 16       At about 9 o'clock last Saturday evening as William C. Raue was returning to this city from the country where he had been looking over a painting job some of his men were doing, his horse became frightened about three miles east of here at something in the road, shied suddenly and ran into a fence, throwing Mr. Raue out, and in the fall his right foot caught in the buggy wheel and he sustained a compound fracture of the ankle, the bone being broken in a number of places. After he was thrown out the horse continued its flight and threw a young man who was in the buggy out also, but he escaped injury. The buggy was badly smashed. A farmer evidently near the scene of the accident hitched up and brought Mr. Raue and his companion in town. He was taken to his home in 4th street where he is at present getting along nicely, but his injuries will confine him to his home for several weeks.
c.1904
<![if !vml]>

<![endif]>  
c.1905
<![if !vml]>

<![endif]>     <![if !vml]>

<![endif]>   
1910
01 14       The Odd Fellows rented the third floor of William C. Raue & Sons' building [202 E. Main] and are having it fitted up for lodge rooms   WG
1912
03 28       PROFILE OF THE COMPANY
<![if !vml]>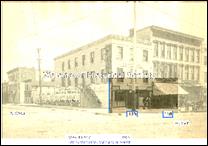 <![endif]>
The development and perfection of social tastes and refinement are nowhere displayed to better advantage than in the aims and desires of society to beautify and decorate the home, and the demand for attractive designs and superior taste in artistic painting, frescoing and house decorating generally has enlisted the intelligent and clever handiwork of men possessed of superior facilities for decorative art.
Among the accredited leaders in this city in this branch of business is the J. B. Murphy Co., who are the pioneers, having been established in 1864.  J. B. Murphy, the senior member of the firm, is thoroughly experienced in all branches of the business.  He was born in the old state of Massachusetts and came to Wisconsin in 1860.  In 1864 he commenced the painting and decorating business in Watertown, as an apprentice, and after wards, in 1869, he became a partner in the same establishment and the firm was Straw & Murphy, which continued successfully for twenty-four years.
In 1903 the company was incorporated with J. B. Murphy as president and treasurer and A. E. Schebsdat, [Schebstadt], superintendent of painters. 
They occupy two stores 118 and 120 West Main Street.
In the salesroom the elegant stock of wall paper is very handsomely arranged.  They are the exclusive agents for the best makers of wall paper in the United States, and also carry a fine line of imported paper.  Here can be found a large stock of paints, oils, glass, brushes, picture frames, window shades, machine oil and homemade boiled linseed oil.  They are also wholesale dealers and jobbers in illuminating and lubricating oils.
The number of our churches, public buildings and fine residences that are so much admired by visitors to the city are the artistic work and decorations of the J. B. Murphy Co. and we can also add, that some of our most successful painters learned their trade with this company.            WGazette
SCHMUTZLER PAINT MOVED TO 118 W. MAIN
L. E. Schmutzler has removed his painting and paper hanging business from 212 West Main to 118 West Main Street, first door west of Wisconsin National Bank.  The Printers Magazine and Paint and Wall Paper Dealers, 1913
02 13       BUILDINGS FOR SALE
The store buildings owned by Charles E. Straw, located at northeast corner of West Main and North Water streets and occupied by J. B. Murphy Co.  Inquire of Skinner & Thauer.   WG
1915
05 06       A FINE JOB OF INTERIOR PAINTING
Wm. G. Raue & Sons Co. have just completed painting and decorating the interior of the Watertown post office building, the entire interior part of the building having received four coats of paint.  This firm secured the work in competition with eleven other bidders, several bidders being from outside the city.  The lobby of the post office is particularly admired by all who take time to view the elegant tinting of the ceiling and sidewalls.  The large workroom is also a very handsome piece of work, and Postmaster James W. Moore and the entire force at the post office feel very proud of the work that has been just completed by Raue & Sons Co., and this progressive firm has every reason to feel gratified with the excellence of its work at the post office.   WG
1916
05 27       <![if !vml]>

<![endif]>      Weltburger ad
1917
<![if !vml]>

<![endif]>     1917           <![if !vml]>

<![endif]>     1919
Paint shop at 305 S. Third [automobile carriage sign and banner painting]
Office, retail paint and wall paper store at 202 Main
c.1927
<![if !vml]>

<![endif]>         <![if !vml]>

<![endif]>
1929
   Watertown Gazette 02 07 1929
DEATH OF WILLIAM RAUE
One of Watertown's Most Prominent and Enterprising Citizens
William C. Raue, one of Watertown's most prominent and enterprising citizens, died at 9:30 o'clock last Sunday morning at the home of his daughter, Mrs. Ben Gritzmacher, Kenosha, Wis., where he had been visiting several weeks.  January 24th he was taken ill with paralysis, and though he received the best of medical attendance and care, the hand of death could not be stayed. 
Mr. Raue was born in Mittenwaldes province of Brandenberg, Germany, on October 16, 1852, and in April, 1856, he came to Watertown with his parents and made this city his home ever since. 
After he left school he secured a position with the firm of Straw & Murphy, who for many years were engaged in the decorating and painting business in West Main Street.  He remained in their employ for 17 years, and on Feb. 5, 1885, formed a co-partnership with an employee of the same firm, in the same line of business, Theodore Dobbratz, now of Milwaukee. 
In 1887 Mr. Raue purchased his partner's interest in the firm, and continued the business on his own account at 309 Main Street.  In 1901 he purchased of the late William Volkmann the store building at 202 Main and continued the business therein till the present time, where his sons, Baldwin S. and Joseph J. Raue, have been associated with him as partners for a number of years past, the firm being incorporated in 1903 under the name of Wm. C. Raue & Sons Co., with William C. Raue as president, Baldwin S. Raue as Vice-president, and Joseph J. Raue as secretary and treasurer. 
His wife, formerly Louise Sanders, Buffalo, New York, died in 1904.  Two sons, Baldwin and Joseph Raue, and one daughter, Mrs. Ben. Gritzmacher of Kenosha, survive him. One daughter died in infancy.  Five grandchildren also survive him:  William, Edward and Philip and Joseph, Jr., and Eunice Raue.  One brother, Fred, is a resident of Nebraska, and three sisters, Mrs. Emily Frey, Mrs. Emma Voigt and Louise Richards of Milwaukee also survive him.  His brother, also a former Watertown resident in the same line of business as the deceased, died a short time ago in Milwaukee. 
Mr. Raue was a member of the German M. E. church, of Lincoln Lodge No. 20, Knights of Pythias, a member of the K. P. Calantha club and of the Plattdeutscher Verein.  His funeral was private from his late home, 302 Fourth Street, Rev. G. W. Schmidt, pastor of the German M. E. church officiating, and his remains were interred in Oak Hill cemetery. 
In the death of Mr. Raue Watertown has lost one of its most well-to-do, enterprising and honorable business men, and an artist in the painting line that had few equals.  The editor of The Gazette has been an intimate friend of his since boyhood, and during our long acquaintance has known him to be one of Watertown's most honorable men.  He was greatly interested in all civic affairs and has done his full share toward the upbuilding and prosperity of our city.  He served two terms in the city council.  With the many other friends of his bereaved family, the editor extends his sincere sympathy to them. 
1935
   Baldwin S. Raue & Sons, paints, 110 N Third
1936
FIELD MASS AT RIVERSIDE PARK, PART OF CENTENNIAL CELEBRATION
ALTAR USED WAS FIRST ONE ERECTED IN ST. BERNARD'S
<![if !vml]>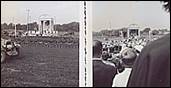 <![endif]>     1936 Watertown Centennial Celebration  
<![if !vml]>

<![endif]>  Image Portfolio        
The setting for the field mass was one of great beauty and solemnity.  The altar used was the first one erected in St. Bernard's church and was taken to the field for the occasion.  The baldacchino was designed by Baldwin S. Raue who spent more than a week in working it out, and this was a beautiful piece of work which, when carried out for the setting of the altar, proved to be a work of art . . .
Uncertain date
SCHMUTZLER PAINT & BICYCLE STORE
<![if !vml]>

<![endif]>  
1941
SCHMUTZLER & SON PAINT STORE, INTERIOR VIEW
<![if !vml]>

<![endif]>  
1945
BRIDGE PAINTERS
<![if !vml]>

<![endif]>  
  Watertown City Dir, 1945
Raue & Sons Inc (Inc 1903, Cap $10,000). Baldwin S Raue Pres, Evelyn Raue V-Pres, Edward S Raue Sec-Treas, Paints, Oils and Varnish Dealers and Painting Contractors, 110 N 3d, Tel 172
1950
Watertown Daily Times, 03 31 1950
Raue Paint Store Has New Owner
Announcement is made of the purchase of the retail paint store of Raue & Sons, Inc. 110 North Third Street by Clarence Kapheim, Milwaukee.
The new owner has been associated with the Decorators's Supply Company, Milwaukee.
The store will be operated under the name of Raue Paint & Wall Paper Store.
Edward Raue, head of Raue & Sons, Inc. disposed of the retail outlet in order to enable the firm to devote full time to it painting and decorating business.  The business now is located at 106 Jefferson Street.  The move was necessitated by the expansion of the painting and contracting business of Raue & Son, Inc. which specializes in hospital and institutional painting in the state of Wisconsin, Illinois, Iowa, Minnesota, Nebraska and Michigan.  It will enable the concern, Mr. Raue states, to render more efficient service to its local painting and decorating customers, and at the same time permit Mr. Kapheim and his staff to give their undivided attention to the retail store.
The paint store will continue to have the same phone number - 172. The Raue & Sons, Inc., phone number is 925.
Baldwin Raue, who heads the color styling department, continues with Raue & Sons, Inc., and will move his department to the new quarters in Jefferson Street.  His services, however, will continue to be available to the retail store.
     Established in 1885
The Raue paint store was established in Watertown in 1885 - 65 years ago - and through the years has been known as one of the community's well known and highly reputable business establishments.  After the decision was made to dispose of the retail outlet, Mr. Raue made a painstaking effort to locate a buyer with the experience and qualifications to continue to operate the business on the same high standards, and offer the same type of service that has gained a wide reputation for the Raue family.  In Mr. Kapheim, Mr. Raue is confident that the retail store will continue to be operated in a manner that will be in keeping with the type of service that has been rendered, and will continue to offer the same high quality merchandise.  In announcing the sale of the business, Mr. Raue desires to express sincere thanks to the many customers who have extended patronage through the years.
Mr. Kapheim is married and is the father of three children. He will move his family to Watertown as soon as living quarters can be found.
1960
09 07       BALDWIN S. RAUE
<![if !vml]>

<![endif]>  
1962
12 04       "SIGNS OF TOMORROW"
William J. (Old Bill) Raue, for 33 years in the graphic arts, doing all types of lettering, signs, showcards and screen process painting has opened his "Signs of Tomorrow" business in a new location, at 111 South Fifth Street, in the rear of that address.  In addition to his customary type of work, he had added two new lines, custom made, ready-to-print silk screens for industrial use, and design, sales and service of neon and interior lighted plastic signs.
1966
06 13       SCHMUTZLER SIGN SHOP
A public hearing on the application filed by Mr. and Mrs. Roger Schmutzler to rezone a piece of property at Franklin Street and River Drive will be held at Tuesday night's meeting of the common council, although the City Planning Commission to which the petition was referred has already decided to recommend to the council that the request be denied.  It is the plan to construct a concrete or metal building on the site to house sales and services for motorcycles and bicycles.  The planning commission takes the position, according to a report made public today, that since the area is primarily a residential neighborhood rezoning it for a cycle shop would not be conducive to good zoning practices.
Cross References
Brick sidewalk:  In the 1890's an "artificial sidewalk" was laid in front of the Raue residence on Fourth St.
1909    A Burglar—Last Saturday night during the absence of the family a burglar entered William C. Raue's home in Fourth Street by forcing a cellar door and thoroughly ransacked the house.  Miss Raue and a lady friend returned home at about 9 o'clock and found the house all lit up and she called who was there and there being no reply she went up town as far as Main Street and notified the police.  When the police arrived the fellow had skipped, but took nothing of value.   WG

History of Watertown, Wisconsin