This file part of www.watertownhistory.org website
Arthur L. Turke, Sr
1927 - 2009
1961
09 06          Arthur L. Turke, cashier of the Wisconsin National Bank, yesterday afternoon was elected to the bank's board of directors to complete the term of John A. (Jack) Meehan of 906 Harvey Avenue, who, with his wife, is moving to Florida.  Mr. Turke, who resides at 239 Spaulding Street, joined the bank's staff in 1950 shortly after completing his studies at the University of Wisconsin.  He was elected assistant cashier in 1952 and moved up to the position of cashier when that office was vacated by Walter Thrams who was elected president of the bank following the death of Fred J. Kaercher in 1956.   WDT
2009
Arthur L. "Bud" Turke, 81, of Watertown, died Friday, Jan. 2, 2009, at Golden Living Center following a lingering illness.
<![if !vml]>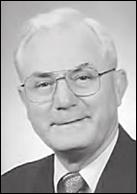 <![endif]>Funeral services will be held at 5:30 p.m. on Tuesday at Immanuel Evangelical Lutheran Church in Watertown with the Rev. Terry Larson officiating.  Visitation will be at the church on Tuesday from 2:30 p.m. until the time of the service.
Burial will be at Immanuel Lutheran Cemetery on Wednesday at 9 a.m. with graveside military rites by American Legion Post No. 189.  In lieu of flowers, memorials to Immanuel Lutheran Church Endowment Fund or the charity of one's choice would be appreciated.
Arthur Louis Turke was born in Watertown on June 22, 1927, the son of Arthur W. and Dorothy (Voigt) Turke.
He was married to Darlene Alice Zimdars.  Then, on July 8, 1978, he married Phyllis (Jaeger) Christian at Immanuel Lutheran Church.
Art attended Immanuel Lutheran Grade School in Lebanon, and was a 1944 graduate of Watertown High School.  He was in the Navy Air Corps as a pilot during WWII.  He attended Northwestern College, and received a BBA in 1950 from the University of Wisconsin-Madison.  Art was employed by Wisconsin National Bank in Watertown for 29 years, as a teller, bookkeeper, director, cashier and president.  In 1979, he joined Dean Witter Reynolds in Watertown, serving as an investment adviser/stock broker.  He retired in 1997 as associate vice president.
Art was a member of Immanuel Evangelical Lutheran Church, was in the church choir, was congregation president, and had served on various boards and committees.  He enjoyed hunting, traveling, and music. He was a talented musician, playing various instruments, and was an accomplished soloist.  Art was a former member of the Watertown Municipal Band, as well as performing with the Will Eske Band.  Most recently, he performed with the Yankee Dutchmen Solar Powered Precision Marching Band.
Art served as director of the Watertown Memorial Hospital at the time of the move to the new hospital location.  He was treasurer of the Watertown Chapter of the American Red Cross for 25 years.  His civic interests included heading a committee promoting the expansion of the Watertown Airport, serving on the board of directors for Watertown's Riverfest, and being a longtime member and president of the Watertown Promotive Corporation.
Art was a member of Watertown Rotary since 1968. While all of his civic involvements were satisfying, he felt that serving as member and trustee of the Joe Davies Scholarship Foundation was especially gratifying.
Art is survived by his wife Phyllis; four children, Art (Jenny) Turke of Oconomowoc, Constance (Jay) Richardson Turke of Minneapolis, Minn., Andy (Victoria) Turke of Plymouth, Minn., Sarah (Robert) Stocks of Watertown; two stepchildren, Neal (Julie) Christian of Watertown, and Dana (Clark) Entzminger of DeForest; 13 grandchildren; four great-grandchildren, nieces, nep-hews, other relatives and friends.
He was the last member of his immediate family and was preceded in death by his parents and a sister, Eva Uttech.
The family would like to thank Golden Living Center and Rainbow Hospice for their fine and loving care shown to Art.
Hafemeister Funeral Home 611 E. Main St. Watertown