website  watertownhistory.org
    ebook  History of Watertown, Wisconsin
Immanuel Evangelical
Lutheran Church
Corner of Ninth and Jones streets
Originally known as German Evangelical Immanuel's Church
<![if !vml]>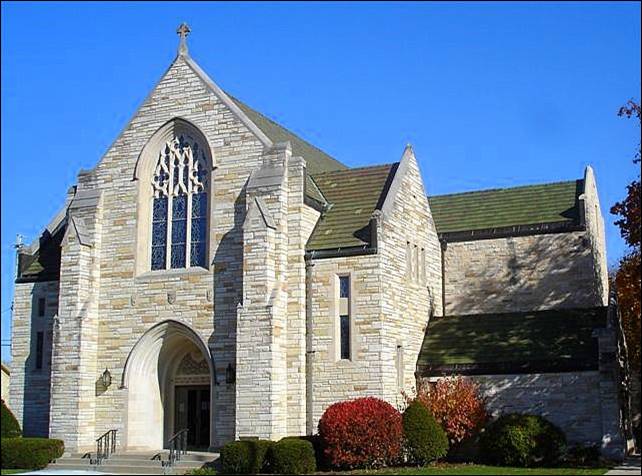 <![endif]>
1875
FOUNDED
The church began on Jan. 24, 1875, when nine people formed what was then known as the German Evangelical Lutheran Immanuel Congregation of the Watertown Community.  Before the end of that year, Immanuel's membership records included 28 names.  The congregation rented the Welsh Church to hold services and bought a parsonage, which doubled as a school house. 
1876
10 29       FIRST CHURCH BUILDING
On Oct. 29,1876, the first church building was dedicated on the present church site and served Immanuel for almost 76 years.
1889
                Fred Merkle baptized at Immanuel on New Year's Day, 1889.  Son of Ernst and Amalia (Thielman) Merkle.  Ernst taught at the Immanuel School from 1884-1889.
1900
05 29       TWENTY-FIFTH ANNIVERSARY OF FOUNDING
Immanuel Lutheran church of this city observed the twenty-fifth anniversary of its founding last Sunday.  Three services were held, at 9:30 a.m., 2 p.m., and 7:30 p.m., all in charge of the pastor Rev. Otto Pett.  A number of visiting clergymen, including Rev. H. Hoerdig, the former pastor, now of Menomonie; Rev. Mr. Wilke, of Madison, president of the state synod to which the church belongs, Rev. Mr. Haberman, of Johnson Creek, and Rev. Mr. Lanzer, of Farmington, were present and  participated m the ceremonies.  The attendance was large and much interest was evidenced.  WDT
1905
08 03       DEDICATION OF SPIRE
The beautiful spire on the Immanuel Lutheran Church on North Ninth Street was dedicated with appropriate ceremonies.  Addresses were made by Rev. N. Hahuemann of Farmington, Zimmerman of Johnson Creek and H. Hoerig of Menomonee.  It is a very symmetrical and adds much to the beauty of the church.  Church spires are always better than police stations for they direct the attention of men upward.    WDT
1908
06 11       Convention of WI district of Lutheran Synod of Iowa held at Immanuel    WLeader
c.1920
DISTANT VIEW, from Riverside Park
<![if !vml]>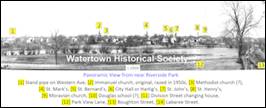 <![endif]>  
1925
-- --           50th ANNIVERSARY OF FOUNDING
<![if !vml]>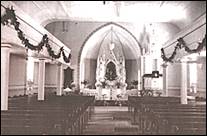 <![endif]>  
1935
12 25       CHRISTMAS
<![if !vml]>

<![endif]>         December 25, 1935
Immanuel Lutheran Church, 211-213 N. Ninth St.
Demolished in early 1950's; new house of worship at 213 N. Ninth.
1952
OLD CHURCH DISMANTLED
In 1952, plans began to build a new church.  The dismantling of the old church building was taken on by the parishioners themselves.  Working together, they pulled nails, cleaned bricks and sold lumber to bring in cash for the building fund.  Interestingly, the saved bricks were used in the actual construction oi the new building (sanctuary columns). 
1954
CHURCH DEDICATED
The present church building was dedicated on June 13, 1954.
1956
07 06       REV. CHRISTENSEN
Watertown's Immanuel Lutheran Church has named a new pastor.  He is the Rev. A. S. Christensen, present pastor of St. John's Lutheran Church in Reedsburg, Wis. The Rev. Mr. Christensen and his family will come to Watertown on Aug. 1, according to present plans and installation ceremonies are to be announced at a later date    WDT
1959
02 25       Special course on the Hebrew Bible; Rev. A. S. Christensen to take part in    WDT
06 01       Holy Land, six-week tour; Rev. A. S. Christensen preparing for    WDT
06 24       New parsonage plan rejected    WDT
1961
02 19       In an impressive ceremony on Sunday evening officers of the newly organized American Lutheran Church Women of the Immanuel Church were installed by the Rev. A.S. Christensen.  The newly installed officers are:  Mrs. John Gaston, president; Mrs. Harold Schultz, secretary of education; Mrs. Charles Wendt, vice president; Mrs. Stanley Chandler, secretary of stewardship; Mrs. Herman Rohr, secretary, and Mrs. John Ney, treasurer.   WDT
10 18       The Watertown Immanuel Lutheran Church, of which the Rev. A. S. Christensen is pastor, completed arrangements for Sunday's service at which the congregation's newly announced first assistant pastor is to be installed.  The day will mark a milestone in the history of the church, with the welcoming of the assistant pastor.  Now in its 86th year, Immanuel Lutheran Church has grown from seven members to over 1,800 baptized members.   WDT
1963
06 26       The Rev. A. S. Christensen, using a special litany, led a large audience in services at 9:45 a.m. Sunday in the formal dedication of the beautiful stained glass windows installed throughout the entire church nave at the Watertown Immanuel Lutheran Church.  The spiritual significance expressed in the elaborate symbolism of the total art glass project, expertly produced by the Conrad Pickel Studio of Waukesha, was reflected in the sermon theme, "Christ Our Light, in These Windows."   WDT
These stunning windows depict the life of Christ and number more than 25 in total
1965
11 28       Rev. A. S. Christensen, pastor of the Watertown Immanuel Lutheran Church, is one of 734 religious leaders who was commissioned to write an article for the new edition of The Encyclopedia of the Lutheran Church, a three volume work which has just been published by Augsburg.  Pastor Christensen was invited to contribute an article on "The Dead Sea Scrolls."  He complied and his article is included in the 3,000 entries which have gone into the three-volume work.   WDT
1969
10 23       LUTHERAN WORLD RELIEF CLOTHING DRIVE
<![if !vml]>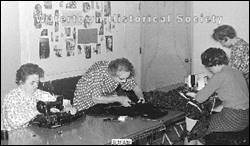 <![endif]>  
Immanuel Lutheran church women of the ALCW spent a day recently sewing and piecing coats, suits, and old blankets into useable 60" by 30" quilts and pads for the Lutheran World Relief clothing drive.
Mrs. Ronald Nass, Mrs. Arnold Braunschweig, Mrs. William Steinert, and Mrs. Lee Hubbard.
11 14       FOLK WORSHIP SERVICE
<![if !vml]>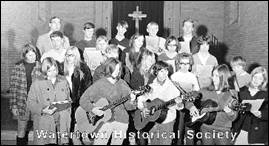 <![endif]> 
Pastor T. A. Cromwell, Al Kraemer, Dan Kehrer, Paul Kukla III, J. D. K. Johnson, Roy Krubsack, Joanne Hennings, Devonne Baneck, Vicki Winkelman, Patti Steinert, Marilyn Peterson, Jean Richter, Linda Uttech, Becky Brink, Rhonda Abelmann, Joy Lindert, Carol Hennings, Kris Nygaard, Molly Christensen, Linda Ehster and Kathy Lenius.
12 05       ANNUAL CANDLE LIGHT SERVICE
<![if !vml]>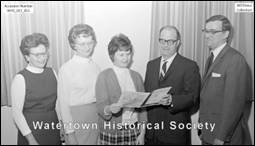 <![endif]>
Immanuel Lutheran Church will present its annual candle light service on Dec. 14.  The confirmation, junior, senior and youth choirs will participate in the program.  Choir directors [L-R] Mrs. A. S. Christensen, Mrs. Jack Zimmermann, Mrs. William Jensch (pianist), Wayne Strayer and the Rev. T. A. Cromwell.
12 12       ANNUAL CANDLELIGHT SERVICE
<![if !vml]>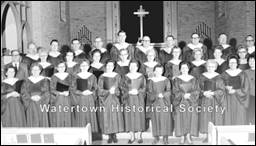 <![endif]> 
Immanuel Lutheran Church will present Annual Candlelight Service on Sunday, Dec. 14. The confirmation, junior, senior and youth choirs will take part in the program.
Donald Smith, Gordon Madsen, Kenneth Braunschweig, J. M. Verg, Wally Bostrom, William Schmidt, Robert Bender, Jan Rickerman, Harold Peterson, Dr. V. P. Smebak, Wayne Strayer, (director), Charlotte Hoffstetter, Isabella Mantey, Grace Henning, Dora Weckert, Ruth Smith, Meta Meske, Carol Freitag, Ruth Wolter, Dorothy Schmidt, Janet Hennings, Lucille Schumann, Adeline Richter, Irene Triana, Joyce Cromwell, Dorothy Vandre, Virginia Zauntner, Shirley Schlesner, Laura Verg, Mary Ellen Christensen and Wilma Jensch.
1983
10 30       NEW SCHOOL PLANS
Construction of a school discussed by Watertown Planning Commission    WDT
1983
PIPE ORGAN INSTALLED
In 1983, the Charles Hendrickson Pipe Organ Company of Minnesota was contracted to install the present-day pipe organ.
1985
OLD SCHOOL DEMOLISHIED
    SCHOOL WAS NEXT TO CHURCH
     <![if !vml]>

<![endif]>             <![if !vml]>

<![endif]>    
In 1985, the old school house was torn down and an educational wing was erected.  This wing includes administration offices, classrooms, meeting areas and a large multipurpose room/gymnasium.
04 08       Rev. Orlo Espeland, pastor, accepted appointment with the American Lutheran Church National Office    WDT
1992
05 01       REV. RICHARD HEINS AND HIS WIFE, REV. GAIL BRODERSEN-HEINS INSTALLED
The Rev. Richard Heins and his wife, the Rev. Gail Brodersen-Heins, will be installed as pastors of Immanuel Evangelical Lutheran Church, 204 N. Tenth St., during the three worship services this weekend.  Service times are at 6 p.m. Saturday and at 8 and 10:30 a.m. Sunday.  The Rev. Ronald E. Mach, assistant to the bishop and former pastor at Immanuel, will perform the installation ceremony.  Heins will serve as administrative pastor and Brodersen-Heins will be in charge of programs.  They will be joined at Immanuel by Bill Bravener, director of music; Bonnie Kirchoff, office manager; Diane Baule, financial secretary, and CJ Surdick, office clerk.  WDT
1999
06 23       Rev. Richard P. Heins retirement    WDT
2000       "HONORING OUR HERITAGE, FORWARD IN FAITH"  /  125th anniversary theme
01 18       The year-long celebration will begin on Sunday with a special anniversary fair from 11:30 a.m. to 3 p.m.  Immanuel Church was established in Watertown on Jan. 24, 1875.  Originally known as German Evangelical Immanuel's Church of Watertown, the congregation has occupied its current location near Ninth and Jones streets since 1876.  At that time, the lot was purchased for $225.  Between 1952 and 1954, the original building was razed and the current building constructed.  An education and administrative office building was added in 1984.  This year, building will continue with an accessibility project designed to create more usable space and a general remodeling of the worship area.   WDT
11 03
    Watertown Daily Times
Immanuel Evangelical Lutheran Church, corner of Ninth and Jones streets, will formally rededicate its worship area this weekend following a 4 1/2 month interior and exterior construction project. The project included a handicap accessible entrance, new heating and air conditioning systems, and an enlarged balcony.
The pews, altar, pulpit and lectern have been refinished.  The chancel area has been thrust out into the sanctuary, enabling congregational members to kneel at the communion rail without having to climb steps.
Immanuel Church has been a leader in service to the community for 125 years.
On Jan. 24, 1875, nine people, eight men and one woman, formed what was then known as the German Evangelical Lutheran Immanuel's Congregation of Watertown and Community. Today the church is known as Immanuel Evangelical Lutheran Church.
Before the end of 1875, Immanuel's membership had risen to 28 individuals. The group met in homes and then bought a parsonage. They rented the Welsh Church to hold worship services, and the parsonage did double duty as a school house.
<![if !vml]>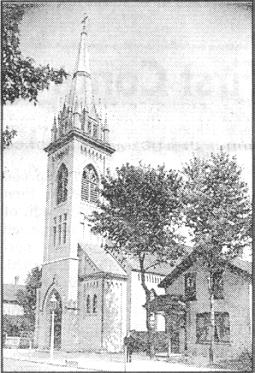 <![endif]>The congregation, associated with the Iowa Synod, grew and on Oct. 29, 1876, the first church building was dedicated. This building was much loved by its members. It was a brick church of moderate dimensions. There was a plain altar table and above, like a swallow's nest on the wall, hung the pulpit. To the right and left of the entrance stood the indispensable stoves that stretched their black piles like arms along the ceiling through the entire church.
The first organ was purchased in 1889 and an 18-foot addition with altar niche, sacristy and two side balconies were built. New pews replaced the old.
In 1902, the stoves were replaced by a furnace and kerosene lamps made way for modern gas lights in 1904. In 1905, a tower was built and colored windows took the place of the old plain windows.
The congregation continued to grow and have dreams. Many members still remember scraping and piling old bricks for use in the new church.
The present church building was dedicated on June 13, 1954. It is Gothic in style, and built of Lannon stone. In 1963 the stained-glass windows were installed and a Charles Hendrickson pipe organ was installed in 1993.
In 1985, the school house was torn down and an education wing was added.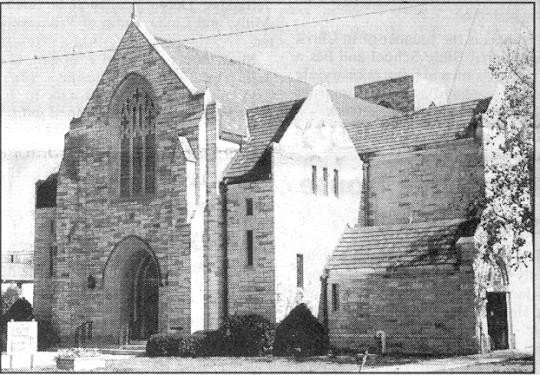 2000
12 15       After 55 years in the active ministry, the Rev. A. Stanley Christensen, N6294 Sunset Road, Watertown, will retire on Dec. 31.  The pastor served at Immanuel Evangelical Lutheran Church in Watertown for more than 20 years.  Christensen graduated from the University of Wisconsin-Madison in 1944 with a Bachelor of Science degree in education.  In 1946 he received a master's degree in theology from Wartburg Theological Seminary in Dubuque, Iowa.  He continued his studies in Hebrew at the University and Hebrew Union College in Jerusalem.  An article he wrote on the Dead Sea Scrolls was published in the Lutheran Encyclopedia.   WDT
2003
08 28       Bill Bravener, director of music at Immanuel Evangelical Lutheran Church in Watertown, has accepted a call as director of music and associate in ministry at Calvary Lutheran Church in Brookfield.  Bravener has been the director of music at Immanuel Church since 1991.  He was commissioned in 2000 as an associate in ministry in the Evangelical Lutheran Church in America.  He has served on the ELCA South Central Synod Candidacy Committee and as a faculty member of the Leadership Program for Church Musicians. Bravener is a past president of the Watertown Clergy Roundtable and has been an accompanist at Watertown High School.  He was a volunteer at Bethesda Lutheran Home and with the Dodge County Lifespan Respite Network, as well as a private piano instructor.   WDT
2005
04 17       Immanuel Lutheran Church of Watertown will mark the 50th anniversary of its church building with a day of celebration on Sunday.  Immanuel was founded in Watertown in 1875 and dedicated its first church building one year later.  By 1952, the congregation had outgrown the small structure on North Ninth Street and made plans to build a new and larger church building.  The original church along with two houses and a large garage located on Jones Street were torn down to make room for the new structure.  The cornerstone for the current building was laid in 1953 and construction of the new building began.  From the demolition of the original structure through the completion of construction the congregation held worship services in the old Savoy Theater.
2008
06 01       Jean Kwapil and Judy Hoffstetter were each presented with the Valient Woman Award for 2008 during the May Friendship Day service at Immanuel Evangelical Lutheran Church in Watertown.  The service was sponsored by Church Women United of Watertown.  The award recognizes the use of their spiritual gifts and dedication to Bread and Roses, a free meal offered every Thursday at Immanuel Lutheran Church.  Kwapil and Hoffstetter each received a certificate and pin in appreciation for their efforts in living out the Gospel message in church, school, community and business.
2009
10 10       "God's Work, Our Hands" initiative; greater involvement on part of membership and greater capacity for ministry   WDT
2015
FIRST BRIGADE BAND PLAYED SERVICE
08 02       <![if !vml]>

<![endif]>     Link to band's portfolio  
04 26       NEW CHURCH MUSIC DIRECTOR
Larry B. Peterson has come to Immanuel Evangelical Lutheran Church, Watertown, as its new director of music.
Peterson received his bachelor of music cum laude from Augustana College in Rock Island, Illinois, where he was an organ performance major. He went on to the Eastman School of Music in Rochester, New York, where he earned his master of music in organ performance. He has studied with distinguished teachers such as Russell Saunders, Paul Manz, Tom Robin Harris, H. Joseph Butler, Harald Vogel, Delbert Disselhorst, Greg Hand and Jan Thompson.
Before beginning his formal college study, Peterson started taking organ lessons at age 6 and held his first church position as organist at 13. He has served parishes as a full-time director of music in Brenham, Texas; Albert Lea, Minnesota; Davenport, Iowa; and Rock Hill, South Carolina. He was also director of music for campus ministries and instructor of organ for 15 years at his alma mater, Augustana College.
Peterson is one of the founding members of the first board of directors for the Association of Lutheran Church Musicians. He has been invited to lead worship services and workshops for various Lutheran events sponsored through ALCM and other ELCA synodical bodies.
Peterson was the founding organist for Quad City Choral Arts. He has appeared on the Christmas special "A Christmas Homecoming" produced by the Quad City Fine Arts and televised as a PBS special shortly after its release. Also featured on that special is an arrangement he was commissioned to write for the Augustana College Choir. He was also a guest director and recitalist for the Quad City Mozart Festival.
Peterson has also been dean of the Blackhawk Chapter of the American Guild of Organists and served as the convention chair the year that chapter hosted a regional convention. He has also been invited to Europe to give a series of organ concerts.
His most recent achievement was the founding and directing of RiverBend Bronze, an auditioned community handbell choir in the Quad City area. Within three years of their founding, they were invited to perform at two regional conventions of the Handbell Musicians of America and appeared as featured soloists for the Quad Cities Pops Christmas concert.
Peterson also enjoys composing, especially for the church setting, and has a few pieces published by Kjos Music Publishers. He has also arranged several works for advanced handbell choirs for the concert setting.
He is married to April Peterson and enjoys woodworking, home improvement projects, riding his motorcycle and spending time with his four dogs and five cats.
07 23       RESTORATION PROJECT, Education and Outreach Building
Immanuel Lutheran Church announced a substantial restoration process for its primary education and outreach building.  The Tenth Street property includes the church's administrative offices, Christian education classrooms, and several community outreach services.
In addition to the church's own use, Immanuel has a long tradition of outreach in Watertown and is home to a wide array of community service programs including the Watertown Food Pantry, the Personal Essentials Pantry and the weekly Bread and Roses dinner.  In order to complete the construction work, all activities in the education building will be relocated to other spaces in the church for a period of up to one year.  There are no planned interruptions in the many outreach services hosted at the church.
"In addition to the internal work, the outside facade is deteriorating and needs replacement," according to David Morstad, president of the congregation.  "We look forward to that new look. More important, we will have a building that will serve Immanuel and the Watertown community for many years to come."
The reconstruction process is expected to begin in late August and be completed by the summer of 2020.  Primary contractors assisting with the project are Building Envelope Professionals of Oregon and Maas Brothers Construction of Watertown.
c.2020
<![if !vml]>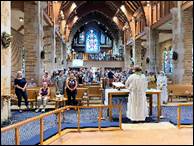 <![endif]>  
<![if !vml]>
<![endif]>   <![if !vml]>

<![endif]>    < PORTFOLIO OF PICS
Cross-References:
No 1:      Immanuel Lutheran Church History, 1875-2000 (pdf file)
<![if !vml]>

<![endif]>   Interments Listing, Immanuel Lutheran Cemetery
Immanuel Evangelical Lutheran Church continues to be the site for many community outreach programs including the Watertown Food Pantry, PEP (Personal Essentials Pantry), Hometown Missions and the Thursday Night Bread & Roses meal and its reputable music ministry continues to gain recognition with its new Music at Immanuel Concert Series. Immanuel prides itself on celebrating God's grace in Jesus Christ, accepting all unconditionally and growing in God's call to serve the world.
Christmastime at Immanuel is a magical time of the year.  In addition to its weekly worship services, annual Christmas Candlelight Concert, Christmas Pageant, and more, its traditional decorations transform the space to marvelous beauty.  Highlights include 20-foot handmade angel banners, an ornamental stone nativity, pew candelabras and multiple brightly lit Christmas trees.

History of Watertown, Wisconsin