website  watertownhistory.org
 ebook  History of Watertown, Wisconsin
Dr. T. F. Shinnick
<![if !vml]>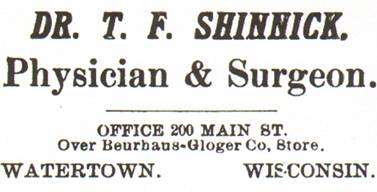 <![endif]>
1912
Watertown Gazette, 02 15 1912
Abraham Lincoln's birthday anniversary, as it arrives from year to year, will for many years to come be remembered pleasantly by Dr. and Mrs. T. F. Shinnick, for on Monday last, the birthday anniversary of the great emancipator, Mrs. Shinnick presented the doctor with a bouncing boy.
A friend of the doctor's says he weighs 19 pounds, but the doctor smiles as if he weighs twice that.  He tips the scales, however, at 9 pounds; and the doctor says "there never was such a fine boy."
Watertown Gazette, 06 06 1912
Tuesday afternoon, while crossing Main Street near 4th, Mrs. Shinnick, wife of Dr. T. F. Shinnick, was run down by an automobile and quite severely injured but no serious results will follow.  The driver of the auto put on extra speed and got away before it could be found out who he was.  The car he drove was a yellow one.
Watertown Gazette, 08 08 1912
Miss Elsie Seidel, for the past seven years clerk at the office of Dr. T. F. Shinnick, has resigned her position.  It is with regret that they many friends and patrons of the office see Miss Seidel leave, for she has made countless friends through her kind and courteous manner who join in wishing her happiness and success in the future.
Watertown Gazette, 08 15 1912
Legs Cut Off – Last Friday afternoon a locomotive was run to this city from Clyman for Dr. Thos. F. Shinnick, who was called there on account of a C.&N.W. Ry. workman having both of his legs and an arm cut off at that station.  He died before the arrival of the doctor.   WG
| | |
| --- | --- |
| Shinnick Family | |
| Shinnick, Marion, Miss | 1904, Teacher, Public School No 2, 08 19 1904 |
| Shinnick, T F | |
| Shinnick, Thomas F, Dr | |
| Shinnick, Thomas F, Dr | |
| Shinnick, Thomas F, Dr | |
| Shinnick, Thomas F, Dr | |
| Shinnick, Thomas F, Dr | |
| Shinnick, Thomas F, Dr | 1909c but pre 1935, 115 E Main, physician |
| Shinnick, Thomas F, Dr | |
| Shinnick, Thomas F, Dr | 1913, 200 E Main, physician |
| Shinnick, Thomas F, Dr | |

History of Watertown, Wisconsin