This file portion of www.watertownhistory.org website
Watertown's Other Octagon House
503 or 505 N Washington
[The 503 address no longer exists]
<![if !vml]>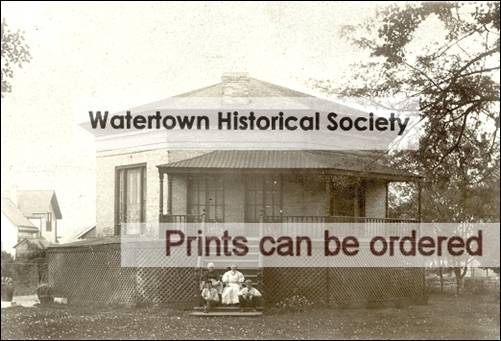 <![endif]>
WHS_PC_375
1850
Approximate date of construction
Located on a portion of the land at the northeast corner of North Washington and West Green streets in the old Fifth Ward, the house was built by E. B. Quiner, publisher of Watertown newspapers from 1850-1855. 
1855-1860
After Quiner's death the house was owned by a Mr. Baum.
AMOS BAUM?, Assistant Cashier of the Watertown Bank; born in Manheim, Herkimer Co., N. Y.; came to Watertown in 1855. For six years, he was connected with the Jefferson County Bank; he was not engaged in active business for about two years.  In October, 1863, he was appointed to the position which he now holds in the Bank of Watertown.  He has served as School Commissioner, etc.; Vestryman and Treasurer of the Episcopal Church. Sept. 11, 1849, he was married to Mary E. Goulding, daughter of Curtis Goulding, of Jefferson Co., N. Y.; she was born in Jefferson Co., N. Y.
c1865
Sometime later, probably around mid 1860s, the residence was purchased by August Neuman [Ferdinand August Neumann], who farmed most of the land between West Green and Elm streets.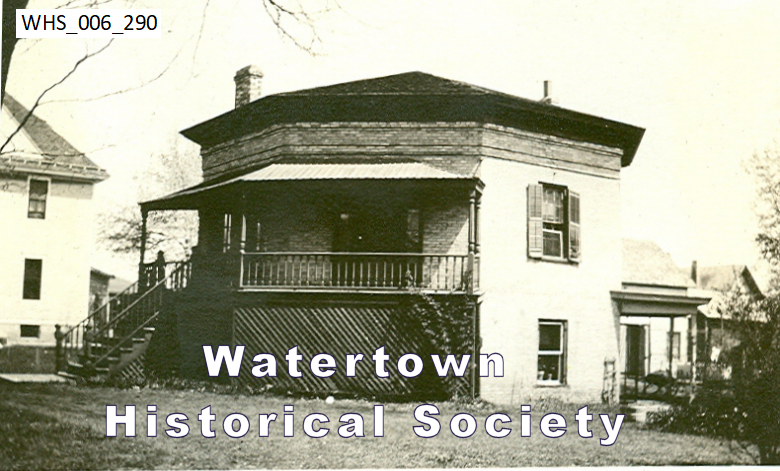 WHS_006_290
From back of above picture:
Ferdinand August Neumann (blacksmith)  02/08/1818 – 03/09/1873
and
Anna Sophia Stoelcke   08/08/1822 – 03/25/1901
               Edward   1847-1942
               Adolphina   1849-1931
               Emilia Neumann Schumann   03/06/1863 – 04/06/1915
               Herman   1851-1915
               Helen   1856-
               Hedwig  1859-1885
               Emma  1861-1960 and Charles Kleemann (built 416 N Washington (Potter's house). 
Was blacksmith, a city councilman, etc.)
Ferdinand and Anna were the paternal great-grandparents of David Schumann [source for this section] and the first of his relatives to settle in Watertown.  Ferdinand was born in Kollin and Anna in Klemmen, Kreis Pyritz, Pommern.  Ferdinand served as a non-commissioned officer in the 4th Squadron of the Royal 2nd Dragoon Regiment in the Prussian Army.  Ferdinand was a master blacksmith and is the trade he practiced in Watertown.  Ferdinand and Anna forfeited their privileges as Prussian citizens on March 8, 1860.  Shortly thereafter they arrived in Watertown and moved into the "501 N. Washington St. octagon house."
Ferdinand Anna's sixth child, Dave's paternal grandmother, Emilie Karoline Augustine, was born in the octagon house on March, 6, 1863. 
Emilie Karoline Augustine Neumann
   3/6/1862 – 4/6/1916
Johan Friedrich August Schumann
   5/28/1859 – 12/31/1935
The Neumanns are interred in the Lutheran Cemetery and the Schumanns are interred in Oak Hill Cemetery.
Later the house was owned by the John C. Calhoun family.  John's father, Albert E. Calhoun, born in 1851, emigrated to Watertown from Pennsylvania, and his mother, Mary Manston, was born in New York.  Albert was employed as a railroad freight agent.
John was employed by the Village Blacksmith Company.
Mary Calhoun, known as "Daisy," was a sister of John and she was the last owner of this octagon house.  She was also a sister to Bill Calhoun who was better known at "Tubby," at least to his friends.
Daisy served on the Board of Education.  She eventually had this octagon house torn down and had a "more modern" home built on the site.
Image Portfolio
Click to enlarge
| | | |
| --- | --- | --- |
| 1867 Birdseye view, Octagon House | 1885 Birdseye view, Octagon House | 500 block N Washington, c2008 |
| WHS_006_306 | WHS_006_307 | |
Cross Reference:
               Watertown Daily Times article, 04 03 2010, Tom Schultz
               Watertown's famed Octagon House, John Richards