website  watertownhistory.org
    ebook  History of Watertown, Wisconsin
Band Shell
Riverside Park
Dedicated 1954
<![if !vml]>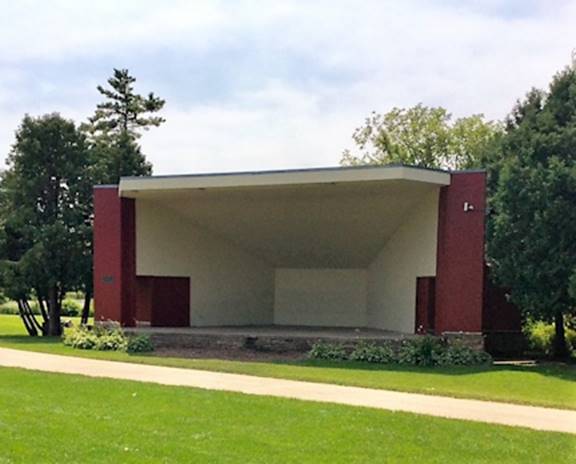 <![endif]>
1953
04 28       NEW BAND SHELL TO BE CONSTUCTED
Watertown's new band shell in Riverside Park will be constructed of concrete, wood and stone.  The design, plans and specifications are on file at the City Hall for consultation and study by prospective bidders.  Bids are due at 2 p.m. on May 12 in the office of City Manager Dean Van Ness, according to the call for bidders which was released in the Times on Saturday.  The shell will be 36 by 46 feet in size, overall.  It contains storage rooms which can also be used for dressing quarters when the stage is used for pageants or other outdoor productions.  The approval of the Wisconsin State Industrial Commission is expected shortly, it was said at the City Hall this morning.  State engineers have already given their approval of the design as to its acoustical qualities.
11 18       CONTRACTOR SELECTED
Wilbur Wollin, Watertown contractor who filed the lower of two bids for the construction of the city's band shell to be erected in Riverside Park, was awarded the contract and it is proposed to begin work this fall if weather conditions permit.  Awarding of the contract was approved by the City Council.
The bid price was $20,263. The money came from the Wenzel Prochazka legacy, set up under the will of Mr. Prochazka and which designated that the sum be used for park purposes.   WDT
11 23       GROUND BROKEN FOR BAND SHELL
Ground was broken today for the new Riverside park band shell, after city officials, including City Manager Dean Van Ness and City Engineer Floyd Usher selected the spot for the shell.  Wilbur Wollin, Watertown contractor, is in charge of the work. 
It is planned to perform as much of the preliminary work as possible this fall and winter in time for the opening of the park season on Memorial Day.
<![if !vml]>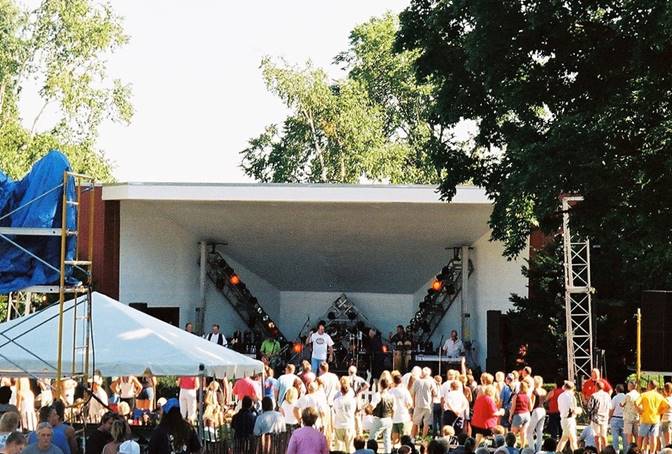 <![endif]>
Cross Reference:
<![if !vml]>

<![endif]>
History of Watertown, Wisconsin