website  watertownhistory.org
    ebook  History of Watertown, Wisconsin
Green Home
1108 Western Ave
1869
CASS GREEN HOME BUILT
<![if !vml]>

<![endif]>       <![if !vml]>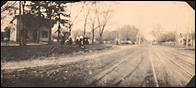 <![endif]>     1108 Western Ave.
Built by John Richards in 1869 at the time of his daughter Mary Alice's marriage to Lewis Cass Green. 
Cass Green was the first regularly appointed mail carrier in Watertown.  Mary Green's father, John Richards, was an important early pioneer attorney and builder of the Octagon House. 
<![if !vml]>

<![endif]>
Cross References:
Buried in Oak Hill Cemetery:  Lewis Cass Green and Mary Alice Green:
Green, Lewis Cass, b. 1842, d. 1895, Co D 16th Wis Inf 
Green, Mary Alice, b. 1848, d. 1936
Architecture and History Inventory record on this house.
Evelyn Ruddick Rose, Our Heritage of Homes, (Watertown Historical Society, 1980), pp. 66.
Watertown Daily Times, Aug. 6, 1936.

History of Watertown, Wisconsin