website  watertownhistory.org
    ebook  History of Watertown, Wisconsin
Eliza Richards
1816 – 1902
John and Eliza Richards
John Richards, builder and owner of the Octagon House
<![if !vml]>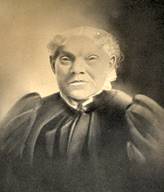 <![endif]>
A holding of the Society  /  click to enlarge
1841
<![if !vml]>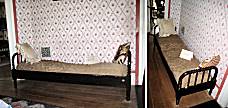 <![endif]>   Walnut spool day bed.  A wedding gift to Eliza Richards and dates to 1841.
c.1900
<![if !vml]>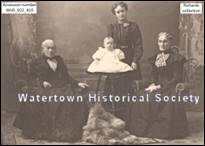 <![endif]>  
Family gathering at the Octagon House
Anna Richards Thomas, Moses Richards, Eliza Richards, Mary Alice Richards Green, Bill Thomas.
c.1901
<![if !vml]>

<![endif]>  
The John Richards family at dinner in the Octagon House, circa 1901.
Left to right:   Mrs. George Bott (?), William Thomas, Emma (Bott) Thomas, Mary Alice (Richards) Green,
Anna (Richards) Thomas, Mrs. Moses Richards, Eliza Richards, Sadie Jones.
1902
06 27       DEATH OF ELIZA RICHARDS
Watertown's oldest resident, Mrs. Eliza Richards, died at her home on Richards Avenue at 11:30 o'clock on Thursday morning, June 19, 1902, of general debility, aged 86 years.  She was the widow of the late John Richards, who died in 1874. 
She was born in North Brookfield, Mass., April 13, 1816, being the daughter of Moses Forbes, an old time stage line proprietor, running between Albany and New York.  She married Mr. Richards in Albany, New York, and with her husband came here in the spring of 1840.  Her husband located here in 1837 but returned for his wife in 1840.  Two sons and two daughters survive, being Moses F. Richards of Ponca, Nebraska; Chas. D. Richards, of Chicago; Mrs. Annie Thomas and Mrs. Alice Green, of this city.  Sunday her remains were interred in Oak Hill cemetery. 
Mrs. Richards was one of the very best of women, and during her long residence in Watertown formed an acquaintance that dearly loved her.  She possessed a cheerful and genial disposition, and was a most agreeable lady in every walk of life.  She always took a great interest in our city's welfare, and especially was she interested in the older residents of Watertown.  Her life was a busy one, and she strived at all times to do all the good she could in this world to her neighbors and to her friends.  In her death they have lost a devoted and true friend, and all mourn her as a good and noble lady.   Watertown Gazette
Cross References:
File on Watertown's Octagon House

History of Watertown, Wisconsin