website  watertownhistory.org
    ebook  History of Watertown, Wisconsin
   <![if !vml]>

<![endif]> Image Portfolio
Watertown Centennial
1954
"The Past Our Heritage — The Future Our Challenge.''
<![if !vml]>

<![endif]>
click to enlarge
Watertown's official 1954 centennial seal was drawn by Mrs. Ralph M. Ebert, 128 Harding Street, an artist who has frequently exhibited her work.  It was prepared at the invitation of the Watertown Centennial and Homecoming Corporation.  The seal combines into one sketch four elements which have made Watertown's first century memorable.  There Is the kindergarten, the first one in America being established here in 1856 by Mrs. Carl Schurz, the stuffed goose, which helped make the name of Watertown known the world over; the text books, since Watertown's public school system was the first one in the state to provide free text books: and the general overall sketch is in the form of an octagonal design, representing Watertown's famed Octagon House, where many of the centennial programs were held.  The centennial slogan is also included in the sketch:  "The Past Our Heritage — the Future Our Challenge."  It was written by Mrs. Robert Schuenke, route 3.
1954      A SECOND CENTENNIAL CELEBRATION WITHIN 18 YEARS OF THE FIRST ONE
Not every city can have a second Centennial celebration for the city within 18 years of the first one.  Watertown did this in fine style; 1936 was for the first settlement, 1954 for the 100th anniversary of the first city charter.  Actually the city charter was signed in 1853, but planning and producing the celebration took a long time.  There were gala events lasting from June 25 to July 1, with an attendance of between 50,000 to 60,000 persons.  Charles Johannsen was general chairman, Al Lunde, Seth Perry and Joseph Checkai supervised the 175 unit parade, which included covered wagons, oxen, horses, comedy groups, and historic floats.  Alice in Dairyland was there and so was Alexander Wiley, U.S. senator, speaker for the evening.  A spectacular Centurama was held at Riverside Athletic field.  The new bandshell in the park was dedicated.  Many Watertown girls and boys, men and women, participated in this Centennial event.  It was an event to be remembered.
               SISTERS OF THE SWISH, STAFF OF WOOLWORTHS, 1954 Centennial Celebration
<![if !vml]>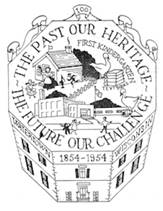 <![endif]>  
Carol Loeder, Nancy Doubleday Griep, Gladys Koehler, Esther Block, Lenore Kegler, Merla Stark Frannk, Dorothy Munzel, LaVern Jine, Lorraine Guenterberg, Betty Scharp Hall, Margaret Schlueter, Clara Roth, Alta Hardtke, Ruth Flath, Patricia Behling Peterson, Viola Wahl, Rosemary Korban, Verona Martin, Betty Schwenkner Kofler, Audrey Fuchs Zautner, Helen Prentiss, Laverne Thelke Neis, Pauline Scharp Reith, Hidegard Scharp Raabe Kajewski, Carol Buss Bergdoll, Rita Maron, Iris Grulke, Beverly Stafeil Ruehlow
SISTERS OF THE SWISH, STAFF OF KROGER'S, 1954 Centennial Celebration
<![if !vml]>

<![endif]>  
SISTERS OF THE SWISH, STAFF OF WETHONKITHA AUXILIARY, 1954 Centennial Celebration
<![if !vml]>

<![endif]>  
BROTHERS OF THE BRUSH, BIEFELD SPONSORED GROUP
<![if !vml]>

<![endif]>  
06 28       TIME CAPSULE BURIED IN RIVERSIDE PARK
<![if !vml]>

<![endif]>   Riverside park  
HENRY SCHALLER (The Old Prospector) AND JASPER
<![if !vml]>

<![endif]>  
Henry J. Schaller, 141 Stimpson Street, and his donkey, Jasper, were featured in Watertown's centennial parade on June 26, 1954, and continued to make appearances in parades which mark centennials and other celebrations in Wisconsin cities.
Mr. Schaller played the role of the Old Prospector and was sponsored by business concerns in the Footville centennial and the Butler, Wis., Frontier Days celebration.  Butler also rented his covered wagon.  At Footville he was paid $20 and at Butler $25.
He and Jasper took part in the GOP centennial parade at Ripon the summer of '54 and the Janesville Gazette chose a picture of him and Jasper for publication after the Footville centennial parade.  It is reproduced above.
<![if !vml]>

<![endif]>   <![if !vml]>

<![endif]>   < PORTFOLIO OF PICS
Cross Reference:
William Guyer directed the combined choirs of all the churches in Watertown for the city's centennial celebration.

History of Watertown, Wisconsin