website  watertownhistory.org
    ebook  History of Watertown, Wisconsin
America's First Kindergarten
150 years
1856 - 2006
<![if !vml]>
<![endif]>
First Kindergarten in America painting by William E. Unger, 1956
Watertown Historical Society Collection
The Watertown, Wisconsin, Historical Society, owners and operators of the famed Octagon House Museum and America's First Kindergarten, paid special tribute to the 150th anniversary of the founding of the kindergarten on Sunday, August 27, 2006.
<![if !vml]>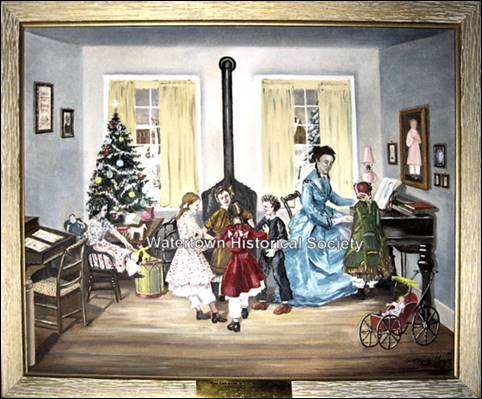 <![endif]>The event was held on the grounds of the historical society, located at 919 Charles St., Watertown, WI.  The public was cordially invited to attend the afternoon festivities which included brief speeches from Mrs. Jessica Doyle, wife of the Governor of the State of Wisconsin, Elizabeth Burmeister, Secretary of Education for the State of Wisconsin, John David, Mayor of the City of Watertown, Joel Kleefisch, State Representative, Dr. Doug Keiser, Watertown Unified School District Superintendent, as well as officials from the Watertown Historical Society. The celebration began at 2:00 pm and after the speeches there was refreshments and a chance to inspect the kindergarten museum building.
The kindergarten was founded in America by Margarethe Meyer Schurz, wife of the famous German-American statesman Carl Schurz.  Mrs. Schurz was a native of Hamburg, Germany, and as a young woman learned the principles of the kindergarten from its creator, Friedrich Froebel [cross references [ 1 ], [ 2 ].  In the 1850s she came to London, where her sister had founded the first kindergarten there.
While in London she met and married Carl Schurz, then a fugitive from a Prussian jail.  They came to America shortly thereafter and settled at first on the east coast and then in 1855 they came to Watertown where Carl Schurz had relatives. Once here Carl began an active career in politics, while his wife set up housekeeping. But she longed for something that would give purpose to her life, so she began a small kindergarten class in the Schurz family home, which was at one time located at 749 N. Church St. in 1856. The Schurz home, known as "Karlshuegel" or "Carl's Hill" burned to the ground in 1912.
The class proved to be very successful, but the noise of the children was too much for her husband, so she was forced to move her class to a small frame building located originally on the corner of N. Second and Jones streets in Watertown.  At the time the dwelling was being used as a private home by Carl Schurz's parents.
It was in this little building that the kindergarten took off. The original class numbered only about five students, the Schurz children Agathe and Marianne, two Juessen girls (cousins of the Schurz's) and the lone boy Franklin Blumenfeld, son of the editor of the local German-language newspaper. Mrs. Schurz ran her school through 1857 when the Schurz family moved to Milwaukee. The kindergarten continued sporadically here, always operated as a private school, through the nineteenth century, finally becoming a part of the public school curriculum after the turn of the last century.
Mrs. Schurz died from complications of child birth in 1876 and her remains are believed to have been transferred to her native Hamburg, Germany. Her husband, Carl, rose through the political ranks, first aiding Lincoln in his bid for president in 1860, then becoming a general in the Union Army during the Civil War, later Secretary of the Interior under Pres. Rutherford B. Hayes and ultimately he went to work in the publishing field. He died in New York in 1906.
As for the kindergarten building, after the Schurz family left Watertown, the building passed through many hands, becoming a cigar factory, fish store and religious book store.  In the 1920s a local women's club, the Saturday Club, erected a memorial marker to designate the historical significance of the building. Then in 1956, exactly 100 years after the founding of the kindergarten, the little building was in danger of being razed.  It was through the efforts of Mrs. Rudy Herman and Gladys Mollart of the Watertown Historical Society that the structure was saved and moved to the grounds of the Octagon House, where it now rests. It has been open to the public since 1957.
  <![if !vml]>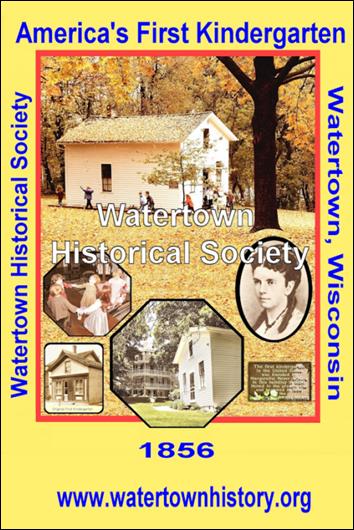 <![endif]>  Portion of Digital Inventory Item 00098
1837
01 26       ONE HUNDRED YEARS AGO
(1937 article)
One hundred years ago a German schoolmaster named Friedrich Wilhelm August Froebel opened in Blankenburg the world's first kindergarten. Lonely, eccentric Friedrich Froebel, who had left school at a tender age to become a forester's apprentice because his teachers thought him a dunce, believed that children were "young plants needing to be nurtured carefully." In the garden of his private academy, which gave the kindergarten its name, Teacher Froebel supervised the play of his neighbors' children in a systematic manner, until his socialistic and irreligious leanings moved the Prussian authorities to close the school.
That broke Friedrich Froebel's heart, he died soon afterward. Last week fell not only the centenary of the kindergarten but Friedrich Froebel's birthday, and 750,000 restless U. S. kindergarteners had to sit still on their little red chairs long enough to hear his story.
First U. S. kindergarten was started in 1856 in Watertown, Wis. by Mrs. Carl Schurz, wife of the famed Thuringian revolutionary who became Lincoln's Minister to Spain, Hayes's Secretary of the Interior and the first German-born citizen to sit in the U. S. Senate.  Under such auspices the kindergarten soon attracted philanthropists. Phoebe Apperson Hearst, mother of William Randolph, opened one for the children in her husband's mining community at Lead, S. Dak. and financed the Parent-Teachers' Association mainly to promote the kindergarten movement.
A young teacher in San Francisco's dismal Tar Flat section named Kate Douglas Wiggin (Rebecca of Sunnybrook Farm) made the kindergarten popular in one of her first tales, The Story of Patsy. When the Atlantic Monthly damned the kindergarten as "a joy saloon," spunky Miss Wiggin flashed: "I like the name. Anyone who has seen, as I have, the dreary tenement rooms in which many children live would be glad to give them little tipples of joy." [Another generous early patron was Boston's Mrs. Quincy Shaw, who at one time kept 30 kindergartens going. Once a youngster who was asked "Who is it brings the flowers adorning earth anew?" promptly piped "Mrs. Shaw."]
No longer a philanthropy, the kindergarten has steadily penetrated the U. S. public school system since St. Louis opened one as an experiment in 1873 under Superintendent William Torrey Harris, who as
`
U. S. Commissioner of Education (1889-1907) saw kindergartens established in more than 400 U. S. municipal school systems. After Depression retrenchments in 52 cities, including Chicago, Commissioner John Ward Studebaker's U. S. Office of Education made the Froebel Centenary a happy birthday by reporting that kindergartens, with budgets, were on the upgrade, are now available to 30% of the nation's 5-year-olds. 
Time Magazine, May 03, 1937 / http://content.time.com/time/subscriber/article/0,33009,931608,00.html 
1858
SCHURZ'S LEAVE WATERTOWN
The Schurz's left Watertown in 1858 when Carl was admitted to the Wisconsin Bar and began to practice law in Milwaukee. He spoke on behalf of President Abraham Lincoln during the 1860s and went on to be Secretary of the Interior.  Margarethe Schurz died at age 44 in Washington D.C. in 1876, three days after the birth of a son.  After the family's departure, others took over the kindergarten in Watertown:  Carl's cousin, Miss Juessen, followed by Mrs. Rose Kunert and Mrs. Kunert's sister, Tante Elle Koenig who ran it as a private kindergarten for 42 years.
1850s
-- --           CAKES FOR FIRST KINDERGARTEN KIDS
In the 1850's that outstanding statesman and soldier, Carl Schurz, settled in our community and came regularly to the mill, driving in from his hill-top home, the Karlshuegel of today, on the northern outskirts of the town, taking with him the flour for the little cakes so eagerly awaited by the children in his wife's kindergarten.  This was the first school of its kind to be established and maintained in the United States.     Derived from the booklet "The Globe Milling Company, Watertown, Wisconsin, 1845-1945."
c.1928
<![if !vml]>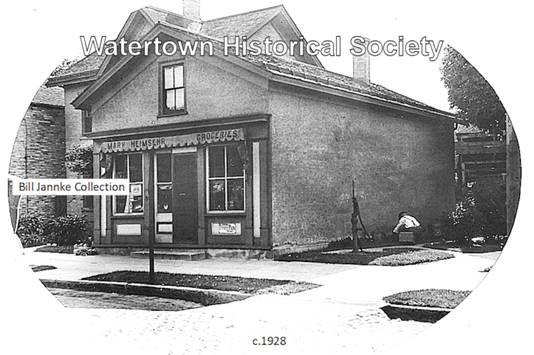 <![endif]>
click to enlarge
1936
FLOAT IN WATERTOWN CENTENNIAL PARADE
<![if !vml]>

<![endif]>   July 4th, 1936
1938
WATERTOWN PARTICIPATION IN NATIONAL AIRMAIL WEEK
<![if !vml]>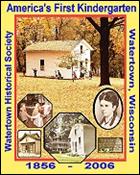 <![endif]>  
In celebration of the twentieth anniversary of the advent of airmail, Franklin D. Roosevelt's Postmaster General James Farley established National Airmail Week for May 15-21, 1938 to celebrate and promote the fact the U.S. Postal Service moved mail reliably and with speed.
Every citizen was encouraged to participate in the week's celebration by sending an airmail letter.  In addition, each town was invited to create its own "cachet," a commemorative design to mark the event printed or stamped on the envelopes mailed that week.
Recognizing Progress: The 1938 Celebration of Airmail Week, online article
1940s
  <![if !vml]>

<![endif]>   1940s
1948       FLOAT IN STATE CENTENNIAL PARADE
<![if !vml]>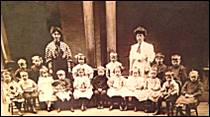 <![endif]>    =< click to enlarge 
The float also featured in the Watertown Memorial Day parade
Watertown's float in the state centennial parade at Madison on Saturday attracted a great deal of attention and evoked much favorable comment.  The float portrayed a garden scene, with Mrs. Carl Schurz, the teacher and founder of the first kindergarten, surrounded by her pupils.
The youngsters playing the role of the kindergarten pupils were, reading from left to right:  Steven Kohls, son of Mr. and Mrs. Louis Kohls, Richards Avenue; Mary Jo Hady, daughter of Mr. and Mrs. Jerome Hady, River Drive; Marsha Wendt, daughter of Mrs. Evelyn Wendt, Concord Avenue; Susan Kehl, daughter of Mr. and Mrs. Fred Kehl, Richards Avenue; Bobby Bender, son of Mr. and Mrs. Milton Bender, Twelfth Street; Judy Ponath, daughter of Mr. and Mrs. Victor Ponath, Concord Avenue; Donald Hartman, son of Mr. and Mrs. Charles Hartman, Harvey Avenue; Susan Jo Kressin, daughter of Mr. and Mrs. Glibert Kressin, Western Avenue; Janice Kuehnemann, daughter of Mr. and Mrs. Clifford Kuehnemann, (extreme right) played the role of Mrs. Schurz.  The same youngsters and Miss Kuehnemann participated in the kindergarten scene in the high school centennial pageant.  The float was built by the Watertown Historical society with funds provided by the Watertown Association of Commerce.  Miss Gladys Mollart of the society had charge of the building of the float.  All of the art work was done by Mrs. Herbert Funk.
1948
"CAVALCADE OF WISCONSIN," PAGEANT
<![if !vml]>

<![endif]>  
One of the scenes in the pageant, "Cavalcade of Wisconsin," which is to be presented at the Watertown High School auditorium tonight and Saturday night will recount the first kindergarten in America which was established here by Mrs. Carl Schurz in 1856.  Above are shown Janice Kuehnemann as Mrs. Schurz and Harry Hird as Mr. Schurz, along with members of the kindergarten class, showing the group on its way to a picnic, and reading from left to right, Steve Kohls as Fritz; Susan Kehl as Marie; Judith Ponath as Anna; Marsha Wendt as Agatha Schurz; Robert Bender as Hans; Mary Jo Hady as Hedwig; Donald Hartman as Carl, and Susan Jo Kressin as Trudy.  This picture was taken at yesterday's dress rehearsal.  Additional pictures will be found on page four of the Daily Times. 
CROSS REFERENCE NOTE:  A Century of Progress Cavalcade of Wisconsin: A Pageant Drama Based on Research in Wisconsin History Through the Century, Ethel Theodora Rockwell, The Committee, 1948 - Historical drama - 81 pages.
1955
01 26       "FIRST KINDERGARTEN IN AMERICA" STAMP
One of the important issues confronting the Watertown Historical Society and its board of directors at its annual meeting Monday evening at the Watertown Free Public Library is whether or not it will be possible for Watertown to gain recognition sufficient to merit a "First Kindergarten in America Stamp" in 1956, when the centennial of the establishment in Watertown of the first kindergarten in this hemisphere by Margaret Meyer Schurz will be observed.  The kindergarten was established by the wife of Carl Schurz in this city in 1856.  To date many local persons have endorsed the movement since it was first proposed some two years ago.  It is said the matter falls within the scope of activities listed by the State Historical Society of Wisconsin for local societies, namely: "Encourage the commemoration and proper observance of special historical events."
Cross reference/related material:  02 13 1964.  The U.S. Post Office Department again has declined to approve the issuance of a commemorative stamp in honor of Mrs. Margarethe Schurz, founder of America's first kindergarten in Watertown.  Congressman Robert W. Kastenmeier, however, was told that Mrs. Schurz would be given "very serious consideration" in the event the department decides to issue a series of commemorative stamps in honor of outstanding educators.  Referring to the failure of the department to issue the stamp in 1956 on a significant occasion, Kapenstein wrote Kastenmeier that "the ideal time to have issued the stamp was in 1956 on the 100th anniversary of the founding of the first American kindergarten in Watertown."
1956
02 06       PRIOR TO MOVE TO OCTAGON HOUSE GROUNDS
<![if !vml]>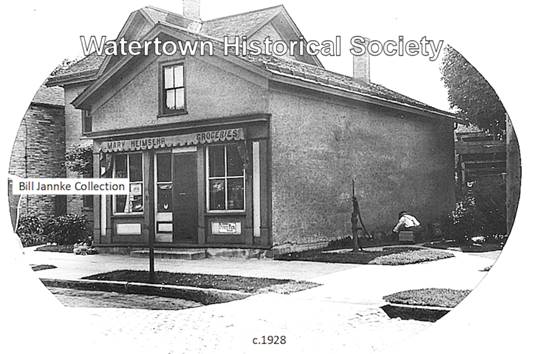 <![endif]>  
12 14       PREPARING TO MOVE TO OCTAGON HOUSE GROUNDS
<![if !vml]>

<![endif]>    <![if !vml]>

<![endif]>    
12 29       MOVED / RELOCATED TO OCTAGON HOUSE GROUNDS
<![if !vml]>

<![endif]> 
The old kindergarten building in which Mrs. Carl Schurz established the first American kindergarten in Watertown in 1856 was moved today to what will become its permanent location, on the grounds of the Octagon House, owned and operated as a museum by the Watertown Historical Society.  The building, which was at North Second and Jones Streets, was occupied for many years by the Heimsehr Grocery.  Its last occupant was the Ryan Store, a religious goods dealer.  Rudy Herman, Lake Mills, was in charge of the moving.
Cross Reference:   "The building business has been good to me and I have no regrets," reflected Ralph R. Otto of Watertown after closing out his construction business and ending a family tradition that spanned 70 years.  As Otto stood on the family homestead where an auction for his business equipment was held last week, his comments on past building jobs were reminiscent of pages in a local history book.  As a building contractor in business with his father and later on his own, he recalled the many construction jobs he worked on around the city.  Some buildings, such as the old Savoy Theatre downtown where Valley Bank now stands, have been torn down to make way for progress.  Other jobs, such as the First Kindergarten building, have preserved history for future generations.  He helped lay the foundation and replaster the walls when the building was moved from its original site downtown to the Octagon House grounds.
1957
02 22       RESTORATION OF AFTER MOVE
Restoration of the first American kindergarten in Watertown will get underway in the spring as a project of the Watertown Historical Society.  The original building in which Mrs. Carl Schurz conducted her kindergarten classes after launching the kindergarten in Watertown in 1856 was recently moved from its original site at North Second and Jones Streets to the Octagon House grounds where it will remain as a permanent monument to the kindergarten movement in the United States.  Plans call to restore the building and to furnish it much as it was in the days when Mrs. Schurz conducted her classes in it.
1960
12 22       FIRST KINDERGARTEN SKIT
Miss Alice Krueger, Webster School teacher, is the author and director of a skit on the first kindergarten in America established in Watertown in 1856, which is scheduled to be presented on WISN-TV, channel 12, Dec. 31, New Year's Eve, at 6 p.m.  Mrs. Robert Liners will portray the role of Mrs. Carl Schurz in the sketch.  Six Watertown children will also appear in the cast.  They are:  Ann Bruce, Storey Hibbard, Kate Bloor, Susan Hines, Melanie Shepard and Jimmy Schwoch.  All are pupils at Webster School.   WDT
1963
PAINTING BY EUNICE GRUNER
<![if !vml]>

<![endif]>   Panel painted by Eunice Gruner for American Legion in 1963
1964
04 22       CHILD'S WORLD MUSEUM PROPOSED
Watertown, by reason of having been the first city in the United States to have a kindergarten, should be the one city in the world to have a child's world museum.  Such is the opinion of Dr. David C. Davis of the Department of Education, University of Wisconsin.  Dr. Davis was in Watertown recently as the principal speaker at the annual Founder's Day banquet of the Watertown U. of W. Alumni group, at the Legion Green Bowl.  In his address, Dr. David went into considerable detail about the plan and it is certainly something Watertown should think about.
1965       ARTICLES (2) ON FIRST KINDERGARTEN  / Watertown Daily Times
It was 161 years ago, give or take a few days, that a young lady by the name of Margarethe Meyer Schurz started an education program for her daughter, Agathe, age 3, here in Watertown. That small step was the first kindergarten in the United States and now over a century and a half later, our community is still known as the birthplace of the kindergarten movement.
Because this first kindergarten was started just before Christmas we thought a little bit about those early years might fit well today. Most of our readers know the basics, but this information originally published a half a century ago, offers a few insights about this remarkable woman. We're using the information from an article in the Daily Times a half a century ago which was written by a Thomas Pledge and we will be editing it down some. So, here we go:
"Christmas gifts are especially for children. A good gift can stretch a child's imagination, coax him to observe and construct, and point to an orderly structure in life.
"A lonely dark-eyed, German immigrant woman who lived in a brand new state bestowed such a gift on millions of American children now 161 years ago. In her native language the gift meant "children's garden."
'The woman was Mrs. Carl Schurz, wife of a man who was to become a famous American statesman, soldier and journalist. Her gift was the first kindergarten in the United States, open to the children of Watertown, Wis., just before Christmas in 1856.
"Like a good gift, the kindergarten of Mrs. Schurz was designed to awaken naturally the fresh facilities of a child. It was a pioneer venture in a new city and a new state carved from the virgin forests of the Northwest Territory.
"At the kindergarten children played with colored softballs and blocks of various geometric forms, like the "educational" blocks so familiar today.
"They sang songs together and collected items of interest on nature study walks. It was remarkably like kindergarten today. It was also a radical departure from the puritanical, ear-bending instructed on youngsters in the public schools of the day.
"Margarethe Meyer, a 16-year-old when she first discovered "a new education theory" espoused by Friedrich Froebel, studied under him at Blankenburg, Germany, in the world's first kindergarten.
"Later Margarethe left for London where she worked with her sister in the first kindergarten on English soil. In London she met and married red-haired Carl Schurz, a young, ambitious attorney who had fled his native Germany to escape the penalties for his antigovernment activities.
"Schurz and his 25-year-old wife came to the United States in 1852. Many of Schurz's relatives had migrated to the new state of Wisconsin, then one of the western areas of the nation."
They considered living in Milwaukee but ultimately decided on Watertown, "a new city about 30 miles to the west on the western terminus of the plank road.
"Schurz purchased a large tract of property about one mile north of town, built a German style villa home and sent for his wife, who was staying in Philadelphia. She arrived in the fall of 1856."
We'll go into a little more detail in the next column.
_____________________________________
Last week we wrote about Margarethe Meyer Schurz and the fact it was 161 years ago just before Christmas that she started an education program for her daughter, Agathe, age 3, here in Watertown. That little class of one was the start of the first kindergarten in the United States.
The column followed her early years in America. Her husband, Carl Schurz, purchased a large tract of property on the north side of the city, about a mile from the downtown area. On the land he had a German style villa home built and then sent for his wife, who was living in Philadelphia until the home was ready for occupancy.
That home was located on the hill just south of Union Pacific tracks that cross North Church Street, and on which some housing units have been constructed. The original Schurz home was destroyed by fire decades ago.
That's where we left the story last week.
_____________
Well, once Margarethe started the kindergarten for little Agathe, it didn't take long and other relatives and neighbors in the city wanted their children enrolled in the classes.
Margarethe set up a kindergarten room in the living room in the home of her in-laws which was located in the center of the city. She later held kindergarten in a small building which was located at the southwest corner of Jones and North Second streets. That building was later moved to the Octagon House Museum grounds where it's part of the experience for those who visit the Octagon House. That original location at Second and Jones is marked with a large stone and plaque.
Margarethe, in an 1859 trip to Boston, interested Elizabeth Peabody in the kindergarten idea and it was largely through her work that two decades later the concept of the "children's garden" was incorporated into the public school system.
In 1867, when her third daughter, 2-year-old Emma Savannaha, died, Margarethe, her health weakened by grief, left for Europe with Agathe and her other daughter, Marianne. They stayed there for about two years, returning to live in Washington, D.C., after her husband, Carl, had been elected to the United States Senate. In 1871, a son, Carl Lincoln Schurz, was born, and in 1876 a second son, Herbert, was born. Two days after his birth, on March 15, 1876, Margarethe Meyer Schurz, the founder of the kindergarten movement in America and one of Watertown's most famous women, died at the age of 43.
Today, Schurz Elementary School, on the city's south side, is named in honor of her contributions to education in America. And, it all started about 161 years ago, nearly to the day.
Margarethe's husband was well known in political circles and although they were in Watertown a relatively short period of time, his contributions to the country were enormous.
Carl served as minister to Spain, having been appointed to that position by President Abraham Lincoln but was also a United States senator from Missouri, his adopted state.
He also was editor of the New York Post, one of the largest publications in that city at the time, and wrote editorials for Harper's Weekly.
He served in the Civil War as a brigadier general and then was promoted to major general. He fought in the battles of Chancellorsville, Gettysburg and Chattanooga and in 1865 served with Gen. W. T. Sherman's Army in North Carolina. Carl Schurz died in 1906 at the age of 77.
So both of them were famous in their own areas and both were one-time residents of Watertown.
WDTimes, article 1; article 2:   
  http://www.wdtimes.com/features/in_times_square/article_7b077a7c-afd1-11e5-946d-bbf03c7b4f0c.html
http://www.wdtimes.com/features/in_times_square/article_e15b840a-aa52-11e5-97be-f3740830ad22.html
1967
MODELS OF CHILDREN AND MARGARETHE
<![if !vml]>

<![endif]>     Preparing for opening
Miss Gladys Mollart, curator of the Watertown Historical Society, Mrs. Ralph Ebert and Mrs. Don Mabie are shown in the final phases of refurbishing the kindergarten exhibits for the May 1 opening of the Octagon House and First American Kindergarten.
Mrs. Ebert, lower right, is fitting a dress on the kindergarten child she created with paper mache and other materials, which she refers to as the "sixth child."  The other five figures of children were acquired after the Wisconsin Centennial Exposition in 1948, where they were shown in a replica of the first kindergarten in the United States.
The model used then of Margarethe Meyer Schurz and the figure of one child was presented to the Wisconsin Historical Society at Madison, the other five came to Watertown.  The Watertown Historical Society purchased a model for Mrs. Schurz.  Mrs. Ebert, unhappy because of the discrepancy between five children's figures, and the actual six who attended this first kindergarten, went to work with her materials and created the sixth child.  Since that day, some years ago, she has felt a proprietary interest in getting her ready for the opening each year.
Mrs. Mabie is shown at the left and Miss Mollart at the right.  Not present when this picture was taken was Mrs. Armin Rohde who was the hairdresser for the dolls.
N.B. When comparing pictures of now with that of 1967, the figures we have today appear not to be the same as those from 1948, most likely having been replaced over time.  Yet even those of today are showing their age.
03 25       ROTARY, KIWANIS AND LIONS TO PROMOTE KINDERGARTEN
Watertown's three service clubs — Rotary, Kiwanis and Lions today announced plans to join in a new campaign to advertise Watertown as the home of the first American kindergarten.  The three clubs will share the cost of such promotion.  A new type of bumper sticker will be utilized to call attention to the kindergarten established here in 1856 by Margarethe Meyer Schurz, wife of Carl Schurz, the German-American patriot, statesman, general, editor, lecturer and writer.  The campaign is designed to promote Watertown as a place of historical significance and a city to visit.  The stickers will be ready for distribution in about three weeks.
12 06       "MARGARETHE MEYER SCHURZ, A BIOGRAPHY"
"Margarethe Meyer Schurz, a biography" authored by Hannah Werwath Swart, and published by the Watertown Historical Society, was introduced Friday at a tea at the home of Miss Gladys Mollart, curator of the Octagon House and First Kindergarten.  The book, which is available at Minar's Office supplies, the Yarn Shoppe, and from Miss Mollart, carried a foreword by Elmer C. Kiessling, professor at Northwestern College, and acknowledgments by Lee Block, president of the Watertown Historical Society.  The 15 chapters in the slim volume will be of particular interest to Watertown residents and those who have visited the first kindergarten on the Octagon House grounds.  The biography begins with Margarethe Meyer in her girlhood home in Hamburg, Germany, takes the reader from the kindergarten in Hamburg to Miss Meyer's meeting with Carl Schurz, a Bonn University student destined to become a leader in American political life, to the family's arrival in America and Watertown, their life here and the establishment of the first American kindergarten.  It portrays Watertown in the 1850s and is generously illustrated with historical pictures, several through the courtesy of Miss Helen Reilly, Watertown.
<![if !vml]>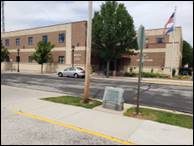 <![endif]>   <![if !vml]>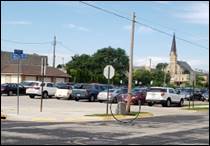 <![endif]>   < PORTFOLIO OF PICS
______________________________
Image Portfolio
  150th program         Watertown Mayor         Jessica Doyle
Charlotte Groth           John David          Wife of WI Governor
Elizabeth Burmeister     Douglas Keiser          Joel Kleefisch
Sec of Education      School Superintendent   State Representative
Unveiling of Marker
Mrs. Carl Schurz Honored

  Heimsehr Grocery, 1940s.  First Kindergarten location marker on right
Watertown Gazette, 05 09 1929
Last Thursday night a very large number of our citizens and many from nearby places, were present at the unveiling of the marker at the southwest corner of North Second and Jones streets, erected by the Saturday club in honor of the Mrs. Carl Schurz of this city, who conducted the first kindergarten school in country at that corner in the building now occupied by Charles Heimsehr and his sister.  The boy scouts had charge of the unveiling of the marker, and kindergarten pupils scattered rose petals about the stone.  The pupils of the three kindergarten classes under direction of their teachers the Misses Adelia L. Siegler, Florence Brownlee and Harriet Blakely, gave a series of dance games, which delighted all present, and the High School band gave a fine musical program.  Mrs. E. E. Fischer, president of the Saturday club presented the tablet and the granite marker to the city, and Alderman George W. Block of the city council, made the acceptance speech, the mayor being unable to be present on account of illness.  Joseph Schaefer, superintendent of the State Historical Society at Madison, was the principal speaker of the evening's program at the Elks club, and Miss Hilda Schneider of the High School faculty directed a vocal program by the High school glee club.  City Attorney R. W. Lueck was master of ceremonies. 
Among other things in his address Mr. Schaefer said:
"Beginnings of great movements are always interesting and since the kindergarten has grown into a tremendous system of education for the children, the fact that the movement had its American origin in Watertown ought to prompt citizens of this town, especially, to feel proud."
He said that he had spent much time in reading, looking up records and in personal investigations and has satisfied himself that in honoring Mrs. Schurz as the founder of the movement in America that honor is not misplaced, that the kindergarten here was the first one in America and that its influence had brought about the kindergarten system in this country.
Little is actually known of her when one compares it with what is known of her illustrious husband.  Coming from a relatively wealthy family, brought up in luxury and comfortable surroundings, with every advantage, it is to her credit as a pioneer that she consented to come to America, and especially to what was then the great undeveloped west.  She did so reluctantly, to be sure, but once she had arrived here she made the best of it.  Although she always did long for Europe, she nevertheless played her part as a leader in this territory and her influence has been great.  Her need for occupation and love of children induced her to start a kindergarten class here.
He praised the citizens of Watertown and the members of the Saturday Club especially for their great interest in perpetuating the memory of Mrs. Schurz.  The bronze tablet on the granite stone contains the following . . .
2006
Roots of Kindergarten Firm in Watertown
   Watertown Daily Times, commentary, 08 29 2006
This past Sunday Watertown and area residents came to the famed Octagon House grounds to pay tribute to the 150th anniversary of the first kindergarten in the United States.
It was fitting that this ceremony be held at the site that now houses that first kindergarten building which was first used for that purpose back in 1856 by Margarethe Meyer Schurz. Although for much of her life she was overshadowed by the political legend of her husband Carl, it was her contribution to American education that has elevated her to prominence in that field.
Kindergarten started as a rather small program for two of the Schurz children and a couple neighbor children in this wild territory known as Watertown. It was only 20 years after this community was settled that her contribution to education was started.
Since that time, kindergarten expanded throughout the country and years ago became the standard offering in' all schools, public and private.  Today the program has expanded so far it is now offered in forms we're sure Margarethe never even imagined - pre-kindergarten, full-day kindergarten and even 4-year-old kindergarten. All of these programs are extensions of what this remarkable lady accomplished back in 1856.
While Margarethe and her husband, Carl, called Watertown their home only a few years a century and a half ago, the marks they both left on Watertown are indelible and are forever part of our community's rich heritage.
The fact that Elizabeth Burmeister, Wisconsin superintendent of public instruction, took the time to be at the anniversary program places special emphasis on the importance this tool is in the educational community.
Watertown and Margarethe Meyer Schurz are famous because of this novel program that is now 150 years old but it is the generations of children who have passed through kindergarten who have benefited the most.
Our congratulations and appreciation go out to the Watertown Historical Society and all those who worked hard to, make this celebration successful.
2018
08 15       NEW YORKER MAGAZINE ARTICLE ON EDUCATION
August 15, 2018 article by Dan Kaufman for New Yorker magazine on the current political landscape in Wisconsin, including the issue of education.  Article includes reference to writer's visit to First Kindergarten on the grounds of the Octagon House Museum:
On Saturday, I visited a white clapboard house in Watertown, the site of the first kindergarten in the United States.  Now a museum, the school was founded in 1856 by a German immigrant named Margarethe Meyer Schurz. Schurz had studied with Friedrich Fröbel, the founder of the original kindergarten ("children's garden"), in Blankenburg, Germany, in 1837.  "The kindergarten is the free republic of childhood," Fröbel once wrote.
That spirit is on display in the little one-room museum, where you can hear a recording of children singing "Kommt ein Vogel geflogen" ("A Bird Comes Flying"), one of the songs that Schurz's first students sang.  Her school lasted only a couple of years in Watertown, but the kindergarten movement quickly spread.  In 1882, Milwaukee become the second-largest American city, after St. Louis, to offer free kindergarten as part of a public education.
Earlier in the week, I had spoken with Evers about Schurz's kindergarten, and about Wisconsin's place in the history of education in America.  He considers himself a defender of this heritage, and believes his path to victory lies in reclaiming the trans-partisan pragmatism that once defined Wisconsin's politics.  "You don't have to be a historian to remember that progressivism wasn't necessarily Democratic or Republican," he told me
Dan Kaufman is the author of "The Fall of Wisconsin: The Conservative Conquest of a Progressive Bastion and the Future of American Politics," which was published in July.  Dan Kaufman of Brooklyn, New York, is a Wisconsin native whose work has appeared in The New York Times Magazine and The New Yorker.   [link to New Yorker article]
2010
06 21       PAINTING INTERIOR CEILING AND WALLS
<![if !vml]>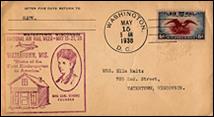 <![endif]>        <![if !vml]>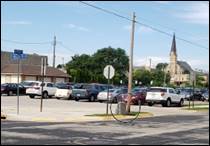 <![endif]>    
Cross References:
c.1913
<![if !vml]>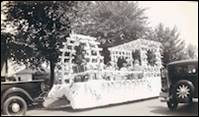 <![endif]>      Early Kindergarten class, Watertown
2006  Webster School kindergartners scurried around the First Kindergarten building playing olden day games and learning about Margarethe Schurz.  The event was held in celebration of the 150th anniversary of the First Kindergarten. Watertown Daily Times, 06 28 2006
2006  Kindergarten anniversary brings out state dignitaries  Watertown Daily Times, 08 28 2006
2009  First Kindergarten video, YouTube
Facebook page dedicated to Friedrich Froebel.
<![if !vml]>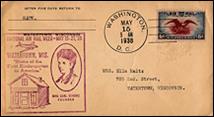 <![endif]>     <![if !vml]>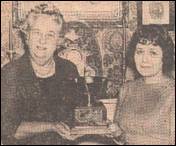 <![endif]>     <![if !vml]>

<![endif]>   <![if !vml]>

<![endif]>   <![if !vml]>

<![endif]>
Margarethe Meyer Schurz – A Biography
<![if !vml]>

<![endif]>
The book "Margarethe Meyer Schurz – A Biography" by Hannah Werwath Swart has been reprinted by the Watertown Historical Society and is now available in two formats, ebook and soft cover.
E-BOOK:
play.google.com/store/search?c=books&q=margarethe+schurz
SOFT COVER:
www.lulu.com/shop/search.ep?keyWords=margarethe+schurz&type=
The FIRST KINDERGARTEN IN AMERICA was started in 1856 in Watertown by Margarethe Meyer Schurz, wife of Carl Schurz, the famed revolutionary who went on to become Lincoln's Minister to Spain, Hayes's Secretary of the Interior and the first German-born citizen to sit in the U. S. Senate.

History of Watertown, Wisconsin