This file part of www.sainthenryparish.org website
Genevieve Wanke
1912 - 2009
<![if !vml]>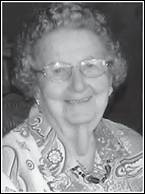 <![endif]>
Genevieve M. Wanke, 96, of Watertown, passed away on Wednesday, May 6, 2009, at Golden Living Center-Watertown.
The former Genevieve M. Pitterle was born on Sept. 5, 1912, in Watertown, daughter of Henry and Laura (Indra) Pitterle.  She had graduated from St. Henry Grade School and Watertown High School.  On April 5, 1932, she married Anthony E. Wanke at St. Henry Catholic Church and he preceded her in death on Sept. 3, 1993.
Genevieve had farmed with her husband in the town of Shields for many years.  She was a member of St. Henry Catholic Church, Christian Mother's and Altar Confraternity, Watertown Senior and Community Center and AARP Chapter No. 3056.
Survivors include her sons, Edward Wanke of Watertown, Donald (Jen) Wanke of Ixonia and Earl (Connie) Wanke of Watertown; grandchildren, Diane (Todd) Cantwell, Jane Wanke, Daniel (Michelle) Wanke, Julie Anne (Scott) Krahn, Phillip (Julie) Wanke and Tonya (Sean) Hampson; great-grandchildren, Ryan, Corey, Laura Cantwell, Allison and Brianna Wanke, Cameron and Danielle Krahn and Arden Simone Hampson; many nieces, nephews, other relatives and friends.
She is further preceded in death by an infant son; a grandson Patrick Wanke; her parents; two brothers, Norbert (Marie and Hilaria) and Harold (Minnie) Pitterle; and a daughter-in-law, Marie Wanke.
Funeral services will be held on Saturday at noon at St. Henry Catholic Church with Father Brian Wilk officiating.  Burial will be in the parish cemetery.
Family and friends may call at the church on Saturday from 9 a.m. until the time of the service.
The Schmutzler-Vick Funeral Home and Cremation Service is serving the family.