This file part of www.sainthenryparish.org website
Marie C. Wanke
1939 - 2008
<![if !vml]>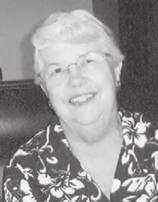 <![endif]>
Marie C. Wanke, 68, of Watertown, passed away on Saturday, May 3, 2008, at Marquardt Memorial Manor.
The former Marie C. Gmeinder was born on May 26, 1939, in the town of York, Dane County, daughter of Edwin and Emma (Sutter) Gmeinder.  She graduated from St. Bernard's School in 1953 and from Watertown High School in 1957, where she was valedictorian of her class.  On June 18, 1960, she married Edward Wanke at St. Bernard's Catholic Church.
Marie had been employed as a secretary for the former Bank of Watertown from 1957 to 1965 and the former Heavy Duty Electric Co. from 1965 to 1966.  She worked in food service at St. Henry's School from 1985 to 1994.  She was a member of St. Henry Catholic Church where she was a Eucharistic minister.  She was a member of the Christian Mother's and Altar Confraternity, where she started the aluminum can drive and the Holly Berry Fair and Bake Sale.  Marie had been a member of St. Henry's Parish Council on the Liturgy Committee.  She was member of the Catholic Women's Club, Saturday Club, Survivors Circle and the New Found Friends cancer support groups.  Marie was St. Henry's representative to Church Women United, a member of the Watertown Senior and Community Center, AARP Chapter No. 3056, Meals On Wheels and had been a volunteer at Beverly Terrace.  She co-chaired the St. Henry Parish Picnic Country Store for six years.  She also served as a Cub Scout den mother for four years and Pack 43 and Troop 43 for almost 20 years, receiving the George Award.
Survivors include her husband Edward; her mother, Emma Gmeinder of Watertown; a son, Phillip (Julie) Wanke of Holmen; her sister, Sister Marcus Gmeinder of Kosciusko, Miss.; her mother-in-law, Genevieve Wanke of Watertown; brothers-in-law, Donald (Jen) Wanke of Ixonia and Earl (Connie) Wanke of Watertown; nieces and nephews, Brenda and Amy Pike of Ashville, N.C., David Pike of Sydney, Australia, and Brian Pike of Chapel Hill, N.C.; two great-nieces, Sarah and Emily Frye of Ashville; aunts, uncles, cousins, other relatives and friends.
She was preceded in death by her son, Patrick Wanke in 1991; her father, Edwin Gmeinder in 1971; her sister, Joanne Pike in 1998; and her brother-in-law, Larry Pike in 1996.
Funeral services will be held on Wednesday at 11 a.m. at St. Henry Catholic Church with Father Thomas Marr officiating.  Burial will be in St. Henry Cemetery.
Family and friends may call on Tuesday from 5 to 8 p.m. at the Schmutzler-Vick Funeral Home and Cremation Service and on Wednesday after 10 a.m. at the church.
In lieu of flowers, memorials to St. Henry Church or School would be appreciated.