This file part of www.sainthenryparish.org website
Andrew Nimm
1939 - 2002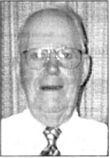 Andrew J. Nimm, 95, of 400 Clyman St., Watertown, died Oct. 28, 2002, at his home.
A Mass of Christian burial was held at St. Henry's Catholic Church. Burial was in St. Henry's Cemetery.
Nimm was born July 28, 1907, in Watertown, son of Nicholas and Catherine (Schuch) Nimm. On Feb. 21, 1939, he married the former Mary C. Model at St. Henry's.
Andrew attended St. Henry's School. He had been employed at the former Mid-State Shoe Company in Watertown until it closed and then worked at the former Welcome Inn in Watertown for many years. He had also been employed at the Watertown Country Club.
Andrew had played on the Watertown Hockey Team.
SURVIVORS:
Daughter          Pauline Uttech of Watertown
Sister            Evelyn Werner of Watertown and
Brother-in-law    John (Ruth) Model of Watertown
PRECEDED IN DEATH:
Wife              Mary on Dec. 14, 1995
Parents
A sister          Lucille Pirkel
Two brothers      Eugene and Walter