website  watertownhistory.org
    ebook  History of Watertown, Wisconsin
Charles E. Straw
1851 - 1912
<![if !vml]>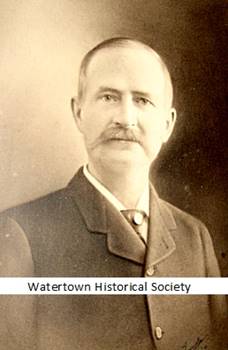 <![endif]>
Click to enlarge
Watertown Historical Society Collection  
1886
MENTION OF
<![if !vml]>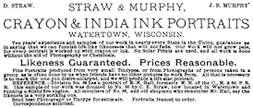 <![endif]>  
C. E. Straw:  "Now located in Watertown and running a Silsby fire engine"
1893
To the Hon. the Mayor and Common Council of the City of Watertown
GENTLEMEN:  I hereby tender my resignation of the office of engineer of the Silsby engine, to take effect on July 1, 1893.
I sincerely regret to take this step after a service of 17 years, but the cares of business devolving upon me now, after my father's death, make the step imperative.
Respectfully
CHARLES E. STRAW.
Watertown, Wis. June 5, 1893.
__________________________________________________________________________
To the Hon. the Mayor and Common Council of the City of Watertown
GENTLEMEN:  Whereas Mr. Chas E. Straw, for 17 years engineer of the Silsby fire engine and a member of the Phoenix Fire Company, is compelled to give his full attention to his business interests, which now devolve upon him after his father's death, to tender his resignation of the position of engineer, the duties of which he has so faithfully and nobly discharged on many a trying occasion and
WHEREAS, the position of engineer should be filled, if possible, by a member of the company, so that all may work harmoniously, when occasion require,
THEREFORE, we, the undersigned officers of the Phoenix Fire Company, would respectfully recommend to your honorable body the appointment of David Emerson, a member of said company, to the position soon to be vacated by the resignation of Mr. Chas. E. Straw, believing him to be true and honest and capable to handling said engine.
Respectfully submitted,
   F. W. Zippel, Jr, Foreman,
   H. Beisner, Assistant Foreman
   Ed. J. Stacy, Sect.
   G. E. Gloger, Jr., Treasurer,
   J. A. Kress, Hose Capt,
   E. Berg, Asst Host Capt,
Watertown, Wis.  June 5, 1893.
Both communications were referred to the Committee on Fire Department.
__________________________________________________________________________
1912
Charles E. Straw, prominent citizen and former well known railroad man, died at his residence, 306 North Washington Street, at on October 4, 1912, following an attempt upon his life the previous evening. He had become despondent over a protracted sickness and was found at in the evening on a couch in his home with a bullet wound in his head which proved fatal.
Mr. Straw was a son of the late Mr. and Mrs. Drew Straw and was born in Watertown October 21, 1851. He received his education in Watertown and was employed by his father as a painter until 1869 when he entered the employ of the Milwaukee Railroad as fireman.  He became an engineer which occupation he followed until 1874, when he accepted a position as bookkeeper for the painting firm of Straw & Murphy, which he continued for many years.
When the fire steamers were purchased in 1876 Mr. Straw was given charge of the Silsby engine and helped fight most of the big fires from that time for many years, finally retiring from the position and from business as well.
"Paddy" Straw, as he was familiarly called, was a general favorite with the volunteer firemen and was never found lacking when the No. 2 was in demand at fires.
He was a member of the Brotherhood of Locomotive Engineers and a member of Watertown Lodge No. 49, F. and A. M.
In the death of Mr. Straw, Watertown loses one of its most respected citizens, and a man of kind impulses who did many acts of kindness and charity which were not paraded to the world. He was public spirited and always was found ready to assist financially in anything that tended toward the betterment of the community.  He always took a great interest in the local newspapers and was ever on the alert to furnish editors with "copy" which he had gleaned from the many technical and other periodicals which he subscribed for. He was a familiar figure in the printing offices for years and was always welcome.
He never aspired to political honors but served one term as alderman of the Fourth ward, and also served for a time as a member of the board of park commissioners.
Mr. Straw was an engineer of no mean ability and kept abreast of all the improvements in steam engineering, and his advice was much sought after in late years after he had retired from active business pursuits. He made a study of fuel and the best methods whereby to get the best results and most power from its consumption, and his advice was usually followed.  He took particular pride in the fire engines, the Silsby being his pet, and saved the city many dollars by using the knowledge he possessed when repairs were to be made.  He was kind and thoughtful to others and many former Watertown friends will miss the many remembrances which he sent them on various occasions.
The body was taken to the undertaking rooms of Schmutzler & Oestreich and the funeral took place under Masonic auspices. The services were held in the Masonic Temple.  The burial was in Oak Hill Cemetery.
A coroner's jury was impaneled to inquire into the cause of death of Mr. Straw. The inquest was held before Justice W. D. Stacy and a verdict of death by his own hand by shooting himself with a pistol was rendered.
Cross-References:
No 1:  1917, Watertown library received bequest of public-spirited citizen Mr. Charles Straw, $2,000
No 2:  Buried in Oak Hill Cemetery
Chapter on Watertown Fire Department

History of Watertown, Wisconsin