website  watertownhistory.org
    ebook  History of Watertown, Wisconsin
WORLD WAR I
ROOSTER, Co. E
c.1930   JOHN NOVOTNY
<![if !vml]>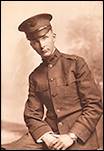 <![endif]>     Father Henry Novotny (1896-1945)
Click to enlarge
Henry was born in Watertown and was the son of John and Francisca Novotny.  He attended St. Henry's School and, after completing his service in World War I, entered St. Francis Seminary.  He celebrated his first Mass at the church in 1929.  The Reverend George Eilers of St. Francis Seminary, who delivered the sermon, was the chaplain of Company E while the boys were at Camp Douglas.
At the outbreak of hostilities of the First World War Novotny had enlisted as one of the members of the original Company E and left with that unit for Camp Douglas in 1917, with the Fifth Wisconsin Infantry.  Later, when the unit went to Waco, Texas, and became part of the 32nd Division, he went with it and the latter became Co. D of the 120th Machine Gun Battalion. 
He served throughout the war in France with the 32nd Division, taking part in many of the historic battles of that war.  He remained with Company E, made up of young men of the city, throughout the war.  He spent two years in the army, serving 15 months in service overseas.  Six months of that time were spent in active fighting and six months were with the army of occupation in Germany. 
Henry was honorably discharged from service in 1919.  He entered St. Francis in the fall of the same year.
This son of the parish died at age 49 of a heart attack.  A solemn requiem funeral High Mass, a moving mix of religious rite and military aspect, was held at St. Henry's with the Archbishop Moses E. Kiley of Milwaukee in attendance and assisting Father Schwinn.
The night prior to the funeral, his earthly remains were brought to Watertown and taken directly to the church; members of Company E, with whom Father Novotny served in World War I, and the Sgt. Frank L. Pitterle post of the American Legion were among those who paid him tribute. 
Prayers were said by the differing groups that assembled and a guard of honor and an all-night vigil were maintained throughout the night by members of the Holy Name Society of the parish.  Many old friends and acquaintances, old classmates, and buddies of WW I filed past the bier. 

History of Watertown, Wisconsin