ebook  History of Watertown, Wisconsin
THIS IS A WORK IN PROGRESS
WORLD WAR I
Watertown's Company E
Went to War in 1917
April 6, 1917
On April 6, 1917, the United States formally declared war on Germany
following attacks by German U-boats on unarmed U.S. merchant ships
and after the Germans tried to persuade Mexico to invade the U.S.
_____________________________________________________
1905
09 03       WATERTOWN HAS NO MILITIA COMPANY
It is surprising that in a city the size of Watertown, there is no militia company.  There are any number of places with not half of its population that have companies in the National Guard.  There is an abundance material here for a good company, which would be a great advertisement for the city in a trusting attention toward it, for it shows enterprise in public spirit upon the part if the members and the citizens in general.
At the present time, the infantry branch of the state's militia consists of forty-four companies, and that number is already organized and assigned, but from time to time companies for various reasons disband, leaving vacancies in the regiment to be filled, and it is quite probable that, should a company be organized here, it would not be very long before it would receive regimental assignment.
There are several gentlemen in the city who have been members of militia companies and have had experience, and should they take the initial steps looking to the organization of a company, a sufficient number of young men would respond to make the efforts a success.   WDT
1915
-- --WWI NEUTRALITY ISSUE
                Mass meeting at Turner Hall, Neutrality in WWIl
1917
01 18       DENNINGER'S AD:  "FAMILY PIC BEFORE THE BOY LEAVES FOR THE FRONT"
<![if !vml]>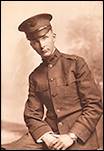 <![endif]>  
01 18       WORLD WAR I DECLARED BY U.S. ON APRIL 6th, 1917
But after the outbreak of the War in Europe in 1914, many of the German inhabitants of Watertown and indeed, America itself, faced the dilemma of a possible war between their adopted land and the land of their fathers; for some, it was even the land of their birth. A very strong anti-war sentiment developed in Wisconsin at this time, led by the State Senator Robert La Follette. In Watertown, meetings were held by German-Americans opposed to the war; the city band was reported to have opened the ceremonies and songs like "Die Wach am Rhein" were sung along with "America," before and between speeches given in both German and English. The citizens gathered passed no fewer than seven resolutions regarding their opposition to war, which were published along with an account of the meeting in the Watertown Gazette on October 25th, 1915.
However strong it seemed, the German-American neutrality movement was countered by a steady stream of German military atrocities on and overseas. The Rape of Belgium, in which entire Belgian cities were torched and thousands made refugees, provoked international outcry. But Belgium was not the only neutral state to be attacked by Germany. In perhaps one of the best-remembered U-boat attacks of the war, the American liner Lusitania was sunk by a German Submarine attack in 1915. President Woodrow Wilson demanded that Germans refrain from attacking neutral shipping, but did not change his stance of isolationism and peace. It was not until the early months of 1917 that American patience with Germany reached a breaking point. In January the German Reich announced it would resume attacks on neutral shipping, and a German plot to recruit Mexico as an ally against the U.S. was uncovered in February. Three American merchant ships were sunk, and Uncle Sam had had enough.
War was declared on April 6th, 1917.
- Watertown History Annual 2, Great War I, by Joseph M. Smith
07 15       WISCONSIN NATIONAL GUARD WAS ACTIVATED FOR FEDERAL SERVICE
unit in Watertown was Company E of the 5TH Wisconsin Infantry Regiment
On 15 July 1917, the Wisconsin National Guard was activated for Federal Service.  The unit in Watertown was Company E of the 5TH Wisconsin Infantry Regiment.  Captain Albert F. Solliday, was in command, assisted by 1LT Jas. T. Hale and 2LT Lawrence W. Murphy.
CPT Albert F. Solliday followed in his father's footsteps in both his civilian and military pursuits.  Like his father, he became a dentist and had a practice in Watertown for many years.  Born in Watertown 23 Oct. 1871, he attended Watertown's Lincoln School, then attended St. John's Military Academy in Delafield, then Shattuck Military Academy in Faribault, MN, and Northwestern University Dental College in IL.  Upon his return home after his deployment to France with the 32d "Red Arrow" Division during WWI, he became the inaugural commander of Watertown's American Legion Post in 1919.  He passed away in Watertown on 12 May 1958 at the age of 86.
At this time, the unit's armory was the old high school on E. Main St.
On 17 August 1917, Co. E left Watertown and went to Camp Douglas, Wisconsin.
On 31 August 1917, the strength of Company E is listed at 3 officers and 86 enlisted men.
On 25 September 1917, Co. E was sent from Camp Douglas, Wisconsin to Camp MacArthur, near Waco, Texas.
The entire Wisconsin National Guard left the State and went to Camp MacArthur, near Waco, Texas. Once there, the Wisconsin and Michigan National Guards were consolidated to form the 32d "Red Arrow" Division. All of the Wisconsin National Guard units were reorganized and renamed to conform to the organization of Army Divisions at that time. The 5thWisconsin Infantry was no exception, it was broken up and parts of it assigned to the 57TH Depot Brigade. The 57TH Depot Brigade was only a temporary unit. Personnel assigned to the 57TH Depot Brigade were used to organize new units that were needed for the Division but were not in existence. Once all of its personnel were assigned to other units, the 57TH Depot Brigade ceased to exist. Many of the soldiers from Watertown were assigned to the 120th or 121st Machine Gun Battalions of the 32d "Red Arrow" Division.
Once training was completed at Camp MacArthur, the 32d "Red Arrow" Division was shipped to France to fight in World War I.
__________________________________________________________________________________
08 17       WATERTOWN'S CO. E LEFT FOR CAMP DOUGLAS
The unit in Watertown was Company E of the 5th Wisconsin Infantry Regiment.  On 17 August 1917, Co. E left Watertown and went to Camp Douglas, WI.  On 25 Sept 1917 the company was transferred to Waco, TX and became Company C, 120th Machine Gun Battalion and then for the duration of the war was knows as Company D.  On 4 February the company left for Camp Merritt, N J with deployment to Brest France on 4 March, 1918.  Armistice Day is commemorated every year on November 11 to mark the armistice signed between the Allies of World War I and Germany, for the cessation of hostilities on the Western Front of World War I, which took effect at eleven o'clock in the morning — the "eleventh hour of the eleventh day of the eleventh month" of 1918.
08 22       COMPANY E OF THE NATIONAL GUARD MARCHED OFF TO BATTLE IN WORLD WAR I
[75 years ago] Watertown's Company E of the National Guard marched off to battle in World War I.
In Watertown's century and a half of existence our men and women have answered the country's calls, but the day Company E left here marked the largest single local effort ever made to fight in one of the country's wars.
Of the original Company E, four members lost their lives in the war.  They were Sergeant Frank L. Pitterle, after whom the local American Legion Post is co-named, Benjamin Potter, Fred Bergman and Luke B. Dunnigan.
Old records show the day when the men left for the war was a pretty somber one.  Hours before the men were to leave for war, the crowds were lining up at the armory. That's the building which later became the city's recreation center, and later the site of The Heritage Inn.  From there the entourage went to the depot.
It must have been a moving day. Here's what our paper had to say about it:
"Shortly before the city band paraded the streets, led by Mayor Charles Mulberger and ex-Mayor Herman Wertheimer.  The orders to march came and the company lined up behind the band, followed by members of the Red Cross Society and thousands of citizens, who packed every inch of available space about the depot. The special train pulled in at
"The Misses Margaret Abele, Catherine Blair, Ruth Cruger and Helen Schultz carried an American flag through the streets, forming a pocket of it, each girl carrying a corner and soliciting donations for the mess fund of Company E so that the boys might have little items added to their daily fare.  The sum of $200 was collected by the girls and was wrapped up by them and given to the treasurer of the company."
The company was organized shortly after the United States entered the war and left Watertown Aug. 17, 1917, for Camp Douglas.  It remained in camp until Sept. 25 when it was sent to Waco, Texas, and became Company C, 120th Machine Gun Battalion.  Later it became identified as Company D and continued with that designation throughout the war.
The company left Texas on Feb. 4, 1918 for Camp Merritt, N.J., where it arrived on Feb. 10. On Feb. 18 it left for Hoboken and sailed on the George Washington, arriving at Brest on March 14.  The George Washington was the liner which later carried President Woodrow Wilson and his party to the peace conference.
The first experience of war for the Watertown men came when they were traveling on the ship.  The Atlantic was then infested with German submarines and many death-defying experiences were encountered.
The company landed at Brest on March 4, leaving for Vousolersl on March 9 and then the Alsace front at Ettuefont and on May 18 the unit was ordered to the front.
Until May 29 the company remained at the front and was then sent into the reserves at La Chappelle.
Later the company returned to the front and remained there until July 20.  From there the company was transferred by train to Chateau Thiery, arriving on July 29 where it encountered its first major battle.  Until Aug. 10 the company remained on duty there and was then sent to Joinville and then to Juvigny.  Later the men saw action in the famous Argonne Forest, serving from Sept. 20 to Nov. 11 when the armistice was signed and hostilities ceased.
The unit had some occupation duties in the ensuing months, but it was on May 21, 1919, that the unit returned to Watertown and was greeted with a welcome of the magnitude that had never been seen here before.
The roster of Company E on the date of departure contained many familiar family names. The list follows:
A. F. Soliday, captain; J. T. Hale, Jr., first lieutenant; L. W. Murphy, second lieutenant; Alfred Krueger, first sergeant; E. J. Dunn, quartermaster sergeant; Frank L. Pitterle, company clerk.
Sergeants - Allen Biefeld, Fred Hollenbeck, Elmer Kehr, William Kubow, James Monroe, Samuel Kontos.
Corporals - Edwin Kaercher, Walter Kuester, Edward McCall, Seth Perry, Benjamin Potter, George Semrich, Fred Ullrich, Lester Williams, Benjamin Winkleman.
Musician - Walter Simon.
Privates - Alvin Beerbohm, Percy Behlke, Ray Behlke, Fred Bergmann, Raymond Bock, Francis McCall, Ralph Dittman, George Draeger, Luke Dunigan, Clarence Eickstaedt, Fred Erdmann, Herbert Euper, Walter Flint, Thomas Gavney, Herman Gerth, A. C. Gillard, Anton Glun, Thomas Hady, William Hayes, James Hannes, Emil Hoefs, Frank lhde, Albert lhde, Delphus Jackson, Joseph Kioes, Arthur Koch, William Kortegast, Hilmer Krueger, Alfred Kuehnemann, Michael Kunitz, George Lambras.
Roy Lane, Arthur Lietzke, August Luebke, Frank Luebke, Edward Luebke, Elmer Luther, Edwin Mantz, Victor Marks, George McCall, Francis McCall, Lawrence Meitner, Bernhardt Neitzel, Alphonsus Noon, Henry Novotny, Jay Perry, Gustav Rennhack, H. E. Rennhack, George Ryan, George Schilling, Edwin Schlueter, Arthur Schmeling, Fred Schultz, Gustav Sendlebach, Irving Somner, Joseph Stacy, Alex Stoebe, Albert Tews, Herbert Tolksdorf, Fred Vergenz, Clinton Vesper, Ernest Wilde, Edwin Wilde, Alexander Woelffer, Harold Zickert, Oscar Zillisch.     WDT
09 01       COMPANY E'S GOSLING
<![if !vml]>

<![endif]>
Mascots come and mascots go, and where there are envious attempts on the part of rival companies to boost their mascots as the real for-sure-enough wonder of the camp, such attempts are short lived, for Company E's gosling is the real attraction in the mascot line at Camp Douglas.  It was a happy thought on the part of the Watertown Poultry and Pet Stock Association to send us this bird, which will go to Waco with the company, and with his "expert" military knowledge, he will no doubt be an attraction of equal importance there.    Watertown REVEILL-"E," publication of Watertown's Company E, Fifth Wisconsin Infantry, September 1, 1917
1917 continued
JOHN NOVOTNY
<![if !vml]>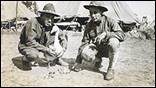 <![endif]>     Father Henry Novotny (1896-1945)
Click to enlarge
Henry was born in Watertown and was the son of John and Francisca Novotny.  He attended St. Henry's School and, after completing his service in World War I, entered St. Francis Seminary.  He celebrated his first Mass at the church in 1929.  The Reverend George Eilers of St. Francis Seminary, who delivered the sermon, was the chaplain of Company E while the boys were at Camp Douglas.
At the outbreak of hostilities of the First World War Novotny had enlisted as one of the members of the original Company E and left with that unit for Camp Douglas in 1917, with the Fifth Wisconsin Infantry.  Later, when the unit went to Waco, Texas, and became part of the 32nd Division, he went with it and the latter became Co. D of the 120th Machine Gun Battalion. 
He served throughout the war in France with the 32nd Division, taking part in many of the historic battles of that war.  He remained with Company E, made up of young men of the city, throughout the war.  He spent two years in the army, serving 15 months in service overseas.  Six months of that time were spent in active fighting and six months were with the army of occupation in Germany. 
Henry was honorably discharged from service in 1919.  He entered St. Francis in the fall of the same year.
This son of the parish died at age 49 of a heart attack.  A solemn requiem funeral High Mass, a moving mix of religious rite and military aspect, was held at St. Henry's with the Archbishop Moses E. Kiley of Milwaukee in attendance and assisting Father Schwinn.
The night prior to the funeral, his earthly remains were brought to Watertown and taken directly to the church; members of Company E, with whom Father Novotny served in World War I, and the Sgt. Frank L. Pitterle post of the American Legion were among those who paid him tribute. 
Prayers were said by the differing groups that assembled and a guard of honor and an all-night vigil were maintained throughout the night by members of the Holy Name Society of the parish.  Many old friends and acquaintances, old classmates, and buddies of WW I filed past the bier. 
01 18       ALL GERMAN ALIENS MUST REGISTER NOW
All German aliens over 14 years of age in the city of Watertown must register with the Chief of Police at the city hall between February 4, 1918 and up to and including February 9, 1918.  The office will be open between the hours of 6 a.m. and 8 p.m. each day.
Failure to register will mean arrest and possible confinement during the war, and in severe cases, deportation from the country after the war.
And it is made the duty of every American citizen to notify the Chief of Police of any alien that he knows so that proper registration can be made.
Any person born in Germany who has not taken out his full second papers is an alien enemy. 
Notice to the above effect has been received from the United States marshal's office at Madison by me.
CHARLES PIERITZ,
Chief of Police.                           The Watertown News
01 25       FOOD SAVING ORDERED
Sacrifice at home for those on the front lines.  The new program of food saving now ordered in effect makes every Monday and Wednesday wheatless days, with one wheatless meal every day.  Tuesday is meatless day with one meatless meal every day.  Saturday is porkless day, when ham, bacon or lard should not be used.   The Watertown news
07 04       LADIES HOME DEFENSE GUARDS
<![if !vml]>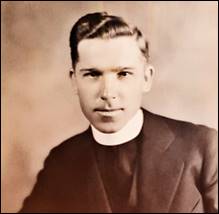 <![endif]>      July 4th, 1918, Milwaukee, WI
Rolled 33-in x 6.5-in photo in our collection (WHS_011_658)           > click to enlarge
09 22       THEY GOT THERE IN TIME . . . LET US DO THE SAME.  BUY BONDS !
<![if !vml]>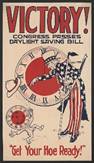 <![endif]>  
10 21       JEFFERSON COUNTY BOYS LEAVING FOR CAMP SHELBY
<![if !vml]>

<![endif]>     10 21 1918
Jefferson County recruits, leaving for Camp Shelby, Hattiesburg, Mississippi
11 11       ARMISTICE DAY
11 11       EXTRA !    EXTRA !      HUNS SURRENDER
<![if !vml]>

<![endif]>  
      click to enlarge
TEMPER OF PEOPLE MUST DECIDE ON CELEBRATION
Mayor Out of City and Other Officials Do Not Care to Act in His Absence:
Public Schools Close Today
Watertown employers and employees must decide for themselves whether today will be observed as a holiday in the city or not.
Mayor Charles Mulberger is out of the city and could not be reached though attempts were made to reach him by telephone.
Alderman Charles Lutovsky, president of the city council, acting mayor in the absence of the city's chief official, declared himself as being heartily in favor of a cessation of business so far as it could be arranged on such short notice, but did not care to issue a proclamation asking the people to observe the holiday.
Following a conference between Defense Council officials, President William F. Voss of the board of school commissioners and Superintendent Thomas J Berta, it was decided to close the public school for the day.
Unless otherwise notified in the evening paper, night school pupils will report as usual.
The Daily Times, always FIRST with the news, summoned its employees and began the preparation of an extra before three o'clock.
Shortly before 5 o'clock Chairman T. A. Wondreyka of the Watertown Council of Defense was routed out of bed and told the news.  It had been previously telephoned to Fort Atkinson and other parts of the county upon request of the County council of defense officials.
Chairman Wondreyka conferred with the city officials and The Daily Times received their answers through him.  He also notified the pumping station and the whistle began to blow at 5 o'clock.
11 11       ARMISTICE DAY
Nothing compares to the horrific experience of war, but both those serving and those at home who lived through the armistice celebration of 1918 never forgot that experience either.
November of 1918 began in a mire of confusion, contradiction, expectancy and tension. The war which began in 1914 was closing and everyone who followed the march of events knew it, but no one knew just how or where its end would come.
Wire services had reported the surrender prematurely on November 7 and the city started celebrating, only to awaken the next morning to learn that the war had not ended, that it was still on, but that it could not last much longer. Watertown waited. The nation waited. The world waited. Each day the news appeared a little more confusing.
But on November 11 word came that firing would cease at 11 a.m. and Watertown was ready. It began a celebration that lasted far into the night and never before had the city seen such wild revelry and so much noise and celebration. The end of World War II would be mild by comparison as far as celebrations go.
As soon as the news arrived in mid-morning that the war was really over, church bells rang and factory whistles blew, as though on a prearranged signal. Workmen dropped their tools and came out into the streets. Schools closed and the children joined the throngs. Soon Main Street was so jammed with people that all traffic halted or moved to side streets.
There was no program of any sort, just merry-making, jubilation, and carousing until far into the night as the tensions of war gave way to the coming of peace.
An impromptu parade, band music, jammed sidewalks and streets, flags, bunting, firecrackers, and free drinks; all combined to mark the joyful occasion.
The end of the war sent men's hopes for world peace soaring. But subsequent events would all too soon dash that hope as by 1939 war broke out again in Europe.
By means of the newspapers and also by circulars and hand bills distributed through Council of Defense channels reaching into every rural and city home, the residents of Jefferson County were urged to attend a church service of thanksgiving, even if they were not accustomed to attending church. The clergy of the county were asked by the County Council of Defense, with whom the plan originated, to observe Sunday, November 15, as a day of prayerful thanks for the victory which had come to American armed forces.
The non-church goers of the city were asked to attend a service and to make their choice of the church "with which they have the greatest sympathy by birth, association or convenience."
- A Church Built on the Rock, The 150-Year History of St. Henry's Catholic Church, Watertown, Wisconsin, 1853-2003, by Ken Riedl.
11 29       THE BOYS ARE COMING HOME . . . BUY THAT FORD SEDAN NOW
<![if !vml]>

<![endif]>       Klinger & Mayer, "The Ford Garage"
12 04       RECEPTION PLANNED FOR RETURNING COMPANY E
To the Common Council and Citizens of Watertown:
As the boys are returning from the front and the camps it will be necessary to receive them.  I herewith appoint Ex-Mayor Wertheimer as chairman of the reception committee, he to appoint his own aides.  I also appoint every man, woman and child in the city of Watertown as a member of the reception committee and, if parents who know of a wounded or sick soldier coming to town will notify Mr. Wertheimer or myself, we will be glad to go and receive the soldier with an auto and take him to his home.
Later on, possibly in February—and I would suggest February 22nd, Washington's birthday—Watertown ought to give a monster celebration to the returned soldiers, showing our appreciation of their services.
Company E will undoubtedly come back in a body.  When they do we will notify all citizens and I trust that everybody will be at the depot to receive them.  I am therefore also having a resolution introduced appropriating two hundred dollars as the city's part in defraying the expenses of receiving the boys and to help with the celebration.
Dated December 2, 1918. Charles Mulberger, Mayor.       The Watertown News
12 09       PLAN TO WELCOME RETURNING BOYS ON MEMORIAL DAY PROPOSED
A suggestion has been made to defer the public welcome of the soldiers returning from overseas and camps until Memorial Day, when it is believed that most of the men in the service will have been returned to their homes.  It is pointed out that the weather at that time of the year is fine and out of door exercises could be held in Riverside park after the regular Memorial Day services have been held at which tribute is paid to the men who gave up their lives for their country.  During the winter months a public welcome would of necessity be held indoors as the weather conditions would not permit an outdoor assemblage in which all citizens could join.
Memorial Day will be observed on May 30, when the daylight will last until well into the evening hours and which would allow ample opportunity to carry out a fine program, including, if not against the spirit of the occasion, a repast for the soldier boys served in barbecue style.  Riverside park is commodious enough for such an occasion where all can meet to give hearty welcome to the returning soldiers.
Chairman H. Wertheimer of the committee having in charge the welcoming of returning soldiers, says that Memorial Day may possibly be selected, but that so far the committee had not considered the matter as it was pretty early.  He stated that Memorial Day would probably be the proper day as at that time most of the Watertown boys would be home from across the seas and all of them from the camps in the United States.       The Watertown News
12 11       EUGENE FENDT WOUNDED ON ARMISTICE DAY
     Arm amputated
Word has been received by Henry Fendt from the war department at Washington to the effect that his son, Eugene E. Fendt, had been severely wounded in France on November 11.  That was the day on which the peace armistice was signed.  Private Fendt is one of four brothers in the service of Uncle Sam.  He is in base hospital 86, and the amputation of his right arm was necessary, according to a letter received from his nurse today.  He was in Cos. H, 9th Inf.      The Watertown News, 11 Dec 1918.
12 20       ALL ARE WELCOME TO JOIN XMAS TREE EXERCISES
     Plan Big Celebration in Honor of Day and Peace Which Has Come to World After War
People residing in the country contiguous to Watertown as well as the city people are invited to participate in the exercises attendant upon the community Christmas tree planned for Tuesday afternoon between 4:30 and 6 o'clock.
It is fitting that on the day that commemorates the birth of the Prince of Peace, a community has been brought into new and closer relations by its united efforts to achieve a great victory should join in such a celebration of Christmas as it has never had before.  The first thrill of joy that found expression in a great spontaneous demonstration is over, but there remains with all of us a deeper and a quieter sense of gladness that may well find its own expression in the lights, the songs, and the good cheer of a community Christmas tree.
So let the spirit of thankfulness be present in the heart of every one who attends the community tree celebration, thankfulness that after four long years of struggle and conflict, nations are once again at peace with one another and that in so many American homes there is rejoicing because her sons have come back.
The Christmas season is the time of giving and some of us may feel that we would like to help those who have been less fortunate than we.  The drive for the fatherless children of France ends on Christmas day, and a box will be provided by the Christmas tree committee wherein people may drop a contribution for the poor orphans of France if they so desire.  Thus, a Christmas festival in Watertown will end by bringing joy and peace to some of the million orphans of France whose fathers have given their lives for the cause of liberty. 
As a thank offering, let every home to which a boy is returning, do something to help keep with its mother a little French orphan whose father will never come back.
In such a way we will round out a perfect Christmas with merriment and gladness for those of us from whom the shadow of war has been lifted, and with a tender thought for those across the seas, who, however they may rejoice over the coming of peace, must still carry a heavy burden of sorrow.       The Watertown News, 20 Dec 1918
1919
05 21       COMPANY E RETURNED TO WATERTOWN
On May 21st, at 8:30 p.m., the men of Company E returned home over the Northwestern railway after being abroad for nearly two years.  Crowds turned out on Main Street, bands played for the men of the "Les Terribles."  It was a true heroes welcome.
1923
---             BRIDGE DEDICATED TO SOLDIERS OF WWI
Watertown's Memorial Bridge, dedicated to the soldiers of WWI, opened in 1923 with impressive ceremonies in which noted leaders took part. The new concrete bridge, "which is considered one of the most beautiful structures of the kind in this part of Wisconsin," was ornamented with large pillars topped off with twenty-four large electric globes, the light of which can be seen from a great distance. A feature of the bridge's opening was the presence of Marshall J. Woodard, pioneer resident of this city, who was 93 years old at the time and became the first man to drive across the new bridge. He was one of the oldest and best known residents of this city and was one of the early-day bankers in this city.
1945
08 18       LAST MAN'S CLUB REUNION
A Last Man's Club was formed out of the membership of Company E.   A special bottle of wine was purchased at the first reunion of the group, and each succeeding year it was brought to the reunion and set in the center of the table and then put back in a vault until the following year.  When the membership was down to one member, it was to have been opened and the last survivor was to give a toast to his dead comrades.
The annual dinner meeting of the Last Man's Club of Co. E, Watertown's military unit in World War I, will be held tonight at Otto's Inn.  The dinner will be served at 6:30 o'clock and the meeting will follow.
Present tonight also will be the special bottle of wine which was set aside at the time the club was launched.  The plan is that when all but the last surviving member of the group have passed on, the survivor is to meet in session and after his dinner open the bottle and drink the wine.  Each year the bottle is shown and then it is put away until the following year's dinner.
Present officers of the club are: Allen Biefeld, president; Arthur Schmeling, vice president; Arthur W. Lietzke, secretary-treasurer.
Mr. Lietzke said this morning that up to that time he had already received 37 reservations for tonight's dinner.  He said more were expected.  Among the men who will be here will be members from New York, Ohio, and other states. Wisconsin cities, too will be well represented.
1956
08 16       LAST MAN'S CLUB REUNION
The Last Man's Club of Co. E., Watertown, made up of veterans who served with the company in World War I, held its annual reunion and dinner Saturday night at the Green Bowl.  A place of honor was accorded the bottle of wine.  Elected president was F. B. Hollenbeck, Percy Behlke, Milwaukee, and Herman Gerth, this city, were elected vice presidents.  Seth Perry was named secretary-treasurer.  Allen Biefeld was named chaplain.
1967
08 16       LAST MAN'S CLUB REUNION AND DINNER
The Legion Green Bowl Saturday night provided the setting for the annual dinner and reunion of the Watertown Co. E Last Man's Club.  Company E was Watertown's own military unit that went into World War I, leaving here just 50 years ago last Thursday.  Members present were Arthur Schmeling, Joseph Westermann, Seth Perry, Thomas Hady, Arthur W. Lietzke, William Kortegast, Otto C. Andel, Bill Hayes, Herbert Manske, Clarence Eickstaedt, Herbert Tolksdorf, Frank W. Luebke, Herman Gerth, Victor H. Marks, Alex Woelffer, Ray Bock, Ferd Schultz, Allen Biefeld, Walter M. Kuester, Percy Behlke, Alphonse Kuehnemann, Otto Toebe, Elmer Kehr, Harvey Emmer, Roy Behlke, Joseph Kloes and James Monroe.
1968
08 10       LAST MAN'S CLUB 51st ANNUAL REUNION
The Last Man's Club of Watertown Company E, a World War I contingent, will hold its 51st annual reunion at the Legion Green Bowl here Saturday night, with a dinner beginning at 7 o'clock. A bottle of champagne, which is kept in the vault of the Wisconsin National Bank, will be brought out and placed in the center of the table. The stipulation, at the time the club was organized, was that the wine was to be drunk as a toast by the last remaining member of the club. After tomorrow night's dinner the bottle will be placed in the vault until the 1969 reunion. Of the original club members, 47 are known to be deceased, another five have never been contacted for lack of address and 37 are still active. It is expected that some 25 will return for tomorrow night's reunion.
1982
08 18       LAST MAN'S CLUB 51st ANNUAL REUNION
The Company E Last Man's Club will open no wine before it's time. And after 42 years, the last few members have decided it's time. Today at , the three surviving Watertown members will meet at Lindberg's by the River to drink a toast to the 83 members of Company E who have gone before them. Company E fought in Europe in World War I.
The company started out as a Wisconsin National Guard unit that trained at Riverside Park before becoming part of the U.S. Army at the start of the war, said Arthur Lietzke, the club's president, secretary and treasurer.
<![if !vml]>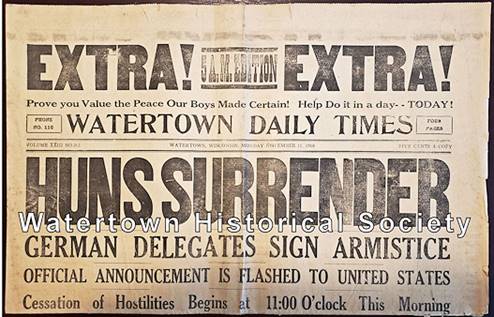 <![endif]>   <![if !vml]>

<![endif]>     Portfolio of pics, Company E of Watertown
Cross-References:
Pitterle-Beaudoin American Legion Post 
Neutrality in WWI:  Mass Meeting at Turner Hall  
WISCONSIN IN THE WORLD WAR   (an online ebook)
\\\\\\\\\\\\\\\\\\\\\
ARE THERE WWI ITEMS IN MY WFDEPT AND/OR SHCC HISTORY BOOKS?
MR. SMITH WROTE A WWI ARTICLE for Watertown History Annual
ANY 5X8 CARDS WRT WWI IN BEN FELD COLLECTION OF CARDS?
REVILL-E NEWSPAPER    <![if !vml]>

<![endif]>
STARS & STRIPES
4TH FLOOR MUSEUM WWI DISPLAY
SOLLIDAY LETTER BACK TO WATERTOWN
WWI ACID-PROOF BOX
Entries from Ben Feld's 5x8 card collection????
file:///C:/Users/Ken/Documents/My%20Webs/WATERTOWN%20HISTORICAL/StHENRYS/Obits/Novotny_Frances.htm
Mrs. Frances Novotny
1858- 1929
Sunday morning October 6, 1929, Mrs. Frances Novotny, aged 71 years, was found dead in bed at her home, 411 Humbolt Street, the cause of her death being heart trouble. She was born on June 17, 1858, in Bohemia, and when 6 years of age she located in Watertown with her parents, the late Mr. and Mrs. Frank Kratochvil, and has made this city her home ever since. Her husband died in 1900. She was a Gold Star mother, having lost two sons, Charles and Joseph, in the World war. Two daughters and five sons survive her, Miss Anna at home, and Mrs. Charles Schumacher of Milwaukee, Frank, Mathew and John of this city, Edward of Milwaukee and the Rev. Henry Novotny of Kenosha. Nine grandchildren and one great grandchild also survive and two sisters, Mrs. John Weber of Jefferson and Mrs. Mary Hazenow of this city.
She was one of Watertown's most beloved citizens and a devout member of St. Henry's Catholic church. Her funeral was held from St. Henry's church Wednesday morning, services being conducted by her son, Rev. Father Novotny. The interment was in St. Henry's cemetery.
\\\\\\\\\\\\\\\\\\
http://www.watertownhistory.org/images_02/Capture890.jpg
January, 1918
WWI:  National Smileage Campaign
Object was to furnish each soldier a book containing coupons
entitling the holder to admission at "Liberty theatres, Liberty tents
and auditoriums under the management of the Commission on
Training Camp Activities in national army cantonments and national guard camps.
\\\\\\\\\\\\\\\\\\\\\\\\\\\\\\\\\\\
Framed Photo Montage of Co. E, 5th Regiment Infantry, WNG, Watertown, 1917
The Society has a framed picture of Company E with a large picture of General Pershing and small headshots of the members of the company surrounding it.  Each name is printed in almost calligraphic manner and some letters are barely discernable.  Please contact the society regarding any correction(s).
Beerbohm, A            1917, Co. E picture with small headshots of members, Society holding
Behlke, P P
Behlke, R R
Bergmann, F W
Biefeld, A
Boek, R H
Carroll, J W
Dittmann, H
Draeger, G H
Dunigan, L B
Dunn, E J, Mass.Sgt.
Eicksteadt, C W
Erdmann, F W
Euper, H B
Flint, W F
Gavriey, T W
Gerth, H F
Gillard, A C
Glun, A F
Hady, T J
Hale, J T Jr, 1st Lt.
Hannes, J
Hayes, W H
Hoefs, E
Hollenbeck, F B
Huester, W M
Ihde, A
Inde, F
Jackson, D L
Kaercher, E H
Kehr, Ed
Kioes, J M
Koeh, A J
Kontos, S N
Koptegast, W H
Krueger, H H
Kubow, W A
Kuehnemann, A W
Kunitz, M L
Lambeos, G K
Lane, R J
Lietzke, A W
Luebke, A K
Luebke, Ed
Luebke, F W
Luther, E C
Mantz, Ed
Marks, V H
McCall, E A
McCall, Ed
McCall, G W
Meitner, L A
Monroe, J C
Murphy, L W, 2nd Lt.
Neitzel, B A
Noon, Ad.
Novotny, H P
Perry, J
Perry, S
Pitterle, F L
Potter, B J
Rennhack, G H
Rennhack, H E
Ryan, G J
Schilling, G A
Schlueter, E E
Schmeling, A A
Schultz, F E
Semrich, G M
Sendelbach, G A
Simon, W A
Solliday, A F, Capt.
Sommens, L J
Stacy, J F
Stoebe, A E
Tiews, A
Toche, O W
Tolksdorf, H L
Uttech, F H
Vergenz, F B
Vesper, C A
Wilde, E F
Wilde, E H
Williams, L T
Winklemann, B J
Woelffer, A T
Ziekept, H A
Zilisch, O C
(Designed by J Danner)
Other photos: President Wilson
_____________________________

History of Watertown, Wisconsin