website  watertownhistory.org
    ebook  History of Watertown, Wisconsin
East Main Street Bridge
same as Smith and Memorial and later Hwy 19 bridge
Watertown's New Bridge Dedicated
<![if !vml]>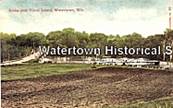 <![endif]>  
c.1890
<![if !vml]>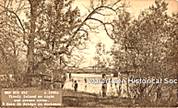 <![endif]>  
c.1900
<![if !vml]>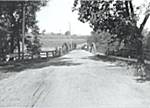 <![endif]>  
1913
<![if !vml]>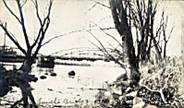 <![endif]>    Looking north from Tivoli Island
1923
NEW MEMORIAL BRIDGE DEDICATED
<![if !vml]>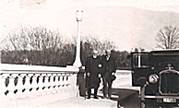 <![endif]>  
Pioneer, 93 First to Cross Span on Site of Old Rock River Ford
Central Figures at Bridge Fete
(Picture, not included with caption)
Left to right – A. R. Hirst, state highway commissioner, Marshall J. Woodard, Watertown pioneer,
Owain T. Hughes, chairman Jefferson county board's road and bridge committee,
H. J. Grell, member Jefferson county board.
Watertown's new Memorial bridge, dedicated to the soldiers of the world war, was opened this week with impressive ceremonies in which Highway Commissioner Hirst and other noted leaders took part.  The new bridge, which is built of concrete, spans the Rock River on the east side of Watertown and travelers over highway 19 will be using it as a means of travel.  The bridge, which is considered one of the most beautiful structures of the kind in this part of Wisconsin, is ornamented with large pillars topped off with twenty-four large electric globes, the light of which can be seen from a great distance.
A feature of the bridge's opening was the presence of Marshall J. Woodard, pioneer resident of this city, who forded the Rock River at the spot where Woodard, who is 93 years old, was the first man to drive across the new bridge.  He is one of the oldest and best known residents of this city and was one of the early day bankers in this city.
Quite different were the surroundings at the opening of the new bridge this week than those which existed in 1855, when Mr. Woodard first came to this section.  Mr. Woodard was born in New London, N. J., in 1830 and in 1855 he came to Wisconsin and settled in Oak Grove, Dodge County.  He came to Milwaukee by boat and from there to this city by ox team.
In speaking of his experiences at the services, Mr. Woodard recalled many things of interest – the wild surroundings of this section when he first came here, the lack of modern comfort, the eagerness and hard work of the settlers, the primitive conditions in all parts of the county, and the utter lack of modern essentials.
c.1950
<![if !vml]>

<![endif]>  
1963
08 07       Repairs and replacements, including new railings and lights, are being made on Memorial bridge which crosses Rock river near Tivoli Island.  At this week's meeting of the common council additional work to restore the center area of the bridge was authorized.  It will be necessary to close the bridge when that phase of the work is undertaken.  It will require about two weeks once that gets started and it will be necessary to reroute traffic.  The Boughton bridge route is under discussion for such usage when the time comes.

History of Watertown, Wisconsin