This file portion of www.watertownhistory.org website
Watertown Rifles
"In time of peace, prepare for war"
1853 [not 1851]
Watertown's first active unit was formed in May of 1853 as the Watertown Rifle Company.  The name was at some point shortened to Watertown Rifles.  The original leaders of the Watertown Rifle Company included CPT Henry Boegel, 1LT Gotlieb Baumann, 2LT C. W. Schultz and 1SG John Reichert.  The Company's motto was "In time of peace, prepare for war."   Source
1857
Mention of 1867 picture taken of Watertown Rifles
02 16       Western Star Hotel Fire / Home of Watertown Rifles
About half past 3 o'clock this morning the large hotel in the 4th Ward of this city belonging to Gottlieb Baumann was discovered to be on fire [Western Star Hotel, corner of W. Cady and N. Water]—in fact so nearly wrapped in flames that those sleeping in it barely had time to escape. It was a large three story wooden structure, and being very dry, the fire spread so rapidly as to render all attempts to extinguish it entirely useless.  A few beds were all it was possible to get out.  Everything else such as furniture, fixtures and provisions were consumed.  We understand there was no insurance on the property and if this is the case, of course, the loss, which cannot be less than $2,000, will be total.
The firemen were promptly on hand and did all that could be accomplished under the circumstances.  They had everything in good working order but the building was too far gone to be saved.
The Watertown Rifle Company, who kept their arms in this building, have lost all their accoutrements.
Next Monday evening there was to have been a concert and ball in the fine hall of this hotel.  By a notice in another column, it will be seen that the concert will take place at Cole's Hall and the proceeds be given to Mr. Baumann, who has had the misfortune to meet with a calamity so sudden and severe.  In view of this generous object, we hope the attendance will be general and the proceeds large.
↓  More on Western Star Fire  ↓
Gottlieb Baumann, captain of Watertown Rifle Co
Gottlieb Baumann, father of Alfred Baumann and Mrs. Otto R. Krueger came to Watertown in 1846 with his father and brothers, Jacob and John.   
<![if !vml]>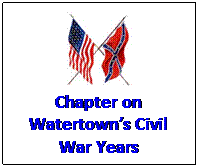 <![endif]>
He built the Western Star Hotel on the corner of West Cady and North Water streets which was destroyed by fire in 1860
Baumann had been captain of the old Watertown Rifle Company for some years.  The Watertown Rifles, a military company, lost their distinctive uniforms, stored in the Western Star Hotel, along with rifles and ammo as the Western Star burned to the ground. 
The Watertown Rifles had been organized in 1853 and the company drilled regularly and took part in patriotic displays on July Fourth and Washington's Birthday.  The group disbanded in 1861 at the outbreak of the Civil War.
In 1861 Baumann went to New Orleans and was pressed into the confederate army and when our 20th Wisconsin Regiment came to New Orleans he enlisted in the Watertown Company E and became a first lieutenant.  C. Hugo Jacobi, Reminiscences of Early Days in Watertown, a series of newspaper articles, 1923.
On 17 December 1860, the Adjutant General of the State of Wisconsin, James A. Swain of Mineral Point, filed a report to the Governor of Wisconsin detailing how the various companies of the militia were organized.  On that date, the Militia of Wisconsin was comprised of 50 companies of volunteers with a combined strength of 1,993 men (the average strength of a company was about 40 men).  Watertown still had two companies at that time; the Watertown Rifles, commanded by CPT Gotlieb Bauman, with a strength of 42 men and the Governor's Artillery, commanded by CPT Mulberger, with a strength of 35 men.   Source
1861
05 30          New Testament For Each Volunteer
Enough money has recently been subscribed and paid by our citizens to purchase for each volunteer, who enlists and enters active service, a copy of the New Testament.  Every member of the Watertown Rifle Company will soon be presented with a present of this kind, none which could be more appropriate.   WD
<![if !vml]>
<![endif]>
http://images.google.com/imgres?imgurl=http://museum.dva.state.wi.us/graphics/OldAbe/EaglebearerRifle.jpg&imgrefurl=http://museum.dva.state.wi.us/Gal_Online_OldAbe5.asp&usg=__SS9lOo606S14trkSy0foBKCSnwo=&h=204&w=700&sz=10&hl=en&start=1&sig2=MDlEzAjLu3sNEdR0_mVddQ&zoom=0&itbs=1&tbnid=dZsp4olCX4eLvM:&tbnh=41&tbnw=140&prev=/images%3Fq%3Dcivil%2Bwar%2Brifles%2Bwisconsin%26hl%3Den%26rlz%3D1T4GGLR_enUS252US253%26biw%3D1415%26bih%3D662%26tbs%3Disz:m%26tbm%3Disch&ei=thTITeWHE8OftwfBu4yMBA
April, 1861          Watertown Rifle Company
In April of 1861, the Watertown Rifles HQ was in the Chappel Block on Main Street. On 12 May they were issued their uniforms and assigned to the 3rd Wisconsin Infantry Regiment of as Co. A.  Their HQ was then moved to the Mud Tavern on W. Main Street, about a mile west of the heart of town.  It was renamed Camp Bertram after Henry Bertram who managed the place and also served in the company (1LT and later CPT).   http://www.b-1-105.us/history/wng-wtn.html
April 25, 1861     Watertown Rifle Company
Watertown Democrat, 04 25 1861
Chapter on Watertown Rifle Company
This is the name of a company of volunteers that has been organizing in this city during the past week.  Its members are mostly young men who, with proper discipline and training, will make brave and reliable soldiers.  It is their purpose to offer themselves for active duty, but whether their services will be immediately accepted and required is now uncertain as the regiment called for from Wisconsin is now full, and nineteen other companies, like this, in different parts of the state, are ready at a moment's notice to answer the demand of the Governor.  If no further requisitions are made by the President, perhaps they will not be needed.  Its officers have received commissions, the men have been sworn in, and all that is now wanted is an opportunity. 
The headquarters of the company are in Gen. Chappell's Block, before which the Stars and Stripes are now floating.  When a room was wanting in which to meet, he cheerfully furnished one without expense to any body. 
FOLLOWING ITEM RELATES TO DARIUS S. GIBBS  <<< START CHAPTER ON . . . ADD TO HISTORY ONLNE HTML
Watertown Republican, 09 21 1860
Coppering
The subscriber has opened a shop for manufacturing all kinds of work in his line.  Wanted:  20,000 round hickory hoops; 100,000 flat ash hoops; 50,000 pork barrel staves, for which the highest case price will be paid. 
Having worked for the old settlers of Watertown and vicinity sixteen years since, and being well known to the inhabitants, I feel the utmost confidence in once more soliciting their patronage.  I intend making Watertown my permanent place of residence and hope to merit and receive a liberal share of business.
Shop 4 doors below Watertown House, 1st St.
D. S. Gibbs.
Replace following with GLIMPSES list of Watertown Democrat, 06 13 1861
The following are the names of those who have enlisted as far as we have been able to ascertain.  All are from this city or the surrounding towns:
Commissioned Officers
Captain—Darius S. Gibbs
1st Lieutenant—John Forsyth
2nd Lieutenant—James T. Myers
3rd Lieutenant—Joseph Crandall
Non-Commissioned Officers
1st Sergeant—George R. Huff
2nd Sergeant—Robert J. Forsyth
3rd Sergeant—John Hains
4th Sergeant—Joshua B. Harris
1st Corporal—Luther May
2nd Corporal—William H. Hains
3rd Corporal—George W. Rockwood
4th Corporal—Porter Gibbs
Privates
B. G. Miller
G. W. Brainard
R. Hart
E. F. Proctor
T. Brynildsen
S. J. Tompson
G. W. Rockwood
W. M. Forsyth
J. C. Dervin
L. C. Green
Alphus Lucas
A. Hanoch
A. Siebell
W. H. Burns
N. Tuttle
D. A. Tuttle
S. Karbach
H. Tracy
S. Cases
N. W. Dayton
J. B. Harris
A. Wooden
J. H. Tubbs
G. Forsyth
James Johnson
F. Rial
Samuel Baldwin
Arthur Morgan
Andrew Holmes
Jesse Monroe
Amos Bruce
John Corwin
Alexander Anderson
Moses Frost
G. C. Marvin
J. T. Hilliker
M. H. Ashley
M. J. Kane
A. Byrne
J. E. Anderson
H. Bennett
S. Reed
L. Bennett
N. Liskun
R. J. Taylor
R. Griffith
Lyman Cook
W. T. March
R. S. Howard
J. B. Brainard
S. Wixon
F. L. Tuttle
P. Janisch
P. P. Gibbs
H. Sperry
C. Newhouse
O. A. Boughton
Levi Frost
James Lisdale
John Morrill
Patrick McDonald
Mitchell McDonald
Calvin Jones
Jesse Weed
Linus Corwin
Alpheus Richards
Johnson Roads
Alonzo Bruce
Camp Bertram
Watertown Rifle Company and Camp Bertram
<   > Bertram html
Watertown Democrat, 05 30 1861
Mr. Editor:
Watertown Rifle Company and Camp Bertram
<   > Bertram html
Watertown Democrat, 05 30, 1861
Mr. Editor:
Presuming your business engagements have prevented your compliance with the numerous invitations given you to visit us since our removal to our present quarters, it may not be uninteresting to you and your many readers to hear from the Watertown Rifle Company at home.
Our location, which you well know, is on the beautiful grounds belonging to Mr. A. Fierman [ck plat map? <NOT POSSIBLE TOO EARLY // Corner of Dayton and W Main St.  ], one mile west from the center of the city; the barracks, the buildings formerly known by the cognomen [nickname] of "Mud Tavern."      = = = = HL=>http://www.watertownhistory.org/Articles/MudTavern.htm
Camp Bertram  http://www.wiscnews.com/news/local/article_f8f0d6e2-fbc5-11df-9281-001cc4c002e0.html
<![if !vml]>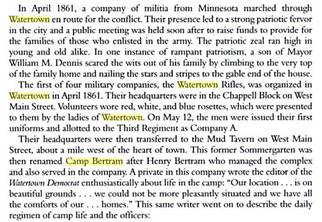 <![endif]>
How the neatly painted edifice, surrounded by handsome floral and fruit gardens, together with the numerous bowers of honey suckle and grape vines, now clothed in the richest verdure of spring, could ever been so named, is a mystery to the stranger. 
Suffice to say, we could not be more pleasantly situated, and thanks to our worthy host, we have all the comforts of our domestic homes, and were it not that duty calls, we would regret being compelled to quit this resort, until we are summoned to immediate service, which, as soldiers, we are enlisted for.
<![if !vml]>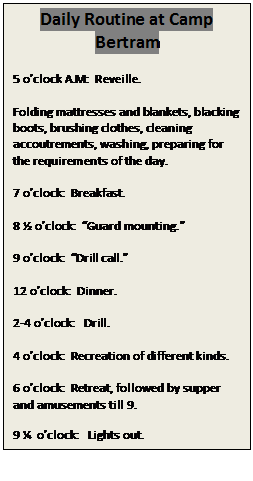 <![endif]>Our daily camp duties are much the same as those of other camps at Milwaukee and Madison; viz. reveille at 5 o'clock a.m.; Breakfast at 7, the interval occupied in neatly folding our mattresses and blankets, blacking boots, brushing clothes, cleaning accoutrements, washing and otherwise preparing for the requirements of the day; 8 ½ o'clock "Guard mounting," the guard consisting of one Sergeant, one Corporal and six Privates, whose duties continue for twenty four hours; at 9 o'clock "drill call" when every man must appear fully uniformed and equipped for two hour's drill; 12 o'clock dinner; now comes the "tug of war" and if the attack and onslaught of the viands may be a criterion of their attack of the Southern blood hounds, then Wisconsin will need no more soldiers; two o'clock again drill until four, after which time is spend in recreation of different kinds.  "Retreat" is beat at six.  Supper and amusements till 9; fifteen minutes after every one is supposed to be in bed and lights extinguished. 
Our officers are men of whom we may rightly be proud—as men, kind and humane—as officers, efficient and energetic.  Capt. D. S. Gibbs is a veteran who has served in the ranks, and not only knows the wants of a soldier but has acquired the ability to command, and too much credit cannot be given him for his energy and perseverance in forming this Company, attending to its wants and placing it in the first position in the 3d Regiment, although working against influences which, to my knowledge, no other commander has had to cope with—and he has nobly gained his object.
Lieut. Henry Bertram, who at present acts in the double capacity of officer and landlord, is also an old and tried soldier, thoroughly schooled in the tactics of the army.
Second Lieut. John Forsyth is too well known  as an upright and honorable business man to need comment from me.
Serg't Goodrich possess the qualifications of a scholar, but like ourselves, has yet to achieve military fame.
Of the non-Commissioned Officers and Privates I will only add, they are not men who during the excitement of the times, rushed madly at the call and enrolled their names with the impression they would not be wanted to quell this rebellion, but those, who, seeing and knowing the duty they owed to their country, calmly and deliberately pledged their honor to stand by the stars and stripes and "with them to conquer or by them to die."
Our destination is not yet known, but rumor says we are to rendezvous at Fond du Lac; there should be any news pertaining to the company you will hear again from.
A. Private
Watertown, May 26, 1861
\\\\\\\\\\\\\\\\\\\\\\\\\\\\\\\\\\\\\\\\
June 13, 1861  what was date for "last Saturday?"
Watertown Democrat, 06 13 1861
Departure of the Soldiers
The Watertown Rifle Company, which stands at the head of the Third Wisconsin Regiment, left this city last Saturday for Fond du Lac, the head quarters of the Regiment under the command of Col. Charles S. Hamilton.  Their destination is the city of Washington, whither they have been ordered for active service.  A large number of citizens were present to bid the defenders of the Union farewell and wish them all a safe return from the dangers and perils of the battle field, where they will do their whole duty bravely, no matter what fate awaits them.  Mayor Williams made a brief and appropriate speech on the occasion; the train started, and they were off. 
The following list contains the names of those who belong to the company and are now at their new camp, in training for action, and it may be a long term of service:
COMMISSIONED OFFICERS
Captain—Darius S. Gibbs
1st Lieutenant—Henry Bertram
2nd Lieutenant—John Forsyth
NON-COMMISSIONED OFFICERS
1st Sergeant—J. Drew Goodrich
2nd Sergeant—George R. Huff
3rd Sergeant—Robert J. Forsyth
4th Sergeant—William H. Burns
5th Sergeant—James T. Myers
1st Corporal—Lyman Cook
2nd Corporal—Daniel A. Tuttle
3rd Corporal—Edward F. Proctor
4th Corporal—Orin S. Howard
5th Corporal—Sala P. Webb
6th Corporal—Fred. Glaser
7th Corporal—Zadock S. Putney
8th Corporal—Thomas McKenna
MUSICIANS
Stephen F. Burrows
John Wisert
PRIVATES
Andrew Byrne
John P. Braynard
Jared Hains
Warren W. Nigus
Lewis C. Green
Alpheus Lucas
E. C. Marvin
Isaac B. Flanagan
Charles Rollhagen
William Forsyth
Johnson Anderson
John Zanes
William March
Nathan Nettleton
Abner J. Gould
Addis Bragg
Emil Stablefeldt
John C. Dervin
William B. Whipple
Robert Hart
David Bnehterkirchen
Hobert Hart
William Conly
William Hutchinson
Nathan Tuttle
Henry Wood
Pat Gorman
Arnold Mann
Anson Wales
Ezra Reed
Andrew Byrne
Elmore Vanderwort
Hermann Becker
Sidney J. Thompson
Henry Montaney
Robert Schroeder
Sindey N. Lund
Alexander Allison
James Terry
August Klopping
Alexander Darward
William Kethson
Daniel Strohn
Lyman C. Farmer
Franklin L. Tuttle
J. P. Brainard
Peter Hanf
Charles Perkins
Marshal Kane
R. T. Richer
John T. Hillaker
George Forsyth
George W. Brainard
Killian Rupp
August Ziebell
Tollef Bryneldson
George S. Lockwood
Robert Van Slyke
Elisha Tuttle
Charles Farmer
Charles F. Curtis
John Hickey
Henry Sperry
Julius Wallardt