website  watertownhistory.org
    ebook  History of Watertown, Wisconsin
Jesse Stone
1836 – 1902
William C. Stone
1856 - 1926
<![if !vml]>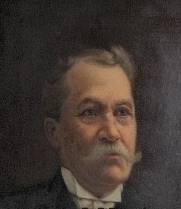 <![endif]>
Watertown Historical Collection 
1898 oil portrait of Wisconsin Lt. Gov. Jesse Stone.
Most likely painted by Herm. Michalowski (1860-1903)
who did 1894 paintings in St. Bernard's Church
Businessman, politician, born in Lincoln, Lincolnshire, England.  He migrated to the U.S. with his parents in 1841, settling in Waterford, N.Y.   In Waterford he learned the machinist's trade, moved to Louisville, Ky., in 1855, and in 1869 settled in Wisconsin, where he became part owner of a baking firm at Watertown.   A Republican, Stone was state assemblyman (1880, 1882, 1897-1898), a delegate to his party's national conventions in 1888 and 1892, and a member of the state central committee (1888-1894) . In 1898 he was elected lieutenant governor, was re-elected in 1900, and served from Jan., 1899, until his death.    Watertown Gazette, May 16, 1902.
1890
01 22       HELPING CITIZENS OF MANCHESTER, S. D.
Thursday last a car-load of clothing and provisions were shipped from this city, via the Chicago & Northwestern railway, to Manchester, S.Dak., for distribution among the suffering and destitute people of that section.  The contents of the car were made up of contributions from our citizens and those of surrounding towns, all responding with a liberal spirit towards the relief of the needy.  Watertown and vicinity have done nobly in this work of charity.     WR
01 22       LETTER FROM MANCHESTER, S. D.
[same date] Yesterday W. C. Stone received the following letter, which explains itself and will be read with interest by a large number:
MANCHESTER, S. D., Jan. 24, 1890.
W. C. Stone, Esq., Watertown, Wis. —
DEAR SIR: — Relief provisions from the people of your city and the vicinity have been received.  It would be expressing too little by far to say that they were thankfully received.  We think that the people of Watertown have done nobly; more than we could have asked.
May the great dispenser of all things grant unto you all great grace for this and for the new life as well.  Will enclose our instructions from Hon. Governor A. Mellette, to which we pledge fidelity.
Respectfully Yours,
`
H. G. COOK, Chairman.        WR
02 07       RETURN FROM WINTERING IN CALIFORNIA
The rumor current here for the past week, that Jesse Stone had disposed of his residence and was about to remove from our city, is not correct.  As yet his residence has not been disposed of, and for the present he will remain here.  Watertown can ill afford to lose such men as Mr. Stone, and all good citizens and sincerely trust that he will continue to make Watertown his home.  He is a valuable man in the community and has done much toward the prosperity of our city.    WG
1893
07 26       PRIVATE FORTUNE PLEDGED in case of bank bankruptcy  
1895
04 10       RETURN FROM WINTERING IN CALIFORNIA
Hon. Jesse Stone and wife arrived home Thursday afternoon from their winter's sojourn in California.  They visited many places in the state, but passed most of the time in Los Angeles, where there is quite a colony of former Watertown residents, all of whom Mr. Stone reports are prospering.  The past winter, Mr. Stone says, was one of the most delightful in the weather line California has had in several years, and hardly an inclement day was experienced.   WR
1898
03 08       JESSE STONE CANDIDATE FOR LIEUTENANT-GOVERNOR
Jefferson county has one candidate for place on the Republican state ticket – Hon. Jesse Stone, of this city, for lieutenant-governor.  His faithful and helpful services to his party are well known; he is a man above reproach in every way and certainly deserving of the honor he seeks.  He is entitled to a handsome endorsement from his home county and will surely go to the state convention with it. Thus far Mr. Stone has no opposition in the nomination.   WR
08 31       Mrs. Jesse Stone and Mrs. W. C. Stone gave a large afternoon reception from 4 to 7 o'clock last Friday, at the residence of the former, 300 Washington Street.  The appointments and arrangements were all that could be desired to render the affair at once elegant and inviting, and an air of cordial hospitality pervaded the spacious home that implied a cheerful welcome to all present.  During the receiving hours nearly one hundred ladies paid their respects to the hostesses.  The rooms were beautifully decorated with flowers and plants, and delectable refreshments were served in the dining hall.   WR
11 02       On the eve of the elections The Republican desires to say a word, not from a party standpoint, but in the light of fellow-citizenship and with respect to home pride.
The city of Watertown has a candidate for high office this fall in the person of Hon. Jesse Stone, who is the Republican nominee for lieutenant-governor.  He is a gentleman whom we all know full well and whom we have all come to respect and esteem for his excellent character and sterling citizenship.  He is a co-worker in the welfare of his city and an upbuilder of its every interest a man in whom any community could well take high pride.  He has lived in Watertown for thirty years during which time his every energy has been towards the growth and betterment of the city.  From a small beginning he has assisted in erecting an extensive manufacturing concern which gives employment to a large force and is recognized as one of our leading and most substantial institutions.  He is also interested in other business affairs here and is withal a public-spirited and prominent citizen, always willing and ready to lend aid and encouragement to anything that portends to the city's good.   WR
11 16       Jesse Stone, lieutenant-governor-elect, came in from Watertown yesterday and spent most of the afternoon at the Pfister.  About the only appointment that Mr. Stone will have will be that of a page for the session of the legislature, and for this reason he is not troubled by the office-seekers as much as the other state officers-elect.  Mr. Stone said that the only candidate he had heard of for chief clerk of the senate was W. L. Houser, of Mondovi, who held the position at the last two sessions.  "I think the next session of the legislature will be one of the most important that has assembled in Wisconsin in recent years," said Mr. Stone.  "By that I mean that the measures that will come up will be of unusual interest.  No, I don't know of any specific bills that will be introduced, but the Republicans state platform insures many important measures." Milwaukee Sentinel.  WR
1899
03 08       CARRIAGE IN HARVEST CARNIVAL PARADE
<![if !vml]>

<![endif]>  
1900
<![if !vml]>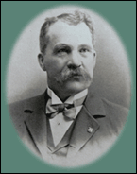 <![endif]>
03 13       Lieutenant Governor Jesse Stone, accompanied by Mrs. Stone, arrived in Milwaukee yesterday afternoon after an absence in the East and South, where he has enjoyed an eight week vacation.  He will remain in the city over Sunday, returning to his home in Watertown next week.  Mr. Stone's trip was taken largely for his health, and he returns feeling greatly rested.  At the Hotel Pfister last evening he said that he had kept little track of political affairs during his absence.
1901
04 05       POST OFFICE LEASE
The post office building, owned by Lieut. Gov. Stone, has been re-leased for ten years by the U. S. government, and several important changes will be made to the interior arrangements.  WG
1902
JESSE STONE, 1836-1902
<![if !vml]>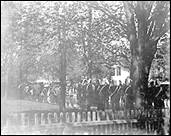 <![endif]>
Oak Hill Cemetery
<![if !vml]>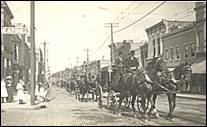 <![endif]>
Jesse Stone Funeral
Assembly in front of Stone home at 300 South Washington Street
1902
JESSE STONE, 1836-1902
<![if !vml]>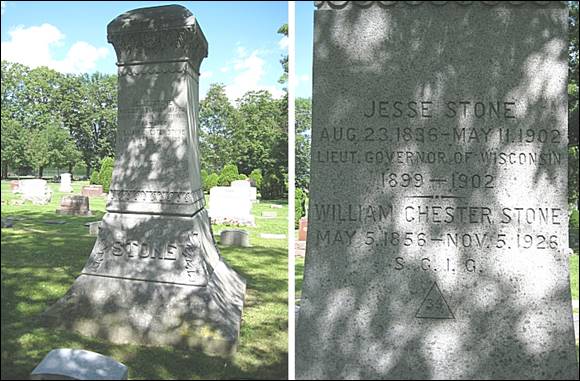 <![endif]>  
05 18       Mr. Stone was a kindly man — even gentle in his manner and spirit.  His tact, fairness and integrity were shown by his control of the warring senate last winter — there was no ripple from either side in protest against him — and especially as he so conducted himself towards the governor and toward the opposition that no fault is found . A less serene or just man as presiding officer of the Senate, and especially of the legatee of power during Gov. La Follette's long illness, would have convulsed the state.  Men are prone to wax enthusiastic over the virtues of the dead.  It is not wholly the excess of affection; often it is tardy justice.  When one thinks of this wealthy manufacturer of Watertown, one highly honored by her fellows, and reflects that we should not look upon his face again, it occurs to us how rare is such faceless sympathy like dignity — all the time with character.  His integrity and justice happily are not lacking in men; but with those added qualities, his memory is altogether sweet and his life and spirit shall linger with all dominion.   Madison State Journal
Sara Stone
1836 - 1922
1910
09 30       At 6 o'clock last Saturday evening Mrs. George C. Lewis gave a dinner party in honor of Jesse Stone, who left on Wednesday to enter the Hyland Park Military Academy.  Covers were laid for twelve, her guests being members of her class of the Congregational Church Sunday School.  The affair was a decidedly pleasant one.   WG
1922
Mrs. Jesse (Sarah) Stone
Esteemed Resident Called by Death
Widow of Lieutenant Governor Jesse Stone
Answers Final Summons This Morning
Came of Sturdy Irish Stock
The angel of death has removed from this community another old and respected resident, Mrs. Sara Stone, who entered into eternal rest in the family home this morning at 5 o'clock, closing a long and active life, the most part of which was spent in Watertown.  She had been in failing health the past two years and for the past year her condition was critical, but she received the tender care and solicitude of those about her until called by death.
Mrs. Stone, nee Welch, first saw the light of day at Ticonderoga, N. Y. April 1, 1836.  The family later removed to Waterford, N.Y. where she was married to Jesse Stone in 1854.  Her husband died May 11, 1902 and he had served in several capacities of trust and honor, among them that of lieutenant governor of the state.  In 1869 Mrs. Stone and her husband came to Watertown and she has since resided here, an esteemed and valued citizen whose influence for good in this city was markedly felt and whose friendship was of the lasting kind.
Mrs. Stone came of that sturdy Irish stock, ever ready to assail an injustice or defend their principles.  Her ancestors were among the defenders of Fort Ticonderoga against the English in the revolutionary war and one of them, Lieutenant Welch, was killed in the French and Indian war fighting in the ranks at the age of 84.  Her mother lived to the advanced age of 87 dying as the result of an accident, active in her household duties to the last.  Four of her brothers served in the Civil war.  Waterford, N.Y., where the family lived at the time of her marriage was named after the place in Ireland where her ancestors lived for many years.
William C. Stone
Mrs. Stone was the mother of two children, one of whom died in infancy.  One son, William C. Stone, survives her, as does also two grandchildren, Jesse C. Stone, Chicago, and Mrs. R. D. Easton of this city.  There are also two great grandchildren.
Mrs. Stone was greatly devoted to her home and ever found comfort and happiness in the company of those dearest to her.  She was a member of the Congregational Church during her residence here and always generously contributed to its welfare and by precept and example was a force for good among its members.  Her home was her kingdom, a veritable sanctuary of all that was refined, cultured and religious.
In the passing of Mrs. Stone, Watertown loses one of its most respected and esteemed women, one who was ever ready to lend a helping hand in time of need or distress both in acts of kindness and expressed sympathy.  She was a good neighbor and friend and goes to her reward with the consciousness of a well spent life.
The funeral will be held on Saturday afternoon with services in the home at 2 o'clock.  The burial will be in Oak Hill cemetery.
Cross References:
Stone, Jesse, Mrs, 1902, Residence of, Picturesque Watertown booklet 
Stone, Jesse, Mrs, 1908, First Congregational Church donation 

History of Watertown, Wisconsin