website  watertownhistory.org
    ebook  History of Watertown, Wisconsin
William Stone Home
501 South Washington Street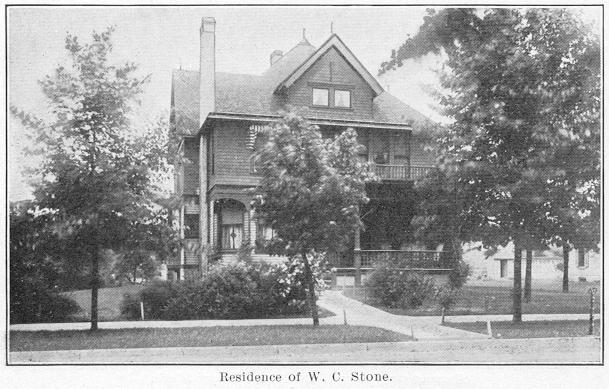 The home of Amy Durand and Barb Pinkerton is eclectically decorated and has something of interest for everyone.
The Victorian Queen Anne Style home was built in 1891 by William C. Stone.  His father, Jesse Stone, was the first lieutenant governor of Wisconsin
The home has natural woodwork, original fireplaces, built-in window seats, crystal chandeliers, original light fixtures and tin ceilings.  There are various decorating themes throughout, from the Victorian living and dining rooms, cozy library, lighthouse room, sports bar, sum porch, 1950s diner-style kitchen and movie theater bathroom.
The warmth of this home is especially evident during the holidays with the many Christmas trees and festive decorations.
___________________________
<![if !vml]>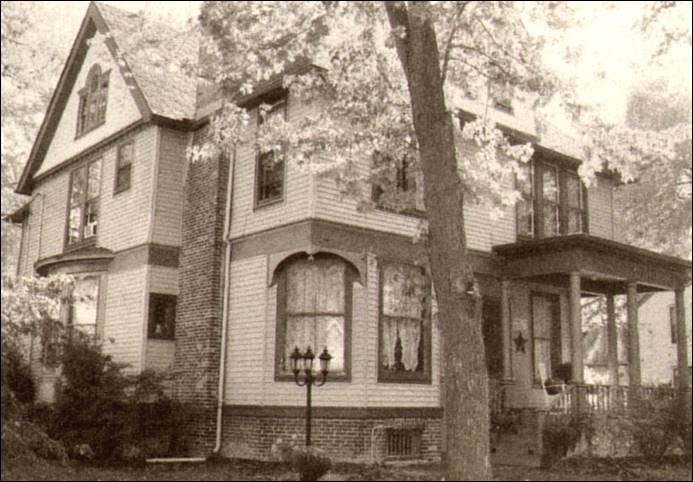 <![endif]>
1901
05 10          LANDSCAPING AT WILLIAM STONE RESIDENCE
Landscape Gardener Frobing, of Oconomowoc, has been beautifying the lawn William C. Stone's residence on Washington Street.  Mr. Frobing several years ago was chief landscape gardener at Lincoln Park, Chicago, and is considered first-class in his line.  It would not be a bad idea for our city authorities to have him beautify our city park.    WG
1909
06 18          STONE GOLD MEDAL FOR GENERAL HISTORY, donated by William C. Stone
Corby Hall at Sacred Heart College was crowded with people last Thursday morning to witness the 37th annual commencement of that famous educational institution.  The program was a very interesting one, each young gentleman participating doing credit to himself as well as to Sacred Heart College and its efficient faculty.  [Among the graduates were the following Watertown residents:]  Peter Brooks, Henry Brusenbach and Thomas O'Connell . . . The Stone Gold Medal for General History, donated by William C. Stone, Watertown, was awarded to Herbert Weidner of Chicago . . .    WG
2012      PART OF 19th ANNUAL WATERTOWN HOLIDAY PARADE OF HOMES
The historic home and impressive Queen Anne-style residence of Lee and Cheryl Stoehr, located at 501 S. Washington St., was built in 1892 by Wisconsin's first Lt. Gov. Jesse Stone, for his son, William C. Stone.
Two original fireplaces, extensive woodwork, hardwood floors and tin ceilings are found throughout this 3,200 square-foot home.  The Stoehr's purchased their home in 2007 and their most significant project has been the conversion of an unused second story kitchen into a bar/family gathering area.
___________________________
Mrs. W. C. Stone nee Skinner [Mary Idaline Skinner]  b. 1858, d. 1948, Sec 25 of Oak Hill Cemetery
       Sister of Charles A. Skinner, 1865-1934, daughter-in-law of Jesse Stone
Click on image to enlarge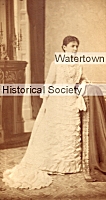 1881 
Image WHS_005_948
On rear of picture is written
Mrs. W. C. Stone
(__Skinner)
This dress is in the O.H. (Octagon House) collection
Jan 27, 1881

History of Watertown, Wisconsin