website  watertownhistory.org
    ebook  History of Watertown, Wisconsin
Gerda Allermann
1920 - 2007
<![if !vml]>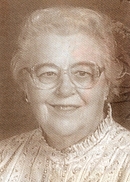 <![endif]>Gerda J. Allermann, 86, of Watertown, passed away surrounded by her family Saturday evening, Aug. 18, 2007.
A Mass of Christian burial will be held on Thursday at at St. Henry Catholic Church in Watertown with Rev. Bernard Rott officiating.
Burial will be at St. Henry's Catholic Cemetery.
In lieu of flowers memorials, if desired, may be given in Gerda's name to St Henry Catholic Church, the Watertown Humane Society or to the charity of one's choice.
She was born Oct. 2 1920, in Williston, N.D., the daughter of Stefan and Dorthea (Joost) Strom.  She was a 1939 graduate of the Williston High School in Williston, N.D.
On June 22, 1946, she married Harold "Bud" Allermann.  He preceded her in death on Sept. 4, 1987.
Gerda had been employed at the J. C. Penney's Store in Watertown for over 30 years.  She was a member of St. Henry Catholic Church in Watertown and St. Henry's Christian Mothers.  Gerda was also a member of the Quad County AARP and the Watertown American Legion Auxiliary Post No. 189.
She enjoyed sewing, community service, baking and cooking.  She was very proud of her Norwegian heritage, often cooking and baking authentic Norwegian treats for her friends and family.  She was an avid supporter of the Watertown Cardinals baseball team.  Gerda enjoyed spending time with her family and friends. She will be missed.
She is survived by three children, Linda (Jim) Quarles, Richard (Kathleen) Allermann, both of Watertown, and Stephen (Lucy) Allermann of Juneau; six grandchildren, Erik (Erica) Allermann, Aaron Allermann, Nicole Allermann, Mark Allermann, Megan Allermann and Kate Allermann; two brothers, Hugo Strom of Williston, N.D., Walter Strom of Alhambra, Calif., and seven nieces.
Gerda was further preceded in death by her parents; one sister, Grace Halphide; a grandson Jason; a sister-in- law, Mabel Jarvis, and one niece.

History of Watertown, Wisconsin