website  watertownhistory.org
    ebook  History of Watertown, Wisconsin
Goeldner
Goeldner Musical Instruments and Notions
113 E Main
c.1855
SOUTH SECOND STREET LOCATION
<![if !vml]>

<![endif]>      Oerding and Goeldner buildings, South Second St.
1863       Charles [Carl] Goeldner
1865
10 12       EAST MAIN STREET BUILDING PURCHASED
J. W. Cole sold lot and building on Main Street to Mr. Goeldner for $3,000.
1866
Charles Goeldner, books, stationary, musical instruments, notions, toys, and saddle, harness and children's carriage manufacturer, nwc 2d and E Washington (Market St today).  1866-67 City Dir
1874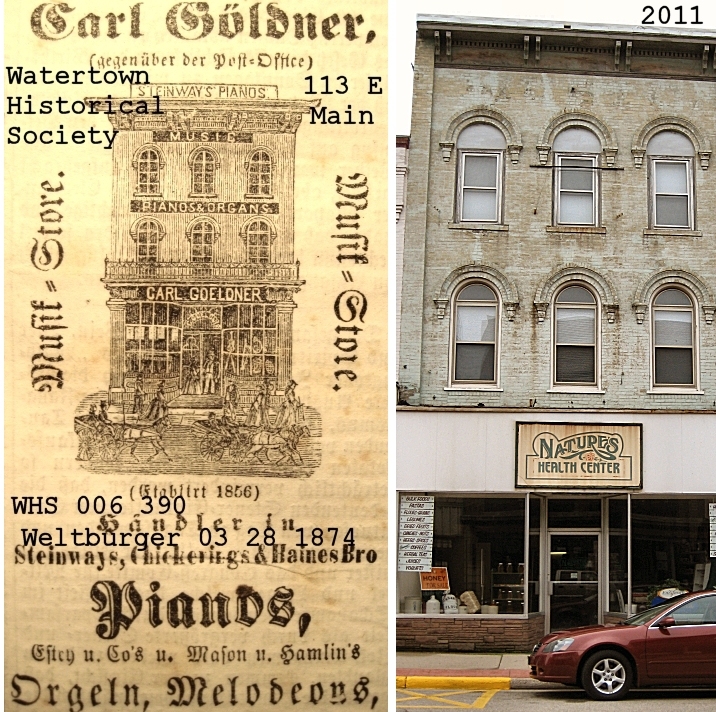 1890
12 30       US PATENT ON DENTAL EQUIPMENT
Be it known that I, Eugene C. Goeldner, of Watertown, in the county of Jefferson and State of Wisconsin, have invented a new and useful DENTAL GRINDSTONE WETTER AND WIPER.    US Patent US 443572A.  
1891
01 16       GRINDSTONE-WETTER AND WIPER
Dr. Eugene Goeldner of this city has patented a Grindstone-Wetter and Wiper for dental purposes that is one of the best articles ever placed in a dentist's office.  It works to perfection.  It is a practical device which every dentist will appreciate.  Its superiority over all other wetting and wiping devises is that with one wetting it keeps the stone moist, clean and free from grit half an hour.  It does not splash water nor throw grit in the operator's face no matter how many revolutions per minute the stone makes.  It is adjustable to any size, shape or make of stone manufactured, and is a saving of one-fourth time in grinding gum block teeth.    WG
1894
06 29       Otto J. Goeldner's fireworks display in his show window is very attractive and has been admired by curious crowds of people for a week past   WG
12 19       The tax roles for 1894 has been delivered to City Treasurer Goeldner and the collection will commence December 26.  Mr. Goeldner says the total taxes are some $8,000 higher this year than last, being about $49,000.   WR
1899
06 27       ONE OF FOUR STANDARD CLOCKS
The Western Union Telegraph company (107 S. First St in 1899) has placed in this city four standard clocks and correct time will be gotten once a day at the telegraph office, where the master clock will be placed.  The others are in Wiggenhorn's jewelry store, Goeldner's department store and the New Commercial hotel.  The timepieces are of the most modern kind, self-winding, and will be regulated from the master clock each hour.  They work by electricity.
1905
10 11       SCHOOL TABLETS STOLEN
A young lad was arrested this morning for the alleged larceny of school tablets at the store of Otto J. Goeldner on Main Street.  The name of the lad is suppressed on account of his parents and to give him a chance to redeem himself if innocent of the charge.   WR
1908
07 03       BIG REDUCTION AT GOELDNER'S for Fourth of July 
FIREWORKS! FIREWORKS!
Big Reduction at Goeldner's For Fourth.   A big reduction in firecrackers, fireworks, blank cartridges, etc., is announced at Otto J. Goeldner's store.  See the prices and reductions below:  Firecrackers - 2c bunch at 1c; 5c bunch at 4c; cannon crackers 5c box at 4c; 8c box at 5c; 2c one at 1c; 3c one at 2c; son-of-a-gun crackers 5c one at 3c; 3c one at 2c; roman candles 2c one 1c; 3c one 2c; 5c one 3c; 8c one 5c; 10c one 8c; 15c one 10c.  All other firecrackers and fireworks reduced in same proportion.   WG
1910
<![if !vml]>

<![endif]>  
1911
<![if !vml]>

<![endif]>  Ad, Otto J.
1957c
113 E Main, 1950s-70s city assessor form, WHS_006_015a
113 E Main, 1950s-70s city assessor image WHS_006_015b
1961
03 09       GOELDNER BUILDING FIRE
Fire early this morning at the O. J. Goeldner building at 113 Main Street, occupied by Siegel's Economy Store, caused damage estimated at $20,000.  The building, one of Watertown's Main Street landmarks, is owned by the O. J. Goeldner Estate, Mrs. Joseph Wimmer of this city and her sister, Mrs. William Bennin of Cambridge.  As a result of the fire, which started in the basement near the stoker-operated boiler, the stock in the store suffered heavy damage and part of the floor in the rear of the building was burned away.   WDT
<![if !vml]>

<![endif]>
History of Watertown, Wisconsin