website  watertownhistory.org
 ebook  History of Watertown, Wisconsin
Watertown Gosling Mascot Retires
Watertown Daily Times. 11 16 2007
Watertown may be the only city in the nation that claims the Mighty Gosling as a high school mascot. In 2007 the then current Gosling mascot suit was thought to have been used for the previous 25 years and was placed into retirement.
The Watertown Athletic Booster Club spearheaded a project to replace the mascot suit with a brand new Gosling.
<![if !vml]>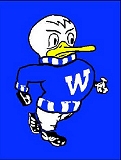 <![endif]>The Gosling tradition dates back to the 1800s when the Watertown Gosling was well-known up and down the East Coast. Geese raised by local German farmers were specially fed to produce fattened livers. The livers were turned into pate, a delicacy found on the menus of fashionable restaurants in many cities. A menu in New York City would entice customers to the finest liver pate from the Watertown Gosling. Such advertising made the city famous from coast to coast.
Many might ask what is fierce and competitive about a baby goose. These creatures are tenacious and fearlessly take on any foe. Inside their bills are little sharp teeth that serve well in defending themselves. Gosling athletes do well to model this never-give-up attitude against fierce competition.
The Gosling mascot is found in the first high school yearbook, The Orbit, in 1913. The teams were known as the Goslings during the 1920s and 1930s. The familiar drawing of the Watertown Gosling was first created by former art teacher James Ptaschinski in 1961. The Gosling has been modified over the years and appeared on jackets, book covers, tote bags and other memorabilia.