website  watertownhistory.org
    ebook  History of Watertown, Wisconsin
Good Shepherd Lutheran Church
1611 E. Main St.
1971       ESTABLISHED
1972
05 01       GROUND BREAKING
<![if !vml]>
<![endif]>      < 1972 Ground breaking
Signage notes worshiping at the Green Bowl during construction.
      "I remember Sunday school classes at the Green Bowl - it involved playing on the bar stools."
-- --           CHURCH BUILT BY MAAS BROS.
<![if !vml]>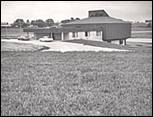 <![endif]>  
c.1975
<![if !vml]>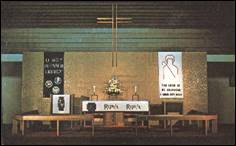 <![endif]>  
1979
04 02       Bethesda Lutheran Home 75th anniversary celebration, participation in   WDT
1981
10 25       10th ANNIVERSARY
Many of Watertown's churches have been in existence more than 100 years.  This is a community with deep spiritual traditions dating back to the 1840s and 1850s when Watertown was a fledgling settlement on the banks of the Rock River.  Good Shepherd Lutheran Church provides an exception to the long and rich histories of Watertown churches as members celebrate the young congregation's 10th anniversary this Sunday.  The idea of a new congregation sprouted shortly after members of St. John's Lutheran Church voted to sever its affiliation with the Lutheran Church-Missouri Synod, on Aug. 30, 1971.  Officials of the South Wisconsin District of the synod immediately began discussing the possibility of establishing a mission congregation.  A meeting was held Sept. 22, 1971, for individuals interested in forming a new Lutheran congregation in Watertown.  One hundred and sixty-three signed a register that night indicating interest in a new church.
1985
06 23       MORTGAGE BURNING CEREMONY
Good Shepherd Lutheran Church will hold a special mortgage burning ceremony Sunday at 9 a.m. at the church.  Speakers include the Rev. Donald Wilke, current pastor of the church who has served the parish since August 1978, and the Rev. Marvin Henschel, first pastor of Good Shepherd who served the congregation from March 1972 to November 1976.  Rev. Henschel will address the group via videotape from Ponca City, Okla.  Also participating in the service will be members of the congregation who served as officers of the church during its construction.  Immediately following the service of praise and thanksgiving, Aid Association for Lutherans Branch 4579 will host a reception in the learning center.  Good Shepherd Lutheran Church was organized in October 1971 by 130 former members of St. John's Lutheran Church.  A site committee was formed immediately and shortly thereafter a building committee was organized.  Ground breaking ceremonies were held in May 1972 and the cornerstone was laid in October 1972.  Worship services were temporarily held at the American Legion Green Bowl, now Lindberg's By the River Restaurant, until the church building was completed.  The first service in the new church was held Dec. 21, 1972, with dedication services on Feb. 4, 1973.   WDT
1991
10 18       20th ANNIVERSARY
Good Shepherd Lutheran Church, 1611 E. Main St., will celebrate 20 years of services the next two Sundays.  On Sunday, the Good Shepherd congregation will return to the site of its beginnings with services at Lindberg's By the River, formerly the Green Bowl.  The Rev. Horst Jordan, who served as vacancy pastor during the congregation's first months of existence, will be the preacher at the 8 and 10 a.m. services. His message, "A Great Inheritance," will be based on 1 Peter, Chapter 1.  Special music will be provided by a 20-member brass choir directed by Patricia Neuberger, the church choir directed by Judy Zillmer and the Jubilation Choir directed by Maryellen Lowe.   WDT
1993
05 18       REV. SCHWANDT ACCEPTED A CALL
Rev. Richard L. Schwandt, pastor of Good Shepherd Lutheran Church for the past nine years, has accepted a call to serve as senior pastor of Christ Lutheran Church in Hickory, N.C.  He will preach his farewell sermon at Good Shepherd at the June 6 weekend services.  Schwandt said Christ Lutheran is a downtown congregation in a changing neighborhood.  "I had other calls, but when I received this call, I felt this is where the Lord wanted me to go, that this is where my gifts would be beneficial.  The change will be good for me and for the church there.  We must help one another to better lives and life with God," Schwandt said.   WDT
1999
06 13       NEW EDUCATIONAL FACILITY
Members of Good Shepherd Lutheran Church celebrated the completion of their new educational facility over the weekend.  Hosting a Good Neighbors Festival, the church invited people of the Watertown area to share in the celebration with activities including a dedication service on Sunday, a congregation picnic and a concert by a nationally known Christian recording artist.  In addition, a high flying outreach ministry called "Lift High the Cross" featured a 70-foot-tall hot air balloon with two 40-foot crosses as its focal point.  The balloon met with a mishap Friday when an unexpected storm ripped the lighter-than-air craft.  Temporary repair efforts allowed the balloon to be inflated briefly Sunday afternoon.   WDT
09 29       CLASSES IN NEW ADDITION
Church members attending classes at Good Shepherd Lutheran this fall are entering a recently built new addition.  The 22,000-square-foot addition is part of a long-range plan to expand facilities and education services to better serve the needs of the growing congregation.  The expanded facilities, built at a cost of $1,442,000 takes the congregation a step closer to opening its own Christian day school.  A feasibility study is under way by the church's Genesis Committee for starting an elementary grade school in the future.   WDT
2006
09 09       35th ANNIVERSARY CELEBRATION
The first resident pastor of Good Shepherd Lutheran Church in Watertown will be the guest preacher during worship services this weekend as the congregation continues its 35th anniversary celebration.  The theme of the anniversary is "Surely The Lord Is In This Place," exemplifying the blessings Good Shepherd has experienced over the past 35 years.  The Rev. Marvin Henschel was the first pastor at Good Shepherd and is now in Oklahoma City, Okla.  Henschel was born and raised in the Sheboygan area and began his ministerial studies at Concordia College in Milwaukee in 1951.  Upon graduation in 1955, he received a bachelor of arts degree and enrolled at Concordia Seminary in St. Louis, Mo.  He received his master of divinity degree in 1960 and earned a master of education degree in 1969 from the University of Oklahoma.   WDT
2008
04 03       STEPHEN SERIES LEADER'S TRAINING COURSE
Five members of Good Shepherd Lutheran Church in Watertown were among 423 pastors and congregational leaders at a Stephen Series Leader's Training Course held March 30 to April 5 in St. Louis, Mo.  The Rev. David Groth, Kathy Wagner, Cheryl Roets, Patrick Downey and Michelle Downey attended the oneweek training event hosted by the St. Louis-based Stephen Ministries organization.  Participants came from across the U.S. and Canada to learn how to implement and direct Stephen Ministry, a system of Christian caregiving, in their congregations.   WDT
2009
10 13       FREE PAPER SHREDDING EVENT  
Good Shepherd Lutheran Church will be holding a free paper shredding for the community event on Saturday.  An opportunity to make donations to the United Way of Watertown, the Watertown Police Department K-9 project, Rainbow Hospice, Bethesda Lutheran Communities and the Watertown Humane Society.
"We've really been trying to emphasize community service more than we have in the past.  I'd like to see every member and every group of our church doing something for the community — from building a home with Habitat for Humanity to teaching English as a second language.  We don't do acts of mercy to grow the church, or just so we can witness to people. We do them because that's who we are.  We do them because that's what Christ did.  Sometimes we worry too much about the world seeping into the church, when what we should be worrying about is whether the church is seeping out into the world."
- Rev. David Groth of Good Shepherd Church
The Community Gardens of Good Shepherd also came out of this emphasis.
"We were cash poor but land rich, and thought some folks who live in apartments might really enjoy growing their own food.  We weren't able to offer gardens this year until the very end of the planting season. Still, folks signed up for nine garden plots, and they seemed to produce pretty well. Overall, people really took good care of their plots, and we always enjoyed seeing them out there, taking in some of the beautiful summer days we had."   WDT
2018
04 04       GAIL GROTH
Gail Noreen Groth (nee Bird), of Watertown, passed away on Wednesday, April 4, 2018, at the age of 56.
Born in Newark, New York, Gail grew up in Elm Grove.  She graduated from Brookfield Central and then from University of Wisconsin-Madison as an occupational therapist.  Gail met her husband, David, at Calvary Lutheran Student Chapel in Madison, and the two very quickly fell in love and were married on Feb. 6, 1988.  Weeks later they moved to St. Louis, Missouri, where God blessed the marriage with three children.  In St. Louis Gail worked as a certified hand therapist at Barnes Hospital.  As a therapist, Gail loved helping patients regain the use of their hands following traumatic injuries.  During this time, Gail also received a master's degree in health science from Washington University in St. Louis and published many peer-reviewed articles on topics related to hand therapy.
In 2001, the family moved to Watertown. While working part time and raising a family, Gail also returned to UW-Madison and in 2010 was awarded a Ph.D. in kinesiology.  For a time, she was adjunct faculty at UW-Madison until she began working for UW Hospitals and Clinics as a rehabilitation manager for upper extremity injuries.  As a manager, Gail loved hiring newly graduated therapists and helping them launch their careers.  Over the course of her 32-year career, Gail impacted untold numbers of patients and co-workers with her skills, warmth and gentle faith.  She also impacted the field of hand therapy with her research and creativity.
Gail had the gift of hospitality and opened her home to many.  She had an uncanny way of cultivating loving relationships with people of all ages and from diverse backgrounds.  Throughout her life, Gail had a deep and abiding faith in her Savior Jesus, and had an easy, comfortable way of witnessing to His love and grace.  In many and various ways Gail was a bastion of support to her husband and his work as a pastor.  Gail was an accomplished musician and gardener and delighted her family with croissants she learned to bake in Paris.  Mostly, however, her husband and children will cherish her unshakable love, uncommon wisdom and beautiful smile.
Gail leaves behind her husband, David, and three children: Emily, Stephanie and Jonathan (and also a fourth AFS daughter, Sara Fernandez of Madrid). Gail also leaves her parents (Dick and Mary Bird); sisters, Susan, Martha and MaryAnn; and many other extended family and friends.
The family wishes to thank their church family at Good Shepherd, the people of Rainbow Hospice, Dr. Michael Eastman, her co-workers at UW Hospitals and Clinics and many others who helped Gail live with cancer for over 10 years.  The family also wishes to thank Pederson-Nowatka Funeral Home for its service.
A memorial service will take place at Good Shepherd Lutheran Church in Watertown on Saturday at 11 a.m. with the Rev. Leonard Payton presiding. Visitation at the church will begin prior to the service at 9 a.m. The committal will take place at Evergreen Cemetery in Helenville.
2019
05 19       SANCTUARY UPDATE
<![if !vml]>

<![endif]>It seems the project is exceeding our expectations on numerous levels. Yes, it will be more expensive than we initially thought, but also more beautiful.  Many are talking about how much larger the space feels, and brighter.  It's easier to read the hymnals and bulletins, and minus the cove the acoustics have improved a bit too.  The electrical work was recently completed.  Aaron Oestreich is looking into installing permanent speakers and video equipment.
The walls have been primed and painted. (Thank you, Jim Neitzel. Jim took off of work the week of April 22 and took on the enormous task of priming and painting our worship space.  Jim happened to be the one who painted our sanctuary when it was first built in the early seventies!)
Those doing the work (architect, Maas Bros., United Electric, Watertown Siding) have been wonderful to work with: professional, courteous, clean, and with the highest standards.  Thanks to our custodians for their extra work.  Thanks to all those who set up and tore down for worship in the sanctuary and in the Fellowship Hall.  Thanks to our custodian (Rick Kuhlman) who saw an opportunity and seized it:  He borrowed the lift that was here and used it to sand and paint the cross on top of the bell tower.  Thanks also to Tim Raether for steering the Sanctuary Project through Phase 1The first two stained glass windows should be installed on Tuesday, April 30. I can hardly wait!
Pastor Groth
06 30       PRESIDENT'S VOLUNTEER SERVICE AWARD
Bethesda employee and volunteer Naomi Neuberger was awarded the President's Volunteer Service Award, bronze level, which recognizes citizens who live a life of service through presidential gratitude and national recognition.  Neuberger received the award by giving over 100 hours of her time over the past several years to help people supported by Bethesda.
Working with her congregation, Good Shepherd Lutheran Church in Watertown, Neuberger was a key partner for Bethesda's production of Night to Shine, a prom for people with intellectual and developmental disabilities.  For two years, she planned and coordinated all of the volunteers for a pre-prom formal wear event in which prom-goers could get outfitted for the dance.  The event was hosted at Good Shepherd where she also mobilized congregants and friends to bake cookies and volunteer at Night to Shine.
In addition to supporting Night to Shine, Neuberger and the Rev. David Groth, who is also a supporter of Bethesda, have been instrumental in motivating the congregation at Good Shepherd with local needs.  Neuberger knows all of the people supported by Bethesda in the area, having served them professionally as a Bethesda employee for over 25 years.
Neuberger continues to advocate for many people supported by Bethesda as a case manager for Care Wisconsin. She's also involved in the Lutheran Women's Mission League and helps people supported by Bethesda feel welcome at church.  Along with the ultimate honor of presidential recognition, Neuberger received a personalized certificate, an official pin and a congratulatory letter from the president of the United States.
2020
04 10       DRIVE-IN EASTER SERVICE BECAUSE OF COVID-19
Good Shepherd Lutheran Church, 1611 E. Main St. in Watertown, will host a drive-in Easter service at 10:30 a.m. Sunday.  A temporary short-range FM radio station (91.1) is being set up and will be broadcast a quarter of a mile from the church.  It is a way of congregating to celebrate the Lord's resurrection, while also observing social distance rules.  The music will be aired live from the sanctuary and Pastor David Groth will be conducting the service from a tent facing the parking lot.  Worshippers won't have to leave their car, and, in fact, are asked not to do so.  If allowed, a bulletin will be prepared with gloved hands and may be distributed with gloved hands. All are invited to wear comfortable clothing, sip their morning coffee, sing as loud as desired, and chirp their horn for the final "Amen!"

History of Watertown, Wisconsin