This file part of www.watertownhistory.org website
Chapter on Watertown Police Department
Arthur W. Zimmermann
'"Zimmie"
Birth:  Apr. 26, 1887; Death:  Jun. 2, 1940
Sergt. Arthur W. Zimmermann, 52 [53?], who retired from the Watertown Police Department January 1 after submitting his resignation due to illness, died last night in the Wisconsin General Hospital at Madison from a heart ailment.  He had been on a leave of absence from the department for several months and about a week ago entered the hospital for treatment.  In the meantime, his retirement from the police force had been arranged.
News of Sergt. Zimmermann's death came as a shock, since few persons were aware of  the seriousness of his condition  and had held out hope that he would recover to a degree that would permit him many more years of life.  Yesterday there was a sudden change for the worse and his death came at 8 o'clock last night when he sank into a peaceful sleep.
Sergt. Zimmermann was born in Watertown April 26, 1887, a son of the late Mr. and Mrs. August Zimmermann.  He lived all his life here and joined the police department in 1916.
He was married August 14, 1913, to Martha Gauerke of this city.  She survives, along with two daughters, Mrs. William Dollase, Jr., this city; Miss Bernice, George, Arthur and Fredrick [sons?], all at home.  Other survivors include a grandson, Billy Dollase, a brother, Reinhold, Menomonie; and two sisters, Mrs. Henry Mitzner, and Mrs. Clarence Peters, this city.
The funeral will be held Saturday afternoon at 2 o'clock in the Nowack  Funeral home, the Rev. Julius Klingmann of St. Mark's Lutheran Church officiating.  Interment will be in the Lutheran cemetery.  Friends may call at the funeral home to pay their respects Friday from 3 to 9 p. m. and on Saturday up to the hour of service.
Mayor R. W. Lueck, upon hearing of Sergt. Zimmermann's death last night, said of him that he was an outstanding police officer and that the many friendships he had made in the years he has been on the force was a fitting tribute to his personality and ability.  The mayor said the city has lost a good man, and an officer who gave the best service a department can expect from one of its members,
Certainly, Sergt. Zimmermann was one of the department's most widely known members. As a traffic officer he came into contact with visitors from near and far and nearly all the school children and others, including grown-ups, knew him as '"Zimmie."
Chief Albert N. Quest paid him tribute by stating that he was a member of the department who could always be relied upon to carry out an order and to see that any prescribed duty was given attention.  The chief said the department regretted his illness which forced him to retire and upon learning of his death, was profoundly shocked.
Merchants, businessmen and persons in all walks of life today expressed regret at his passing and this only confirmed the knowledge that "Zimmy" was genuinely liked.
1936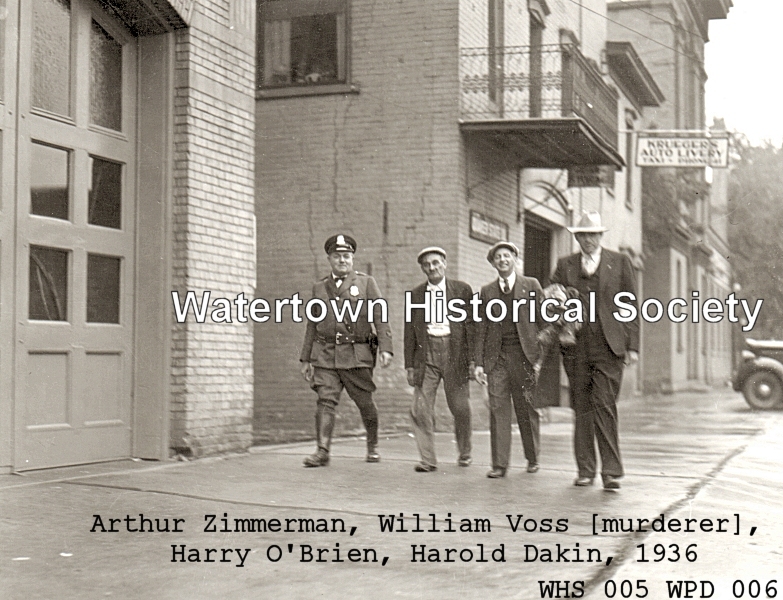 Cross Reference:  Arthur Zimmerman was one of the first motorcycle policemen in Watertown.  Mid 1890s, Alvin Kraemer and Arthur Zimmerman trained their goat and dog for the Fourth of July parade.  [FACES & PLACES - WATERTOWN AREA, Published by Watertown Daily Times, 1999, p 19, picture]
Chapter on Watertown Police Department