website  watertownhistory.org
    ebook  History of Watertown, Wisconsin
Watertown Country Club
<![if !vml]>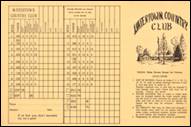 <![endif]>                       <![if !vml]>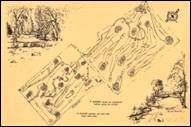 <![endif]>
Click to enlarge
1924       LEWIS GOLF BALL WASHER
After his retirement as master mechanic of the G. B. Lewis Company, Lobegott Mollart began playing golf at Watertown Country Club, where he soon found the need of some, practical device for quickly cleaning Silver Creek mud and grass stains from his golf ball.  The Lewis golf ball washer is the result of his inventive genius, which he later licensed to the Lewis Co.
<![if !vml]>

<![endif]>        <![if !vml]>

<![endif]>        <![if !vml]>

<![endif]>
08 29       ANNUAL WATERTOWN COUNTRY CLUB TOURNAMENT
<![if !vml]>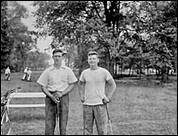 <![endif]>             <![if !vml]>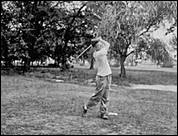 <![endif]>
Bob Weaver won the championship, beating Fritz Schumann in the title playoffs
11 02       'MIKE' BENTZIN PAID TRIBUTE BY FELLOW GOLF COURSE MEMBERS
It was "Mike Bentzin Night" at the Watertown Country Club last evening.  And what a tremendous night it turned out to be.  Members of the club jammed the new club house dining room to pay tribute to the man who did more than anyone else to make the beautiful new club house possible.
The tribute was genuine and sincere.  It was an outpouring of appreciation that touched the heart.  In the last several weeks, a resolution commending Mike, who is president of the club, had been passed among the members.  One hundred signatures are affixed to the resolution of tribute.  But what was even more impressive was the large number who turned out for the party last night in Mike's honor.  The turnout was bigger, by far, than any "men's night" gathering all summer.
The many tributes paid to Mike last night by various speakers was fittingly climaxed with the presentation to him of the resolution, together with the signatures, and a beautiful wrist watch.  The presentations were made, in an eloquent manner, by Dr. E. W. Bowen, who originated the idea of a tribute for Mike.  He told of the major role Mike played in making the new club house a reality, how he nurtured the project along from an idea into an elegant building, which he and all members can point to with real pride and satisfaction.
Mike, in responding, in turn expressed his gratitude to all those who had a hand in the project.  Among those he singled out for special mention were Herb Lange and George Wolf of the Jaeger Manufacturing company; Richard Jaye of the Syncromatic corporation; Irv Bilse, chairman of the house committee; Thomas Darcey; Floyd Shaefer; Irv Hornickle; Gary Fendt (custodian) and John Clifford.
Special tribute was paid by Mike to the women of the club.  Without their very fine cooperation and support the club house would not be as nicely furnished as it is today, he said.  He mentioned the chairs and tables they purchased, as well as items in the kitchen, and other things, which the women of the club provided.  "You can't run a club successfully without their cooperation, and I want everyone to know what a big help the ladies were to us," Mike said.
One of the speakers on last light's program was Dr. R. G. Love of Oconomowoc, holder of the state senior men's championship, and one of the state's top amateur golfers over a long span of years.
Love had not seen the new club house before last evening, and in his remarks he said he was tremendously impressed with the building and was amazed that it was built for less than $25,000.  That factor alone, he said, is a real tribute to Mike and the others who handled the project.  "This fine building is a real credit to the community, and to you people," he declared.
William Schumann served as toastmaster.  He paid a glowing tribute to Mike for the part he played in making the club house possible.  During the period that the building was under construction, he said Mike checked at least once, and sometimes, several times a day to see that everything was going along satisfactorily.  He also told how helpful his ideas were in the planning of the building and in the other preliminary work in connection with the project.
He paid a compliment to employees of the club, the various contractors who worked on the building, to the board of directors and the building committee.  Employees and contractors were guests at last night's gathering.  Bill started off by complimenting the two men who work on the course, George Wuestenberg and Louis Haase, and pointed to the fine job both men did in taking care of the course this summer.  Gary Fendt, the building custodian, was unable to be present, but nevertheless was given a fine compliment for the very able manner in which he took care of his work during the season and for the fine cooperation he extended.  Men who worked on the building mentioned included Carl Schlueter, Arthur Rupnow, Theodore Guse and George Wilke.
Bill introduced the board members, who are, in addition to Mike, Richard Thauer, vice president; Charles Teggatz, secretary and treasurer; George Niemann, Irv Bilse, Lee Hefty and Charles Johannsen.  Building committee members introduced were Harold Schumann, John Salick, Ed Raue and Ray Kern.  Louis Silagy, also a member of the committee, was not present.
Richard Thauer was called upon for remarks.  He said the plan to build a club house began to take form back in about 1943.  Loans were obtained from a number of members, which made it possible to finance the work.  The first committee consisted of John Salick, Ray Kern, Raul Fischer and himself, and it was these men who made the first contacts for loans from members.  As the committee was expanded, others also helped in arranging the financing.  Later, he said, Mike became interested in the project, was named to the committee, and all along was of tremendous help.  He was extremely helpful, he said, in helping to revise the original plans, and all along was the dynamic force that made it possible to bring the project to a successful conclusion.
The club house is constructed of "Wayhte Kolored" stone.  It is 120 feet long and 30 feet wide, with a 24 by 30 utility room and kitchen to the east.  It is complete with showers and locker rooms for both men and women.  The building was put up during the winter and was ready for the opening of the golf season this spring.
Following is the resolution presented to Mike last night:
We, the undersigned members of the Watertown Country Club, deeply sensible of the impressive gains that have accrued to the enjoyment of our several activities by the construction of a suitable club house, which is now nearing completion, do feel, and without disparagement of its other officers, that our President, "Mike," A. E. Bentzin, has given so generously of his time and abilities toward the construction of our club house as to make it a matter of pride and satisfaction to all our members.
Further, and beyond this simple expression of our appreciation, we do herewith subscribe to a fund to purchase some suitable token of appreciation for his devoted and unselfish service on our behalf.
1955
08 15       PAUL HIBBARD
Paul Hibbard cracked par on the first nine and finished with a par 68 in his 18 hole intra-club tournament match with Lee Hefty on the Watertown Country Club links Friday afternoon. Hibbard took the match, 5-4. Hibbard birdied No. 4 to finish with a one par 33 on the outgoing nine. He came home in 35 for an even par 68. Hefty posted a 78. Hibbard's 18-hole par was the first shot on the links by a city golfer in many seasons.
08 15       DOUG HILLS
Doug Hills took first place in the director's tourney which was held at the Watertown Country Club over the weekend, figures released at Tuesday night's Men's Night show.  A field of 73 entries competed in the 18 hole event which was on low net scores.  Hills had a 74 gross.  Other winners were Les Herro, Les Kaercher, John Salick, Barney Kiefer, Art Grosnick, Frank Engelbrecht, Harold Dakin, Chuck Johannsen, Fred Pagel, Erv Bilse, Tony Robina, Ed Dobbratz, Jim Wade, Gary Ponath, Ken Usher, Kurt Timmel and Jerry Derleth.
1957
04 26       GARY FENDT
Gary Fendt, who is beginning his 12th year as the bartender at the Watertown Country Club, last night was the guest of honor at an appreciation dinner held at the club.  The dinner, in recognition of his faithful and loyal services, replaced the regular Men's Night dinner held at the club.
1959
06 10       A HOLE IN ONE 
Mel Damrow achieved what all golfers dream of when he scored a hole in one in men's night play at the Watertown Country Club Tuesday.  Damrow counted his ace with a three iron shot on the 198-yard No. 5.  A regular golfer for eight years, Damrow was pleased that the first hole in one he ever witnessed was his own.  His shot "landed on the green, took two hops and disappeared."  Damrow was playing in a foursome with Gary Ponath, Joe Richter and Gene Rooney.  He finished with an 80 after a shaky start in the two rounds.  Damrow is principal at Lincoln School.
06 25       PLANS FOR ADDITIONAL HOLES
Plans to speed the development of an additional nine holes will be discussed at a special meeting of members of the Watertown Country Club Thursday evening at 7:30 at the club.  Tentative plans for the construction of the additional nine holes to be located north of the present layout have been approved by the new course committee of the club and the club's board of directors.  The directors and the committee now are seeking the approval of the plans from the club's full membership.  Additionally, a projected operating statement measuring the potential of the expanded operations will be presented to the members for study.
06 29       ADDITIONAL HOLES NEXT YEAR
The additional nine holes at the Watertown Country Club will be ready for play by July of next year, providing the weather this fall and spring is favorable. At last night's membership meeting of the club, held at the clubhouse, unanimous approval was given to the proposed layout, and unanimous approval was given to a new finance plan which has been worked out by the finance committee and the board of directors of the club. The added nine will be located directly north of the present nine hole layout, and will be built on a 70 acre site which has been part of the Hinze farm. The site was acquired from Country Club Estates, Inc., which purchased 115 acres from the Hinze family. The remaining 45 acres is being turned into a real estate development. The club bought the 70 acres for $18,000, of which $1,000 has been paid, with a promissory note issued for the remaining $17,000.
1960
06 16       JIM CLIFFORD
Jim Clifford came back to win the junior championship of the Watertown Country Club Sunday with a two stroke decision over Jim Oiler.  Clifford won the title in 1958, then lost it by a stroke to Lee Larson last year.  Larson was ineligible by age to compete this season.  The tourney is limited to players under 19-years of age. Clifford shot a shaky 46 in his first round but then came back nicely with nine-hole scores of 41, 37 and 42 to grab the trophy. Oiler shot a first round 40 and added 47, 38 and 43 to his total. Clifford finished with a total score of 166 while Oiler had 168. Thirteen golfers participated in the meet. They were Clifford, Oiler, Tom Hibbard, Larry Christensen, Gerald Goff, Tom Havlicek, Nelson Kading, Tom Lees, Rickey Parish, Chuck Stellbrink, Dick Knope, Mike Mooney and Ron Strege.
09 07       JIM TIMMEL
Jim Timmel, a slow and methodical golfer who practice swings each shot a half dozen times before attempting it, won the 1960 championship of the Watertown Country Club with a convincing 6 and 4 victory over Ken Usher in the 36-hole title finals played on the links Sunday.  Usher, a step-up- and-swing guy, stayed even with Timmel for the first three holes, then got into trouble on No. 4 when he stuck his second shot in the creek and had to lift out.  He went one down and never did get even through the next 28 holes of play.
1961
01 14       MEL DAMROW
Mel Damrow is the new president of the Watertown Country Club.  He was chosen by the new board of directors who were elected at the club's annual meeting held Sunday at the Elks Club.  Other directors chosen by the members and their chairmanships are: Floyd Shaefer, vice president and house chairman; Roland Freitag, secretary-treasurer; Del Hinze, greens chairman; Jim Wade, sports chairman; Ken Usher, grievance chairman; and Lee Block, public relations and membership chairman.  Damrow succeeds Clark Derleth as president.  Derleth headed the club during the recent years of its course expansion.
1962
01 11       MEL DAMROW
Mel Damrow was re-elected president of the Watertown Country Club for his second term.  He was chosen by the board of directors who were elected by the membership.  Other directors from last year were re-elected with the exception of James Wade who is with the 32nd Division.  James Timmel, newly elected to the board, was named as the new sports chairman by the directors.  The holdovers are Floyd Shaefer, vice-president and house chairman; Rolland Freitag, secretary-treasurer; Del Hinze, greens; Ken Usher, grievance; and Lee Block, membership chairman.
09 04       ROGER SIMDON
A former champion, Roger Simdon, captured the 1962 championship of the Watertown Country Club with a 3 and 1 decision over Mel Damrow in the club's tourney finals Sunday. A championship match should be tight and this one was all the way. Neither contestant was able to take any more than a two hole lead at any time until the closing nine when Simdon broke a 0-0 deadlock by winning three straight holes to end the match on the 35th hole. Simdon, a former titlist in 1959, won the first hole of the 36-hole title grind and then parred the next one for a 2 up lead over Damrow. But Damrow fought back time and again and forced the match into a deadlock after 14 holes.
1963
01 18       DEL HINZE
Del Hinze is the new president of the Watertown Country Club.  He was chosen by the board of directors who were elected at the club's annual meeting held at the Elks Club Sunday.  Hinze has been the club's greens chairman for the past two seasons and has been a member of the board of directors for several years.  He succeeds Mel Damrow, club president for the past two years.  All other directors from last year were re-elected.  The holdovers are Floyd Shaefer, vice president and house chairman, Rolland Freitag, secretary-treasurer, Ken Usher, grievance, Jim Timmel, sports, and Lee Block, membership chairman.  Each of the directors gave a report on the operation of the club for the past year and discussed plans for the coming year.   WDT
08 31       IMPOSSIBLE ACCOMPLISHED
Mrs. Bill Kusel accomplished almost the impossible in golfing on the Watertown Country Club links while playing a tourney match recently.  She completed nine holes of play with only seven putts.  Playing the "old nine," Mrs. Kusel needed only one putt apiece on the first seven holes and then chipped in from off the green on the final two.  She finished with a 56 for the nine holes of play.  Her opponent in the match was Mrs. Wilmer Hoof.   WDT
1964
06 20       RON DEMUTH
Watertown retained its grip on the East Central Golf Association's individual championship when Ron Demuth defeated Gerry Moore, Fort Atkinson, 1 up, in the 36 hole finals at Stoughton Sunday.  John Weaver of Watertown held the title last year but was beaten by DeMuth in first round play in the 1964 tourney.  DeMuth, out of military service only a month, hasn't played in a stateside tourney but did compete in two meets while stationed with military forces in Germany.  He placed second in one meet and third in another.   WDT
1965
01 65       DIRECTORS AND COMMITTEE CHAIRMEN
Earl Maas was elected president of the Watertown Country Club at the annual election meeting of the club Sunday afternoon.  Club members first elected a board of directors and the directors then selected Maas to head the organization.  He succeeds Del Hinze who declined to seek a second term in office.  Floyd Shaefer was named vice president and Rollie Freitag was chosen secretary-treasurer.  Chosen as committee chairmen were: Shaefer-house, Jim Wade-sports, Al Maas Jr.-membership, Lee Block-ass't. house and grievance, and Mel Damrow-greens.   WDT
08 10       BOB GROSNICK SHOT HOLE-IN-ONE
Bob Grosnick, operator of the West Side Lumber Co., is the soul of consistency on the golf links.  On Tuesday, Aug. 3, Bob shot the first hole-in-one of his career on the 167-yard no. 15 and finished with an 85 total.  Yesterday, just one week later, Bob posted another ace, this time on the 150-yard No. 7 hole.  He again posted an 85 total score.  Bob Rousch and Clarence Schmidt were his golfing companions on both occasions, with Chuck Hertel as the fourth player yesterday.  A week ago Dick Behling rounded out the quartet, at 8:30. Creek and Watertown are Rock League rivals. Lake Mills is a member of the Central circuit and Oconomowoc is out of the Land O'Lakes.   WDT
08 26       18th ANNUAL GOLF JAMBOREE
A Watertown Country Club team accorded little chance of winning came through against a field of competitors that included eight former state champs to win the team tourney title of the 18th annual golf jamboree at Jefferson Sunday.  The tourney field of 15 teams listed most of the top golfers in this section of the state.  The Watertown team of Ron Demuth, Jim Wade, and Roger Simdon tied Madison Maple Bluff team for first place after 18 holes, then won the event in a sudden-death play off on the 19th hole when DeMuth sank an eagle three chip shot.   WDT
09 03       DEL HINZE VICTORIOUS
Del Hinze scored a surprisingly easy 8 to 7 victory over Ed Dobbratz Sunday to win the championship of the Watertown Country Club.  Both contenders for the club's top honors were newcomers to the championship finals but both played good golf despite cold winds and soft fairways.  Hinze particularly was effective, playing unspectacular but steady golf all the way and pitching and putting with deadly accuracy.
10 05       PETITION FOR MUNICIPAL GOLF COURSE
A petition circulated locally and signed by 400 individuals was filed with the common council last night requesting the council to establish a municipal golf course in the city.  A petition was received and filed and will be taken up informally at the next meeting with golfers who want to speak on the matter invited to appear.  The petitioners point out that a municipal golf course would be an asset to the community, that it will aid in attracting new industry and provide wholesome opportunities for recreation.  WDT
1966
01 13       DIRECTORS ELECTED
Earl Maas was elected to a second term as president of the Watertown Country Club at the organization's annual meeting held at the Elks Club Sunday afternoon.  An excellent turnout of 56 members attended the elections and business session.  Elected as directors along with Maas were Floyd Shaefer, Mel Damrow, Al Maas, Clarence Schmidt, John Weaver and Gene Rooney.  Shaefer will serve as house chairman; Damrow as greens chief, Al Maas as director of memberships, Schmidt as club secretary-treasurer, Weaver as sports chairman, and Rooney as head of the grievance committee.   WDT
08 17       PROPOSED CLUB HOUSE AND CART STORAGE IMPROVEMENTS
The Watertown Country Club at a special meeting Thursday evening discussed proposed club house and power cart storage improvements. Members heard reports from committees appointed by the board of directors to study improvement plans. Three proposals were presented to the membership for their consideration. By a vote of 2 to 1 members favored a plan to remodel and improve the present club house. The two other proposals presented were: 1. — To continue the operation of the club house as it now is, and 2. — To abandon the present club house and construct a new club. As a result of last night's vote the board will appoint a committee to start preliminary plans for the remodeling program. It is planned to hold another meeting in the future at which time the members will have an opportunity to give their final approval to the project.   WDT
11 09       UPGRADE AND EXPANSION PLANS
The Watertown Country Club will upgrade its facilities for the third time since 1950 in a construction project scheduled for completion by May 1, 1967.  Included in the expansion plans. are the enclosing of the present west patio to house a larger bar and dining area, the conversion of the present porch into a permanent dining room. the construction of entirely new locker and shower facilities for women, and the enlargement of the present men's shower and locker quarters.  The bar and clubroom will encompass an area of 7,500 square feet when finished.  To provide better comfort in the clubhouse a new heating and air conditioning system will be installed.  The system will allow for early spring and late fall operation, thus extending the season of activity at the club.  However, no year-around operation is anticipated.
1967
05 13       ART HUEBNER IS THE NEW PRO
Art Huebner is a teacher and like all good teachers he is happiest when his pupils show progress.  So he felt particularly rewarded recently when one of his pupils reported a 50 per cent improvement following some instruction from Art.  Huebner is the new pro at the Watertown Country Club and though he's been here only a short time, he already fits into the country club scene like a part of the fixtures.  The club took a bit of a flyer in signing a pro but Huebner is almost certain to reward both the club and area golfers well.  He has taught and operated pro-shops at large clubs in several states and knows the game of golf inside and out.  And he can teach it.  He conducted winter lessons for the rec department here and had over 40 persons turning out consistently.  Though the season has hardly begun at the club, he has already instructed 35 persons.
07 11       BRUCE LARSON AND BRUCE SIMDON
Two Watertown golfers, Bruce Larson and Bruce Simdon, won the open division of the Jaycee junior golf tourney here Monday and will represent this district in the state meet at the Greenfield course in Milwaukee July 19-20.  Larson fired rounds of 73-78 for 151 and Simdon had 76-81-157.  A field of 19 youngsters participated in the one-day affair on the country club links here.  Rick Parish was in charge of the event for the Jaycees.
01 19       TED FREITAG PRESIDENT
Ted Freitag was elected president of the Watertown Country Club Sunday at a meeting of club directors held Sunday at the Elks Club.  He succeeds Gene Rooney who was not a candidate for re-election.  Freitag was chosen to head the club after members elected a seven-man board.  The new board includes Freitag, Clarence Schmidt as secretary-treasurer, John Weaver, vice president and sports chairman, Bruce Frey, house, Joe Richter, greens, Wayne Kressin, membership and Don Richards, grievance and assistance house. Freitag, Frey. Kressin, Schmidt and Weaver were all re-elected.
08 21       MRS. RUDY HACKBARTH
Mrs. Rudy Hackbarth won her third Watertown Country Club women's championship by defeating Debbie Maas, 3 up, in the finals Friday.  Mrs. Hackbarth had won titles in 1957 and 1967 and was a runner-up in the 1966 title round.  Mrs. Hackbarth built up a three-hole lead on the sixth hold of the first round, then cooled off and Miss Maas came on to square the match by outshooting her rival on the 16th and 17th holes and then halving the 18th.  Mrs. Hackbarth had 51-4798 while Miss Maas was 50-46-96.
08 04       SEVENTH FOR JIM WADE
Jim Wade put his seventh Watertown Country Club championship trophy on the mantle Sunday as he decisioned Ed Dobbratz by a 6 and 5 score in the 36-hole finals of the annual club tourney.  Wade, who won the last of six previous titles in 1958, knocked off Lou Kuckkan, 3-1, and Dobbratz beat Augie Hafenstein, 1 up in 18, in the 18-hole semi-finals matches Saturday to reach the title match.  Soggy grounds hampered both contenders in the trophy rounds on Sunday but Wade was equal to the soft going and came on strongest in the second round Sunday afternoon to outdistance his foe.
1969
09 03       ROGER SIMDON WIN AGAIN
Roger Simdon won his sixth Watertown Country Club championship over a span of 26 years Sunday, nipping Augie Hafenstein, 1 up in 37 holes of play, in a hotly contested battle.  Simdon won his first title back in 1943 and had repeat victories in 1959, 1962, 1963 and 1964.  He was a challenger in 1966 but was defeated.  Hafenstein, bidding for his first title, took a three up lead as action began with Simdon having some trouble getting warmed up.   Simdon came on well and the two were all even at the end of the first nine. Simdon slipped to a six on the 10th hole and Hafenstein again had a one-up lead which he managed to nurse through to the end of the 18-hole morning round. Each had carded 74.
1989
04 28       TOWN OF EMMET AND ANNEXATION
If city officials can't reach an agreement with the town of Emmet over the annexation of the Watertown Country Club area, the annexation process may have to be completely redone, according to Mayor David R. Lenz.  Thursday, the finance committee directed City Attorney Robert Bender to work with the town's attorney in an attempt to reach a settlement out-of-court.  The Emmet Town Board filed a lawsuit against the city over the procedures used in the annexation process, which was adopted late last year.  The suit claims that the petitioners and the city did not follow state code correctly.   WDT
06 04       COUNTRY CLUB ESTATES SUBDIVISION
Rather than fight a lawsuit filed by the town of Emmet, city officials are recommending that residents of the Country Club Estates subdivision file another petition for annexation.  Emmet officials filed suit in Dodge Count Circuit Court on March 16, asking the court to declare the annexation of the 258 acres "invalid and void" because they believe legal procedures were not properly allowed.  The territory annexed by the city in December 1988 includes the Watertown Country Club, the subdivision and other residences.  The annexation removed about $2.4 million in assessed valuation from the town's total tax base of about $35 million.   WDT
09 05       1989 MEN'S CHAMPIONSHIP
Greg Hinze fired a 68 in the morning round and just had to hold on as Mark Sellnow gradually ran out of holes in the afternoon to capture the 1989 men's championship at Watertown Country Club Sunday.  Hinze's morning round included birdie putts of 12, 8 and 11 feet.  Sellnow bogeyed the last hole and found himself 6-down at the intermission, despite a respectable 74.  Sellnow chipped to within a foot to save par at No. 1 and halve the hole the second time around, but needed three putts to get home on the second hole while Hinze made a routine par to go 7-up.   WDT
1990
10 12       RAY SEIBOLD PRESIDENT OF WISCONSIN SENIOR GOLF ASSN
Ray Seibold, 611 Labaree St., has been elected president of the Wisconsin Senior Golf Association.  As president Seibold will head an organization which has over 500 members statewide, including 17 who are members of the Watertown Country Club.  The association operates eight senior golf tournaments each year.  They are held at locations throughout the state. A year ago one of the tournaments was held at the Watertown Country Club.   WDT
1991
10 15       THREE INDUCTED INTO HALL OF FAME
Three individuals will be inducted into the Watertown Country Club Hall of Fame Saturday evening. Fred W. Kehl and Rollie F. Dierker will be inducted for significant services and enduring contributions to the club and golf, while Dr. Norman T. Sundby is being honored for personal golfing achievements.  Sundby was the first male golfer to achieve a hole-in-one.  Dierker is the "oldest" active male golfer at WCC and Kehl was an official of the club for many years.   WDT
1992
10 09       COURSE WAS EXPANDED IN 1958
The movers and shakers behind the second nine holes and one of the best female golfers in the history of Water town Country Club will be enshrined in the club's Hall of Fame at ceremonies Sunday.  Members of the Golf Course Construction Committee and the Country Club Estates Corp. back in 1958 who were responsible for expanding the course will be honored in the Significant Services and Enduring Contributions category.  Ramona Hackbarth, not only an excellent player but someone who has served the club and in state circles as a promoter of the game, is to be honored in the Personal Achievements category.
The age-old problem of golf — slow play — inspired Herb Lange and Ed Dobbratz to seek a way to expand the course.  It was taking up to six hours to play the existing nine holes twice in the mid'50s.  They contacted Del Hinze about his father's farm, which was located north of the club.  George Wolff and Al Hinze became part of the group that led the purchase of 70 acres for the club from Ed Hinze for $18,000 in December of 1958.
1994
02 04       WIETOR NEW GOLF PROFESSIONAL
Watertown Country Club has hired a new golf professional who brings a combination of experience and enthusiasm to the position.  Michael Wietor succeeds Jim Handy, whose contract was not renewed.  Wietor, 41, has been the head pro at Riverside Country Club in Menomonee, Mich., since 1981.  Before that he served several stints as an assistant, including twice at South Hills Country Club in Fond du Lac.  He's also been an assistant at Tomoka Oaks Country Club in Ormand Beach, Fla., and at Marco Island Country Club and Marco Shores Country Club in Florida.  "I'm really excited about coming to Watertown," said Wietor in a telephone interview recently.  "We were looking for a little larger club, and Watertown seems to be a very active club."
05 24       WINDWOOD COUNTRY CLUB OPENS
Area golfers no longer have to travel miles to play a public course, they can find all kinds of enjoyment -- and occasional vexation -- just northeast of town on Highway CW.  Windwood Country Club opens its fairways and greens this holiday weekend and visitors will be mighty impressed.  The tees and greens are in excellent condition and the bentgrass fairways are very good.  The rough areas should fill in nicely with a little rain.  During a preview Thursday, guests were greeted by a deceptively alluring layout.
2007
09 15       JIM WADE PROFILE, club history.      WDT
From a 13-year-old kid caddying for members, to a 78-year-old retiree still hitting the course three or four times a week, Jim Wade has seen a lot in his days around Watertown Country Club. The club, however, has seen few like Jim Wade. In fact, the city of Watertown has seen few athletes with the resume Wade can boast, if he chose to do so.
"My claim to fame is not that I was such a great player, but that I had longevity," Wade said modestly. "Of course, I understand you have to be pretty good to win 18 times." As for dominance in his sport, 18 Watertown Country Club champi­onships speaks for itself and that does not include Wade's three Senior Club championships. Perhaps as impressive as Wade's 18 championships is a nugget found hidden within his eight runner-up finishes. Specifically, the first came in 1948 and the last in 1991, a span of 43 years and six decades, a startling run of dominance. After taking second place in 1948, Wade was out of the top three for four years before winning his first club championship in 1953 over Jim Bloor. Once he broke through, Wade did not let anyone else take his crown, winning the next five titles with victories over Bob Miller, Paul Hibbard (twice) and (the late) John Weaver (twice). Roger Simdon finally ended Wade's winning streak at six in 1959. "(Simdon) was one of the great golfers we ever had," Wade said. "He was one of the great natural players you will ever see. He was a little left-hander who probably didn't weigh over 140 pounds, a carpenter by trade, strong in the wrists and hands. He just ripped the ball."
After missing a couple years after his National Guard unit was called up, Wade resurfaced in the title match against Simdon in 1964 but was defeated again and relegated to second. Wade won his seventh title in 1968, again beating Weaver, took third in 1969 and then went on another run. With Weaver again the victim, Wade won the 1970 and 1971 titles to open a decade of dominance. Wade defeated Augie Hafenstein in 1972 and 1974, Earl Maas in 1973, Tom Theder in 1975, Don  Cheeseman in 1977 and Don Sellnow in 1978 for eight of the 10 titles in the 1970s. Wade then beat Ron DeMuth in 1980 and Tim Mallow in 1981 to make it 10-of-12. After fin­ishing second in 1983, 1984 and 1985, Wade won his final title in 1986, beating Randy DeMuth. After three years out of the top three, Wade took second in 1990 and 1991 to wrap up an unbelievably suc­cessful career. Over 43 years, Wade was first, second or third 27 times.
Asked about his memories of the 18 titles, Wade did not once mention him­self or his own game. Rather he used the 18 titles as a chance to reminisce on the real reason he played the game, the people he competed with, came to know as friends and, more often than not, beat. "There were a lot of great shots made by me and against me," Wade said, "Each one is important to me because of the guys that I played against. All good players, all great memories." Wade did single out his 1980 championship as the most special. "I beat Ron Demuth and he was one of the best players in the state," Wade said. "He came to us from Milwaukee and was a great player. He beat me a number of times after 1980 when I was runner-up. We had good battles, really good matches. He and Roger Simdon were the two best players I ever played against."
Wade, who now carries a 13 handicap, has five career holes-in-one, four at Watertown Country Club. The first came in 1968 and the latest in 1996. Wade's best round at WCC was a 5 ­under 65, but he does have a round of 9-under 61 to his credit at Lake Wisconsin Golf Club. Wade, now retired, still tries to play the course he loves three or four times a week. While much has changed over time, Watertown Country Club holds a place in Wade's heart, almost, like a member of his family.
"I was hired as a caddie when I was 13," Wade said. "It was illegal at the time, but I was within a week or so of being legal age. It was a wonderful place to grow up. The people, the members were just terrific. They let us use their clubs, had picnics for us and were just wonderful to us. It was a great place to be."
"A guy named Paul Fischer got me into the game. I used to do his lawn for him and one day he said I should come out and be a caddy. I had never played before then and have never had a lesson in my life. During the day at the club, there generally wasn't a lot of activity. The course gave us the privilege to play nine holes every day we were out there caddying, so that is how I got my start."
A 1947 graduate of Watertown High School, Wade never had the opportunity to play high school golf as it was added to the array of sports in 1948. "The first club that I owned, a mem­ber gave to me. It was an old hickory-shafted 9-iron and it was bowed," Wade said. "I could make that thing talk. I could use it like a wedge or close it up and hit it 150 yards … which for a 9-iron is pretty good. The first set of clubs I bought were Louisville Sluggers. I think they cost me about $30 back in 1948."
Wade has left his mark on Watertown Country Club in more ways than on the course. Wade helped to build the back nine which was completed in 1961. He along with Al Maas helped run crews of club members that would come to the course each night and help build and plant the greens. "It rained just about every day and it was soggy and wet," Wade said. "Those people, they came out just as faithfully, and it was hard work. We had to shovel all the dirt and handle this big screen and rake by hand. My crew did five of the greens and Al's did four, but he had bigger greens. Every time now when I miss a putt or there is a roll that I didn't read, I blame myself."
In addition, Wade served as club president in 1971 and was the first inductee into the Watertown Country Club Hall of Fame in 1990. Wade did not pick an individual success as his career highlight, rather a team event with Ron DeMuth and Roger Simdon as his favorite moment. "We won a big pro-am down in Jefferson at Meadow Springs in the late '60s," Wade said. "We were playing all the best pros and amateurs in the state … these guys were state champions and PGA champions and we won it without a pro. Roger Simdon, Ron DeMuth and I won it when Ron chipped in for an eagle on the first extra hole. I had six birdies and an eagle, which was pretty good scoring for me."
Wade has seen his share of change at the club, but is worried that rising expenses will chase people away from the sport he loves. "Of late, the club is struggling finan­cially," Wade said. "In the early years, the members were all businessmen and the board of directors was made up of people who were in business in Watertown. Almost every one of them was conservative in their approach to doing things. They got things done, but they didn't go overboard as far as going in debt. When they decided they needed a piece of equipment, when they had the money to do it, they would buy the piece of equipment. Nowadays, that is not the case. "In Watertown what (rising costs) are doing is hurting the blue collar guy I was starting out," Wade said. "You first have to pay an initiation fee of 4,000-5,000 bucks and then after that if you are going to have all the amenities like a cart and so on, it will cost $3,500 a year. The average guy with a family, a young fella who could be playing and should be playing, can't afford that. So they go to Windwood and other places to play and they are good courses, but Watertown Country Club to me is still the ultimate course around." That is why as long as he can, Wade will be slapping it around the WCC lay­out.
"Golf is a wonderful game," Wade said. "It is a game you can play your whole lifetime. Some people are really good, some people are not, but it is a game you can enjoy no matter how you play. The only drawback today is that it is expensive and it takes big blocks of time. "My first love is still to be a member of the club and will be as long as we can afford to do it and as long as we are able to compete and play. I am not interested anymore in winning anything. I just enjoy playing the game."      Watertown Daily Times, September 15, 2007, Adam Burdsall, Daily Times Staff
2012
09 28       BUNKER PROJECT TURNS INTO MAJOR RENOVATION 
The first major renovation of the front nine since it was built in 1922.  Project included new bunkering, eight additional forward tees, one new back tee, the creation of collection area around several greens and a continuous cart path.   WDTimes article   
2018
12 21       WINDWOOD WILL CLOSE 
Madison Golf and Development Group of Middleton, the owner of Windwood of Watertown, have announced they will be closing the 110-acre, 18-hole golf course and banquet hall as of Dec. 31.  Madison Golf and Development Group has owned Windwood since approximately 2003.  In addition to the golf course itself, there is a 15,000-square-foot, two-story clubhouse and banquet facility with commercial kitchen, seating for 500 people, maintenance facilities, a cart storage building and driving range.
Cross Reference note:  WINDWOOD COUNTRY CLUB OPEN IN 1994.  Local golfers now have an additional nine holes to challenge their skills in the Watertown area. Windwood Country Club, located on County Highway CW just northeast of Watertown, opened its second nine to the public Friday. The back nine will provide more of a test for golfers than the front, which opened in 1994. Dan Fredrick, who owns Windwood along with Barry Draeger and Tom Godfroy, said the progressively more difficult layout was by design. "That was our goal . . . we wanted to make it (back nine) tougher, more challenging," Fredrick said.
2019
03 12       DAVID HENRY LEIKNES 
David Henry Leiknes, with family by his side, and after a long and brave battle with Parkinson's disease, left this world to be with God on Tuesday, March 12, 2019.  David was born March 23, 1935, in Chippewa Falls, the second of six children, to Henry and Dorothy (nee Kohler) Leiknes.  David is survived by his loving wife, Helen; his five children, Jane (Willy) Schomaker, Susan (Leo) Frentzel, Lynn (John) Graff, Jeffrey (Barbara) Leiknes, Kristin Jones; sisters Naomi (Donald) Tietz and Elizabeth "Susie" Zweig and brother Richard (Jean) Leiknes; grandchildren Bethany Loppnow, Jessica Jameson, Ryan Schmidt, Annika Leiknes, Daene Leiknes and Mary Graff; great-grandchildren, Payton Loppnow, Jayla Levay and Elise Schmidt.
David was a good man, a good soul and a good provider.  David, being enamored with the sport of golf and a member of the golf team, had the honor of being the first person at Watertown High School to earn a letter in golf.  After high school at age 18, he joined the U.S. Air Force.  David, Airman First Class, Administrator and Revenue Agent, Agent at OSI, was stationed at Lackland, Keestler and ultimately Itazuki Air Base in Tokyo, Japan, between the years of 1954 and 1958.  David was honorably discharged after his tour and returned home.  He married the love of his life, Helen Schlefke, on April 8, 1961, started a family, career and further pursued his love of golf.  Dave worked for Carnation in the canning division, as office manager for many years before becoming a local agent with the state Internal Revenue Service.
David was a truly gifted scratch golfer and had many notable moments he liked to share with family and friends.  He played all over the world as part of the USAF golf team, noting an incredible round of 67 while in Japan for his all-time best score.  David participated in 35 semi-professional golf tournaments during his life and took top honors in many of them.  He even shot a "hole-in-one" during one of them.
The world of buck skinning, black powder and "Rendezvous" brought him much joy.  He quickly became a highly respected figure in the area as he made and traded authentically crafted knives, hatchets, clothes, accessories and decor.  David enjoyed camping in a teepee with the rest of his aficionados and reliving life in a fashion that brought back the century before our own.  While at many of the Rendezvous, he competed in knife and hatchet throwing matches and scoring highly.  These memories carried him through his later years.
Heaven has received a great man, and without a doubt, if there is a golf team there, he will be on it and once again smiling!
A funeral service with military honors was held at St. Luke's Lutheran Church in Watertown.
2022
02 17       MAJORITY OF FORMER WINDWOOD PURCHASED
     Majority of the 126-acre former golf course to be converted to farmland.
         The country club building, once well-known for its wedding receptions and banquets, remains for sale.
Aaron Zuehlke and Andrew Condon are the buyers of 110 of 126 acres of the former Windwood Country Club.  The sellers have been Windwood LLC and Jeanne Whitish of Madison.
The golf and banquet facility opened in 1994 as Windwood Country Club and was the only 18-hole public course in the Watertown area. It was built on a 147-acre farm. It closed on Dec. 31, 2018.
Zuehlke and Condon paid $520,000 for the acreage.  The clubhouse and its connected acreage has a current asking price of $650,000.  What will happen to these remaining 16 acres containing the 18,000 square foot, two-floor, country club facility is a good question.
<![if !vml]>

<![endif]>   <![if !vml]>

<![endif]>   < PORTFOLIO OF PICS
Cross References:
File on Watertown Country Club maintained by Leigh Larson

History of Watertown, Wisconsin