website  watertownhistory.org
    ebook  History of Watertown, Wisconsin
Mamie Dakin (1891-1975)
Harold Dakin (1892-1978)
"House on Kossuth Street"
by Mamie Dakin
<![if !vml]>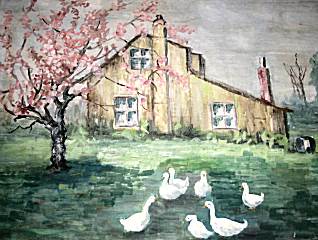 <![endif]>
Click to enlarge
Watertown Historical Society Collection 
Note on back of painting:
"When this picture was painted this house was one of the oldest standing in Watertown.  It was built by Bohemians.  The house was demolished in April of 1968.  The artist was an enthusiastic amateur who lived in Watertown for half a century.  A student and teacher of art in her early years, she took up her brush again after raising her family.  She joined with a group of serious Sunday painters whose interest and talent were nurtured for many years through a class in the Watertown Vocational School."
"House on Kossuth Street," an acrylic painting by Mamie Dakin.  Donated in 1980 by the Dakin family.
Dwelling at 415 Kossuth Street, home of Florence and Louis Bock.
"Constructed by early settlers from Czechoslovakia, the house, captured on canvas, was one of the oldest standing in Watertown.  It was demolished in 1968, but not before the artist caught its quaint architecture, blossoming apple tree and the ever present flock of Watertown geese." –  WDTimes caption to picture.
East of Richards hill in Watertown, in the area around Oconomowoc and Concord avenues and East Water Street, the Bohemians formed a thriving and bustling settlement. Most of the people who settled here were from Bohemia, a one time province of Czechoslovakia, and most spoke the Czech language.
<![if !vml]>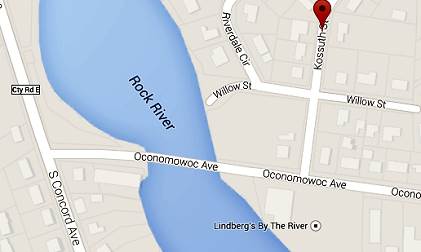 <![endif]>
Kossuth Street intersects with Oconomowoc Avenue, east of the Rock River.
<![if !vml]>

<![endif]>
Click to enlarge
<![if !vml]>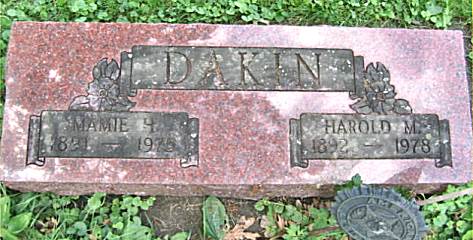 <![endif]>
Buried in Oak Hill Cemetery 
Mamie Dakin, born May 31, 1891, died September 1975 at age of 84 years.
1980
 <![if !vml]>

<![endif]>  1980 letter accompanying donation of above painting.
Cross Reference:
2009      Josephine Dakin
MORTON GROVE, Ill. - Josephine Marie Dakin, 88, a former resident of Watertown, Wis., died Monday, Sept. 28, 2009, in Morton Grove.
Josephine was born in Lake Mills, Iowa, on Aug. 2, 1921.  The Dakin family moved to Watertown in 1925, where she attended Watertown Public Schools.  She graduated from Watertown High School and the University of Wisconsin.
Jo moved to New York and began her writing career.  This was interrupted by service in the American Red Cross in Germany.  After this service she returned to New York where she spent the next several decades as a medical writer.
She was preceded in death by her parents, Harold and Mamie Dakin, and longtime companion Lucius Boley, who died in 2003.
Survivors include her brother, Harold; her sister, Katherine Krupp; and five nieces and nephews.
A memorial service will be held Saturday at Northbrook United Methodist Church in Northbrook.  Funeral arrangements by N.H. Scott & Hanekamp Funeral Home of Glenview.
___________________________________________________
Harold Dakin
1936      Engelke murder
<![if !vml]>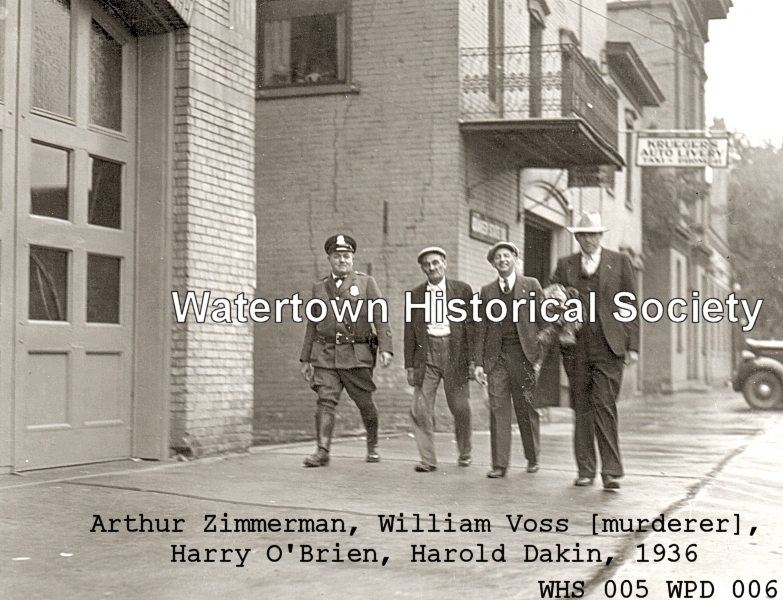 <![endif]>
1936 Engelke murder:  Arthur Zimmerman, William Voss [murderer], Harry O'Brien, Harold Dakin, 1936
1955
08 15       Winner at the director's tourney, Watertown Country Club.
1957
<![if !vml]>

<![endif]>
Dakin & Dierker  1957, 312 E Main, City Dir ad
1960      Merchants National Bank Election of Officers
01 12     The Merchants National Bank last night held its annual election of officers.  There were no changes in either the officers or board of directors.  Officers re-elected are: A. W. Hilgendorf, president; Dr. L. H. Nowack and H. A. Beurhaus, vice presidents; C. A. Wallman, cashier.  The board of directors re-elected consists of: H. A. Beurhaus, Attorney H. M. Dakin, A. W. Hilgendorf, S. C. Northrop, Dr. L. H. Nowack, Dr. O. H. Moen and C. A. Wallman.   WDT

History of Watertown, Wisconsin