website  watertownhistory.org
    ebook  History of Watertown, Wisconsin
Union Depot
same as Watertown Junction Depot
The Junction
The Junction was the location of Union Depot near Depot and Lafayette streets; the depot was demolished in 1994
1865
05 11          NEW DEPOT AT THE JUNCTION
The new depot building at the junction of the Chicago & Northwestern and the Milwaukee & St. Paul railroads is finished and is now in use.  As matters now stand, there is no convenient or direct way of getting to and from the new building.  This is a disadvantage that ought to be remedied in some way as soon as possible.  If a short and easy way can be found to get to it, let it be pointed out, and steps taken to open a road in that direction.  The roundabout way that must now be taken by travelers to reach our hotels is an annoyance and delay that must be done away with as soon as possible. WD
1873
08 14          Artesian well near the Junction; highly magnetic and possessing rare and extraordinary medicinal properties   WD
1899
06 20          DEPOT TO BE RAISED
The Milwaukee road depot is being raised two feet and eight inches in order to conform with the grade of the tracks in the yard here.   WR
06 27          DEPOT NOT TO BE RAISED
On account of the great number of washouts along the Milwaukee road lately it has been decided not to raise the depot as the ground and the gravel will be used farther up the line.     WR
06 27          ENGINE FALLS OFF TURN TABLE
[same date] On Thursday night the engine of the passenger which arrived at 6:10 P.M. fell off the turn-table at the Chicago & Northwestern depot.  A wrecking crew was brought into service and placed the engine back on the track.    WR
1907
01 16          Train wreck at the Junction; Northwestern and C.M.&St.P. Ry. freight trains.
1908
10 02          Bryan Passes Through Watertown
10 23       TRAIN WRECK AT THE JUNCTION
C.&N.W. Ry. and C.M.&St.P. Ry. freight trains
<![if !vml]>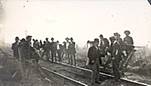 <![endif]>        <![if !vml]>

<![endif]>
At 1 o'clock last Saturday afternoon a double-header freight train on the C.&N.W. Ry. going north ran into a C.M.&St.P. Ry. freight going east at the railway crossing at the Junction.  No one was injured, but one of the C.&N.W. engines and a number of coaches were badly wrecked.  Conductor W. F. Clasen and Engineer Chas. Burmaster had charge of the C.M.&St.P. freight, and D. F. Harrison and C. F. Dunwiddie had charge of the Northwestern.  WG
1909
Sept         President Taft, train stop at the Junction 
1928
<![if !vml]>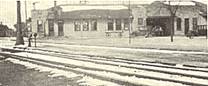 <![endif]>  
1994
11 02          Demolition Watertown's old depot [Union Depot] at the west end of Depot Street is being razed.  The building has been in a state of disrepair for years, and with the completion of a smaller railroad office on nearby property, the decision was made to raze it.  For decades the depot was used for passengers on the old Milwaukee Road and the Chicago and North Western lines.  The last Chicago and North Western passenger train to use the depot was in 1952 and the final Milwaukee Road passenger trains were in 1971 when Amtrak was born.  In recent years the depot was used for storage only.

History of Watertown, Wisconsin