website  watertownhistory.org
 ebook  History of Watertown, Wisconsin
Miscellaneous set
Luecker Club
1972 - 1996
The Luecker Club may have gotten its name in an unusual way, but there were no leakers in the club when it came to charity. Over the years, many organizations and individuals in the city benefited from club activities, but that is in the past. The club is closing its books after 24 years for lack of members. "It was a good thing, and I hated to see it disband," said Paul Schuenemann, 79, one of the founding fathers of the closely knit social club. "It's harder to recruit younger members, and hard to find old duffers who want to join. We could not carry it any further. We couldn't get a quorum anymore."
1956
11 17 1956
Roger Parish, hard running halfback, has been elected most valuable player of the unbeaten Watertown High football team. Parish was a unanimous choice of his teammates for the honor, Coach Jim Thompson has announced. Parish reaped an additional honor when he was also elected co-captain of the squad along with quarterback Roger Theder. Both boys are seniors. Parish was also named the best runner on the team in a special honors election.   WDT
1960
07 28 1960
Roger Theder, one of the top athletes developed at Watertown High School and a star in three sports, has been selected by Milwaukee Braves scouts to participate in the annual Silver Sluggers all-star clash which pits outstanding players from Wisconsin and Upper Michigan against a team of stars from Milwaukee County. Twenty-two players were chosen for the state squad.   WDT
1981
11 25 1981
BERKELEY, CA - Roger Theder, who lost his starting quarterback in the opening game of the season, lost his job as University of California football coach. Theder, a native of Watertown, had limited success and mostly bad luck, in the form of injuries to key players, during four seasons. He was fired two days after the Golden Bears concluded a 2-9 season. It was Cal's worst record since 1962.  WDT
11 25 1906
Fred Wendt, who has many acquaintances in Watertown, is here, the guest of his brother-in-law, E. Kellermann.  Mr. Wendt is an inventive genius, his latest invention being a car coupling for which he has received a patent.  It is regarded by those capable of passing judgment as being the best yet invented and has such merit to attract the attention of the officials of the Union Pacific railway company who will no doubt adopt it on that entire system.   He is desirous of organizing a company for manufacturing the couplings on an extensive scale so as to supply the demand which promises to be very large. Should he receive sufficient encouragement from local capitalists, he would erect a factory here and engage in manufacturing the same, which would furnish employment for a large number of men.
1920 - Watertown Folks In The Far West
The Seattle Times of March 9, 1920 says that Frank J. Parker an old Watertown boy, has recently been promoted to assistant general agent of the C. & Northwestern Ry. at Seattle.  Erny H. Schroeder, another old Watertown boy, is with the same company in Seattle, and writes his cousin here, Chas. Miller, that George W. Webb may think he is an old-timer in railway service, aber nit in the Frank Parker class - Parker was with the C. & N. W. Ry. when Jos. Giles discovered Silver Creek in Watertown.  He lived in the first white habitation erected on the east bank of Rock River between Toussaint's distillery and Bogel's home, the little frame house next to the Episcopal church - Parker's House, some history.
Speaking of other Watertown people Mr. Schroeder writes: "There are here other Watertown people, but they do not appear to be in touch with anybody there.
"Fred Snyder and wife, the latter is a daughter of Emil Seibel. Fred was working in Frederick & Nelson's the last time I saw him. A. P. Chapman, Jr., is western passenger agent of the Milwaukee line, and years ago was an operator for the St. Paul Road in Watertown.  Mrs. W. B. Foster, wife of the general superintendent of the Milwaukee Ry. here, nee Bath, formerly lived in Watertown.  I see Dick Beurhaus quite often around Tacoma, also his wife, formerly Lizzie Schempf.  They have two grown boys and as far as I know both are married and have families. 
<![if !vml]>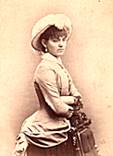 <![endif]>
Mrs. D. H. Beurhaus of Tacoma, Wash
Alfred Lester resides here, and is retired on a fine income. George Wilder, one of the old-timers of Watertown, is purchasing agent here for the Milwaukee line.  A man named Sweeney from Clyman is assistant state grain inspector here.  I see him often.  A man name Marshall, who lived west of the Bursinger bridge, is tax man for the Weyenhauser Timber Co. in this state.  Mrs. Clarence Eaton, nee Julie Ford, lives in Tacoma, I see her often. 
"Of the whole bunch none ever have anything new from the old home town.  I have stopped asking them and am now taking an entirely different direction."
12 05 1956
Claire C. Congdon, 60, city manager at East Moline, Ill., is slated to become city manager of Watertown on Jan. 1.  A resolution naming Mr. Congdon was presented at last night's meeting of the Council but because of the absence of Councilman Raymond F. Franz, at the suggestion of Council President E. A. Biefeld, to defer a final vote until the next regular meeting when every councilman will be on notice to be present, it was decided to delay the vote until then.  Mr. Congdon, a native of Nebraska, lived many years in Delavan, Wis.   WDT
06 29 1960
Claire C. Congdon, 64, city manager of Watertown since Jan. 16, 1957, read a letter of resignation to the City Council last night.  He asked to be relieved of his duties effective Oct. 1.  The letter did not state his future plans.  When questioned by reporters he stated that he expects his future work to be in the field of engineering.  He remarked that he would probably release a more detailed statement later in the week.   WDT
07 30 1960
Claire C. Congdon, city manager of Watertown for the past three and one-half years, announced today that he has been appointed director of public works and city engineer at Delavan, his home town.  He will take over his new duties on Oct. 1, the date his resignation as city manager here takes effect.  At Tuesday night's city council meeting, Congdon announced his intentions to resign as manager in Watertown.  Congdon was appointed to his new position at Tuesday night's council meeting in Delavan.  Delavan has the mayor-alderman form of government.  The present mayor is Eula Grames.  Six aldermen are on the council.   WDT
11 18 1906
The case of Alex Meitner vs. Joseph Cohn occupied the attention of Justice Heinze's court yesterday. Action is brought by Meitner to recover for the injury and loss of a horse, being $140 and $20 for the care of the horse from the time of its injury till its death.
It is alleged that on the 12th day of June, while the plaintiff was exhibiting his horse for sale, at the corner of Third and Market streets, the defendant negligently drove into the plaintiff's horse, fatally injuring it. The defense denied these allegations.
The jury after hearing the testimony of the nine witnesses and arguments of the attorneys, decided to disagree ... An interesting feature of the case is that the jurymen received only 50 cents per day for their torture, where with their disagreement they received nothing. This was not probably known to the jurymen, who, no doubt would have remained out long enough to agree and receive the hard earned 50 cents. This is only another illustration of our farce jury system that needs fixing.
12 07 1906
A little incident happened at the New St. Mary's hospital Sunday, which is too good to keep . . . It seems that a gentleman ... was engaged to do janitor work at the hospital . . . working evenings and Sundays . . . Nothing was said to the nurses of the coming of the janitor-elect. But they were informed, however, that on that day a patient would arrive for treatment and they were given full instructions what to do upon his arrival. The list of instructions included the command that immediately upon arrival of the patient, he should be put to bed. They were informed that the gentleman was of a rather obdurate turn of mind and might offer objections, but they were further instructed to carry out the command to the letter despite any protestations that might be offered.
On Sunday, there was a new arrival at the hospital. The gentleman (on arrival) merely informed the nurse that he was sent there by "So-and-So." The situation was taken in an instance and the new arrival was ushered to a bedroom and given orders to go to bed. "But I don't want to go to bed," answered the gentleman. "But you must," replied the nurse, not forgetting the instructions. There was a side-step to avoid being subjected to the execution of the command, but the nurse, it is said, to all appearances was equal to the occasion, and was succeeding admirably till the supposed new patient took flight after his coat had been removed.
It was merely a case of mistaken identity and the supposed new patient was none other than the gentleman who had been engaged as janitor.
10 24 1899
Council proposal proceedings:  The matter of purchasing a street sweeper was discussed informally and a proposition of an agent of the Austin sweeper had under consideration, but nothing definite was arrived at, and the chances are that the investment will not be made until next spring.    WR
__________  More on Street Sweeping   __________
05 20 1905
Many of the business men on Main street are more than pleased that the street is now being swept by hand instead of with the street sweeper, as formerly, doing away with the clouds of dust which penetrate into everything, and damaged merchandize to a considerable extent. Sweeping by hand is giving entire satisfaction and if water was used occasionally during the summer season to flush the brick pavement it would be always in a clean and sanitary condition. Water is used for this purpose in other cities.
01 15 1907
The members of the Apollo club continue to make active preparations for their Cantata, which is to be given on Thursday evening, January 31st, on St. John's Eve. Those who will take part in this event, which, as on former occasions, will be the event of the season, are holding regular rehearsals and are fast rounding into shape and if one can judge from the favorable comment heard, the coming event will far eclipse anything of the kind ever attempted by this popular musical organization. The chorus of seventy-five voices will be assisted by a quartette of soloists.
Watertown Daily Times, 06 21 1909
FORMER RESIDENTS VIEW OLD HOME
BENNETT BROTHERS, WHOSE FATHER
SETTLED HERE IN 1837 ON A PILGRIMAGE
All the old residents of Watertown who left here many years ago make a pilgrimage to the mother town once in awhile to renew the old times spent here when children.  Today two brothers, L. W. Bennett of Canton, Minn. and C. D. Bennett of San Francisco, are in the city and went to the homestead five miles south of Watertown in section 32 to visit the scenes of their boyhood days.  Their father [Oliver ??] settled in this section in 1837 or 1838 and they left here more than fifty years ago.  C. D. Bennett was born on the farm and his brother was 2 years old when the family moved here.  The brothers took dinner in the old homestead yesterday and heartily enjoyed the associates.
01 16 1907
Two badly damaged engines and a few railway employees on the "anxious seat" are the result of the collision of a freight train on the C.M.&St.P. road and another on the Northwestern at the Junction crossing of the two roads about 3 o'clock yesterday morning.
Train No. 19 on the Northwestern road, due at 1: collided with the Milwaukee road engine.  Both were heavy trains, but fortunately were not under great headway when the collision occurred.  The speed at the time the head ends of the engines met is said to have been about eight miles per hour.
Nevertheless, the compact was great enough to badly damage both engines, necessitating sending them to a Chicago engine hospital for repairs.  The Northwestern engine was turned to the east, the St. Paul engine carried it along for some distance.  The front trucks of the Northwestern engine were completely torn from the engine, which was otherwise badly disfigured. The engine on the Milwaukee track was damaged about in the same proportion.
The C. M. & St. P. road wrecking crew arrived from Milwaukee about in the morning and the Northwestern crew about an hour later from Fond du Lac ...
Another Train Wreck at Junction
08 23 1907
Two engines collided Sunday afternoon at 2 o'clock at the Junction, one of them being almost demolished, the other badly damaged.  A stock train on the St. Paul line was going east and on the Northwestern track a loose engine was coming from the north, bound for the repair shops at Janesville.  When the C. & N. W. engine came to Watertown, it became unmanageable and the engineer was unable to do anything.  When the danger at the Junction was noticed, both fireman and engineer jumped.  A crash followed and both engines were put off the track.  Traffic was delayed on the North-Western for some time, but within an hour after the accident a wrecking crew from Milwaukee arrived and cleared the track.  Owing to the double track on the Milwaukee, traffic was not interfered with.
02 16 1907
To say that there was an immense gathering at the grand prize masquerade ball of the Turner society last evening would be a mild expression.  The Turner opera house was taxed to its utmost capacity and some idea of the enormity of the crowd can be conceived when it is stated that there were nine hundred paid admissions.  Nothing like it was ever before experienced. The dancing floor was crowded like a box of sardines and comfort in stepping the light fantastic was out of the question.
While no foreign costumer was here to carry away a large sum in the loan of costumes, there were nevertheless a large number of handsome costumes on the floor.
Many of them were historical, although we fear that the wearers took very little interest in the sentimental part of the business.  What they cared for most was that the disguise fitted them perfectly and gave them a good appearance . . . As it was, the mingled pageantry and mystery of the whole show, the costumes, the light, the music, the company, the flittering uniforms, the handsome ladies, etc., . . . were so dazzling that this reporter came down onto Main Street after midnight feeling as if he had been pushed from the clouds where he had been leading a romantic life for ages into an ill-lighted Rough and Ready dam wrangling miserable world.
Watertown Daily Times, 07 14 1907
Arthur Hintz, who has been a resident of Watertown for the past nine months, is in the meshes of the law charged with the theft of $35, the complaint being made by William J. Schumann, who alleges that the money was taken from his trunk at the home of Mrs. Lutz in the Sixth ward, where the parties were both boarding. Mr. Schumann claims that he had been saving the money to celebrate the Fourth. He stated that the money was intact on the morning of the third, but in the evening it had taken flight as had also Hintz the individual accused . . . The fact that he (Hintz) made himself conspicuous by his absence made it appear to Schumann that both left at the same time . . .  The prisoner was to have been ushered into justice court yesterday morning, but the hearing was delayed on account of the overtures which had been made for a settlement.
C. M. & St. Paul discriminating against Watertown?
Watertown Leader, 08 18 1907
Is the Chicago, Milwaukee and St. Paul road discriminating against Watertown?  This is a question many of our citizens have asked since the announcement was made in The Leader yesterday morning that the local agent had just received orders to discontinue the issuing of commutation tickets between Watertown and Milwaukee, with the accompanying information that the rate would go out of effect after the 22nd inst.
The new order appears on the surface to be a brazen discrimination to say the least and strengthens the belief of many that Watertown does not hold a very warm spot in the hearts of the officials of this great railway system and that our city is again getting the "double cross."  The first thought was that the order to discontinue the commutation rate was to comply with the two cent a mile rate law of the legislature which just adjourned.
But this theory is exploded in the information that the old commutation rate at Oconomowoc and other resort points to the east still hold good.
It appears that there is no redress for the citizens of Watertown and the only thing for them to do is to take their medicine.
Watertown Daily Times, 08 18 1997
An early morning fire destroyed a building that housed three Watertown businesses on Saturday. Arthur Lenius, owner of the building at 721 Emmet St., estimated the loss of the building and contents at a minimum of $300,000.  Lenius operated his business, Restoration Specialist Inc., from the building.  Two other businesses leased space from him M & M Auto Body, which is owned by John Meyers, and Jim's Service Center, owned by James Wollinger. 
Watertown Daily Times, 08 28 1982
An estimated 25 to 30 rings were stolen from Schneider Jewelry, 309 Main Street, early today. The store was taking inventory today and had not determined the value of the rings. Watertown police responded to an alarm at the store at and found a front window had been smashed with a large brick. The perpetrator grabbed three trays of rings from the window display and fled, apparently on foot. According to store owner Al Schneider, one tray of diamond engagement rings and matching wedding bands and two trays of wedding bands, some set with diamonds, were taken.
Watertown Daily Times, 10 05 1907
A warrant was issued yesterday for the arrest of Mortiz Kramer the North Second street junk dealer, on the charge of buying stolen brass and copper from a boy under eighteen years of age. The defendant appeared in Justice Henze's courts for preliminary examination, but an adjournment was taken till next Monday morning at . The boy alleged to have taken the goods is George Scholl, who has been employed at the Brandt-Dent factory. The dealer denies having bought the brass and copper, about 152 pounds, which the boy says he took and sold for $6.00.
01 21 1858
Mr. Carl Schurz' Lecture, last evening before the Young Men's Association, was listened to with great attention and evident pleasure.  It was well written, and contained many finely as well as admirably drawn sketches of the tragic scenes and eminent men that have marked the revolutions in France, and if, near the close of his  otherwise interesting address, the speaker had not stepped out of his way to indulge in observations that might much better have appeared in the course of a passionate and exciting appeal of an ambitious politician, seeking to build up one party by pulling down another, we think the whole of the respectful audience would have gone away with a feeling of unmingled satisfaction.
We believe the most of those present would have preferred a few "flashes of brilliant silence," to any vulgar allusions to purely partisan topics whatever.  If Mr. Schurz is still disturbed by a restless consciousness that some how he ought to fill a place which he does not, and finds it most aggravating to get ready to firmly plant his foot on the steps that lead to power, and then suddenly see the stairs fall down before him, we advise him to call together an assembly of the large number of Republican "potato diggers," who, last fall, staid at home to look after the safety of that valuable article of common food, now so plenty, cheap and good, and bore them for two hours with just such sentences of a genuine stump speech as formed the last few passages of his effort, and we will engage that the next time he is a candidate , they will flock to the polls, ready to vote for him a dozen times, if necessary, to escape another such infliction.
We are glad to learn that Rev. Mr. Niles and Rev. Mr. Russ will probably lecture before the Association before long.
Watertown mail carriers retire
Watertown Daily Times, 10 30 1957
Two Watertown rural mail carriers will retire tomorrow, completing long records of service with the Post Office. The two are Charles J. McKeigue, 200 South Monroe Street, this city, and William J. Muir, formerly of this city and now of Lake Mills where he is retiring to a cottage on the lake.
Zinda "Postmaster of the Year"
Watertown Leader, 10 30 1982
Watertown Postmaster Albin Zinda was named "Postmaster of the Year" among the postmasters serving 138 post offices in southeastern Wisconsin during a special program Thursday evening at the Olympia Resort in Oconomowoc.  The award presentation made to Zinda and his wife, Betty, culminated a two-day training seminar held annually for postmasters in the Milwaukee management sectional center.  Postmaster for all of Milwaukee and sectional manager for southeastern Wisconsin post offices James Oster said Zinda earned his right to the award due to the performance of the Watertown Post Office through the past fiscal year which ended Oct. 1.  "Watertown had an excellent budget performance and a fine safety record," Oster said.
10 25 1907
A well developed case of small pox was detected by Dr. Shinnick yesterday morning the patient being Wm. A. Bleecker, son of Edward Bleecker of Lake Mills, who is residing at the home of George Bleecker, near Hubbleton.  The patient was recently employed in Minnesota, where he contracted the disease. Drs. Wyhte, Feld and Hoermann pronounced it a typical case of small pox.  The young man suffering the disease is sixteen years of age. The case was at first thought to be a case of ivy poisoning, but the physicians soon made the discovery when the same came to their attention.
Every effort is being made to stamp out the disease.  Drs. Shinnick and Feld went to Hubbleton yesterday afternoon and quarantined the home of George Bleecker.  Mr. Emil Menzel of Milford, health officer, consulted with the Watertown physicians and in accordance with the state law, quarantined the schools at Hubbleton.  It is hoped by the authorities that there will be no further spread and anyone exposed should be vaccinated at once in order to quell the disease in its infancy.
11 05 1957
County Judge L. L. Darling is scheduled to be one of the speakers at the testimonial which has been arranged by the Pitterle-Beaudoin Post No. 189, American Legion on Wednesday night for Dr. T. C. H. Abelmann, a member of the post.
Tribute will be paid to the retired Watertown physician and surgeon for the many services rendered to former servicemen over a period of many years, and for services rendered the post.
Dr. Abelmann, who long has been deeply interested in Legion projects, has been particularly active in the problems of the veteran. In appreciation for the services he has rendered the post, and veterans, over the years, the testimonial was arranged.
↓  More on Dr. Abelmann   ↓
Dr. T.C.H. Abelmann
02 02 1960
Glowing tributes were paid the late Dr. T.C.H. Abelmann at yesterday's meeting of the Watertown Rotary Club.  Dr. Abelmann was the moving force in the organization of the club, and served as its first president.  Former servicemen, speakers noted, were among his chief interests, and a great many received the benefits to which they were entitled only because of Dr. Abelmann's efforts and interest.  Among those who paid tributes to Dr. Abelmann were Fred Kehl, club president; the Rev. Clarence F. Golisch, executive director of the Bethesda Lutheran Home; Assemblyman Byron Wackett, who was a guest at yesterday's meeting; Dr. E.E. Burzynski, club vice president; and John D. Clifford, Daily Times editor.   WDT
11 05 1997
Lebanon State Bank will close the purchase of the former Valley Bank building in Watertown on Tuesday, according to M. A. Siegrist, president. That closing will pave the way for the bank to open its Watertown office late this year, or possibly early in 1998, Siegrist said.
The bank is purchasing the building from M&I Corp. M&I acquired the bank as part of its purchase of Valley Bancorporation several years ago. The office was then closed and all M&I operations were consolidated at the 205 S. Second St. location.
Watertown Daily Times, 11 05 1982
A stronger signal, a splitting of the AM and FM stations, and a new FM format are among the many changes at radio station WTTN in Watertown.  The changes are effective Monday. John Timm, who along with Art Gaulke are partners in Select Communications, the new owner of the radio station.  The two earlier this year purchased Watertown Radio, Inc., from Carl and Marcella Kolata.  Probably the most significant change will be the splitting of the AM and FM into two basically separate stations, both geared to different types of audiences. Effective with next week the AM station will continue to be called WTTN, but the FM station will have new call letters, WMLW.
The FM station, which will be known as "Mellow-94" will feature an easy listening vocal music format.  Timm said it will have contemporary, middle-of-the-road music from about 1965 forward.
Watertown Daily Times, 09 19 1958
The Riedeman Thompson Post No. 35, Amvets will hold a joint installation ceremony at its club rooms Saturday night with the Amvets Auxiliary.  To be installed are: Auxiliary - Beatrice Kresinske, president; Rita Mohr, senior vice president; Gladys Wendt, junior vice president; Dorothy Watson, secretary; Delta Stengel, treasurer; Dorothy Volkert, chaplain; Clare Peterson, sergeant-at-arms; Ida Kube, public relations officer and historian.  Post Officers - Lorence Watson, commander; Robert Krueger, vice commander; John Kube, adjutant; Donald Haznow, finance officer; Laverne Marshall, provost marshal; Walter Hornickle, chaplain; Jacob Burbach, quartermaster; Albert Tobalske, historian; Paul Hibbard, judge advocate; Walter Wendt, Alfred Stengel and Robert Zimmermann, trustees respectively for one, two and three years.
Stengel
Watertown Daily Times, 10 29 1957
A beautiful plaque has been presented to Mr. and Mrs. Al Stengel of 221 William Street by the American Veterans, Amvets of World War II in recognition of the many years of service and devotion they have given to veterans in the Madison Hospital where T-B patients are taken care of.  Mr. and Mrs. Stengel, either alone or together, have traveled some 6,000 miles in their visits to patients and in work on behalf of the hospital.
↓  More on Amvets   ↓
Watertown Daily Times, 09 19 1959
A joint installation ceremony with the Amvets Auxiliary will be held Saturday evening by the Riedemann Thompson Post, No. 35, Amvets.  The affair will be held in the club rooms.  The following will be installed: Robert Krueger, commander; Lorence Watson, vice commander; Donald Haznow.  Installing officer will be Department Commander  Donald Chamberlain.  Other appointments will be announced later by the commander. Auxiliary—Dorothy Watson, president; Lee Hornickle, senior vice-president; Gladys Wendt, secretary; Delta Stengel, treasurer; Marie Jurick, parliamentarian; Dorothy Volkert, historian and public relations officer, and Ida Kube, chaplain. 
↓  More on Amvets   ↓
Watertown Daily Times, 10 14 1961
The Amvets of Riedemann-Thompson Post No. 35 will hold its annual joint installation of officers Saturday night, Oct. 21 in the club rooms. The officers are as follows: Commander, Donald Haznaw. Vice commanders, Robert Krueger and Alfred Stengel. Finance officer, Ralph Volkert. Judge advocate, Paul Hibbard. Provost marshal, Walter Wendt. Public relations officer, Lorence Watson. Historian, Al Tobalske. Quartermaster, Leo Checkai. Adjutant, John Kube. Trustee one year, Lorence Watson. Trustee two years, Robert Krueger. Trustee three years, Alfred Stengel. State S.E.C., Alfred Stengel. Alternate S.E.C., John Kube.
Quirk Foundation
Watertown Daily Times, 10 29 1997
The Earl and Eugenia Quirk Foundation today announced a major initiative to help develop Quarry Park in Watertown and also continue a commitment to install new playground equipment at several neighborhood parks. The foundation is proposing to make $550,000 in grants, subject to several conditions which will further enhance park development.
Those grants, coupled with various other funding sources could total over $2 million in new funding for Quarry Park over the next several years.
The grants, which Quirk foundation directors called a blockbuster contribution, are being offered in hopes of being a catalyst for a communitywide effort to develop Quarry Park by the year 2000.
↓  More on Quarry Park   ↓
Watertown Daily Times, 07 24 1998
The Watertown Unified School Board isn't quite ready to commit a quarter of a million dollars to help develop Quarry Park.  Board members, who were asked to join community efforts to develop the site, instead scheduled a meeting for next month.  The school district has nearly $250,000 from the sale of the old high school building in a reserve account but has yet to determine a use for the money.  Mayor Fred Smith outlined the first phase of park development plans to the board, estimated to cost $1.4 million.  He noted the potential for school use at the park.  The park is adjacent to Watertown High School and plans for 12 tennis courts, improved soccer fields and seven youth baseball/softball fields will benefit students.
↓  More on Quarry Park   ↓
Watertown Daily Times, 03 07 1999
Development of Quarry Park will be in the forefront of discussions in coming weeks, as city officials work with Quirk Foundation in determining plans to spend more than $1 million on a youth baseball facility and other projects.  Under the joint development project, the Quirk Foundation and the city would each give a half million dollars for development.  "The reality of what we're putting together here is going to allow a million dollar development project in the park funded by grants and development fees at no cost to taxpayers of the city," Mayor Fred Smith said this morning.
↓  More on Quarry Park   ↓
Watertown Daily Times, 04 18 1999
A plan for rapid development of Quarry Park, using a $500,000 grant from the Earl W. and Eugenia Quirk Foundation and a matching amount from the city will be considered by the Watertown Common Council.  The council will meet as a committee of the whole to hear detailed plans for the park development.  The resolution before the council, which is sponsored by Watertown Mayor Fred Smith, commits $500,000 from the city for the project.  This amount would be borrowed with payments primarily made with parkland development fees the city receives from new housing units.
Milwaukee Road denied permission
Watertown Daily Times, 12 06 1957
The Milwaukee Road has been denied permission to discontinue the Milwaukee Road train stops in Watertown. The permission was denied by the Public Service Commission. The railroad had petitioned the commission to discontinue an early afternoon stop for a train going east, and has asked permission to discontinue a middle of the afternoon stop on a west bound trail. The east bound train (No. 6-16) stops here at 12:30 o'clock. The west bound train (No. 15) stops here at 2:58 p.m. The east bound train formerly stopped at 2:36 p.m. The change in time was made a little over a month ago.
Watertown Daily Times , 12 06 1982
Mrs. Carol M. Lorenz of Watertown will become an associate attorney with Watertown law firm Niemann, Hibbard, Ullsvik and Neuberger on Jan. 3, the firm announced today. Mrs. Lorenz, a 1982 graduate of the University of Wisconsin Law School, has recently worked in the legal services department of the Wisconsin Association of School Boards as well as with a labor negotiator.
A former school teacher and six-year member of the Watertown School Board, she lived with her husband, Jack, and their five children at 910 Sand Street. She is a member of Phi Kappa Phi Honor Society, the League of Women Voters and the American Association of University Women.
Watertown Daily Times , 12 22 1982
When Rev. Eric Schulze stumbled to the door at 1 a.m. Wednesday, he didn't expect to see Rev. Jack Hicks.  But there was Hicks, four hours late with a Christmas present for Rev. and Mrs. Schulze.  "I hate to disturb you at this hour," said Hicks, who was to have brought the gift when carolers came to the apartment the previous night.  Out stepped Edee, Dianne and Tim, the three Schulzes left in California when Rev. Schulze came to Watertown to become chaplain of Marquardt Memorial Manor in September.  A few weeks earlier Mrs. Schulze had told the Genesis group, an adult class at Watertown Moravian Church of which Hicks is pastor, that this Christmas would be different because the children were 2,000 miles away.
Watertown Daily Times , 01 14 1908
. . . during the last few days, not from any particular section of the city but from all over, residence and business portion, all have been suffering from the attacks of la grippe.
Physicians declare it is but a natural result that this disease should gain a foothold at the present time. Not a single practicing doctor in the city but confesses he has numerous cases on his hands.
It is not an epidemic of the disease; it is claimed, but a natural result of the variations in the weather which has been experienced during the past few weeks. Not in years, old residents declare, has the weather been such as experienced this winter. Variations from cold to that of early fall days, from snow to rain, come within the short period of twenty-four hours. The fragile lungs of many of our city's residents unused to the rough tactics of the weather must give way in some manner and the ever busy la grippe microbes get in their busy season.
Although there are a great many cases reported, the disease is said to be on the average much milder than the ravages of a genuine epidemic. Changes in the weather cause much negligence in regard to wearing apparel . . .
Watertown Daily Times , 01 21 1908
It is not generally known that the law requires persons who buy liquor at drug stores to register for public notice and if he does not the druggist is liable to get into trouble. The law referred to makes it mandatory for every druggist to provide a proper book in which shall be kept the names of each and every person who purchases liquor at his pharmacy, together with the date and amount purchased.
On the third Tuesday of April in each year the druggist must file with the city clerk a verified list of all such purchases, which shall be open for inspection by the public; the penalty for failing to comply with the law is very severe, the minimum punishment being a fine of $40 with a maximum fine of not more than $200 besides the cost of suit, and also imprisonment in the county jail not less than 30 days nor more than eight months.
Watertown Daily Times , 01 25 1983
A major expansion and improvement program which will cost over $1.5 million, is being undertaken at Wis-Pak Inc., 860 West Street, according to Arnold Fobes, vice president and general manager of the firm.  Work is already underway for the projects, which are broken down into two major areas.  They are a new two liter bottling facility and improvements to reduce the content of waste from the plant which is sent to the Watertown Wastewater Treatment plant.  Fobes said the two-liter bottle project is being undertaken to meet the needs of the Pepsi distributors that own Wis-Pak. 
↓  More on Wis-Pak  ↓
Watertown Daily Times , 09 13 1985
Wis-Pak, the Pepsi Cola canning facility located at 860 West Street, Monday afternoon announced plans for another major expansion of its facilities.  This expansion, a 135,000 square foot addition on the west side of the north end of the present building, will be used primarily for storage of both full and empty cans.  Arnold Fobes, vice president and general manager, announced the plans at groundbreaking ceremonies.  Oliver Construction of Oconomowoc is construction engineer for the project.  Work is scheduled to begin immediately, Fobes said.  He said the addition was being constructed as a joint effort with Metal Container Corporation, a subsidiary of Anheuser Busch, which is a major contractor with Wis-Pak for production of cans.
↓  More on Wis-Pak  ↓
Watertown Daily Times , 05 17 1988
Wis-Pak, the Pepsi-Cola canning facility located at 860 West St., Watertown, has purchased two out-of- state production facilities which will substantially increase its market area and volume.  The two production facilities purchased are in North Mankato, Minn., and Norfolk, Neb.  The plants each have a single can line and a single syrup line.  Although the two plants will increase capacity and the firm's marketing area, the majority of all manufacturing will remain in Watertown because of its size and state-of the-art equipment.
Watertown Daily Times, 01 29 1958
Louis Pingel, 537 Milford Street, "The Grand Old Man of Bethesda," will be honored tomorrow by the "children" and staff of the Bethesda Lutheran Home of which he was the first superintendent.  The occasion will mark his having been associated with the home for 50 years.  In 1921 Mr. Pingel again entered the service of Bethesda Lutheran Home, this time as superintendent.  This position he ably filled for 24 years.  During that tenure of his office Bethesda Lutheran Home became nationally known, having drawn "children" from 36 states of the Union.  Bethesda, during Mr. Pingel's time grew from less than 100 to over 300.
Watertown Daily Times, 02 11 1958
Al Linde, a resident of Midland, Mich., and son of Fire Chief Al Linde of Watertown, has been elected to the Amateur Softball Association's Hall of Fame. He was the only softball player honored in the elections. Linde began his softball career in 1933 in Kenosha. Only 15 years old, he was a member of the Nash Motors team which won the National ASA championship. In 1942 he pitched the Deep Rock Oilers of Tulsa to the title and then as a member of the Hammerfield (Calif.) Airbase team his team won national titles in 1943 and 1944.
Watertown Daily Times, 01 31 1908
The party given Sunday evening at Liederkranz Hall on Fourth Street by Ladies of the Deutscher Kreiger-Verein was well attended and all who attended report a most enjoyable time. A very substantial and appetizing repast was served during the evening, such as the ladies of that organization know how to prepare. There is always plenty and to spare. The music for the occasion was furnished by the Weber-Stube orchestra.
Added note (from 1913-14 Watertown City Directory)   Deutscher Kriegerverein:  Meets every Friday at 215 N Fourth
Watertown Daily Times, 03 02 1945
T/5 John G. Adam, son of Mrs. Etta Adam, 205 Frederick Street, Watertown, is among the men from Wisconsin who are serving as members of the traffic patrol and guard in the Mediterranean theatre of war, according to a list sent out by the public relations office in Italy.
They are serving under Lt. Gen. Joseph T. McNarney as part of the 1179th military police company.  The company commander is Capt. Thomas J. Lewis.
Watertown Daily Times, 03 16 1945
Cpl. Lawrence E. Adam, some of Mrs. Etta Adam, 205 Frederick street, Watertown, is a member of the 175th Engineer general service regiment which recently spanned the Serchio river on the Fifth army front in Italy with a 270-foot timber pile bent bridge, reports the public relations office in Italy.
The regiment has built 70 large bridges since Aug. 1, including one 530-foot span across the Arno River which was completed within seven days.
Watertown Daily Times, 10 01 1945
Watertown men recently discharged from army duty at Fort Sheridan, as reported by the public relations office there, include Cpl. Arthur F. Behling, 1015 Western Avenue, Pfc. Chester C. Ertl, 119 1/2 Church Street, Sgt. Lawrence E. Adams, 205 Frederick Street.
Local Youth is Aerial Gunner
<![if !vml]>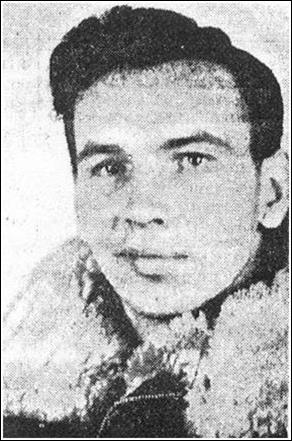 <![endif]>Watertown Daily Times, 4 October 1943
Great Falls, Mont. - Sgt. Donald L. Draginis, who formerly lived at 105 North Tenth Street, Watertown, Wis., is an aerial engineer and gunner in the Army Air Forces and is completing the final stage of his overseas training at the Army Air Base, Great Falls, Mont.
He attended high school at Watertown and was employed as a tool grinder before entering the service.
His mother, Mrs. Marie Draginis, lives at the above address.
Local Flyer is Turret Gunner
Watertown Daily Times, 24 January 1944
An 8th AAF Bomber Command Station, England -- (Special) -- Sgt. Donald L. Draginis, son of Mrs. Marie Draginis of 105 North 10th Street, Watertown, Wis., is serving as top-turret gunner on a Flying Fortress crew of the 8th AAF now carrying out missions over Germany and enemy occupied Europe.
Recently, Lt. Draginis has participated in bombing missions to Emden, Kiel, Nazi submarine center, Ludwigshaven, Cognac, and Tours. Shortly after entering the army in 1942, he underwent intensive courses in airplane mechanics and aerial gunnery.
Sgt. Draginis was graduated from Watertown high school and formerly was employed as a tool grinder.
Donald Draginis, Watertown Flier, Receives Honor
Airman Awarded Distinguished Flying Cross
Watertown Daily Times, 06 13 1944
An Eighth AAF Bomber Station -- Tech. Sgt. Donald L. Draginis, son of Mrs. Marie Draginis of 105 North 10th Street, Watertown, Wis., was recently awarded the Distinguished Flying Cross at a Flying Fortress base located somewhere in England. The citation accompanying the award reads as follows:
"For extraordinary achievement, while serving as top turret gunner of a B-17 airplane on twenty-five bombardment missions over enemy occupied Continental Europe. Displaying great courage and skill, Sgt. Draginis, fighting from his gun position, has warded off many enemy attacks and has materially aided in the success of each of the twenty-five missions. The courage, coolness and skill displayed by Sgt. Draginis on all these occasions reflect the highest credit upon himself and the armed forces of the United States."
The Air Medal and three Oak Leaf Clusters to the Air Medal were awarded to the sergeant prior to his recent Distinguished Flying Cross.
Coming Home
Watertown Daily Times, 09 21 1944
T/Sgt. Donald L. Draginis, shown here, of 105 North Ninth Street, son of Mrs. Marie Draginis, has been granted a furlough after 30 missions as an engineer-gunner on a B-17 over enemy territory in Europe. Among his awards are the air medal, three oak leaf clusters and the Distinguished Flying Cross. He has been stationed in England and embarked from there for the United States where he will spend his furlough.
Watertown Daily Times, 11 16 1944
Tech. Sgt. Donald L. Draginis is now stationed at Fort Logan, Colo. His new address is: 1613314, Detach. of Patient, Section G., A.A.F., Convalescent Hospital, Brk. 235, Fort Logan, Colo.
Sgt. Draginis recently returned from the European theatre of operations.
Local Flier's Bomber Group Gets Citation
<![if !vml]>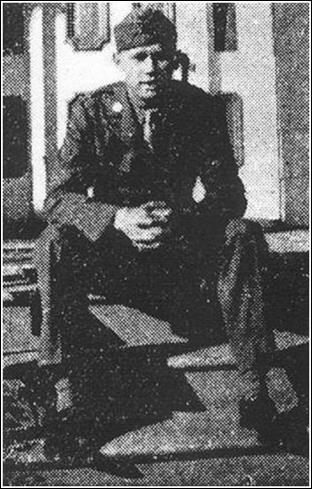 <![endif]>Watertown Daily Times, 11 08 1944
An Eighth Air Force, Liberator Station, England -- The B-24 Liberator Four-engined Bomber Group in which Staff Sgt. Edward H. Dusowsky, 204 1/2 Main street, Watertown, Wis., is a transportation foreman, recently was cited by Major General William F. Kepner, commanding 2nd Bombardment Division, "for distinguished and outstanding performance of duty".
The citation in part reads: "The devotion to duty, determination and tenacity of purpose exhibited by personnel of the group reflect great credit upon themselves, their organization and the United States Army Air Forces."
The Group, which recently completed its 100th combat mission, is commanded by Col. Luther J. Fairbanks of Burt, La., and had previously been cited by Lt. Gen. James H. Doolittle, commanding Eighth Air Force, for low-level destruction of a bridge across the Loire River, near Blois, France. Demolition of the span was ordered "regardless of cost." To achieve visibility necessary for destruction of the bridge it was necessary to descend below clouds to 6500 feet, an altitude usually considered extremely hazardous for four-engined bombers. From this height the target was reduced to a heap of smoking rubble. It was the first low-level bombing ever performed by four-motored bombers from England.
Earlier the group had been officially commended by General Doolittle for combat achievement on its first mission, an attack on Berlin and the longest initial mission-ever flown in the European theater. The attack was one of the heaviest daylight bombings of the German capital on record.
During its first 100 missions, "overcoming adverse weather conditions and fierce enemy-fighter and anti-aircraft opposition," the group attacked 41 targets in Germany and 59 targets in enemy-occupied Europe. Forty-seven hundred tons of bombs were dropped on vital enemy installations.
Watertown Daily Times, 18 July 1945
Staff Sgt. Edward Dusowsky, who has been stationed with the Eighth Air Force in England for the past 17 months, is spending a furlough with his wife and son, Edward James, at their home in 301 North Church Street, and with his mother, Mrs. Edith Dusowsky, Main Street.
<![if !vml]>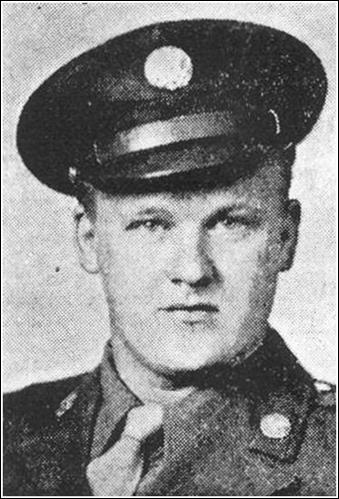 <![endif]>Watertown Daily Times, 02 15 1945
Cpl. Erwin Griep, who had been stationed in the Southwest Pacific for the past 32 months, has arrived in the city and is spending a 30 day furlough at the home of his parents, Mr. and Mrs. Arthur Greip, 1503 Center Street.
Cpl. Erwin Griep Home From Saipan
Served as Baker In Hospital Unit; Will Return There
Watertown Daily Times, 02 22 1945
Cpl. Erwin A. Griep, son of Mr. and Mrs. Arthur Griep, 1503 Center Street, after nearly five years in the Service and 32 months overseas in the Pacific, arrived home recently on a leave.
He will leave again on March 17 when he reports back for further duty.
Cpl. Griep was attached to the 148th hospital unit and served as a baker at a hospital on Saipan. He said it meant lots of work, since he and another man were the only bakers there, although they had some general helpers.
There are some 500 men in the unit and the hospital maintained there is a 2,000 bed institution. He said the hospital is well organized and equipped and gives the wounded men the best possible medical care and attention.
The medical side of the war is one thing the people back home do not have to worry about, for Uncle Sam is doing everything possible to give his wounded men good treatment and the medics are doing a remarkable job.