website  watertownhistory.org
    ebook  History of Watertown, Wisconsin
Seager's Barber Shop
John C. Seager
<![if !vml]>

<![endif]>
The old G.B Lewis Plant, barber shop on Main St bridge seen in the distance.
["The Bridge" barber shop, John Seager] (1946 Alex Hardie painting).
Shop taken out by March 26, 1904 flood
1881       Kiessling, Elmer C, Watertown Remembered, 1976.
The north side of the [Main St] bridge was then lined with business places resting on piles driven into the bed of the river.  In 1881 huge cakes of ice roaring down in high water ripped out the pilings of these structures and a part of the bridge.  The building on the south side, a barbershop operated by John Seager, was spared.  Mr. Seager installed three tin bathtubs - the first in Watertown - in his shop and ran this ad:
The Bridge
in the
Center of Main Street Bridge
5 baths for $1
He did a brisk business, Northwestern students being among his best customers, until another ice jam in April, 1904, swept away his building.  All of the equipment was salvaged.  John Seager, and his son Charles after him, continued to operate a shop for years at 5 Main Street.  It is now the Downtown Barber Shop.
1887
05 04       BARBER SHOP IN TREMONT TO MOVE
The Tremont Barber shop will be removed to the building two doors east of the Tremont House, opposite the Wisconsin National Bank, on or about May 10.  I will be glad to see all my friends in my new quarters where I will have increased facilities for doing satisfactory work in my line.   J. C. Seager    
Cross reference: "Two doors east of the Tremont" would be 119 W. Main
1896
04 29       "The Bridge" barber shop has been newly furnished and renovated; and I cordially invite all in quest of good workmanship and prompt service to give me a call.  The bath rooms are also in excellent condition now, having been thoroughly cleaned and furnished with entire new outfits.  Try the baths for a more comfortable feeling during the warm months; 25 cents.
JOHN C. SEAGER, Prop.     WR
1904       FLOOD DESTROYS SEAGER SHOP, March 26
05 26       John C. Seager's modern barbershop and bathrooms, are the finest in this part of the state, and must be seen to be appreciated. Mr. Seager invites many friends and patrons to call at his place of business, No. 108 Main Street, where he will be pleased to show them his new tonsorial parlors.   WDT
___________________________________________________________________
Mayor Charles Mulberger
Mayor Charles Mulberger was without question Watertown's most flamboyant mayor, a very popular executive.  He had a law degree but never practiced law.  He would come down to the business section every morning around 10 o'clock, go to the old Seager Barber Shop for his daily shave and a trim, then walk over to a floral shop and buy a fresh carnation which he wore each day in his botton hole, then make the rounds of downtown business places, including the old Deutsches Dorf which was then the gathering place for many Watertown business men and executives.  It was by far the finest saloon Watertown ever had and was located at the corner of Main and North Third Street, now the site of the Wisconsin Gas-Electric building.
1909
01 29       O. F. Goeslin, the Canadian barber employed at Seager's; catch as-catch-can wrestling match   WG
04 23       O. F. Goeslin, the Canadian barber employed at Seager's; breaks up robbery   WG
1934       SEAGER & BRAND BARBERS, 9 E MAIN, BARBER SHOP
1948
12 01       SEAGER AND BRAND BARBER SHOP TO MOVE
The Seager and Brand Barber Shop, formerly at No. 9 Main Street will move to No. 5 Main Street.  The building at No. 9 will be the future home of Justmann's Sporting Goods store, now located at 602 Main Street.
1950       SEAGER & BRAND BARBERS, 5 E MAIN, BARBER SHOP
1955
07 07       PRICES OF HAIRCUTS AND SHAVES
The prices of haircuts and shaves in Watertown are inching upward, in line with rises in other communities, in some of which increased rates have been in effect for more than a year.  Seager and Brand, Main Street barbers, announced today that starting July 8 a haircut will cost $1.25 and a shave 75 cents.  A child's haircut will cost $1 for children 12 years or under.  All haircuts will be $1.25 on Fridays and Saturdays.
1957c
Seager Barber Shop, John C Seager, 1957c, 5 E Main, 1950s-70s city assessor form, WHS_006_003a and 003b
Seager Barber Shop, John C Seager, 1957c, 5 E Main, 1950s-70s city assessor image
Seager Barber Shop
Charles Seager
1958
09 25       LEITH POOLE NEW OWNER
Leith Poole of 811 Garfield Street has taken over the operation of Seager's Barber Shop at No. 5 Main Street.  He recently purchased the shop and its equipment from Charles Seager, who is retiring due to ill health.  The building in which the shop is located is owned by Mr. Seager.  In addition to Mr. Poole, other barbers in the shop are Richard Nelson and Donald Cowen.   WDT
1965
06 30       LEITH POOLE RETIREMENT
Leith Poole, operator of Poole's Barber Shop, is retiring this evening from the barber trade after 49 years of service.  He began his barbering in Fort Atkinson where his father, Joel Poole, had a shop.  He learned the trade with his father at the age of 16 and remained there for 12 years.  He went to Sheboygan where he remained for five years and in 1932 came to Watertown, working for Seager and Brand which was then located where Paul's Dress Shop is now operating.  Later the shop moved to the building now occupied by the U.S. Army Recruiting Service after which it went to the present location after a new building had been erected. That is at No. 5 Main Street where the shop has operated since 1948. Mr. Poole took over the shop from the late Charles Seager and for the past seven years has operated it as Poole's Barber Shop.   WDT
Cross-References:
1898, John Seager Barber Shop on Main St Bridge, Farmers Picnic Parade
1950s-70s, Seager Barber Shop 1957c, 5 E Main, city assessor image
1883       First Seager Barber Shop opened in the Tremont House, according to 1954 ad [This 1883 date doesn't fit in with other dates]. 
                <![if !vml]>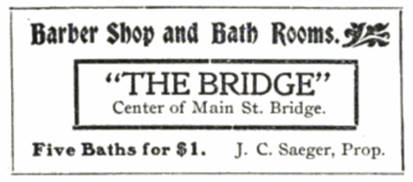 <![endif]>  1954 ad has first Seager shop in Tremont
| | |
| --- | --- |
| Seager Barber Shop, John C Seager | |
| Seager Barber Shop, John C Seager | 1899, Barber shop ON Main St Bridge, Harvest Jubilee, Seibel Bros, ponies and carnival wagon, WHS_005_604 |
| Seager Barber Shop, John C Seager | |
| Seager Barber Shop, John C Seager | 1909c but pre 1935, 108 E Main |
| Seager Barber Shop, John C Seager | 1913, 108 E Main, barber shop |
| Seager Barber Shop, John C Seager | Main St Bridge and 5 E Main, Watertown Remembered |
| Seager Barber Shop, Main St Bridge, 1898 Farmer's Picnic | |
| Seager Barber Shop, Main St Bridge, 1898 Farmer's Picnic | |
| Seager Barber Shop, Main St Bridge, being washed away, 1904 Flood | |

History of Watertown, Wisconsin