website  watertownhistory.org
    ebook  History of Watertown, Wisconsin
River Mill
Senior Residences
Built on site of former Globe Mill, abandoned mill was destroyed by fire in 2001
2007
12 19          Approval of conceptual plans for the redevelopment of the former Empire Globe property.  The total project will encompass the area along the west bank of the Rock River just north of the Mill Race Terrace Apartment building [former Kusel building] and will go north and include the upper and lower city parking lots on the east side of Water Street from the east end of Emmet Street north to include much of the city parking lots.   WDT
2008
05 29          Plans for the proposed $30 million River Mill development project along South Water Street could have potentially hit a snag.  According to Watertown Mayor Ron Krueger, Common Bond Properties did not receive the financial assistance it had applied for in February from the Wisconsin Employment and Training Association.  Krueger does not know the exact amount Common Bond Properties had applied for, but he did say the lack of government assistance has caused the developers to re-evaluate the project.  "The developers for River Mill are now revisiting and relooking at if they can go forward as a private project without a government grant in there," Krueger said.   WDT
2010
<![if !vml]>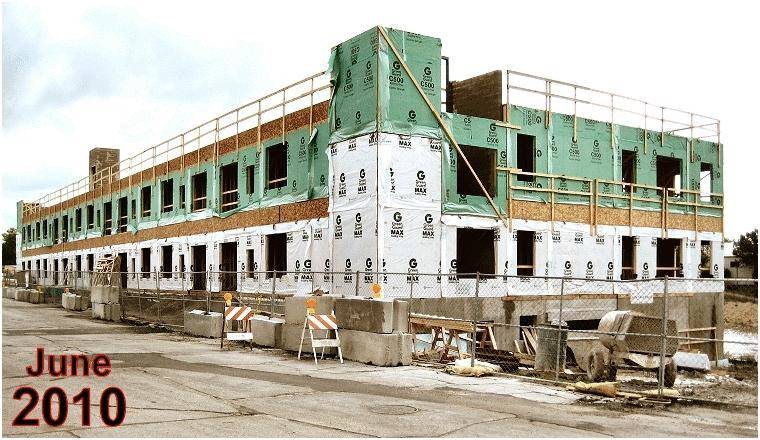 <![endif]>
<![if !vml]>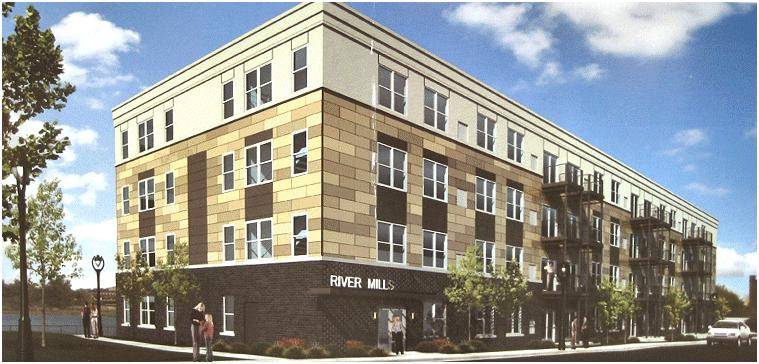 <![endif]>
Signage on architectural drawing has "River Mills" but development has always been referred to as "River Mill"
New homes for seniors to revitalize downtown as CommonBond announced the closing of financing for a new development of senior housing in Watertown.
QUICK FACTS
Where: The historic downtown district of Watertown, Wisconsin

Units: 54 mixed income one and two bedroom apartments including
   9 market rate units
   9 units for people earning 30% of the area median income or below and
   14 units for people earning 50% or below

Eligibility: Seniors with a range of incomes
"CommonBond continues to be invited to meet the growing need for affordable homes in Wisconsin.  In Watertown the city council wanted to both meet the needs of area seniors and also expand the economic impact of their downtown area.  CommonBond will create River Mill to serve a wide range of seniors and blend in with the historic district. "
The development will be the first phase of the new downtown riverfront redevelopment.
Subsequent phases will include additional affordable and market rate housing and retail development, surrounding a waterfront park.
In exchange for the City of Watertown's generous donation of land and capital, CommonBond will also be constructing a public river walk along the side of the building that will be connected to future river walks in the downtown district.
               Cross Reference:  Watertown Riverwalk Plaza
The River Mill development will be characterized by its quality and the level of amenities it offers to seniors of different incomes.  From scenic views, quality construction, and range of affordability, River Mill will be the first housing of its kind in the Watertown area.
Planned amenities include:

Business center including public access computers

CommonBond Advantage Center

Management office

Numerous lounges

Beautiful views of the river

Fitness Room

Underground parking

Community room with kitchen/fireplace

Salon

Elevator
"CommonBond thanks all River Mill partners, including WHEDA, the Federal Home Loan Bank of Chicago sponsored by M&I Bank and USBank for providing the financing to make this development happen.  A special thank you to the City of Watertown and community members for welcoming and strongly supporting these new homes and CommonBond Communities."
Architect: Zimmerman Architectural Studios
Contractor: VJS Construction Services
Derived in part from CommonBond website

History of Watertown, Wisconsin