website  watertownhistory.org
    ebook  History of Watertown, Wisconsin
American Legion Green Bowl
Lindberg's by the River
1920s
AMERICAN LEGION GREEN BOWL
<![if !vml]>

<![endif]>   
1950s
DISTANT VIEW
<![if !vml]>

<![endif]>  
1962
07 30       GEORGE LINDBERG, MR. AND MRS.
Mr. and Mrs. George Lindberg of New Berlin, Wis., have taken over the management of the American Legion Green Bowl, according to announcement made this morning by Edward Dusowsky, commander of the Pitterle-Beaudoin Post No. 189, the American Legion.  Mr. and Mrs. Lindberg formerly operated the Red Mill in Brookfield.   WDT
1963
09 23       EUNICE GRUNER
Among the pleasant and topical conversation pieces in Watertown these evenings are the series of panels and a mural which Mrs. Eunice Gruner of 1010 Charles Street has done for the Pitterle-Beaudoin Post No. 189, the American Legion, for the Legion Green Bowl.  That the art work is attracting attention is stating it mildly.  Mrs. Gruner, who founded Home Town Prints, a commercial art service here and which she still heads, has done, in these latest pieces, some of her most delightful art work to date.  When she was first approached with the suggestion that she consider doing something for the walls at the remodeled Legion Green Bowl she was hesitant and reluctant, but said she would consider the request and come up with an idea in case she decided to do it.   WDT
1967
11 03       FIRE !
An early morning fire which swept the Legion Green Bowl, popular dining and social gathering place at 1413 Oconomowoc Avenue in Watertown on Sunday, resulted in damage initially estimated at $100,000.  This may be revised downward later.  The place, the interior of which was left badly charred and smoked up, with extensive fire damage also, will be restored as rapidly as possible, according to officials of the Pitterle-Beaudoin Post 189, the American Legion which owns the property.  The fire broke out in the bar area in the cocktail lounge and the alarm came in at the fire station at 1:51 a.m.  Fire department officials said the fire apparently started in a waste container under the bar.  The exact cause is not known, but fire officials say a cigarette may have started the blaze, but others discount this.  WDT
1968
<![if !vml]>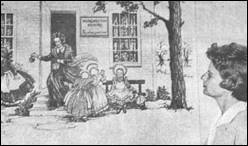 <![endif]>     Milw Jour photo
<![if !vml]>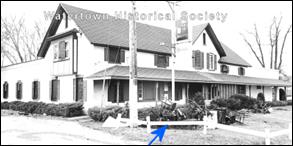 <![endif]>   <![if !vml]>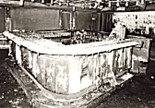 <![endif]>   < PORTFOLIO OF PICS
Cross Reference note on Jesse Gruner:  I grew up in the Gruner's home on Riverlawn Avenue.  Mrs Gruner had painted a mural on our Dining Room wall.  I wish I had pictures but don't.  I was 5 when we moved into the house and the room was completely remodeled a year later.  The mural was painted and wallpapered. A shame.  - Linda L. Day
1973
-- --          LINDBERG'S BY THE RIVER ESTABLISHED
c1975
<![if !vml]>

<![endif]>     <![if !vml]>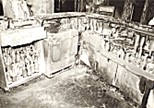 <![endif]>     c.1975
  <![if !vml]>

<![endif]>     c.1975
2017
06 01       LINDBERG'S START OF 45TH YEAR
<![if !vml]>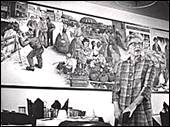 <![endif]>  
Cross References:
1973, Estab of, former Prochazka home and Green Bowl
Prochazka's Place, 1860s, Gardens, eating, became Green Bowl Lindberg's
Prochazka, Wenzel, chapter on  

History of Watertown, Wisconsin