website  watertownhistory.org
   ebook  History of Watertown, Wisconsin
Eunice Gruner
Home Town Prints
<![if !vml]>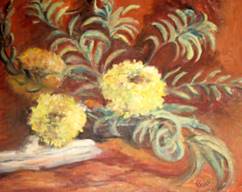 <![endif]>
Click to enlarge
Watertown Historical Society Collection
Mrs. Eunice Gruner turned her artistic interests into their business.  She established a commercial outlet for her popular sketches of historical and public buildings.  She featured all of the local churches in the centennial years for their celebrations.  Her business extended into several other states.
Mrs. Gruner was a graduate of the University of Wisconsin and taught art at Janesville and Reedsburg.  She was also the originator of the local art exhibits, which have become traditional in Watertown.   Watertown Wisconsin Centennial, 1854-1954, booklet, p 62
<![if !vml]>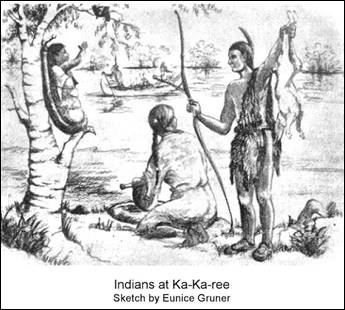 <![endif]>
1948
12 16       CITY HISTORICAL MAP BY MRS. GRUNER NOW AVAILABLE
A special copy of map of Watertown together with a listing of historical sites and events here, which was prepared by Mrs. Eunice Gruner, wife of Ernest Gruner, has been turned over to the Watertown Historical Society, while copies of the map, printed by the Jansky Printing Company, have been placed on sale and are enjoying an increasing sale as Watertown people buy copies to preserve.
Some are also sending additional copies to old friends and former residents.  The map may be secured at the Gruner Store.  They sell for 75 cents per copy. They are printed on sturdy parchment. 
. . . . The map is well worth owning and preserving, giving as it does, not only a drawing of local stores and areas, but placing historic buildings and recording historical events of Watertown in their proper location.  Surrounding the map is a border which features a goose (for Watertown stuffed geese), a badger, symbol of the badger state, a beer baron to commemorate an important early Watertown industry and an eagle, U.S. symbol.
Buildings and events commemorated on the map are set off with clever pen sketches and drawings made by Mrs. Gruner.  One of the largest sketches commemorate the singing society founded here in 1847 which was associated with Concordia Hall.  The Concordia Saengerbund of Watertown is found listed in the page of the book, "Early Choral Music in the U.S." and is one of the earliest of all societies listed in that volume.
Other events recorded on the map perpetuates some tangible record of early Watertown.  Among the things and events shown on the map are the following: Karlshuegel, 1854, home of General Carl Schurz; Latin farmers (the 48ers) who were German educated men who spoke Greek and Latin; Lincoln School, 1867; birthplace of the Watertown quintuplets, born here in 1875, 5 boys who died soon after birth; Sacred Heart College, 1872; Union Station; early Oak Hill Cemetery, 1850; the cheese industry; beer caverns under W. Cady Street; Wisconsin Dairymen's Association founded here in 1872; Union Park; site of Timothy Johnson's cabin, 1336; Boomer's Dam, 1847; French Fur Trader's Cabin, 1837; old sawmills, 1952; old brewery; first American kindergarten, 1856; Bank of Watertown, 1954; Black Hawk Trail, 1832; Town dam (first dam here), 1837; Globe Mill, 1852; City's Meridian Stone, 1854; Buena Vista House, 1847; The famous Railroad bond issue, 1853; Turnverein, 1860; Webster School; Northwestern College, 1865; Water Tower; Hill Cemetery, 1840; Library, site of old Tremont Hotel; City Park; Memorial Park; first post office building,1837; Douglas School, 1863; beer gardens; Riverside Park; swimming pool; armory; first free textbooks in state issued here in 1872; first train, Milwaukee to Watertown, run as the Cannonball, 1852; Community cow pastures; Cattle fair (Viehmarkt), 1858; Washington Park; Octagon House; old grist mill; stage coaches from Milwaukee and Delafield, 1848; plank road and toll house; Tivoli Island, owned by Concordia Society, 1875; Rough and Ready Dam, 1842; old sawmill; first school house; Memorial Bridge; old Oak Hill cemetery, 1864; city hall; Watertown's famous stuffed geese; first electric wire from Milwaukee, 8/26/1856; the Bohemian settlement.
In addition, the various local churches and parochial schools as well as the present high school are given space on the map, all in their proper locations.
1953
08 13       WATERTOWN SCENES DEPICTED ON NEW STATIONARY
     Eunice Gruner's Superb Sketches Being Featured
Watertown residents — and others, too — are now able to purchase boxes of note paper which features five Watertown scenes—the Octagon House, a park scene, Northwestern College, the first American Kindergarten and the Old World Houses in North Fourth Street.
The note papers come in box lots, each containing 15, plus 15 envelopes.
The designs are the work of Mrs. Eunice Gruner, well known Watertown pen and ink artist, who has done some of her finest work in this new series.
The boxes were to go on sale today and are available at the Octagon House, Gruner's store and the Busse Pharmacy.  The cost is one dollar per box.
The product bears the imprint of Hometown Prints.  The sketches have an etching-like finish and are miniature works of art.
Mrs. Gruner said that a suggestion was made to her that she prepare a sketch of the Octagon House and it was decided to make prints of it on note papers which the Watertown Historical Society, owner and custodian of the historic old home, could place on sale.  This led to other suggestions and ended with her preparing five different Watertown scenes, all done in beautiful pen and ink drawing.  Plates were-made and the papers printed.  The sketches have a dull finish which makes them look doubly artistic and mellowed.  All sketches are faithful to the least detail.
The papers are expected to enjoy a substantial sale, since those who have seen advance samples have been enthusiastic about the idea and many orders have already been placed.  Not only do they make suitable mediums for writing brief notes or short letters, but will also be ideal as gifts.  Former residents, with fond memories of Watertown and its scenes, will be especially pleased to receive them.
With the city due to celebrate its centennial next year, the boxes bearing the imprint of the five local themes will lend an interesting sidelight to the celebration.
Mrs. Gruner has done a considerable amount of pen and ink work and has helped design many programs and other artistic printed materials, but in this new series she has struck a new high point in what must be set down as really excellent work.
Among her past designs was the sketch for the First Congregational Church centennial program.  She is at present at work on other designs which are to be issued in the future for private groups.
Those who are looking for some suitable gift or memento to send to friends, notably former residents who now live elsewhere, as well as those who like to have some note papers that are out of the ordinary and which carry a local theme, will find this new product just what they've been looking for.
1963
09 23       AMERICAN LEGION PAINTINGS
Among the pleasant and topical conversation pieces in Watertown these evenings are the series of panels and a mural which Mrs. Eunice Gruner of 1010 Charles Street has done for the Pitterle-Beaudoin Post No. 189, the American Legion, for the Legion Green Bowl.  That the art work is attracting attention is stating it mildly.  Mrs. Gruner, who founded Home Town Prints, a commercial art service here and which she still heads, has done, in these latest pieces, some of her most delightful art work to date.  When she was first approached with the suggestion that she consider doing something for the walls at the remodeled Legion Green Bowl she was hesitant and reluctant, but said she would consider the request and come up with an idea in case she decided to do it.      WDT
<![if !vml]>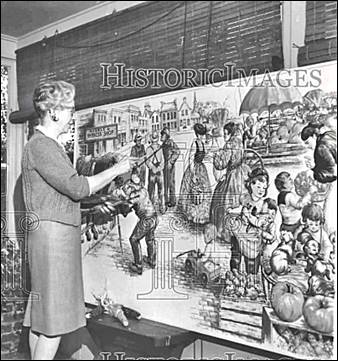 <![endif]>    
<![if !vml]>

<![endif]>   
<![if !vml]>

<![endif]>    Image Portfolio   Panels and mural at Green Bowl (Lindberg's)
08 09       BETHESDA MURAL
<![if !vml]>

<![endif]>      < Click to enlarge
Mrs. Eunice Gruner, Watertown commercial artist, has donated a 19 x 6-foot mural to Bethesda Lutheran Home.  On display in Bethesda's main lobby, the traditional scene of "Christ and the Little Children" (Luke 18) was made contemporary to the institution's situation with the use of retarded and handicapped children in the picture.
Painted particularly for the 670 mentally retarded residents of this local home, hospital, and training school, the artist wished the mural to say:  "Here are the arms of Christ right here at Bethesda."  She hoped the home's patients would identify with the 17 figures being received by Christ.
Seven months in the making, 1,000 hours were spent in the mural's creation.
Dr. Clarence F. Golisch, executive director of the church-related institution, commented:  "This beautiful mural is a concise summary of the reason Bethesda has existed for 62 years.  The fact that our Lord is here among us, speaking through our lips and working with our hands, has been concretely stated in Mrs. Gruner's visualization."
Of the 17 figures, only one has a living counterpart.  The boy on Christ's lap was modeled after an eight-year-old hydrocephalic.
Mrs. Gruner received her B.S. degree in art education from the University of Wisconsin in 1933, after which she taught art three years in Reedsburg, Wisconsin.  Her involvement in home life replaced her career, until 13 years ago a minister encouraged her to return to art.  Since then, she has been a commercial artist in Watertown, where she has organized Hometown Prints, a firm which custom designs greeting cards and notepaper for both American and foreign consumers.
As part of her future, Mrs. Gruner visualizes other murals of a smaller scale for Bethesda.  "There are infinite possibilities of scenes tying in the religious aspect with the meaning of Bethesda's mission to the retarded."   WDT
1974
01 17       DEATH OF EUNICE GRUNER LANGE (1906-1974)
A memorial service for Eunice Gruner Lange, Perry Street, who died Jan. 17, will be held Sunday, March 17 at 3 p.m. at the First Congregational United Church of Christ.  The Rev. Robert Tully will conduct the service.  If desired memorials may be given to the Watertown Historical Society.
Mrs. Lange, wife of Herbert W. Lange, died unexpectedly at their winter home in McAllen, Tex., Jan. 17.
Mrs. Lange was born in Sisseton, S. D., Aug. 14, 1906.
Surviving are her husband; two daughters, Mrs. Thomas Weesner, Boston, Mass., and Mrs. Wayne Schnitger, Janesville; four grandchildren and one brother, Clifford Foss,. Bàimbridge Island, Wash.
Funeral services were held Jan. 20 at the Kreidler Funeral Home in McAllen, Tex.
Mrs. Lange was organizer in 1953 in Watertown of the highly successful Hometown Prints.  A talented artist, she made beautiful pen and ink sketches of scenes and buildings of all types, including churches and historic buildings and structures for correspondence notes. The business thrived under her direction.

History of Watertown, Wisconsin