website  watertownhistory.org
   ebook  History of Watertown, Wisconsin
Eunice Gruner
Home Town Prints
<![if !vml]>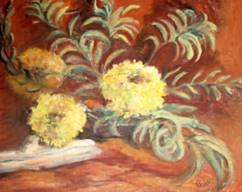 <![endif]>
Click to enlarge
Watertown Historical Society Collection
Mrs. Eunice Gruner turned her artistic interests into their business.  She established a commercial outlet for her popular sketches of historical and public buildings.  She featured all of the local churches in the centennial years for their celebrations.  Her business extended into several other states.
Mrs. Gruner was a graduate of the University of Wisconsin and taught art at Janesville and Reedsburg.  She was also the originator of the local art exhibits, which have become traditional in Watertown.   Watertown Wisconsin Centennial, 1854-1954, booklet, p 62
1963
09 23       AMERICAN LEGION PAINTINGS
Among the pleasant and topical conversation pieces in Watertown these evenings are the series of panels and a mural which Mrs. Eunice Gruner of 1010 Charles Street has done for the Pitterle-Beaudoin Post No. 189, the American Legion, for the Legion Green Bowl.  That the art work is attracting attention is stating it mildly.  Mrs. Gruner, who founded Home Town Prints, a commercial art service here and which she still heads, has done, in these latest pieces, some of her most delightful art work to date.  When she was first approached with the suggestion that she consider doing something for the walls at the remodeled Legion Green Bowl she was hesitant and reluctant, but said she would consider the request and come up with an idea in case she decided to do it.   WDT
<![if !vml]>

<![endif]>   
<![if !vml]>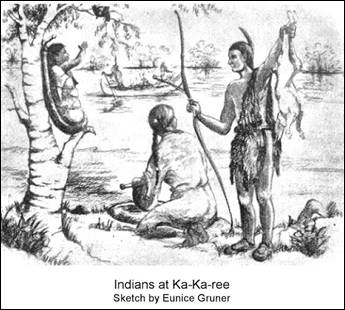 <![endif]>   Image Portfolio   Panels and mural at Green Bowl (Lindberg's)
1966
08 09       BETHESDA MURAL
<![if !vml]>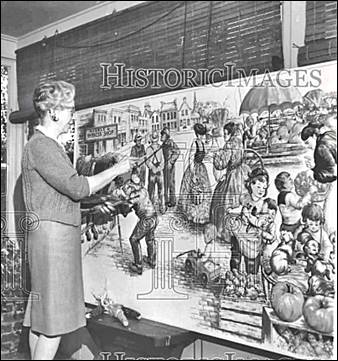 <![endif]>     < Click to enlarge
Mrs. Eunice Gruner, Watertown commercial artist, has donated a 19 x 6 foot mural to Bethesda Lutheran Home.  On display in Bethesda's main lobby, the traditional scene of "Christ and the Little Children" (Luke 18) was made contemporary to the institution's situation with the use of retarded and handicapped children in the picture.
Painted particularly for the 670 mentally retarded residents of this local home, hospital, and training school, the artist wished the mural to say:  "Here are the arms of Christ right here at Bethesda."  She hoped the home's patients would identify with the 17 figures being received by Christ.
Seven months in the making, 1,000 hours were spent in the mural's creation.
Dr. Clarence F. Golisch, executive director of the church-related institution, commented:  "This beautiful mural is a concise summary of the reason Bethesda has existed for 62 years.  The fact that our Lord is here among us, speaking through our lips and working with our hands, has been concretely stated in Mrs. Gruner's visualization."
Of the 17 figures, only one has a living counterpart.  The boy on Christ's lap was modeled after an eight-year-old hydrocephalic.
Mrs. Gruner received her B.S. degree in art education from the University of Wisconsin in 1933, after which she taught art three years in Reedsburg, Wisconsin.  Her involvement in home life replaced her career, until 13 years ago a minister encouraged her to return to art.  Since then, she has been a commercial artist in Watertown, where she has organized Hometown Prints, a firm which custom designs greeting cards and notepaper for both American and foreign consumers.
As part of her future, Mrs. Gruner visualizes other murals of a smaller scale for Bethesda.  "There are infinite possibilities of scenes tying in the religious aspect with the meaning of Bethesda's mission to the retarded."   WDT

History of Watertown, Wisconsin