website  watertownhistory.org
    ebook  History of Watertown, Wisconsin
William Gorder
1885
WILLIAM GORDER RAN COAL BUSINESS NEAR THE NORTHWESTERN DEPOT
In Watertown, in 1886, three firms were vying for the privilege of supply coal.  Beeses and Knoll were handled coal from their yard opposite the Chicago, Milwaukee, St. Paul Railroad Depot, William Gorder did business near the Northwestern Railroad Depot, and John McGolrich dispensed coal from his yard on Washington Street.  Each one claimed to be supplying coal which provided more heat per ton than any other coal -- an unprovable claim.    Source  
c.1890
<![if !vml]>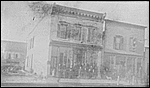 <![endif]>  
<![if !vml]>

<![endif]>
1899-1900 Watertown City Directory
1894
11 07       COAL WAR
There appears to be a coal war on among our dealers, and the old prices seem to have been knocked into a cocked hat.   WR
1895
02 06       RECEIVED CONTRACT FOR CITY SEWER PROJECT
On motion the contract was awarded to William Gorder, that being the lowest in all details, for the sum of $14,374.49.   WR
05 08       CAVE IN WHILE LAYING SEWER DRAIN
Frank Peterson, employed as foreman by William Gorder, unpleasant experience Sunday afternoon subsequent to one of the heavy showers.  He was engaged with a gang of workmen laying a sewer drain at J. W. Wiggenhorn's residence, on Clyman Street, when the sides of the ditch caved in, covering Mr. Peterson up to his neck.  Luckily, he was in an upright position, and after a half hour's work by his comrades he was extricated without any harm being done.  Had he been stooping, serious if not fatal injury would no doubt have resulted.  Another workman was also caught by the cave in, but only covered to his knees.
10 23          Pipe line job for waterworks system to William Gorder suggested.  WR
1902
 <![if !vml]>

<![endif]> 
1906
   Watertown Daily Times, 07 06 1906
Another bold burglary was committed some time Monday night or early Tuesday morning.  This time the victims were Wm. Gorder and company, whose Milwaukee Street shoe store was entered and shoes to the number of fifteen pair taken by the intruder.  Entrance to the place was affected by prying open a rear door from a shed.
The fact of the theft was discovered yesterday morning upon the arrival of the shoemaker, who, upon his arrival at the store observed that everything about the place was in topsy-turvy order . . . A fortunate circumstance of the last robbery is the fact that a check owned by Henry Gorder in the amount of $94, which was lying on the office desk, was not molested and was evidently overlooked by the burglar.  The check was made payable to bearer and could easily have been cashed.
The bold thief will evidently regret his stupidity when he reads the account of the robbery - that is, if the theory of the officers is correct that the robbery was committed by some amateur residing in the city. It is the belief that the theft was the work of some person residing in the city and there are suspicions as to whom the guilty party is.
1907
01 30          The William Gorder Company are making quite extensive improvements to their Main Street place of business.  A new steel ceiling is being placed in the store and it will be otherwise improved by repairing and repainting.
1908
10 02          Gorder factory rented.  Wm. Gorder has leased his factory in First Street, just vacated by the M. D. Wells Shoe Co., to the Van Camp Packing Co., receiving $600 a year rental.  The Van Camp Co. intended enlarging their factory in Milford Street, but for the present will not do so, but will use the Gorder factory for storage purposes, there being no room in their factory for that purpose.   WG
1909
01 22          Brandt-Dent Co. to manufacture gas fixtures and chandeliers in the William Gorder building in [416-420 S.] First Street, formerly occupied by the M. D. Wells Co.   WG
1910
02 25          Coal, Coke, Wood.  WE HAVE ON HAND — Buckwheat Coal, Pea Coal, Chestnut Coal, Stove Coal, Egg Coal, Hocking Valley Coal, Red Jacket Coal, Pocahontas Nut Coal, Smithing Coal, Solway Nut Coke, Solway Stove Coke, Solway Egg Coke, Watertown Gas Lump Coke, Watertown Gas Crushed Coke, Maple Wood, Oak Wood, Mixed Wood, Hardwood Slabs, Mixed Slabs, Pine Bundled Edgings, Maple Clippings, Sewer Pipe, Drain Tile.   William Gorder Co., Main Office 608-610 Main St, Yards West end Milwaukee Street bridge.   WG
1911
02 09          Forged Checks.  Last week Wednesday a stranger called at the store of Wm. Gorder Co. and ordered a load of coal for $6.00 delivered at 906 North Second Street and also purchased a $2.00 pair of shoes, as he said, for his son, and presented a check on the Merchants Bank for $14.50 in favor of Henry Newman and signed George Nellins, receiving at the Gorder store $6.50, the balance of what the check called for after paying for the coal and shoes.  When an attempt was made to deliver the coal it was found that no such man lived on North Second Street, and further investigation showed the check to be a forgery.  The same afternoon the same fellow called at John W. Burn's coal yard and ordered a $6.00 load of coal and presented a check similar to above for $14.50, receiving $8.50 in cash from Mrs. Burns.  Both checks were forgeries and were written on the old check forms of the Merchants Bank, now the Merchants National Bank.   WG
03 30          [advertisement] Spring 1911.  Dorothy Dodd Shoes. The new Spring Styles just received are bound to meet with an enthusiastic reception.  They're in a class by themselves, so far ahead of past season's successes as to eliminate comparison.  Finished examples of the best shoemaking, correct in every detail.  Stylish and comfortable to a degree.  On sale today.  Your inspection is most cordially invited.  William Gorder Company, 606-608 Main Street, Watertown.   WG
1930
William Gorder Co, wood and coal yard, 101 W Milwaukee, WHS_006_Semrich_020  1930
Uncertain date
<![if !vml]>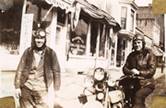 <![endif]>  

History of Watertown, Wisconsin