This file portion of www.watertownhistory.org website
Press Release
July 22, 2004
Watertown Remembered
Re-issued in Digital E-book Format
CD set (2) for computer and DVD includes
150 images of Octagon House and Grounds
<![if !vml]>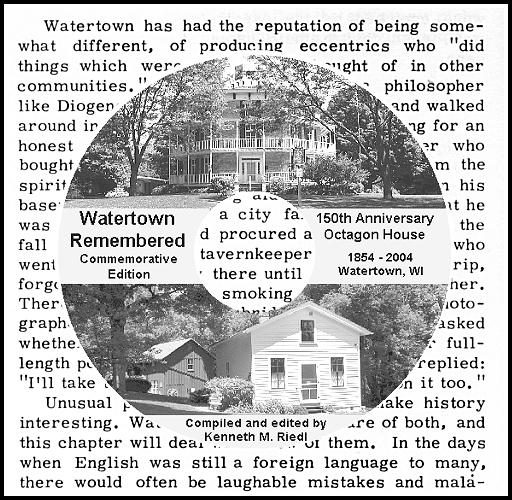 <![endif]>This year the Watertown Historical Society is celebrating the 150th anniversary of the completion of the construction of Watertown's famed Octagon House by John Richards for his wife Eliza.  This architecturally interesting and noteworthy structure has been faithfully maintained by the society since its acquisition and serves as a museum for the society.
As part of this anniversary year observance the society has reissued the book Watertown Remembered, written for the society by Elmer Kiessling in the bicentennial year 1976.  The late Northwestern College history and English professor and a former director of the Watertown Historical Society had assigned the copyright of his book to the society. 
Watertown Remembered has been out of print for a number of years.
Society and board member Ken Riedl has digitized the text and pictorial content of the book and also re-indexed its content.  Original prints used in the 1976 book were scanned so to digitize and the layout of the E-book preserves that of the original hardcover book.
The 150-year anniversary commemorative edition cdrom produced by Riedl consists of the book, its index with hyperactive links from index entries to the referenced page(s) and 150 images of the Octagon House and grounds, including the First Kindergarten in America and the Watertown Plank Road Pioneer Barn.
The commemorative e-book cdrom for computer use is bundled with a second cd that contains the same set of images as the first but which will play in DVD players with the images viewable as a slideshow on a TV screen.
The bundled set of two cds is available at the Visitor's Center on the Octagon House grounds and can be ordered through the society's website, watertownhistory.org.   The cost for the set is $30, plus a mailing charge of $4, if applicable.
A remark by Lee Block, director of the society at the time of the initial publication of the book in 1976, serves as the briefest of reviews:  "Watertown Remembered is a rich composite of factual history seasoned with a charming array of anecdote and folklore . . . E. C. Kiessling has given us an especially vivid and indelible recollection for all to remember Watertown."
To order and have sent by first class mail send check in the amount of $34 to
Watertown Historical Society
919 Charles Street
Watertown, Wisconsin   53094