This file part of www.sainthenryparish.org website
Raymond Wolfram
1920 - 2003
<![if !vml]>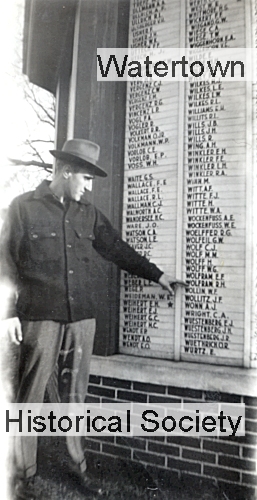 <![endif]>Raymond Henry Wolfram, 83, a resident of Marquardt Memorial Manor since August 2002, and formerly of 507 S. Church St., died December 31, 2003.
A Mass of Christian service was held at St. Henry's Church with the Rev. Bernard Rott officiating. Burial was at St. Henry's Cemetery.
Raymond was born Feb. 6, 1920, in the town of Shields, the son of Joseph and Augusta (Stock) Wolfram. He married Elizabeth Zita Egyhazi on Oct. 26, 1946, at Our Lady of Hungary Catholic Church in South Bend, Ind.
He retired in 1985 from Brandt Inc., where he had worked since 1947. Raymond enlisted in the U.S. Army in May, 1941, and served in Bermuda during World War II.
Prior to wartime service, Ray was employed at Otto Biefeld Co. and Hartig Brewery in Watertown.
SURVIVORS:
Wife          Elizabeth Wolfram, Watertown
Son           Charles R. Wolfram, Watertown
Son           Raymond J. (Lori) Wolfram, Watertown
Grandchildren Peter (Carla), Patrick, Anthony (Machaela) and Andrew, Scott (Stephanie) and Quinn Wolfram; a brother, George J. (Irene) Wolfram, Albuquerque, NM
PRECEDED IN DEATH:
Parents
Brother       Edward Wolfram of Juneau
Brother       Elmer Wolfram of Watertown
Sister        Clara Boettcher
Sister        Alma Knaack
Sister        Evelyn Anderson
Brother       Francis Anton Wolfram of Sullivan