This file part of www.sainthenryparish.org website
Elizabeth Wolfram
1912 - 2006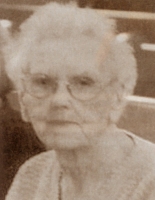 Elizabeth Z. Wolfram, 93, of Watertown, died January 8, 2006, at Watertown Memorial Hospital.
A Mass of Christian burial will be held Thursday at St. Bernard's Catholic Church in Watertown with the Rev. Bernard Rott of St. Henry's Catholic Church in Watertown officiating.  Burial will be in St. Henry's Cemetery.
The Hafemeister Funeral Home of Watertown is in charge of arrangements.
The former Elizabeth Egyhazi was born Jan. 17, 1912, in South Bend, Ind., daughter of Julius and Elizabeth (Foki) Egyhazi. She married Raymond H. Wolfram on Oct. 26, 1946, at Our Lady of Hungary Catholic Church in South Bend, Ind. After their marriage, Elizabeth and Raymond returned to Watertown, making it their home.
In her early years, she had been employed at Wilson Brothers Shirt Factory in South Bend. During World War II, she worked at the Army-Air Force Supply Depot. After many years as a homemaker, she returned to work for St. Bernard's School lunch program in Watertown, a job she loved. In her later years, she often spoke of the many children she had met and of the various school activities.
She was a member of St. Bernard's Catholic Church in Watertown.
Surviving are her children, Charles R. (Karren) Wolfram of Watertown and Raymond J. (Lori) Wolfram of Watertown; six grandchildren, Peter, Patrick, Anthony (Machaela), Andrew, Scott (Steph) and Quinn Wolfram; two sisters, Florence and Martha, both of South Send; four brothers, John, Joseph, Carl and William, all of South Bend; a brother-in-law, George (Irene) of New Mexico; a niece, Karen (Dennis) Hoeft, who was a great comfort to her as caretaker in her last years; and other nieces, nephews and friends.
She was preceded in death by her husband, Raymond H. Wolfram on Dec. 31, 2003; her parents; a sister, Francis; and brothers Julius and Stephen.