This file part of www.sainthenryparish.org website
Joseph Stangler
1909 - 2004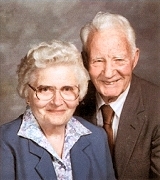 Joseph and Gertrude Stangler
Joseph H. Stangler, 94, of Watertown, died March 22, 2004, at his home following an apparent heart attack.
Funeral services were held at St. Henry's Catholic Church with the Rev. Bernard E. Rott officiating. Burial was in St. Henry Catholic Cemetery.
Joseph was born Sept. 18, 1909, in the town of Emmet, son of Albert and Regina (Pitterle) Stangler.  He married the former Gertrude McFarland on Nov. 28, 1942, at St. Bernard's Catholic Church. She preceded him in death on Sept. 26, 2000. Joseph owned a farm in the town of Emmet and farmed most of his life, retiring in 1977. He was a member of St. Henry's, its Holy Name Society and Usher Society, Catholic Knights Branch No. 120 and Knights of Columbus.
SURVIVORS:
Daughter          Joan Stangler of Madison
Daughter          Lorraine Bruegger of Belleville, IL
Son               Lawrence (Barb) Stangler of Waukesha
Son               Michael (Connie) Stangler of Ixonia
Daughter          Joyce (Steve) Wood of Waterloo
14 grandchildren
4 great-grand-children
Sister            Stella Coughlin of Watertown
Daughter-in-law   Janet Stangler of Watertown
Sister-in-law     Anna Stangler of Watertown
Nieces and nephews, other relatives and friends
PRECEDED IN DEATH:
Parents
Son               James
Son-in- law       George Bruegger
Sister            Florence
Sister            Mary Ellen
Sister            Frances Kreuziger
Brother           Herbert
Brother           Eugene