This file part of www.sainthenryparish.org website
Elsie Schaefer
1922 - 2008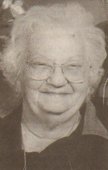 Elsie M. Schaefer 86, of Watertown, died Friday, Nov. 7, 2008, at Watertown Regional Medical Center.
Elsie was born July 4, 1922, in Mulligan Township, Minn., the daughter of Frank and Maria (Roith) Wollinger.  She married Arthur Schaefer on Jan. 4, 1947, at St. Henry Catholic Church in Watertown.
She was a member of St. Henry Catholic Church, Catholic Knights, Parish Picnic Committee and Evening AARP No. 3056. She loved to play cards, crocheting and spending time with her family.
She was the last surviving member of her immediate family.
Survivors include four children, Arthur J. Schaefer of Jefferson, Rose (Steven) Menzia of Watertown, Sharon (Sally Baker) Schaefer of Baltimore, Md., and Michael Schaefer of Watertown; a grandson, Justin (Cassie Kearney) Schaefer of Watertown; and a number of nieces, nephews, other relatives and friends.
She was preceded in death by her parents; her husband on April 21, 2003; her son, James; her sisters, Mary and Frances; her brothers, Frank, Joseph, Alois "Louie" and Alfred.
Memorials are suggested to St. Henry Catholic Church or the charity of one's choice.
The family would like to thank the Golden Living Center, Purity Dialysis Center of Watertown and ICU at Watertown Regional Medical Center for their care and concern.
Funeral services will be held Tuesday at 11 a.m. at St. Henry Catholic Church with the Rev. Father Brian Wilk officiating.  Burial will be in Aztalan Cemetery in the town of Aztalan.
Visitation will be held at the church on Monday from 4 to 7 p.m. and on Tuesday from 10 a.m. until the time of service.
Pederson Funeral Home of Watertown is caring for the family.